MTB index page for all MTB content
Afxentia Stage Race - 1/NE/1
Cyprus, February 29-March 2, 2008
Main Page Results Overall standings Previous Race
Race 3 - March 2: Mantra Tou Kampiou (Sunshine Cup #3)
Kulhavys descends to victory
Spitz overcomes another tight battle for the win
Jaroslav Kulhavy leads Roel Paulissen
Photo ©: Armin M. Küstenbrück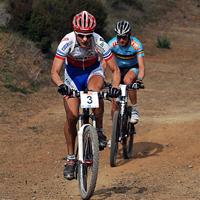 Czech Jaroslav Kulhavy kept Belgian Roel Paulissen from making it three wins in a row on the final day of the Afxentia Stage race. Emerging to victory from a four-man lead group, the young Czech took top honors in an exciting, 43km cross-country race (43km). Paulissen and Andreas Kugler rounded out the men's podium. In the 37km women's race, Sabine Spitz repeated her cross country win from stage two as did Tereza Hurikova and Petra Henzi for second and third.
Stage three, which also served as round three of the Cyprus Sunshine Cup, saw the formation of a four-man lead group on the third lap including a strong Jaroslav Kulhavy, a confident Roel Paulissen, a fine-looking Andreas Kugler and a fresh Christoph Soukup, all of whom hammered together through the woods of the Machairas forest. They took turns making mistakes on the difficult downhill sections, so the lead constantly changed.
Kulhavy attacked at the beginning of the last of five laps. The 2003 junior world champion got a gap and then went full gas into the next downhill and got about 30 seconds. "I was very fast in the downhills. The course was very technical and that suited me. But my legs were also pretty good," said the young Czech rider after the race, with a big smile in his face.
Paulissen let his former Siemens-Cannondale team-mate go for the victory on the last lap. "I didn't want to take any risk in the downhills, and I was looking on the overall. It's good for Jaroslav to have this victory, but I'm also happy with my race. The last two days were very hard," Paulissen said.
Stage three men's podium:
Photo ©: Armin M. Küstenbrück

Kugler showed another strong performance, but he couldn't follow Kulhavy. Paulissen had some trouble on a downhill and Kugler passed him; meanwhile, Soukup had a crash and lost contact. Later on a fireroad, the Belgian came back and counterattacked.
"I think Kulhavy was the strongest today and then Paulissen. I had a little luck because Soukup seemed to be also very good. I'm very happy with my shape," said Kugler.
Soukup, the only rider of the lead group who didn't take part in the first two stages, had two crashes in the race. At the end of lap one, he and Fredrik Kessiakoff made contact. Kessiakoff pulled out of the race and Soukup was treated later at the hospital for a minor injury to his leg.
Two other Swedish riders had a bad day. Emil Lindgren flatted far away from a technical zone and Magnus Darvell suffered some physical problems with his heart that forced him to withdraw from competition.
Paulissen had no problem conserving his lead in the final general classification. He ended up 5:11 ahead of Kulhavy. Third place went to Kulhavy's countryman Milan Spesny at 8:17 behind Paulissen.
Spitz overcomes malfunctioning brake
Sabine Spitz (Central Ghost Pro Team)
Photo ©: Armin M. Küstenbrück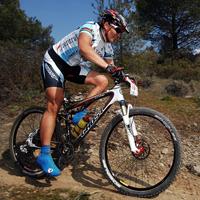 The women's race was no less exciting. Just one lap into the race, three women went off the front: Sabine Spitz, Tereza Hurikova and Petra Henzi. Hurikova rode like Kulhavy on the downhills. She always rode fast over the loose terrain, forcing Spitz and Henzi to chase back on the fireroads.
After the race, Spitz commented on Henzi's performance. "I think if Petra wouldn't have had this problem, it could have been very close with her. She is in a very good shape."
The problem was a rear flat tire that Henzis suffered on lap three of four. "I actually felt very good, so it was bad luck for me, but on the other hand I'm happy that I could catch Elisabeth Osl to get third place," said marathon world champion Henzi.
Spitz and Hurikova were left to duel. Together they went in the last lap, and Spitz put a small difference between her and the Czech. But on the second downhill, she realized that her front brake was no longer working. So she had to run, and Hurikova was able to catch her again. "For about two minutes we rode together. Then I thought I have to go because without my front brake she will leave me behind on the last downhill. So I broke away and got a difference which was big enough to secure the win," said European champion Spitz.
The women's podium:
Photo ©: Armin M. Küstenbrück

"I felt very good, not too exhausted from yesterday. But when Sabine attacked my legs were hurting so much I couldn't follow her. I think my shape is much better than last year. I'm happy to get the overall victory," said Hurikova after she crossed the finish line 15 seconds following Spitz. The gap and the outcome were similar to Friday's race.
The 21 year-old Czech grabbed the overall with 10:09 over Alexandra Engen, who finished fifth in stage three behind Elisabeth Osl in fourth for the day. Heather Irmiger ended up on third place overall at 19:25 behind Hurikova.
"I feel very tired," Irmiger, the winner of the Sunshine Cup Round #1 confessed after finishing 10th in stage three.
The fourth round of the Cyprus Cup happens next Sunday at Voroklini. In the overall ranking of the series, Paulissen is leading with 280 points ahead of Kugler (250) and Karl Platt (202), who flatted today and finished 14th. In women's classification Petra Henzi took the lead from Heather Irmiger (231) and Alexandra Engen (223).
Photography
For a thumbnail gallery of these images, click here
Images by Armin M. Küstenbrück
Results

Elite men

1 Jaroslav Kulhavy (Cze) Czech National Team       1.57.25
2 Roel Paulissen (Bel)                                0.27
3 Andreas Kugler (Swi)                                0.44
4 Christoph Soukup (Aut)                              1.25
5 Milan Spesny (Cze) Czech National Team              1.40
6 Jiri Friedl (Cze) Merida Biking Team                2.36
7 Makcim Gogolev (Rus)                                2.40
8 Jan Skarnitzl (Cze) DIMP Giant Team                 3.15
9 Alexander Wetterhall (Swe)                          3.22
10 Sergiy Rysenko (Ukr)                               3.39
11 Jeremy Horgan-Kobelski (USA) Subaru/Gary Fisher    4.22
12 Stefan Sahm (Ger) Bulls                            4.42
13 Mattias Nilsson (Swe)                              4.47
14 Karl Platt (Ger) Bulls                             5.00
15 Nicolas Vermeulen (Bel) Belgian National Team      6.47
16 Dries Govaerts (Bel) Belgian National Team         7.10
17 Christof Bischof (Swi)                             7.22
18 Josef Kamler (Cze) Ceska Sporitelna MTB            7.52
19 Tomas Trunschka (Cze) Ceska Sporitelna MTB         8.18
20 Nicola Rohrbach (Swi) Central Ghost Pro Team       8.31
21 Anton Gogolev (Rus) Team Leningrad Region          9.02
22 Andras Melts (Hun) Corratec World Team            10.15
23 Lars Bleckur (Swe)                                10.24
24 Tim Wijnants (Bel) Belgian National Team          12.27
25 Dmitriy Medvedev (Rus) Russian National Team      12.52
26 Ronald Plank (Aut) MTB-Clup-Oberwart              13.00
27 Andriy Gumenyuk (Ukr)                             13.43
28 Ilias Perilklis (Gre)                             14.08
29 Andriy Khripta (Ukr)                              14.10
30 Marios Athanasiadis (Cyp)                         16.08
31 Nicolay Zagulaev (Rus) CCL Karo Film              16.38
32 Ian Field (GBr) Bikin' Cyprus                     16.43
33 Michael Weiss (Aut) Ciclopia                      16.58
34 Anton Fomin (Rus)                                 17.11
35 Vladislav Neroznaks (Lat)                         17.17
36 Igor Bogdan (Ukr)                                 18.51
37 Billy-Joe Whenman (GBr)                           19.47
38 Alexander Fedotov (Rus) CCL Karo Film             21.37

Behind one lap

40 Oscar Ekstam (Swe) Sweden                              
41 Evgen Medvetsskyy (Ukr)                                
42 Francesco Panza (Ita)                                  
43 Paul Beales (GBr)                                      
44 Matthew Stevens (GBr)                                  

Behind two laps

45 Maxim Zhurkin (Rus) Russian National Team              
46 Andreas Lieberherr (Swi)                               
47 Timotheos Skettos (Cyp)                                

Behind three laps

48 Luke Smith (GBr)                                       
49 Alexis Eleutheriadis (Cyp)                             
DNF Karl Markt (Aut) SRM-Stevens-Team                     
DNF Aleksey Medvedev (Rus) Russian National Team          
DNF Fredrik Kessiakoff (Swe) Full Dynamix                 
DNF Emil Lindgren (Swe) Full Dynamix                      
DNF Giorgos Fattas (Cyp)                                  
DNF Pavel Blagikh (Rus) Russian National Team             
DNF Bjorn Brems (Bel) Belgian National Team               
DNF Magnus Darvell (Swe) Rietumu                          
DNF Makael Salomonsson (Swe) Asarna Ik                    
DNF Denis Vorontsov (Rus) Russian National Team           
DNS Mirko Pirazzoli (Ita)                                 
DSQ Max Oste Macdonald (Swe)                              
 
Elite women

1 Sabine Spitz (Ger) Central Ghost Pro Team        1.57.43
2 Tereza Hurikova (Cze) Czech National Team           0.15
3 Petra Henzi (Swi) Fisher BMC                        1.12
4 Elisabeth Osl (Aut) Ghost International             2.08
5 Alexandra Engen (Swe) Merida Sweden                 3.28
6 Maria Osl (Aut)                                     3.51
7 Ivonne Kraft (Ger)                                  5.14
8 Elena Gaddoni (Ita)                                 6.36
9 Nataliya Krompets (Ukr) Ukrainian National Team     8.13
10 Heather Irmiger (USA) Subaru/Gary Fisher           8.46
11 Maaike Polspoel (Bel) Belgian National Team        9.22
12 Oxana Rybakova (Rus) Russian National Team        12.42
13 Githa Michiels (Bel)                              15.24
14 Ksenia Chernykh (Rus) Russian National Team       19.28
15 Elena Gogoleva (Rus)                              24.07

Behind one lap

16 Evgenia Belozerova (Rus) Russian National Team         

Behind three laps

17 Yelena Petrova (Lat) Apollon                           
DNF Iryna Slobodyan (Ukr) Ukrainian National Team         
DNF Ekaterina Melnikova (Rus) MGFSU-Cube                  
DNF Barbel Jungmeier (Aut) Ciclopia                       
 
Junior men

1 Kiriakos Skettos                                 1.52.10
2 Mixalis Kitis                                       2.25
3 Radion Brazhnik (Ukr)                               8.51
4 Mykhaylo Batsutsa (Ukr)                            37.04
 
Junior women

1 Alla Boyko (Ukr)                                 2.14.42
DNS Irina Malyshera (Rus)                                 
 
Master 1

1 Marios Ioannou                                   2.46.57

Final general classification

Elite men

1 Roel Paulissen (Bel) Vredestein Cannondale      4.02.20
2 Jaroslav Kulhavy (Cze) Czech National Team         5.11
3 Milan Spesny (Cze) Czech National Team             8.17
4 Jiri Friedl (Cze) Merida Biking Team               9.39
5 Jeremy Horgan-Kobelski (USA) Subaru/Gary Fisher    9.50
6 Jan Skarnitzl (Cze) DIMP Giant Team               10.18
7 Karl Platt (Ger) Bulls                            10.23
8 Makcim Gogolev (Rus)                              11.30
9 Nicolas Vermeulen (Bel) Belgian National Team     14.42
10 Stefan Sahm (Ger) Bulls                          15.50
11 Josef Kamler (Cze) Ceska Sporitelna MTB          17.58
12 Nicola Rohrbach (Swi) Central Ghost Pro Team     18.34
13 Dmitriy Medvedev (Rus) Russian National Team     20.31
14 Anton Gogolev (Rus) Team Leningrad Region        22.40
15 Ilias Perilklis (Gre)                            30.47
16 Ian Field (GBr) Bikin' Cyprus                    38.39
17 Tomas Trunschka (Cze) Ceska Sporitelna MTB       43.47
18 Vladislav Neroznaks (Lat)                        48.18
19 Oscar Ekstam (Swe) Sweden                      1.04.02

Elite women

1 Tereza Hurikova (Cze) Czech National Team       4.15.51
2 Alexandra Engen (Swe) Merida Sweden               10.09
3 Heather Irmiger (USA) Subaru/Gary Fisher          19.26
4 Nataliya Krompets (Ukr) Ukranian National Team    23.18
5 Evgenia Belozerova (Rus) Russian National Team    28.45
6 Ksenia Chernykh (Rus) Russian National Team       37.01