Recently on Cyclingnews.com
MTB index page for all MTB content
Australian National MTB Championships - CN
Mount Stromlo, Australia, January 26-28, 2007
Main Page Results Previous Race Next Race
Race 7 - January 27: XC: Elite/U23 Men
Adelaide's cross country duo dominates
Chris Jongewaard
Photo ©: Mark Gunter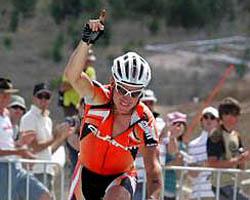 Chris Jongewaard and Shaun Lewis made it a South Australian double when they placed first and second respectively in the national cross country championships today in Canberra. Jongewaard took elite men's title and Lewis the Under 23 title.
An early lead by Jongewaard looked like it could be a repeat of his Commonwealth Games performance where he faded in the final stages, but this time he stomped home. The 27-year-old from Adelaide rode away from the field in the first lap and managed six laps of the eight kilometer course in two hours, 14 minutes and six seconds.
Coming off the back of the Tour Down Under in Adelaide, Jongewaard's top form was evident. Now Jongewaard is now split between a decision to pursue a lucrative road racing career or mountain biking. "I'll be doing road half of the year and the other half on the mountain bike," he said.
'The real' Shaun Lewis
Photo ©: Mark Gunter

With the annoncement today that the world mountain bike championships will be in the same location, Stromlo Forest Park, in 2009, riders like Jongewaard may be tempted to remain in mountain biking. "Winning here has thrown a spanner in the works," he said. With the world championships in Australia for only the second time, riders like Jongewaard may be tempted to go for the Australian mountain bike team.
Lewis finished two minutes behind Jongewaard. Third was Victorian Murray Spink. Athens Olympian, Sid Taberlay, started well but was unable to defend his national title finishing in seventh place, Local favourite, Dylan Cooper, found the going tough and finished tenth after suffering cramps on top of an existing rib injury.
Tomorrow many of the elite cross country riders will line up for their second chance at a national title in the short course event.
Photography
For a thumbnail gallery of these images, click here
Images by Mark Gunter/www.pbase.com/gunterphotograph
Results

Elite Men
 
1 Chris Jongewaard                                                             2.14.06
2 Murray Spink (Giant Bicycles)                                                   3.07
3 Perren Delacour (YETI - SRAM - GU - FOX)                                        3.57
4 Shaun Lewis                                                                     4.29
5 Sid Taberlay (avanti sram tis)                                                  5.39
6 Chris Winn (Yeti Cycles, Spoke(n), SRAM, TruVativ, Smith Optics)                6.32
7 Dylan Cooper (Ritchey, Scott, ACTAS, conceptis.com.au)                          6.48
8 Adrian Jackson (Scott - Flight Centre Racing Team, Melbourne Bicycle)           7.16
9 Aiden Lefmann (Cannondale, Sram, Sugoi, Oakley, Maxxis, Enervit)                8.23
10 James Williamson                                                               9.52
11 Jason English (Wheeler\nGordon Street Cycles)                                 10.43
12 Shane Paton (Onya Bike Belconnen - Planet Max - Retro Light)                  11.05
13 Brian Price (KHS Bicycles, Dirtworks, Panther cycles)                         12.07
14 Andrew Blair (Giant, Spearman Cycles, Maxxis)                                 13.09
15 Phil Orr                                                                      14.17
16 Dirk van der Walle (Marco Polo Cycling Club)                                  15.09
17 Peter Milostic                                                                16.30
18 Ben Mather (Orbea, BiKE RiDE, Catlike, Northwave, Sram, RockShox)             16.59
19 Dennis Van Mill (GORDON STREET CYCLES)                                        17.19
20 Trevor Hill (KHS Bicycles)                                                    18.42
21 Tim Bennett (Flight Centre Scott MTB team, Kalamunda cycles)                  19.08
22 James Dickey                                                                  20.33
23 Joel Read (Specialized Concept Store - Total Rush)                            21.03
24 Adam Freeman (GT Bicycles, Louis Garneu, SRAM, Smith optics)                  22.08
25 David Wood (Scott Flight Centre)                                              22.35
26 Joel Donney                                                                   23.05
27 Nick Both                                                                     23.46
28 Sebastiaan De Bruin (Kona Bicycles\nDirty-pages.net)                          25.27
29 John Claxton (Giant, Nightlighting)                                           29.56
 
One lap behind
 
30 Gavin Finlay (Ashgrovecycles.com)                                                  
 
Two laps behind
 
31 Matt Ligtermoet (D-bike)                                                           
32 Krischan Spranz (B-d Farm Paris Creek - Fresh Organic Dairy Produce)               
DNF Peter Hatton (Wheeler)                                                            
DNF Shinobu Noguchi (TREK Japan\n)                                                    
DNF Brent Miller (Santa Cruz/ Fox Shox/ Kenda)                                        
DNF Matthew Fleming (Clarence St. Cyclery, TREK Bikes)                                
DNF David Schwartz                                                                    
DNF Daniel Mackay (The Bike Shed)                                                     
 
U23 Men
 
1 Shaun Lewis SA (South Australia.com, Trek, Shimano, Rock Shox, Rudy Proj)    2.16.26
2 Lachlan Norris (South Australia.com, Cannondale, Castlemaine Cycles, Polar)     2.31
3 James Maebus (Giant Bicycles, VIS, Michelin, BikeNOW, TEC Helmets)              3.35
4 Daniel Braunsteins                                                              5.58
5 Daniel Johnston (Merida,NTIS Northern Territory Institute of Sport,Parents)     7.56
6 Daniel McConnell                                                                8.13
7 David Whitney (Merida, advance traders, raceface clothing)                     10.01
8 Glenn Stewart (Cannondale, Sram, Maxxis, Enervit, Oakley)                      10.01
9 Scott Liston (Integrated Fire Services, Pinnacle Cycles)                       13.15
10 Cal Britten                                                                   15.41
11 Brett Anderson (Trak Cycles, Team O'Grady)                                    17.39
12 Josh Keep (Race Elements)                                                     17.44
13 Benjamin Grieve-Johnson (Cyclingo, Felt, Sram, Truvativ, Avid, Rockshox)      19.51
 
One lap behind
 
14 Luke Graydon                                                                       
15 Phillip Haughton                                                                   
 
Two laps behind
 
16 Ben Henderson (Mongoose)                                                           
DNF Angus Harding (Orbea)                                                             
DNF Kurt Huempel