Recently on Cyclingnews.com
MTB index page for all MTB content
Results and Reports from the USA
Promoters wishing to submit results should send them to cyclingnews
13th Wigwam Ultimax Mountain Bike Challenge
Quarryview Park, Sheboygan, WI, October 9, 2006
By Adam Thompson


Show me da money.
Photo ©: Robert Boldt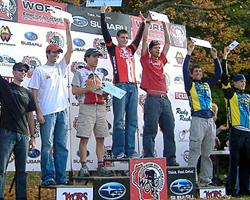 Tristan Schouten of Sheboygan and Doug Swanson of Minnesota were two of the more accomplished off-road cyclists competing in the 13th annual Wigwam Ultimax Mountain Bike Challenge, held at Quarryview Park on Sunday, October 9.

They were also teammates, racing for Trek Volkswagen. And in the five-lap, 25-mile race of endurance, the two waged a battle at a pace that nobody else on the course could possibly keep up with. In the end, however, it was Schouten who crossed the line with two fingers raised on each hand, one for each title he has won the last two years. Oddly, considering both were top contenders, Schouten and Swanson started in the third wave of the race.

"We had to kill to get to the front," said Schouten. But alas, they got there. And once there, the two never let up.

Swanson led through the first two laps, and it looked good for the Minnesota native, as Schouten suffered cramps during the third lap, which eventually subsided. But then, Swanson missed his water relay, which meant he had to go the full fourth lap without water. At one point, Swanson, 28, of Plymouth, Minn., got stuck in lapped traffic and Schouten, 24, was able to pass Swanson and the other riders, and cruised to the win. Swanson also took second in 2005. Schouten's finishing time was 1.52.50.
Meanwhile, with his fifth-place finish on Sunday, Brian Matter, racing for PCW Hyundai of Sheboygan, secured his overall championship in the 12-race Wisconsin Off-Road Series tour. The Sheboygan stop is annually the final race of the series. Matter, 28, said his start was good, but "felt blah" for the next two laps, and lost ground on the leaders. He got a second wind for the final two laps to finish strongly in 1.57.16.
Results

Elite men 5 laps 

 1 Tristan Schouten (Sheboygan WI) Trek/VW                                    1.52.50
 2 Doug Swanson (Plymouth MN) Trek/VW 
 3 Jeff Hall (Farmington MN) Salsa Cycles 
 4 Chris Peariso (De Pere WI) Titus/Bike Hub 
 5 Brian Matter (Sheboygan WI) PCW Cycling/Hyundai
 6 Mike Phillips (Milwaukee WI) Alterra Coffee MTB Team 
 7 Chad Sova (Spooner WI) PCW Cycling/Hyundai
 8 Jesrin Gaier (Hayward WI) Riverbrook 
 9 Marko Lalonde (Middleton WI) Bareknuckle Brigade
10 Tim Drankus (Sheboygan WI) PCW Cycling/Hyundai 
11 Nathan Guerra (Oconomowoc WI) Brookstone Homes
12 Jerry Long (Madison WI) 33 Chainsmokers 
13 Dallas Fowler (Green Bay WI) Stadium Bike
14 Thomas Bender (Lindenhurst IL) Team Wisconsin
15 Stawicki Hartland (WI) 


Elite women 4 laps 

 1 Sara Kylander-Johnso (Duluth MN) VW/JBL                                    1.49.52
 2 Abigail Strigel (Milwaukee WI) Polska Masterlock FDl Cyclery 
 3 Christina Betz (Janesville WI) Michael's Cycles 
 4 Holly Liske (Madison WI)  Hayes Disc Brakes 
 5 Lori Sable (Thiensville WI) Team Wisconsin 
 6 Sarah Hansing (Waterloo WI)  
 7 Samantha Schneider (West Allis WI) Hayes Brake
 8 Katie Ross (Galena IL)
 9 Katja Maertens-Wilsin (Milwaukee WI) Polska Masterlock FDl Cyclery
10 April Dombrowski (Oshkosh WI) Wheel & Sprocket 


Comp 4 laps 

1 John Lirette (Menomonee Falls WI)                                            1.41.10
2 Matthew Brandt (Kenosha WI)                                                     2.49


Comp Clydesdale

1 Russell Jobs (Milwaukee WI)                                                  1.54.54 


Comp single-speed

1 Shannon Orr (Albuquerque NM)                                                 1.44.51


Sport men

1 Josh Gazdecki (Hales Corners WI)                                             1.17.30
2 Aaron McCombs (Peoria Il)                                                       0.59
3 Jason Roelse (Sheboygan WI)                                                     1.03


Sport women

1 Jennifer Jones (Madison WI)                                                  1.28.03
2 Martha O'Connor-Leigh (Dubuque IO)                                            


Elite over 50 

1 Bob Downs (Madison WI) 


Sport Clydesdale

1 Keith Wolf (Wauwatosa WI)                                                    1.27.26
2 John Holcomb (Plymouth WI) 


Sport single-speed men

1 Paul Fox (Oconomowoc WI)


Sport single-speed women

1 Amy Pikalek (Grafton WI)


Citizen men 2 laps

1 Ben Neubauer (Oshkosh WI)                                                      44.12
2 Radek Vopalka (Brookfield WI) 


Citizen women 2 laps

1 Courtney Wagner (Oshkosh WI)                                                   52.58
2 Jessica Staniglaus (Appleton WI) 


Youth boys 1 lap

1 Brett Poulton (Lake Forest Il)                                                 18.30


Youth girls

1 Elizabeth Shull (Libertyville Il)


Citizen Clydesdale

1 Joe Majerus (Plymouth WI)                                                      48.20
2 David Borun (Deerfield Il) 
3 David Augustiniak (Belgium)




Photography
For a thumbnail gallery of these images, click here
Images by Robert Boldt/www.cyclingnews.com
Local results 2006