MTB index page for all MTB content
MTB World Cup XC #5, DH #4, 4X #4 - CDM
Mont Ste Anne, Canada, June 24-25, 2006
Main Page Results Previous Race Next Race
Race 5 - June 25: Women's cross-country
Premont cleans up in front of hometown crowd
By Mike Bady & Rob Jones
Marie-Helene Premont (Rocky Mountain Business Objects)
Photo ©: Rob Jones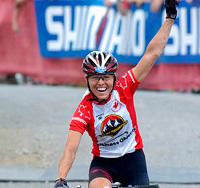 Much to the pleasure of the highly partisan home-town crowd, Marie-Helene Premont (Rocky Mountain Business Objects) passed Gunn-Rita Dahle-Flesjaa (Multivan Merida Biking Team) on the last lap of the Women's five lap race to win the fifth round of the current World Cup season. This was Premont's second consecutive win here, and also her first World Cup victory of the season.
Premont took the early lead after the start loop, but was passed by Dahle-Flesjaa by the end of the first full lap. Dahle-Flesjaa rode hard to build a lead of 40 seconds over a chase group of Premont, Sabine Spitz (Specialized Factory Racing) and Irina Kalentieva by the third lap. However, as everyone else began to fade, Premont was getting stronger, dropping the other two by the fourth lap, and posting the fastest lap times for each of the three final laps.
Dahle-Flesja was philosophical about her second place. "It was a hard day right from the beginning. From the first pedal stroke to put it that way. I knew in the first 100 metres that I was lacking my top speed. The goal today was to be in the top 3 to defend my overall. I think I managed pretty well. After 4 weeks without racing its hard to tell how much you can go and how hard you can go. I've had a tough period of training and with a tough race like this you need to have a 110% motor to be able to win. If you don't have it you end up in third or fourth or fifth. These are the best girls in the world and the speed is incredible compared to 4 or 5 years ago. If you don't have that little extra to contend for the win then you have to be satisfied with your performance."
"Marie-Helene passed me on the long climb through the last lap. She was really fighting back and forth the whole race and I was on the limit. I believe she has an advantage today with all of the crowd cheering for her. That gives you something extra. I just had to concentrate on myself and try not to crash or destroy your bike. It didn't hurt as bad as last year. I think that's something I hope to never experience again (high temperatures and high humidity last year had her almost quit on the last lap)."
Premont crossed the line with a huge smile and was immediately swarmed by the Quebec press. Her final lap saw her pull away from Dahle-Flesjaa to win by nearly a minute. "I feel very good. Last year was the first time (win) but going back to back is very special. I'm very happy today. My strategy was to start as fast as I could at the beginning because I know Gunn-Rita is so strong at the start. I paid for that on the second lap. I pushed a little too hard. I had a good third lap and then I was feeling better and better. I attacked on the last lap where there are the zig-zags. I knew I was fast on that climb and then I would have less pressure after on the downhill. I gave everything I had to attack on that climb to get in front. People were telling me that Gunn-Rita was getting tired and that I was catching her. I knew I was faster on the fourth lap. I was being cautious on the downhills so that I wouldn't hurt my bike, but wherever I could pedal I went hard. The crowd was again incredible. People from Quebec make the best time you can have!"
Spitz hung on to take third after a bad crash, Kalentieva was fourth and Mary McConneloug (Kenda) claimed fifth. The German champion would be best described as looking shaken at the end of her ride. Although she didn't have any visible signs, a bad crash clearly had an effect on her performance. "I felt pretty good at the beginning and in the third lap I passed Marie-Helene and had about 10 seconds. Then in the first technical section after the downhill I had a big crash. I felt a compression on my spine below my neck. My pedaling rhythm was broken. The crash was in my head from then on. I tried to do my best after the crash. I'm fine now and I'm happy with the result. My gap behind Gunn-Rita and Marie-Helene wasn't that bad so I'm happy."
Dahle-Flesjaa continues to hold a commanding lead in the World Cup, with 1100 points, but Premont has overtaken Spitz for second, with 855 points to 780.
The cross-country World Cup now goes into hiatus until September, with riders preparing for national championships in the next few weeks, followed by a long trip down to Rotorua, New Zealand for the World Championships in August.
Photography
For a thumbnail gallery of these images, click here
Images by Rob Jones/www.canadiancyclist.com
Images by Richard Jodoin
Results
1 Marie-Helene Premont (Can) Rocky Mountain Business Objects    1.41.17
2 Gunn-Rita Dahle Flesjaa (Nor) Multivan Merida Biking             0.57
3 Sabine Spitz (Ger) Specialized Factory Racing                    1.34
4 Irina Kalentieva (Rus) Topeak-Ergon                              3.57
5 Mary Mc Conneloug (USA) Kenda Seven                              5.37
6 Ren Chengyuan (Chn)                                              7.00
7 Ivonne Kraft (Ger)                                               7.42
8 Shonny Vanlandingham (USA) Luna                                  8.06
9 Willow Koerber (USA) Subaru-Gary Fisher                          8.11
10 Kiara Bisaro (Can) Team R.A.C.E.                                8.30
11 Katerina Nash (Cze)                                             8.58
12 Nina G÷hl (Ger) Multivan Merida Biking                          9.56
13 Rosara Joseph (NZl)                                            10.23
14 Alison Sydor (Can) Rocky Mountain Business                     10.32
15 Lene Byberg (Nor) Bikin'cyprus Int.                            10.49
16 Ying Liu (Chn)                                                 11.01
17 Adelheid Morath (Ger)                                          11.15
18 Jingling Wang (Chn)                                            11.25
19 Sabrina Enaux (Fra) Team Lapierre Internation                  11.43
20 Karen De Wolfe (Can)                                           12.00
21 Dara Marks (USA)                                               12.38
22 Wendy Simms (Can) Vela Bella                                   13.10
23 Daniela Louis (Swi)                                            13.56
24 Catherine Pendrel (Can)                                        13.57
25 Laura Turpijn (Ned)                                            14.10
26 Jimena Florit (Arg) Luna                                       14.48
27 Maroussia Rusca (Swi) Team Bikepark.Ch Tui                     14.58
28 Patricia Sinclair (Can) Scott                                  15.00
29 Tereza Hurikova (Cze) Ceska Sporitelna Mtb                     15.18
30 Kelli Emmett (USA)                                             15.32
31 Georgia Gould (USA)                                            15.38
32 Heather Irmiger (USA) Subaru-Gary Fisher                       16.31
33 Helene Marcouyre (Fra) Bh-Sr. Suntour                          17.38
34 AriŰlle Van Meurs (Ned)                                        17.57
35 Jenna Zander (USA)                                             18.02
36 Mical Dyck (Can)                                               18.08
37 Sheju Mei (Chn)                                                18.15
38 Amanda Sin (Can)                                               18.18
39 Kathy Sherwin (USA)                                            18.19
40 Rie Katayama (Jpn)                                             19.26
41 Eva Lechner (Ita)                                              20.02
42 Jennifer Smith (NZl)                                           21.34
 
One lap behind  
 
43 Julie Sanders (Can)
44 Carissa Wilkes (NZl)
45 Heather Svahn (USA)
46 Jean Ann Mc Kirdy (Can) Rocky Mountain Business O
 
Two laps behind  
 
47 Caroline Villeneuve (Can)
48 Zephanie Blasi (USA)
49 Jennifer Gersbach (USA)
50 Chloe Forsman (USA)
51 Tarja Owens (Irl)
52 Sophie Fortin (Can)
53 Shannon Gibson (USA)
54 Brenda Clapp (NZl)
55 Catherine Vipond (Can)
56 Mathilde Hupin-Debeurme (Can)
57 Anne-Marie Jobin (Can)
58 Kylie Case (Can)
59 Elsie Torresan (Can)
60 Sabra Davison (USA)
61 Christine Misseghers (Can)
62 Kate Scallion (Can)
63 Erin Greene (NZl)
64 Christy Love (Can)
65 Theresa Richardson (USA)
66 Sandra Bloomer (USA)
67 Michelle Bellamy (NZl)
68 Anja McDonald (NZl)
 
Three laps behind  
 
69 Niki Fisher (Aus)
70 Meggan Flaherty (USA)
71 Meagan Stewart (NZl)
72 Christie Pleiss (USA)
73 Isabelle Jacques (Can)
74 Teri Strayer (USA)
75 Jaqueline Mourao (Bra)
DNF Anna Enocsson (Swe)
DNF Hanka Kupfernagel (Ger)
DNF Kathleen Villeneuve (Can)
DNF Karine Travaillaud (Can)
DNS CÚcile Rode (Fra)
DNS Kyia Malenkovich (USA)

World Cup Standings

1 Gunn-Rita Dahle Flesjaa (Nor) Multivan Merida Biking Team        1100 pts
2 Marie-Helene Premont (Can) Rocky Mountain Business O              855
3 Sabine Spitz (Ger) Specialized Factory Racing                     780
4 Irina Kalentieva (Rus)                                            736
5 Nina G÷hl (Ger) Multivan Merida Biking Team                       607
6 Margarita Fullana Riera (Spa) Spiuk Illes Balears                 600
7 Lene Byberg (Nor) Bikin'cyprus Int.                               596
8 Mary Mc Conneloug (USA)                                           482
9 Maja Wloszczowska (Pol) Lotto                                     435
10 Chengyuan Ren (Chn)                                              410
11 Alison Sydor (Can) Rocky Mountain Business O                     400
12 Katerina Nash (Cze)                                              351
13 Willow Koerber (USA) Subaru-Gary Fisher                          336
14 Kiara Bisaro (Can)                                               323
15 Petra Henzi (Swi) Fischer-Bmc                                    320
16 Shonny Vanlandingham (USA)                                       314
17 Adelheid Morath (Ger)                                            300
17 Maroussia Rusca (Swi) Team Bikepark.Ch Tui                       300
19 Rosara Joseph (NZl)                                              277
20 Maria Ostergren (Swe)                                            274
21 Ivonne Kraft (Ger)                                               259
22 Anna Szafraniec (Pol) Lotto                                      258
23 Eva Lechner (Ita)                                                255
24 CÚcile Rode (Fra) Team Lapierre Internation                      249
25 Wendy Simms (Can)                                                246
26 Jingling Wang (Chn)                                              238
27 Tereza Hurikova (Cze) Ceska Sporitelna Mtb                       233
28 Laura Turpijn (Ned)                                              226
29 Heather Irmiger (USA) Subaru-Gary Fisher                         211
30 Sabrina Enaux (Fra) Team Lapierre Internation                    209
31 Katrin Schwing (Ger)                                             178
32 Kelli Emmett (USA)                                               174
33 Anna Enocsson (Swe) Ghost International Racing                   173
34 Hanka Kupfernagel (Ger) World Sports Star                        170
35 Blaza Klemencic (Slo) Pintatim Full-Dynamix                      168
36 AriŰlle Van Meurs (Ned)                                          163
37 Susan Haywood (USA) Trek Volkswagen Pro                          163
38 Ying Liu (Chn)                                                   156
39 Jaqueline Mourao (Bra)                                           155
40 Jimena Florit (Arg)                                              152
41 Nina Homovec (Slo)                                               144
42 Annika Smail (NZl)                                               124
43 Saskia Elemans (Ned)                                             121
44 Sarah Koba (Swi)                                                 120
45 Evelyn Staffler (Ita)                                            118
46 Severine Hansen (Fra) Scott Les 2 Alpes                          114
47 Helene Marcouyre (Fra) Bh-Sr. Suntour                            111
48 Janka Stevkova (Svk) Max Cursor                                  106
49 Franziska Rothlin (Swi) Kona Verbier Factory Team                104
50 Magdalena Sadlecka (Pol) Lotto                                   104
51 Bńrbel Jungmeier (Aut)                                           104
52 Daniela Louis (Swi)                                              102
53 Pia Sundstedt (Fin) Rocky Mountain Business O                     96
54 Maria Osl (Aut) Toni's Pro Team Kirchbear                         91
55 Elisabeth Osl (Aut) Toni's Pro Team Kirchbear                     76
56 Jenny Copnall (GBr) Subaru-Gary Fisher                            73
57 Elena Giacomuzzi (Ita)                                            72
58 Karen De Wolfe (Can)                                              66
59 Dara Marks (USA)                                                  64
60 Kathy Sherwin (USA)                                               61
61 Patricia Sinclair (Can)                                           59
62 Githa Michiels (Bel)                                              59
63 Catherine Pendrel (Can)                                           58
64 Elina Sophokleous (Cyp) Bikin'cyprus Int.                         49
65 Asa Maria Erlandsson (Swe)                                        48
66 Georgia Gould (USA)                                               44
67 Lea Davison (USA) Trek Volkswagen Pro                             42
68 Cristina Mascarreras Sabria (Spa)                                 41
69 Francisca Campos Salas (Chi)                                      38
70 Jenna Zander (USA)                                                36
71 Mical Dyck (Can)                                                  34
72 Renata Bucher (Swi)                                               34
73 Sheju Mei (Chn)                                                   32
74 Rocio Gamonal Ferrera (Spa)                                       32
75 Amanda Sin (Can)                                                  30
76 Katrin Leumann (Swi)                                              30
77 Rie Katayama (Jpn)                                                28
78 Tarja Owens (Irl)                                                 28
79 Jennifer Smith (NZl)                                              26
80 Nathalie Schneitter (Swi)                                         26
81 Julie Sanders (Can)                                               25
82 Carrissa Wilkes (NZl)                                             24
83 Liliana Uzcategui (Ven)                                           24
84 Heather Svahn (USA)                                               23
85 Maureen Guichardot (Fra)                                          23
86 Esther Suss (Swi)                                                 23
87 Yaniz Hernandez (Ven)                                             23
88 Jean Ann Mc Kirdy (Can)                                           22
89 Kristina Andrus (USA)                                             22
90 Caroline Villeneuve (Can)                                         21
91 Kristi Lewis (USA)                                                21
92 Zephanie Blasi (USA)                                              20
93 Amy Hunt (GBr)                                                    20
94 Hanna Klein (Ger)                                                 20
95 Sara Hernandez Candela (Pur)                                      20
96 Jennifer Gersbach (USA)                                           19
97 Bernardine Boog-Rauwerda (Ned)                                    19
98 Chloe Forsman (USA)                                               18
99 Katerina Bohata (Cze)                                             18
100 Sara Bresnick (USA)                                              18
101 Josette Velazquez Lebron (Pur)                                   18
102 Sophie Fortin (Can)                                              16
103 Nataliya Krompets (Ukr)                                          16
104 Shannon Gibson (USA)                                             15
105 Brenda Clapp (NZl)                                               14
106 Caroline Jackson (GBr)                                           14
107 Agnes Naumann (Ger)                                              14
108 Catherine Vipond (Can)                                           13
109 Mathilde Hupin-Debeurme (Can)                                    12
110 Sarka Chmurova (Cze)                                             12
111 Anne-Marie Jobin (Can)                                           11
112 Kylie Case (Can)                                                 10
113 Jennifer O'Connor (NZl)                                          10
114 Catherine Delfosse (Bel)                                         10
115 Elsie Torresan (Can)                                              9
116 Sabra Davison (USA)                                               8
117 Ruth McGavigan (GBr)                                              8