MTB index page for all MTB content
MTB World Cup XC #5, DH #4, 4X #4 - CDM
Mont Ste Anne, Canada, June 24-25, 2006
Main Page Results Previous Race
Race 6 - June 25: Men's cross-country
Specialized takes first and second with Sauser and Killeen
By Mike Badyk & Rob Jones
Christoph Sauser (Specialized)
Photo ©: Rob Jones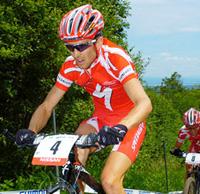 By the end of lap 2 of the men's 7 lap competition the race was all but decided. Christoph Sauser and Liam Killeen, both riding for Specialized Factory Racing, rode away from a strong field at Mont Ste Anne to record the first win the season for the team.
It was a war of attrition. There were 118 starters in the men's field and only 50 finishers on the same lap as the winner, with lots of broken bikes - chains and flat tires were very, very common. The tech zone halfway through the lap was busy all afternoon. The other contributing factor was the heat. By the end of the race the temperature had soared to 31°C, something that the women didn't have to contend with earlier in the day. There were many tired racers by the conclusion.
After Sauser and Killeen took off together, 2 riders were left in a kind of "no man's land" in third and fourth place. Jose Hermida (Multivan Merida) and Julien Absalon (Bianchi Agos) rode together until the fourth lap, when Absalon, the World Cup series leader, dropped Hermida to try and make contact with the leaders. He came within 32 seconds by the end of the lap, but after that gradually fell off the pace to finish nearly three minutes back.
The real battle was for fifth place. Locked in a war for most of the race was Seamus McGrath (Canadian National/Felt Bicycles), Ludovic Dubau (Pro Race Team) and Florian Vogel (Swisspower MTB Team). They marked each other for several laps with McGrath only able to get away near the end of the final lap to take fifth. Vogel finished sixth with Dubau in seventh.
Sauser was very happy with his win. This was the first win of the year for the defending World Cup champion, and his first win for his new Specialized team. He had spent many years at Siemens-Cannondale. That team disbanded at the conclusion of 2005. "For me this has been the first real race. The first one was so early, the second there weren't really climbs, and the third and fourth were so muddy. This course was ideal for me. I've felt in very good shape the last few weeks. There was another boost with the new bikes. You do get a boost when you have the very best bike. We were really motivated at the start."
"I was feeling a little bit of pressure. I wanted the first win for the new team to get everybody excited, especially the engineers. It's all come together towards the middle and the end of the season. I'm very pleased for the whole team today because they worked so hard. It was great to see all of the smiling faces in the finish. It's not just for me, it's for the whole team. We were so fast in the downhills today and then we could ride a steady pace. It was a big advantage. We have 10cm of travel so we don't have to brake as much. We also have a brand new shock that opens and closes pretty quick. My bike is under 9 kilos. It's not only in your head, it's a huge bike advantage."
Killeen followed Sauser for much of the race: "I was happy to stay second wheel for most of the race. Since Fort William I really haven't done any racing and I was pretty tired around that time. Last week's NORBA really helped me. It got my top end back. It was my best result. We did a little bit of team work, each taking a share of the wind, but Christoph had a little more top end on the climbs. That was a tough old race. From here I'm going to go back home and start to get ready for the World Championships. This is a really satisfying feeling here today."
Absalon had won the last three World Cups, but was satisfied with his third place. "Today it was impossible for me to catch them. Antonio and I did a lot of work today, but that's the way it goes. You can go as hard as you can, but you also had to be careful. There were lots of trees and roots. It was quite technical. I'm happy with how it went. Now I can have a little break and focus on the World Championships."
Hermida, a new father just a few days after the Fort William World Cup, explained that he hadn't been spending much time training. Instead he was dealing with personal matters such as "getting up every hour and a half in the middle of the night". Despite this, he rode a smart race today. "The red guys (Specialized) were very strong today. Julien and me tried to catch them, but they showed us that they were in pretty good shape. We just tried to fight for the overall and keep our positions in the series by bringing home a lot of points. It's more difficult when you ride alone because you don't exactly what kind of speed you have. Races are like that. Sometimes you just have to keep focused and go ahead alone like I did today."
Canadian McGrath was motivated to be racing on home turf and was obviously exhausted at the finish, but he was also elated with his fifth place. "It was brutal. I'm just happy. I don't know what to say. My goal coming in was to podium. I said at Frt William 'I will be on the podium at Mont Ste Anne'."
"I just stuck myself in the spot and fought for it. So on the last lap I attacked that Swiss guy (Vogel) on the second steep climb and I got a gap and just rode it in. I'm really happy to be back on the podium and I'm just ecstatic. It got really tactical out there. We really had to meter out our effort, cause those guys were gone. It became a battle for fifth at that point. You had to ride smart. I saved a little for the end there, as hard as that is. Just gave it all. It's been a tough year. It just shows my character."
The overall standings have Absalon still on top. He has mathematically won the series with one race remaining. However, the battle for second is wide open. Sauser sits in second, with Hermida only 20 points behind him, and round one winner Bart Brentjens (Giant) could also still move up from fourth with a good ride in the final.
Photography
For a thumbnail gallery of these images, click here
Images by Rob Jones/www.canadiancyclist.com
Images by Richard Jodoin
Seamus McGrath can't decide whether to celebrate finishing fifth or worry about his disastrous helmet hair
Results
1 Christoph Sauser (Swi) Specialized Factory Racing             2.00.29
2 Liam Killeen (GBr) Specialized Factory Racing                    0.10
3 Julien Absalon (Fra) Bianchi Agos                                2.55
4 Jose Hermida Ramos (Spa) Multivan Merida Biking Team             3.30
5 Seamus McGrath (Can) Felt                                        6.08
6 Florian Vogel (Swi) Swisspower Mtb Team                          6.29
7 Ludovic Dubau (Fra) Pro Race Team                                6.57
8 Marti Gispert Labarta (Spa) Freebike Team                        7.04
9 Adam Craig (USA) Giant USA                                       7.23
10 Balz Weber (Swi) Team Bikepark.Ch Tui                           7.43
11 Bart Brentjens (Ned) Giant-Racing-Team                          7.52
12 Bas Peters (Ned)                                                8.00
13 Jakob Diemer Fuglsang (Den) Cannondale-Vredestein               8.30
14 Roel Paulissen (Bel) Giant-Racing-Team                          8.37
15 Michael Weiss (Aut) SRM                                         8.38
16 Fredrik Kessiakoff (Swe) Cannondale-Vredestein                  8.41
17 Peter Riis Andersen (Den) Cannondale-Vredestein                 8.52
18 Nino Schurter (Swi) Swisspower Mtb Team                         9.45
19 Jeremy Horgan-Kobelski (USA) Subaru-Gary Fisher                 9.58
20 Alban Lakata (Aut) Specialized Factory Racing                  10.36
21 Cédric Ravanel (Fra) Team Lapierre Internation                 10.57
22 Martin Kraler (Aut) Giant-Racing-Team                          11.21
23 Ricky Federau (Can) Team RACE                                  11.43
24 Moritz Milatz (Ger) Multivan Merida Biking Team                12.07
25 Barry Wicks (USA) Kona Les Gets Factory Team                   12.54
26 Karl Platt (Ger) Rocky Mountain Business Objects               13.06
27 Samuel Schultz (USA)                                           13.18
28 Jeremiah Bishop (USA) Trek Volkswagen Pro                      13.21
29 Kashi Leuchs (NZl) Cannondale-Vredestein                       13.29
30 Filip Meirhaeghe (Bel) Groep Versluys-Sportstech               13.53
31 Max Plaxton (Can) Rocky Mountain Business Objects              14.08
32 Pierre Lebreton (Fra)                                          14.21
33 Raphael Gagne (Can) Rocky Mountain Business Objects            14.36
34 Geoff Kabush (Can) Maxxis                                      14.58
35 Neal Kindree (Can) Kona                                        15.02
36 Carl Decker (USA)                                              15.04
37 Michael Broderick (USA)                                        15.05
38 Clinton Robert Avery (NZl)                                     15.17
39 Yury Trofimov (Rus)                                            15.25
40 Emil Lindgren (Swe)                                            15.31
41 Matthew Hadley (Can)                                           15.40
42 Rudi Van Houts (Ned)                                           15.58
43 Andrew Watson (Can)                                            17.05
44 Denis Vorontsov (Rus)                                          17.25
45 Todd Wells (USA)                                               17.47
46 Filip Eberl (Cze)                                              18.07
47 Derek Zandstra (Can)                                           18.50
48 Burry Stander (RSA)                                            19.46
49 Matthew Martindill (Can)                                       20.11
50 Ryan Trebon (USA)                                              23.11
 
Two laps behind                                                   
 
51 Stuart Houltham (NZl)                                               
52 Jan Skarnitzl (Cze)                                                 
53 Niall Davis (Irl)                                                   
54 Kris Sneddon (Can) Kona                                             
55 Sam Jurekovic (USA)                                                 
56 Jelmer Pierersma (Ned)                                              
57 Martin Lazarski (Can) Rocky Mountain Business Objects               
58 Benoit Simard (Can)                                                 
59 Frederic Bussieres (Can)                                            
60 Mike Garrigan (Can)                                                 
61 Carlos Hernandez Fernande (Mex)                                     
62 Brent Miller (Aus)                                                  
63 Ivan Seledkov (Rus)                                                 
 
Three laps behind                                                 
 
64 Samuel Koerber (USA)                                                
65 Leni Gelinas-Trudel (Can)                                           
66 Eric Drower (NZl)                                                   
67 Troy Misseghers (Can)                                               
68 Michael Northcott (NZl)                                             
69 Stepfan Widmer (Can)                                                
70 Roddi Lega (Can)                                                    
71 Daniel Sessford (Can)                                               
72 Lewis Ferguson (Irl)                                                
73 Marton Blazso (Hun)                                                 
74 Mark Leishman (NZl)                                                 
75 Charles Pendry (USA)                                                
76 Andrew Freye (USA)                                                  
77 Ian Carbonneau (Can)                                                
78 Javier Puschel (Chi)                                                
79 Adam Snydor (USA)                                                   
80 Adam Morka (Can)                                                    
81 Sébastien Tremblay (Can)                                            
82 Peter Glassford (Can)                                               
83 Troy Wells (USA)                                                    
84 Spencer Paxson (USA)                                                
85 Lee Williams (GBr)                                                  
86 Timothy Madgwick (NZl)                                              
87 Jonathan Boulanger (Can)                                            
88 Colin Cares (USA)                                                   
89 Alexandre Frappier (Can)                                            
90 Travis Woodruff (USA)                                               
91 Luc Doiron (Can)                                                    
92 David Gagnon (Can)                                                  
 
Four laps behind                                                  
 
93 Paul Hanson (USA)                                                   
94 Mitchell Peterson (USA)                                             
95 Cody Peterson (USA)                                                 
96 Mark Batty (Can)                                                    
97 Kyle Douglas (Can)                                                  
98 Ryan Ingham (Can)                                                   
99 Lucas Livermon (USA)                                                
100 Bruno Lafontaine (Can)                                             
101 Luke Mills (NZl)                                                   
102 Jeff Hall (USA)                                                    
103 Jean-François Vennes (Can)                                         
104 Christopher Kendal (NZl)                                           
105 Nichols Stevens (USA)                                              
106 Georges-Edouard Duquette (Can)                                     
 
Five laps behind                                                  
 
107 Daniel Corum (USA)                                                 
108 Austin Carroll (USA)                                               
109 Nicholas Ranno (USA)                                               
DNF Jochen Kaess (Ger)                                                 
DNF Robin Seymour (Irl)                                                
DNF Adrian Lansley (GBr)                                               
DNF Nick Waite (USA)                                                   
DNF Justin Price (NZl)                                                 
DNF Mathieu Toulouse (Can)                                             
DNF Jeremy Trudel (Can)                                                
DNF Ian Mcavity (Can)                                                  
DNF Marc-Andre Daigle (Can)                                            
                                                                       
World Cup Standings                                                    
 
1 Julien Absalon (Fra) Bianchi Agos                                1110 pts
2 Christoph Sauser (Swi) Specialized Factory Racing                 830
3 Jose Antonio Hermida Ramos (Spa) Multivan Merida Biking Team      810
4 Bart Brentjens (Ned) Giant-Racing-Team                            715
5 Liam Killeen (GBr) Specialized Factory Racing                     552
6 Florian Vogel (Swi) Swisspower Mtb Team                           513
7 Roel Paulissen (Bel) Giant-Racing-Team                            508
8 Ralph Näf (Swi) Multivan Merida Biking Team                       450
9 Nino Schurter (Swi) Swisspower Mtb Team                           421
10 Fredrik Kessiakoff (Swe) Cannondale-Vredestein                   382
11 Jeremy Horgan-Kobelski (USA) Subaru-Gary Fisher                  378
12 Ludovic Dubau (Fra) Pro Race Team                                358
13 Michael Weiss (Aut)                                              346
14 Seamus Mcgrath (Can)                                             336
15 Balz Weber (Swi) Team Bikepark.Ch Tui                            324
16 Moritz Milatz (Ger) Multivan Merida Biking Team                  314
17 Marti Gispert Labarta (Spa) Freebike Team                        310
18 Filip Meirhaeghe (Bel) Groep Versluys-Sportstech                 310
19 Adam Craig (USA)                                                 287
20 Martin Kraler (Aut) Giant-Racing-Team                            280
21 Cédric Ravanel (Fra) Team Lapierre Internation                   274
22 Lado Fumic (Ger) Fumic.Brothers.Internatio                       266
23 Peter Riis Andersen (Den) Cannondale-Vredestein                  244
24 Oliver Beckingsale (GBr) Giant-Racing-Team                       236
25 Alban Lakata (Aut) Specialized Factory Racing                    225
26 Kashi Leuchs (NZl) Cannondale-Vredestein                         220
27 Thomas Frischknecht (Swi) Swisspower Mtb Team                    205
28 Hector Leonardo Paez Leon (Col)                                  205
29 Mirko Pirazzoli (Ita)                                            203
30 Carlos Coloma Nicolas (Spa) Proflex                              201
31 Jakob Diemer Fuglsang (Den) Cannondale-Vredestein                196
32 Karl Platt (Ger) Rocky Mountain Business O                       188
33 Martin Gujan (Swi) Athleticum-Mtb-Team                           170
34 Yury Trofimov (Rus)                                              158
35 Stéphane Tempier (Fra) Scott Les 2 Alpes                         153
36 Bas Peters (Ned)                                                 152
37 Jader Zoli (Ita)                                                 150
38 Marco Aurelio Fontana (Ita)                                      148
39 Marek Galinski (Pol)                                             144
40 Nicolas Filippi (Fra)                                            140
41 Hakon Austad (Nor)                                               140
42 Pierre Lebreton (Fra)                                            118
43 Michael Broderick (USA)                                          118
44 Geoff Kabush (Can)                                               113
45 Tony Longo (Ita)                                                 110
46 Lukas Flückiger (Swi)                                            108
47 Jerome Chevalier (Fra)                                            98
48 Stefan Sahm (Ger)                                                 96
49 Christoph Soukup (Aut)                                            94
50 Todd Wells (USA)                                                  89
51 Karl Markt (Aut)                                                  87
52 Jeremiah Bishop (USA)                                             85
53 Ivan Seledkov (Rus)                                               84
54 Ruben Ruzafa Cueto (Spa)                                          84
55 Jelmer Pietersma (Ned)                                            82
56 Jochen Kaess (Ger)                                                80
57 Christof Bischof (Swi)                                            79
58 Tomas Vokrouhlik (Cze)                                            71
59 Rudi Van Houts (Ned)                                              68
60 Gion Manetsch (Swi)                                               67
61 Marc Trayter Alemany (Spa)                                        63
62 Philip Spencer (GBr)                                              62
63 Ricky Federau (Can)                                               60
64 Benjamin Rudiger (Ger)                                            59
65 Clinton Robert Avery (NZl)                                        58
66 Andreas Kugler (Swi)                                              58
67 Barry Wicks (USA)                                                 56
68 Vaclav Jezek (Cze)                                                55
69 Tim Bohme (Ger)                                                   53
70 Samuel Schultz (USA)                                              52
71 Ivan Alvarez Gutierrez (Spa)                                      52
72 Johann Pallhuber (Ita)                                            52
73 Nicolas Bazin (Fra)                                               51
74 Denis Vorontsov (Rus)                                             50
75 Max Plaxton (Can)                                                 44
76 Francois Bailly Maitre (Fra)                                      44
77 Milan Spesny (Cze)                                                44
78 Carl Decker (USA)                                                 42
79 Thomas Dietsch (Fra)                                              42
80 Marc Golz (Ger)                                                   42
81 Filip Eberl (Cze)                                                 41
82 Raphael Gagne (Can)                                               40
83 Hannes Metzler (Aut)                                              40
84 Neal Kindree (Can)                                                36
85 Jean Christophe Peraud (Fra)                                      36
86 Chris Jongewaard (Aus)                                            32
87 Burry Stander (RSA)                                               31
88 Silvio Bundi (Swi)                                                30
89 Romain Dewaele (Fra)                                              30
90 Emil Lindgren (Swe)                                               28
91 Matthew Hadley (Can)                                              27
92 Miguel Martinez (Fra)                                             27
93 Jaroslav Kulhavy (Cze)                                            26
94 Julio Humberto Caro Silva (Col)                                   26
95 Andrew Watson (Can)                                               25
96 Rene Tann (Ger)                                                   25
97 Javier Puschel (Chi)                                              25
98 Simon Richardson (GBr)                                            24
99 Joris Boillat (Swi)                                               23
100 Derek Zandstra (Can)                                             21
101 Roman Rametsteiner (Aut)                                         21
102 Nick Waite (USA)                                                 21
103 Mathieu Toulouse (Can)                                           20
104 Matthew Martindill (Can)                                         19
105 Till Marx (Swi)                                                  19
106 Ryan Trebon (USA)                                                18
107 Marcel Bartholet (Swi)                                           18
108 Cristobal Silva (Chi)                                            18
109 Stuart Houltham (NZl)                                            17
110 Jan Skarnitzl (Cze)                                              16
111 Niall Davis (Irl)                                                15
112 Ivan Schalbetter (Swi)                                           15
113 Kris Sneddon (Can)                                               14
114 Jose Manuel Garcia Rodriguez (Spa)                               14
115 Ruud Rentmeester (Ned)                                           14
116 Sam Jurekovic (USA)                                              13
117 Nico Berckmans (Bel)                                             13
118 Steven Roach (GBr)                                               13
119 Jelmer Pierersma (Ned)                                           12
120 Klaus Nielsen (Den)                                              12
121 Davy Coenen (Bel)                                                12
122 Massimo De Bertolis (Ita)                                        12
123 Martin Lazarski (Can)                                            11
124 Benoit Simard (Can)                                              10
125 Perren Delacour (Aus)                                            10
126 Frederic Bussieres (Can)                                          9
127 Quincy Vens (Bel)                                                 9
128 Kryspin Pyrgies (Pol)                                             9
129 Mike Garrigan (Can)                                               8
130 Yannick Bernasconi (Swi                                           8