MTB index page for all MTB content
NORBA National Series #3 - NE
Mount Snow, VT, USA, June 17-June 18, 2006
Schedule
Kabush and JHK round two?
By Steve Medcroft
At Mount Snow in 2005, Kabush had a secret bottle
Photo ©: Travis Drennen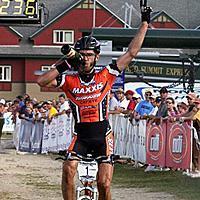 Spirits should be high in Mount Snow this weekend for round 3 of the NORBA National Series (June 17-18). Many of the racers are either back from tough schedules chasing UCI points at World Cups or are grooving into the middle of their domestic seasons. Last weekend's NORBA at Sugar Mountain was marked by good weather and premium courses and we saw such exciting results as a seventeen year-old winning the downhill (Tracey Hannah, Team Edge), a four-woman Luna Chix sweep of short track, a return of Geoff Kabush (Team Maxxis) to winning form (also short track) and American JHK (Subaru/Gary Fisher) putting a stamp on men's cross-country with a three-minute win over the second placed competitor (Jeremiah Bishop, Trek/VW).
Mount Snow, a ski and summer resort that offers hiking and mountain-biking among other activities, was also just named the venue for the 2007 and 2008 US National Championships (see below) - which raises its profile on the domestic sceen. Even the weather in Vermont seems to be willing to cooperate in the love-fest; predicted temps should hit the high eighties and besides the threat of isolated high-mountain thunderstorms on Saturday, the forecast calls for clear skies.
What will all this sweetness and light produce in terms of action on the mountainside? Last year, when Mount Snow was the site of the NORBA Series finale, Geoff Kabush (a.k.a. Mr. NORBA) wrapped up a double series championships with a win in cross country and second in short track. Retiring Luna Chix Alison Dunlap took a win in her final national race and Adam Craig won his first-ever NORBA short track (before going on to win the Short Track National Championships less than a month later).
Will 2006 be much of the same? Kabush has had a rough start to the year and has been overshadowed so far by the continued improvement of America's strongest cross-country racer, Jeremy Horgan-Kobelski. But after shaking the early-season gremlins with a third in the Sugar Mountain cross-country race and a hard-fought win in short track, it's looking as if Kabush will make the weekend interesting. Mix in the fact that Bishop, who was able to beat Kabush down the hill on the last lap in North Carolina, is still hunting for another cross-country win since his first in 2004 at the series opener in Texas and seems willing to almost kill himself in a race to get it, and we should see a hell of a battle.
On the women's side, Shonny Vanlandingham continues to dial in her form and is a likely favorite but Mrs. JHK, Heather Irmiger, was able to work through six places of traffic on the last lap at the Sugar Mountain cross-country race to finish second to Vanlandingham and has proven herself on steep courses.
Also expect to see a handful of World Cup pros looking for a final training opportunity before the circuit moves 400-miles north for a World Cup in Mont-Sainte Anne, Quebec in Canada (June 24-25).
Besides cross country and short track, there will be downhill, super D and four-cross competitions at Mount Snow. Jeff Lenosky will be there with his impressive traveling trials show. Luna Chix ambassador and former U.S. National Downhill Champion Marla Streb (who became a mother for the first time on May 8th) will also be conducting a mountain bike clinic, teaching basic and advanced skills before leading a group ride on the cross-country racecourse.