MTB index page for all MTB content
Results and Reports from Australia
Promoters wishing to submit results should send them to cyclingnews
Queensland MTB Marathon
Kooralbyn, QLD, May 29, 2005
Frendo on Fire in First Mountain Bike Marathon
Kenmore Cycles
Photo ©: Alan and Sharon Payne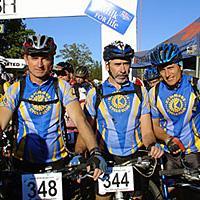 Brisbane rider Mark Frendo held off a late challenge from Sydney's Nick Both to become the inaugural winner of Queensland's first mountain bike marathon today at Kooralbyn. Frendo broke away from Sydney rider Nick Both at the halfway mark near Boonah to win in 3:40:10. Queensland University student, Frendo says his preparation has not been ideal. "I didn't even get on the bike yesterday and I've got two assignments due tomorrow," explained Frendo. Second and third were two Sydney riders who flat together, Nick Both and Mike Blewitt from the competitive Flight Centre Team. Just two minutes down on Frendo, Both could not get closer than 10 seconds during the last half of the race. "I got a gap on Nick on that huge climb then I held him off until the end," stated Frendo post-race. Blewitt was a further 15 minutes further behind.
The women's winner, Lee Schultz of Toowong, convincingly beat multi-sport athlete, Narelle Ash across the line after the two changed lead throughout the 85km. Schultz finished 25th overall riding a credible 4:39:03. Two time National Junior Cross Country Champion, Erica Oldfield from Ipswich, finished 30 minutes behind Schultz in her first ever endurance event. Schultz and Oldfield will continue the battle for leadership of the State's Sunshine Series when Round 4 continues on the Gold Coast next Sunday.
The half marathon was won by Master rider, Alan Mumford of Cornubia, who rode 63 km in 3:25:14. Second was Gary Freudigmann followed by Justin Claridge. Fourth was Mumford's son, Tim.
Three hundred riders made it home with a couple of competitors from the Gold Coast choosing to ride a tandem mountain bike. One handed rider, John Pinnell from Gatton finished in 34th position in his age category while his friend, Wade Seccombe, who plays wicketkeeper for the Queensland Bulls, came 18th in his division.
Photography
For a thumbnail gallery of these images, click here
Images by (MTB Media)
Images by United Photography/www.unitedphotography.com
Results

18-29yr Men
 
1 Mark Frendo               3.40.10
2 Nick Both                    2.04
3 Mike Blewitt                16.49
4 Regan Jefcoate              19.06
5 Grant Gaston                29.03
6 David Wood                  29.47
7 James Maltman               36.20
8 Dave Whitney                42.47
9 Shaun O'Brien               49.12
10 Daniel Radford             52.29
11 Nick Frederiksen           52.54
12 Tim Berg                   55.46
13 Hamish Gray                57.51
14 Nicholas Clark           1.07.36
15 Peter Donnelly           1.10.12
16 Justin Fraser            1.12.39
17 Ben Morgan               1.16.54
18 Andrew Bonnard           1.16.55
19 Doug Bavinton            1.20.22
20 Matthew Bourke           1.23.49
21 Mads Mathiasen           1.34.30
22 Rupert Langford          1.38.10
23 Stuart Klints            2.02.35
24 Peter Deacon             2.03.13
25 Chris Byron              2.55.39
26 Luke Anear               3.11.01
DNF Peter Koerner                  
DNF Ryan Nicholson                 
 
18-29yr Women
 
1 Lee Schultz               4.39.03
2 Erica Oldfield              28.53
3 Anna Sheldon                31.52
4 Connie Silvestri            50.41
5 Michelle Jones            3.38.34
 
30-39yr Men
 
1 Saul Britton              4.03.03
2 Russell Rodgers              4.56
3 Geoff Mirfin                11.25
4 Andrew Wilcher              12.01
5 Vaughan Caseley             23.43
6 John Gibson                 24.19
7 John Pittendreigh           26.20
8 Ross Uhlmann                35.24
9 John Allen                  36.24
10 Stephen Ungerer            37.20
11 Henry Engelbrecht          37.43
12 Struan Lamont              38.14
13 Robert Bowers              41.32
14 George Krisnoff            41.37
15 Aaron Pickett-Heaps        45.22
16 Richard Lucas              58.43
17 Steve Ardern             1.00.01
18 Wade Seccombe            1.02.01
19 Bruce Thiele             1.03.25
20 Andrew Charles           1.11.18
21 Greg Long                1.11.36
22 Paul Hill                1.13.21
23 Liam McCarthy            1.16.20
24 Jeff Toohey              1.16.49
25 Scott Clarke             1.21.04
26 Rob Paksec               1.25.11
27 Carlos Steenland         1.26.05
28 Jason Kruger             1.26.28
29 Lee Stariha              1.27.03
30 Paul Jacobsen            1.27.38
31 Nigel Hardie             1.29.53
32 Gary Grieve              1.32.56
33 John Pinnell             1.34.11
34 Des Trindall             1.34.33
35 Steve Cody               1.35.48
36 Brendan Rhodes           1.41.55
37 Gordon Kleynhans         1.48.48
38 Matt Foster              1.50.01
39 Paul Witzerman           1.51.55
40 Alan Kelk                2.00.02
41 Brett Sweeney            2.00.31
42 Geoffrey Richardson      2.00.58
43 Spencer Kearney          2.01.47
44 David Hunter             2.01.49
45 Kev Parker               2.03.20
46 Ross West                2.04.06
47 Rod Field                       
48 Lee Williams             2.05.02
49 Benjamin Madden          2.05.36
50 Andrew Paton             2.06.21
51 Darrel Fogg              2.06.50
52 David Loveridge          2.06.51
53 Frank Kenny              2.08.42
54 Peter Coster             2.11.17
55 John Bowers              2.14.32
56 Stuart Kane              2.14.33
57 Brett Clarke             2.14.42
58 Steve Linnell            2.19.15
59 Brad Poidevin            2.21.13
60 Greg Preston             2.30.02
61 Richard Francis          2.32.32
62 Jody Biggs               2.34.17
63 Francois Siebrits        2.35.40
64 Simon Vanderduys         2.39.39
65 Paul Kays                2.48.56
66 Derek Hallam             2.49.43
67 David May                2.50.41
68 Steven Turner            2.57.46
69 Bruce Mumford            3.03.53
70 Paul Palella             3.29.42
71 Tony Bailiff             3.31.09
72 Clive Wall               3.31.33
73 John Wilson              4.04.07
DNF Paul Green                     
DNF Erin Smith                     
DNF Andrew Wegener                 
DNS Elvis Kiosses                  
 
30-39yr Women
 
1 Narelle Ash               4.44.04
2 Kim Kelleher                18.25
3 Naomi Hansen                46.43
4 Susan Sim                   54.46
5 Gail Young                1.23.34
6 Mandy Mewha               1.50.18
7 Arranny Khuong            2.52.41
8 Leanne Ardern             3.33.33
DNS Melinda Symon                  
 
40-49yr Men
 
1 Linton Burns              4.25.57
2 Ian Gregg                    0.52
3 Steve Gibbs                  5.01
4 Roger Hawley                14.25
5 Paul Lange                  15.21
6 Kevin Jones                 20.23
7 Al Wallace                  27.45
8 Stewart Cumming             46.14
9 Keith Jarrott               46.53
10 John Forbes                47.04
11 Ian Holm                   50.26
12 Col Cuthbert               52.45
13 Nicholas Baker             54.48
14 Brad Conner                55.41
15 John Kelly                 56.16
16 John Travers               56.53
17 Tony Poutsma               59.21
18 Mark "Smoothy" Sharky    1.04.44
19 Chris McDonald           1.06.47
20 Peter Van Der Pligt      1.10.05
21 Paul Grubner             1.13.56
22 John Searston            1.18.10
23 Paul Cook                1.20.37
24 Wayne Holloway           1.22.29
25 Richard Eggins           1.22.57
26 Trevor Bell              1.24.14
27 Trevor Creighton         1.34.41
28 Steven Phipps            1.39.48
29 John Leech               1.40.13
30 Simon Gorman             1.40.33
31 Rick Whitehead           1.50.05
32 Ken Altoft               1.53.42
33 Mark Meyers              1.53.46
34 Paul Smith               2.02.25
35 Trevor Anderson          2.11.07
36 Gary Photinos            2.11.08
37 Colin Jerrett            2.19.57
38 Ronald Walker            2.49.21
39 Rients Lootsma           3.03.23
DNF Stuart Batstone                
DNS Paul Quatermass                
DNS Lynton Stretton                
DNS Anthony Cooke                  
DNS Eric Lange                     
DNS Oliver Feldhagen               
 
40-49yr Women
 
1 Sharon Heap               5.00.31
2 Meg Carrigan                19.18
3 Gillian Duncan            1.17.01
 
50+ Men
 
1 Andy McNaught             4.41.44
2 Robert Rhodes               20.41
3 Leigh Christensen           27.30
4 Terry Morgan                42.50
5 Chris McKelvey            1.04.47
6 Frank Sadow               1.21.18
7 Peter Bremner             1.46.21
8 Roy Whiney                1.52.53
9 Peter Cooper              2.07.25
10 Peter Charlton           2.10.09
 
50+ Women
 
1 Sue Broadbent             7.36.54
 
2 Person Team
 
1 Mark Skoblin              6.20.52
2 Kylie Van Haren                  
3 Mark Prickett                4.16
4 Peter Creagh                 4.20
5 Luke Scudamore              32.20
6 Phillip Scudamore                
7 Ben Bopf                  1.13.08
8 John Russell              1.13.34
 
Half Marathon
 
18-29yr Men
 
1 Gary Freudigmann          3.31.33
2 Tim Mumford                  6.50
3 Simon Frederiksen            9.04
4 David Conlon                10.25
5 Mark Bowring                20.45
6 Stuart Bushell              33.44
7 Tim Marsh                 1.10.43
8 Damon Venter              1.21.35
9 Scott Bourke              1.49.31
10 Neil Murphy              1.51.26
11 Ross Wood                2.03.51
12 David Crosby             2.55.32
13 Dylan Phillips           3.11.34
14 Daniel Beasy             3.15.50
DNS Damien Fenning                 
 
18-29yr Women
 
1 Rebecca Grant             5.44.30
2 Tamyka Bell                 46.42
3 Kathryn Gribble           1.02.27
 
30-39yr Men
 
1 Justin Claridge           3.34.02
2 Peter York                  26.49
3 Anthony Burke               31.55
4 Craig Linder                38.33
5 Martin Comer                38.53
6 Peter Freeman               39.50
7 Richard Bartleet            43.27
8 Andrew Jervis               57.59
9 Norman Doyle              1.04.48
10 Brett Ryan               1.08.40
11 Hunter Beirne            1.10.08
12 Shane Isbester           1.10.39
13 Sandy Dolley             1.11.53
14 James Moss               1.15.21
15 Craig Johnston           1.21.03
16 Peter Green              1.23.30
17 Robert Cook              1.32.50
18 Viadyslav Vovk           1.36.52
19 Dave Grantley            2.02.15
20 Garry Hicks                     
21 Jeff Snelling            2.20.50
22 Drewe Davidson           2.32.57
23 Peter Orr                2.35.03
24 Craig Flintoff           2.37.41
25 Derek Chien              3.02.55
26 Todd McGaw               3.09.05
27 Greg Cooper              3.49.08
28 Peter Flanders           3.49.09
DNS Steven Beck                    
 
30-39yr Women
 
1 Tracey Boadle             5.29.06
2 Alicia Perkins               0.12
3 Elizabeth Orr               31.31
4 Rebecca Hall              1.02.35
5 Helen Buckley             1.07.55
 
40-49yr Men
 
1 Jack Weitenberg           3.43.27
2 Martin Oldfield             28.00
3 Greg Morgan                 33.25
4 Gordon Bossley              45.48
5 Tony Statham              1.10.37
6 David Pannell             1.21.01
7 Robert Williams           1.35.35
8 Gaven Irving                35.24
9 Tony Crimmins             1.36.23
10 Rob Hook                 1.39.49
11 Wayne Russell            1.52.50
12 Pat Crosby               1.58.09
13 Brad Saw                 1.59.21
14 Stephen Clarke           3.16.39
DNS David Hayne                    
 
40-49yr Women
 
1 Jane Trotter              5.06.50
2 Alison Forbes                4.12
3 Sue Hazroll                  6.57
4 Sue Webber                  36.44
DNF Helen Walker                   
DNS Melissa Bull                   
 
50+ Men
 
1 Allan Mumford             3.25.14
2 William Bartleet            52.11
3 David Anderson              55.31
4 Warren Prior              1.27.10
5 Glenn Millar              2.32.49
6 Denis Nolan               2.59.39
7 Peter Woods               3.01.13
8 Bob McKenzie              3.17.25
DNS Boyd Backhouse                 
 
50+ Women
 
1 Lesly Robinson            5.54.59
 
2 Person Team
 
1 David Willems             3.55.36
2 Peter Nimmo                 46.36
3 Calin Carrier             1.21.29
4 Geoffrey Carrier          1.21.34
5 Emma Woodhall             1.28.19
6 James Spargo              1.28.21
7 Tristan Ansley            2.39.10
8 Nicci Ansley                     
9 Stephen Hibbert           3.14.26
10 Mark Jacobsen                   
DNF Sean Harrison                  
DNF Brad Davenport-Mills           

Local results 2004