Letters to Cyclingnews - April 23, 2004
Here's your chance to get more involved with Cyclingnews. Comments and criticism on current stories, races, coverage and anything cycling related are welcomed, even pictures if you wish. Letters should be brief (less than 300 words), with the sender clearly identified. They may be edited for space and clarity; please stick to one topic per letter. We will normally include your name and place of residence, but not your email address unless you specify in the message.
Each week's best letter gets our 'letter of the week' award. We look for for letters that contain strong, well-presented opinions; humour; useful information or unusual levels of sheer helpfulness.
Please email your correspondence to letters@cyclingnews.com.
Recent letters
The rainbow curse
Verbruggen is the problem
Gilberto Simoni
George Hincapie
Jan Ullrich
Questions on doping
The doom of doping
Floyd the future of USPS?
Dope testing
Magnus Backstedt
Roger Hammond
Gear ratio chart

Letter of the week
A signed copy of Will Fotheringham's book A Century of Cycling is on its way to Scott.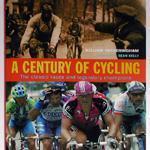 The rainbow curse
I'm not one much for superstitions and mumbo-jumbo so in past years when newly crowned World Champions used the dreaded "Curse of the Rainbow" to explain away a poor season I took it with a grain of salt. But now, with the recent implosion of the Cofidis team I've been forced to take things a little more seriously. Usually the World Champion's jersey affects only its owner, but Cofidis united not one, not two, but THREE rainbows within the same team! That's some serious multi-color voodoo which has afflicted a whole team. Perhaps Cofidis could appeal to the UCI to let them wear different jerseys - a 'lucky charms' motif or something. I wish them well in breaking the biggest Curse of the Rainbow!
Scott Thompson
Victoria, Canada
Friday, April 16, 2004
Verbruggen is the problem
I don't know whether pro cycling ever will eliminate doping from the peloton, but as long as Hein Verbruggen presides over the UCI it won't. Far from welcoming Jesus Manzano's detailed review of how riders and team staff circumvent the testing procedures, he insists that a) Manzano is lying ("I don't know if what he says is true, I expect not" -- First Edition News for April 22) and b) cycling tests more than any other sport, which of course misses the point -- the riders can subvert the process no matter how often they are checked. UCI should learn from Manzano's revelations and modify the testing procedures, not their frequency.
Verbruggen should go and UCI must adopt a positive and active approach to eliminating doping.
Hugh Winkler
Austin, Texas, USA
Thursday, April 22, 2004
Gilberto Simoni
Does anyone consider that Simoni has his heart set on France in July? Perhaps this is the reason his form is lacking. Could he actually be soft pedaling his fitness?
He could use the Giro to shape up for the Tour de France. I am sure he was frustrated last year in France. Everyone knows the double just seems impossible in this age of racing. So we could actually see if his legs can match his mouth?
Timothy Shame
USA
Monday, April 19, 2004
George Hincapie #1
USPS is a team built for the TdF. If it doesnt win the TdF, then it's sponsors won't be happy. George is lucky that USPS even bothers to send him to race Paris-Roubaix. Too bad he doesn't realize that he ought to move to other teams that have a crew that can support him in the Classics. Speaking of USPS and Classics, I think Max VH will also be better off racing for a different team.
Paolo Raymond M. Tiangco
Philippines
Friday, April 16, 2004
George Hincapie #2
In response to Wes Baki, George was not the only one left alone at the end. Did you see any other Alessio riders at the finish to help Magnus Backstedt? Or Mr Bookmaker riders helping Roger Hammond? CSC for Hoffman? Sure it helps to have teammates up front with you to give the team options, but sometimes it just comes down to who has the legs at the end of the race.
I, for one, have grown tired of the criticism of the US Postal team and their perceived lack of support for George. First of all, you must consider that Ekimov was injured and unable to race. Had he been in top form, he certainly could have been there to pitch in. Max and other Posties crashed in the Forest and never regained contact with the main group. All the critics make it sound as if George has been put out on island to fend for himself. That's just not the case. Sometimes a plan just doesn't come to fruition and sometimes the rider might not have that last one percent to go with the winning move at the right time. I am a huge supporter of Hincapie and I would like nothing more than to see him dominate the Classics. But don't blame the USPS team for what essentially is George's shortcoming.
Dan Rhule
Columbus, Ohio
Friday, April 16, 2004
Jeff Jones replies:
For Magnus: Baldato, and for Hoffman: Hoj, Gussev, Bartoli and Michaelsen. They were all there for quite a while after Arenberg.

I still take the point. The podium finishers were all completely outgunned by Lotto and Quick.Step, who ended up fifth and sixth. George could have easily been in the winning break instead of the penultimate one, but that's how it goes.
George Hincapie #3
As a recent convert to pro cycling, you'll be excused from knowing that Hincapie has had numerous opportunities to leave Postal and go to more classics-oriented teams. He's chosen to stick with Postal out of loyalty to Lance and the security blanket of remaining on an anglophone team. In short, he's got no one to blame for his predicament but himself.
Having said that, the case could be made that Hincapie is a chronic underperformer at crunch time, almost guaranteed to falter at the deciding moment of any big race where he finds himself in contention. I'd have to question whether a team change would remedy that -- a good sports psychologist might be more effective.
Don Demol
Concord, MA
Friday, April 16, 2004
George Hincapie #4
I find it curious that people keep writing letters about how George Hincapie should leave US Postal for the lack of support during the classics. I strongly disagree. Why is it that Postal has put two different riders on the podium for P.R. in the past few years? Boonen and Ekimov! They managed to find the way to a top three finish on US Postal Classics squads. Why are people calling foul when Hincapie does not? George Hincapie seems like a bright guy and a fantastic rider. I am sure he knows what is best for his career and one day when form and luck go his way he will get that big win for whoever he is riding for at the time. After all, not everyone rides for Quick Step and Lotto.
Charlie Cartolano
San Francisco, CA, USA
Friday, April 16, 2004
George Hincapie #5
While I agree that Postal-Berry Floor places too much importance on Le Tour, that is their prerogative. At the same time, I think Hincapie too often gets the benefit of the doubt. Look at this year' s Paris-Roubaix podium: not a whole lot of support for those riders in the last 50km, but they managed to make it. Maybe Hincapie has sacrificed some of his finishing power in order to improve his climbing abilities (with an eye toward supporting Armstrong in Le Tour)? Or is it that perhaps Hincapie just can't close the deal?
Peter Nicholson
Petaluma, CA US
Saturday, April 17, 2004
George Hincapie #6
It is indeed unfortunate that Hincapie seems to always be left alone at crucial moments. Hincapie has given many faithful years to USPS, and they have treated him well. But, if Hincapie is going to see any better results in the Classics, he is going to have to switch teams and get stronger support. I am a true fan of Hincapie's; he is a down-to-earth rider and is very loyal to his team. Surely USPS cannot be upset should Hincapie decide to leave.
Chris Meyer
Columbia SC
Sunday, April 18, 2004
George Hincapie #7
USPS does not care about one day races. If the team did care Van Heswijk et al would work for George during the one day races , but if one looks at the team mates that George gets they are all second rate riders on the team with one or two "A" riders such as Eki, and he is the only one that works with George. After this year George needs to leave postal ASAP or fade from pro cycling as the guy that worked hard with very few results. It is sad that the best American one day specialist is mostly ignored by Lance and team management. He needs to leave postal!
J.T. Boneham
Rochester New York
Wednesday, April 21, 2004
Jan Ullrich #1
Just last night I saw TV footage of Jan and he looked anything but overweight; to the contrary he appeared very fit. Merckx is just a Lance sympathizer who likes being in the news.
I would also say that last year's one minute deficit was rather good luck for Lance. He is surely slowing, or most certainly has peaked, as a result of age. I am sure that Ullrich is not taking Lance lightly; rather it may be his fitness that has him very confident.
Chet Ritchie
Phoenixville, PA
Friday, April 16, 2004
Jan Ullrich #2
In the language of US pro sports, Ullrich is done with his 'contract year' push. Last year he needed to resurrect a nearly moribund career and get that Next Big Contract or be D-2 bound. This year he's hitting cleanup for the Yankees again, and he's on all the talk shows. Last year, Rund um Koln was big home race worthy of effort and a long breakaway to re-establish his quality once and for all - this year it's just a 'training ride' and he comes 64th.
Ullrich could very well find all his form and go out and win the Tour de France, but even in cycling, there's such a thing as momentum.
Mark Jenkins
USA
Friday, April 16, 2004
Jan Ullrich #3
On his homepage (http://www.janullrich.de), Mister Ullrich claims that he's "doing great!" ("Ich bin voll im Plan!") but on this year's Flèche Wallonne he had to give up after 100 of 199 km. And it has not been his first drop out this season (check Amstel Gold Race).
Five-time Tour-winner Eddy Merckx even claimed that Mister Ullrich is "too fat" (according to www.bild.de).
There are only two more months left before the next Tour de France will begin, and up until now, Ullrich has nothing to offer but his glory moments from the past.
We are all waiting for another clash between Mister Ullrich and Mister Armstrong, but I don't think it will ever happen again. First, Armstrong will be more careful this time, and second, Mister Ullrich will not be ready for this year's TdF, again! Jan Ullrich will be very lucky if he'll finish on the podium. It's such a shame, because he is still one of the most powerful engines in the cycling sport, but he just cannot rise to the occasion. What a waste of talent.
Jonathan Rutschdran
Beggen, Luxembourg
Thursday, April 22, 2004
Questions on doping
Why are we so threatened by doping?
Is it acceptable to look at a rider's blood like the way that auto sports look at race fuel i.e. like an octane cap?
Can we legitimately ask from the riders, and their bodies, joints etc., the things we ask them to do, without medication, when rent money is at stake?
If we ask ourselves these questions, then where do we draw the line, and why?
In this day and age where riders are more expensive (as they should be) and with the large amount of money that is present in the system, should we as a sporting culture re-examine what we want from our racing?
The racing we have today and clean racing may be mutually exclusive. I am not suggesting a rule-free environment but we have been trying/wanting to solve this issue for years now and the problem has not gone away. Should we not look now to see if our framework for viewing doping might be off?
It's not bad to ask 'why?'
Matthew Reynolds
OKC, USA
Wednesday, April 21, 2004
The doom of doping #1
A question from Raymond F. Martin's letter of April 16:
Q: How is it that "corporate greed" has been deduced from an individual's drug use?
A: When a corporation sponsors a team, they want the team to have good results. Thus the sponsor pressures the team to show results. Since corporate sponsorship is worth millions of Euros, this pressure to win can be substantial. The consequences of not winning can be substantial as well. Thus teams may tolerate or even actively support the use of banned substances among riders to produce results and keep the sponsors happy. Now a corporate sponsor can claim to not be involved in the decision to use banned substances. But history shows that corporations have a habit of turning a blind eye to unethical or illegal practices if said practices help secure a return on an investment. Bottom line: no corporate greed, far less incentive to dope.
Having answered the above question, I absolutely acknowledge the role the individual's choice plays in the use of banned substances. Thus we have a demon with two heads: the pressure from above to show results and the willingness of the individual to participate. I feel both the individual riders and the sponsors share responsibility. To lay the blame at the doorstep of one without the other will prevent our sport from being cleaned up. There must be reform on both sides of the fence.
Jim Strange
Uphill with a Headwind, Nevada
Friday, April 16, 2004
The doom of doping #2
Raymond F. Martin, I am pretty sure that Mr. Strange's remarks of corporate greed are actually aimed at the individual. I agree with your comments that the majority of riders use for the single need of winning. Where corporate greed comes into the limelight is in the administration of the sport. The constant refusal to take a hard line, make some sacrifices for the future of cycling as a respectable spectacle is slowly destroying any credibility we have with those who don't follow and a lot of those who do! I agree with his call for life time bans, constant testing and fixed non repeatable terms for office bearers at the UCI, hopefully negating any complacency from with in the sport. Don't be fooled there is more corporate money involved in all sport, that anyone getting in and making a few percent profit can find something very lucrative. This leads to pressure on teams from sponsors which can lead to teams putting pressure on riders.
I am probably one of the biggest cynics these days. Every time I see a result I can't help but think what combination he/she used today. When we have a sport that idolises and places on pedestals past champions that were the worst of drug users in Anquetil, Simpson, Pantani and Virenque, to name a few, you have to wonder why we bother with fighting it when everybody seems to accept it. It makes me sick in the guts. I love this sport in all its forms but have been starting to lose interest with the results as I know they aren't a true reflection of the rider, more of what the riders is taking. I live in hope the day when we hear that only a handful of super desperate riders are running the gauntlet. Unfortunately anywhere there is glory and money involved there will always be cheating.
Sean Doyle
Sydney, Australia
Saturday, April 17, 2004
Floyd the future of USPS? #1
Floyd has a lot of poise and talent and is proving he is a multi-discipline threat. He also seems to be flourishing under the Bruyneel system, so if the Posties don't re-up and hang on to this guy, some other team will definitely snap him up. I wonder though if a European team with a different training system and racing philosophy would be as helpful to him in yielding these great results. CSC would be the exception there, I think.
I also think it would be a mistake for him to focus on the domestic racing scene - if USPS-Berry Floor doesn't continue and he's offered a US team position - because it's clear that Floyd is very tough and tactically adept, and deserves to compete with the best. I'd like to see a team built around him for the stage races, and someone with vision ought to begin clearing the way for that to happen. This could be Floyd's breakout season so I hope we all get to see more of what he's capable of when the tough TDF stages start.
Margaret Berkey
Haddonfield NJ, USA
Friday, April 16, 2004
Floyd the future of USPS? #2
I think that Mark Salisbury has the job of Floyd Landis a little incorrect. I agree that Floyd is a rider who could lead a team in the future, but Lance and US Postal aren't in the business of patronage. Floyd is intended, I think, to be a pistol in this year's TdF. When everyone is watching Lance, Floyd simply rides up the road and with his condition and advancing ability the other teams simply can't afford to let him go. So they must follow Floyd and Lance goes along for the ride. If everyone has to chase Floyd the pressure on Lance will be reduced until his inevitable attack in the closing kilometers of the hard stages. If they let Floyd go they simply lose that way as well.
You have to remember that Johann Bruyneel is a talented man of strategic thought. What he is doing he does with purpose and plan. If Bjarne Riis is a man who can get the best out of his riders Johann Bruyneel can use that best to better advantage.
If Lance has been slowing as the 2003 Tour seemed to indicate, he can still win a record setting 6th Tour by using strategic planning to overcome his slight reduction in physical advantage. Never sell people of Armstrong's and Bruyneel's sort short.
Tom Kunich
USA
Wednesday, April 21, 2004
Dope testing
Haven't I heard that there is an attempt to use forensics to test athletes for doping? By this I mean the use of hair and fingernails, as doping products can be detected in these long after they have cleared the bloodstream. If not, does anyone know if that is doable?
Evelyn Whitworth
USA
Friday, April 16, 2004
Magnus Backstedt
The win of Magnus Backstedt means more to me than any of the cycling news I've received all year! For me his win is personal. At over 6 feet tall and almost 200 pounds his win speaks volumes for those of us that are "big" cyclists. I'm 6'4" and 200 pounds and I am now more motivated than ever to train. Up until now I believed my potential was limited because of my height and weight. I'm powerful but let's face it, my body acts as a parachute at high speeds. I've worked allot this year on getting a better aero position on the bike and this has paid off big time but I still had the doubt. I believed that no matter how aero I got I still would have to contend with tiny guys who had good aero positions too. This win is big for me because I now realize you don't necessarily have to be a feather weight to win.
Go Magnus!
Warren Beckford
Bloomfield, CT, USA
Friday, April 16, 2004
Roger Hammond
Huge congrats to Roger for Paris-Roubaix. I used to play soccer with Roger in high school when he was already a successful cyclo cross junior and am so happy to see this successful season for him. He can only get stronger next year and be a contender for the classics. Maybe we will have a road world champion soon from Britain!
Ray Jackson
San Francisco, CA
Saturday, April 17, 2004
I feel obliged to point out that Tommy Simpson was world champion in 1965 (and as Andy carter has just pointed out Beryl Burton (1960 and 1967) and Mandy Jones (1982) have also both been British World Champions on the road) - but another world champion would unarguably be a great thing for UK cycling. - Letters Ed.
Gear ratio chart
I once saw a chart that gave you the different ratios for lets say a 53/15 combo or a 52/15 combo. Any ideas where I could locate such a chart?
Todd Brock
USA
You can easily make one yourself in a spreadsheet. Gear ratio is wheel size (in inches) x chainring divided by rear sprocket. For 700Cs the wheel is usually regarded as being 27in in diameter, though it's actually closer to 26in. This Excel spreadsheet gives an example. - Letters Ed
Recent letters pages