Letters to Cyclingnews - April 16, 2004
Here's your chance to get more involved with Cyclingnews. Comments and criticism on current stories, races, coverage and anything cycling related are welcomed, even pictures if you wish. Letters should be brief (less than 300 words), with the sender clearly identified. They may be edited for space and clarity; please stick to one topic per letter. We will normally include your name and place of residence, but not your email address unless you specify in the message.
Each week's best letter gets our 'letter of the week' award. We look for for letters that contain strong, well-presented opinions; humour; useful information or unusual levels of sheer helpfulness.
Please email your correspondence to letters@cyclingnews.com.
Recent letters
Floyd the future of USPS?
Magnus Backstedt
Jan Ullrich
David get outta there!
Cofidis and the Tour
Michelin Tubeless at Roubaix
Manzano
Vale Muur van Geraardsbergen
The Doom of doping
Hincapie
Javier Oxtoa
U.S. Excitement
Radios
Roger Hammond
England or Wales?

Letter of the week
A signed copy of Will Fotheringham's book A Century of Cycling is on its way to Mark.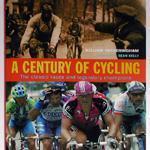 Floyd the future of USPS?
I know that Lance has a habit of "paying" his senior domestiques during the spring by helping them to win some of the short stage races or Classics, as we have seen over the last few years with Tyler, George, Kevin and most recently Floyd.
However, this year it seems to me that perhaps Lance is grooming Floyd to take over when he retires (or perhaps to be the second protected rider this year in case Lance falters).
Floyd is about the right age, has two TdF finishes under his belt, is a strong time trialist and can be good in the mountains when he is on form and of significant importance to the USPS (or perhaps a new sponsor trying to make inroads in the American market), is American.
Combine that with his apparently improved training discipline and drive since his hip injury and it would seem that he is the logical choice to be groomed as Lance's successor.
Is it just me, or might there be something to this?
Mark Salisbury
USA
Friday, April 9, 2004
Magnus Backstedt
Finally. God made Magnus Backstedt for only one purpose, to win the Hell of the North. I remember his seventh place in 1998, when David Duffield and Sean Yates commentated for Eurosport. One of the riders in the lead group, a big guy in Gan colours caused much confusion. Yates in the end had to admit that "I don't know who that is".
That guy was Backstedt and he could have been on the podium if he hadn't ridden his chamois off for Fred Moncassin.
And speaking of divine justice, wasn't it great to see Hoffman and Hammond on the podium? Two guys who have worked so hard for so long for their success. Pity only one of them can win next year.
Tony Cravero
Gothenburg, Sweden
Monday, April 12, 2004
Jan Ullrich
It was a disappointment to see Jan drop out of the Amstel Gold race, but it tweaked a thought. Jan, recently criticized by no less than Eddy Merckx this week, and whose Tour de France efforts have been nothing short of electrifying, seems to be falling into a familiar trap. Currently overweight, or so Merckx says, it makes one wonder whether he has a motivation issue.
His performance in last year's Tour must have given him a great deal of confidence that he can beat Lance this year. And that's easy to understand; after all, he came so close. But he's making a mistake if he believes Lance is ready to be plucked. Last year's Tour was an aberration for Lance; he'd gone through a bad crash before the Tour, was having problems on the home front, and was battling illness. Ullrich rightly believes he will get increasingly powerful as the Tour progresses. Who wouldn't in his shoes? But he better not get lulled into thinking that last year's one minute deficit was a result of Lance getting weaker. On the contrary, only a man of Lance's apparent depthless vigor could have overcome the obstacles placed in front of him on Luz Ardiden. I hope Jan realizes this.
Wes Baki
Green Mountain Falls, Colorado
Tuesday, April 13, 2004
David get outta there!
A couple of years ago David Millar wasn't happy with the team and at the start of last year's season he talked about it in the press. At the time the problem(s) may have been resolved but... The organization behind the scenes was bad (see prologue TdF for DM and other members of the team).
The Cofidis team may be the state-of-the-art French team, according to some pre-season reports but I tend to strongly disagree. Fdjeux.com seems more professional to me.
With the latest developments and as a cycling fan I can just give DM one piece of advice: GET OUTTA THERE! There are other teams than Cofidis in the world and there are other teams that can use one of the world's best cyclists.
Laurent Schoux
Montreal, Canada
Friday, April 9, 2004
Cofidis and the Tour
I'm a bit hazy about this too. The official explanation is that Cofidis were pre-selected so there was nothing that could be done, but that didn't stop the authorities throwing Festina out of the Tour when the revelations about them came out did it? And there was another similar occasion more recently, but I can't quite remember what it was. Someone else will I'm sure.
Having said that I'd be very sad to see David Millar out of the key events.
Chris Whiley
UK
Friday, April 9, 2004
Michelin Tubeless at Roubaix
I was just wondering if anyone could provide any info on how the new Michelin Tubeless tires faired at Paris-Roubaix. Did they seem to puncture as much, or less.
Brandon Eller
Wilkesboro, NC
Wednesday, April 14, 2004
Manzano
The letter from Mr. Taylor troubles me. His point appears to be that in some manner Jesus Manzano must be lying about the use of drugs in a sport renown for drug dependence. Let's admit it, when someone like Jacques Anquetil can essentially laugh about drug use without response from the sport's controlling bodies it isn't likely to change.
There is sufficient evidence from any number of revelations be it the books from Willy Voet or Paul Kimmage or the fact that the strategies for avoiding testing positive described by Manzano are completely logical. Would you suppose he made this entire thing up?
No, drugs are a scourge upon the sport because those who could win clean feel the need to use drugs to maintain a status quo among less talented riders. And those, whose honor forbids them to use drugs, are punished by lesser performances in relation to those who use drugs without compunction.
As for his Kelme vs. Cofidis comparison. Perhaps I didn't get the full story but it was my understanding that Cofidis was a problem with a rider whereas the concerns about Kelme was that the TEAM was forcing drugs upon their riders not directly but in a manner that gave them little choice in the matter. "You must listen to the doctors."
Tom Kunich
USA
Friday, April 9, 2004
Vale Muur van Geraardsbergen #1
Steve Farris needs to wait a year. He'll find that the gravel and fill has washed out from between the new cobbles on the Muur and they will settle unevenly, as they have done on the Koppenberg, and the character of the old Muur will return.
Like him I've ridden these climbs a few times over the years... and I'm glad I rode the "old" Koppenberg before it was re-paved.
Christopher Lloyd
USA
Thursday, April 8, 2004
Vale Muur van Geraardsbergen #2
How little I thought when I put the line, "I hope tomorrow at the start of the Ronde they have a moment of silence for the demise of one of the greatest characters in our sport", in my letter last week that it would, in a way, come true. The moment of silence was alas not for the Muur but for "Iron Briek". All my cycling life I have looked at Briek Schotte as the epitome of the Belgian "hard man". He looked like a Flandrian hero should look, tough. How fitting that he should die on the day of the Ronde, and at that the last Ronde of his successor Johan Museeuw. He's pounding the golden cobbles now, with the rain and wind in his face. Allez Schotte!!
Steve Farris
Silver City NM
Friday, April 9, 2004
Vale Muur van Geraardsbergen #3
I think there are two sides here. Obviously Steve Farris is on the side of "If it ain't broke...". I am not sure the Belgians did anything wrong or disturbing here. Looking at pictures (from cobble level) of the Koppenberg one year later I think you can clearly see that just one year of wear has changed this climb dramatically from last year. It is in the very nature of cobble roads to change from year to year as each cobble responds to the forces of nature acting upon it. If we just give the Muur its due time, I am sure it will provide all riders with the same thrilling challenges that it always has. Many more attacks will be launched, and many more figures will crack on this fabled climb. I lift my glass to The Muur!
Eric Hallander
Little Silver, NJ - Sure wish we had a "wall"
Friday, April 9, 2004
Vale Muur van Geraardsbergen #4
I live some 25 km from the Muur and I have climbed it more than 100 times since I started cycling (8 years ago). I have to admit I haven't climbed the new version yet, but the old version was just too bad to include in a professional cycling race. In fact, on the steepest part of the climb, there was only space for one or two riders (on the left side of the road), because the right side was one big hole with here and there some randomly thrown cobblestones. And the little "landslide" last year certainly didn't improve things. They just had to stabilize the flank of the Oudenberg to prevent it from further collapsing (they drilled concrete anchors in the hill to realize that). At the same time the local authority -with the (financial) support of the provincial and regional authorities- decided to re-pave the road, using two-thirds of the original stones.
Steve Farris also makes the comparison with Paris-Roubaix. In P-R the same things happen as in the RVV. Let's consider the pavés of Mons-en-Pévèle. This classic cobblestone sector was reduced in length from 3000 to 1000 metres in the 1999 edition, because the first 2 km were just inaccessible for race bikes. After four years of hard work and restoring, the organizers were proud to announce that Mons-en-Pévèle has been included in its full glory in the edition of 2004. The same happened with the section at Le Moulain de Vertain. They had to restore the original road before this short but difficult section could be included for the first time in 2002. In fact, some of the original cobblestones were found 2 metres deep, so you can't deny some work was needed.
At the end of the first paragraph of his letter, Mr. Farris mentions the Koppenberg. I never climbed it in its original state, and when I climbed it last summer, the road surface was certainly not bad. The winter and spring weather, combined with the traffic seems to have deteriorated the new pavement (only three years old). The first gaps between the cobblestones and the traditional "donkey's back" have appeared.
It might also interest Mr. Farris that more than 34 km of paved roads are classified as monuments or valuable landscapes. As long as the RVV exists, these roads will remain cobbled.
And last but not least, what was the influence of the new Muur on the course of the race? Just as so many times in the past, the decision fell on the Muur, although being easier and smoother, but just as steep as ever.
Roel Ghysens
Belgium
Saturday, April 10, 2004
The Doom of doping
Mr. Strange's remarks were, well... strange. How is it that "corporate greed" has been deduced from an individual's drug use? Let's be fair. Riders, and many other athletes, use drugs because they have an inordinate desire to win. Period. That's why they get so good. If it were all about money (corporate greed, etc...), we wouldn't see any drugs in amateur sports, right? Well, that sure isn't the case. That "inordinate desire" manifests itself in some pretty unsavory ways. Cheating, of all kinds, is just one of them. Cheating has been, and will always be, a part of the human condition in all of its venues.
Raymond F. Martin
USA
Friday, April 9, 2004
Hincapie
It's been sad to see big George seemingly working alone at crucial end stages in his attempts to win the Classics this spring. Sadder still to see him, isolated, urging the leaders for help on the Leberg toward the end of the Ronde. At Gent-Wevelgem there wasn't a Postie within ten minutes of George at the finish; whereas, Quick.Step had five riders working right to the end. Then again at Roubaix he was left hanging in the wind, again isolated. How is he expected to win a Classic with so little help from teammates at the most crucial moments of these races? As a fairly recent convert to the world-wide appeal of cycling, I may sound too much the newby, but I don't understand why U.S. Postal places all its eggs in one basket with so many great spring races to contend. Hincapie is a marvelous cyclist and one of the true keys to Lance's five Tour victories. He deserves better.
Wes Baki
Green Mountain Falls, Colorado
Tuesday, April 13, 2004
Javier Oxtoa
I just wanted to let Mary Ann Blood know that I saw a piece on Javier Oxtoa recently in a cycling magazine here in Spain. He road the 6 hours of Euskadi track event for the Basque Country Para-Olympic team. He helped them win, beating the team from Catalunya. Apparently he is riding and doing as well as can be expected after what happened.
Nathan Deibert
Sevilla, Spain
Friday, April 9, 2004
U.S. Excitement
I am seeing a big U.S. Tour this year coming up. Unless something happens to our boys, it looks pretty exciting to have like up to 4 U.S. guys vying for the top positions in the Tour.
Go Lance!
Go Bobby!
Go Tyler!
Go Levi!
G.C. Threats ALL! Woot for U.S. Cycling! We can only hope....
Regis Chapman
Sacramento, CA
Friday, April 9, 2004
Radios
While the subject of radios is going around again, I'd like to propose that the UCI or the television networks take advantage of the radios to make watching racing even more entertaining and to get more people to watch.
How? Follow NASCAR's example and let the fans (and other teams if they want to) listen in! Under the current set-up with NASCAR, fans can buy or rent their own race-radio receivers, tune them in to the frequencies of their favorite drivers (or their biggest rivals) and get intensely personal coverage of the race as they listen to the discourse between the driver, the crew chief, the spotter, whoever!
It seems to me that this would strike a nice balance in alleviating some of the problems people have cited with radios, namely that it ruins the spontaneity of racing. After all, teams would be able to listen in on each other, but not TOO much because really it would be impossible to have more than one or two radios going in the team car at once.
There are a million ways to do this so that spectators at the event, in team cars, following online, or watching on a TV half way around the world can listen in. We live in an age of technology, let's start using it!
Can you imagine being able to listen in on the words of Johann to Lance on Alpe d'Huez, or to Patrick Lefevere and Museeuw as Paris-Roubaix pounds through the Arenberg? Holy crap! I want to listen!
Sam Damon
Hanover, NH
Friday, April 9, 2004
Roger Hammond
Roger Hammond is already in a team, and seems to me to be quite content there. Hammond is a splendid rider who is (sensibly) concentrating on races that suit him, and in which he has already done well.
The major tours are not the be-all and end-all of cycle sport, indeed, they have a distorting effect on the sport.
Stephan Esleben
Edinburgh UK
Friday, April 9, 2004
England or Wales?
Great site; I look at it most days. Keep it up.
One small niggle, though. You say Magnus Backstedt is moving back to England where his wife is from. It's Wales, as far as I know. Those of us who live there could be offended! After all, Nicole Cooke isn't English, though, of course, she's British.
Chris Jones
Connah's Quay, North Wales
Wednesday, April 14, 2004
That's been amended in our interview. Fans of Welsh hill country know this confusion is just the English trying to co-opt the more interesting parts of Britain. - Your (English) Letters Ed & Welsh hill fan
Recent letters pages