Recently on Cyclingnews.com
Tales from the peloton, March 18, 2009
Bartoli holds court on the Classics
Michele Bartoli wins Flèche Wallone
Photo ©: AFP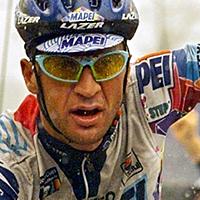 Michele Bartoli's name is synonymous with success in the Classics during the late 1990s. Victories in de Ronde, Liège and Lombardia give him a unique perspective on the sport's biggest one-day races. He tells Cyclingnews' Gregor Brown how he thinks this season's momuments may unfold and who to look for at the head of the field.
One of Italy's best Classics riders, Michele Bartoli has remained involved in cycling since his retirement in 2004. He keeps a keen eye on the latest developments and trains with some of those riders who maintain his legacy of succeeding in the sport's monuments. It's no surprise then, that the 38-year-old has strong views on who will perform well in 2009's one-day events.
The man from Pisa has the stats to back his opinions, with wins in three of cycling's five Monuments - the Ronde van Vlaanderen (1996), Liège-Bastogne-Liège (2002 and 2003) and the Giro di Lombardia (2002 and 2003). Add two World Cup titles (1997 and 1998) to the mix and you've got a man well-qualified to comment on the best of this season's strongmen.
Bartoli examines the possibilities for Milano-Sanremo, Ronde van Vlaanderen, Gent-Wevelgem, Paris-Roubaix, Amstel Gold, Flèche Wallonne and Liège-Bastogne-Liège according to the routes, his memories of these races and those riders who are suited to winning a one-day battle.
Alessandro Petacchi won Milano-Sanremo in 2005
Photo ©: Sirotti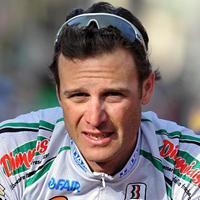 La Primavera - Milano-Sanremo (March 21)
Bartoli's best: Fifth in 1995 behind winner Laurent Jalabert
Michele's observations: "The first year I rode it seemed most adapted to my characteristics, in 1995. It is a very fast parcours. It's not too demanding or difficult, but if there are riders who want to have a hard finale, like Danilo Di Luca or Philippe Gilbert, then the race could end differently. A little like we saw in 2008 with Fabian Cancellara, without a bunch sprint.
"They can make the difference on the Cipressa or Poggio with a high rhythm. This year, I don't see teams that are overly strong and who can control the finale. I think that Gilbert, especially seeing what he did in the last two years. If he has matured well, he will be a protagonist.
"Petacchi is the favourite out of the sprinters. He is going well in the climbs and will have the legs to have a sprint."
Quick Step Classics campaigner Tom Boonen
Photo ©: ISPA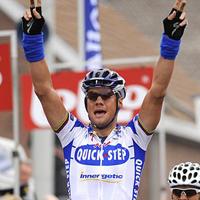 De Ronde - Ronde van Vlaanderen (April 5)
Bartoli's best: First in 1996 by 55 seconds over Fabio Baldato and Johan Museeuw
Michele's observations: "Flanders is the hardest classic out there. It is not only because of the climbs; it is also the stress of dealing with the wind, the curves, the pavé. You have to stay alert and not fade too far back in the group – you have to be 100 percent.
"The Belgians are the favourites now more than before. In the past, when there was Andrej Tchmil, Max Sciandri, Rolf Sørensen, Andrea Tafi and me.
"I think it will be a Quick Step dominated race with Boonen winning, like he did in Kuurne-Brussel-Kuurne. The other favourites will be Stijn Devolder, Fabian Cancellara and Alessandro Ballan.
"Ballan will have a little extra pressure with the world champion's jersey. He is a calm guy, though, and the responsibility won't weigh him down. He will wave Italy's flag there because I think it will be difficult for Filippo Pozzato."
Robbie McEwen could be the man in Wevelgem
Photo ©: Mark Gunter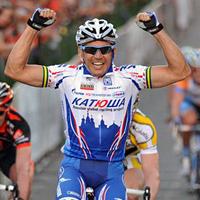 Gent-Wevelgem (April 8)
Bartoli's best: Ninth in 1993 behind winner Mario Cipollini
Michele's observations: "The course is more or less simple: there is always the wind from off the coast mid-race, an escape goes clear and then the Kemmelberg.
"Right after the start, you won't know who will win, but you will know who will lose. There are usually 30 or 40 riders who form a big move and it is those riders who go on to contest the win.
"I think that it is the only one of these Classics where the sprinters can shine. Maybe Robbie McEwen, Thor Hushovd or Danilo Napolitano; it is open to the non-Classics specialists."
The perennial question: Will this be George's year?
Photo ©: Emory Ball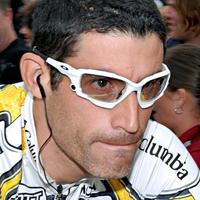 L'enfer du Nord - Paris-Roubaix (April 12)
Bartoli's best: 21st in 2004 behind winner Magnus Backstedt
Michele's observations: "I did it only one time, in 2004, the last year I raced. I know that Bernard Hinault only did it once, and won it, but he was a different breed. There are only two riders like that - Hinault and Eddy Merckx.
"In Carrefour de l'Arbre, the last hard sector with 15 kilometres to go, we were in sixth. I blew first, then Museeuw... If I could have stayed in there then I could have gone for the win.
"It is hard for me to give advice on Roubaix because I only did it one time. Everyone says it is a massacre and you remain in pain for a week, but for me it was not that way.
"It is a race that only four or five guys can win due to natural selection, luck and strong legs. It is hard to say this early on, but there will be Boonen, Cancellara, Ballan, Juan Antonio Flecha. Of course, maybe there will be some guys going strong around that time; like Thor Hushovd.
"CSC tore it up in 2007 and delivered Stuart O'Grady to the win, though it is not typically a team race. I will be happy if Hincapie wins because he is a true professional – he would deserve it. He has been unfortunate in the race with incidents that have prohibited him from finishing."
The evergreen Davide Rebellin
Photo ©: Roberto Bettini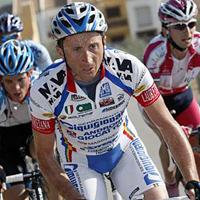 Amstel Gold Race (April 19)
Bartoli's best: First in 2002 over Serguei Ivanov and Michael Boogerd
Michele's observations: "I like it a lot because of the crazy roads. There are parts where two riders have trouble riding side by side because they are so small. You have to know the roads well.
"Flanders, Roubaix and Amstel are very particular races that you will never see anywhere else in the world. It makes the race very intriguing and fun for the fans.
"In the finale the roads are up and down. The Cauberg comes each time in the three final circuits; it leaves you with no energy. The hard climb is the 'Antenna climb' or the Eyserbosweg. The year I won, I attacked there and every year the race really develops from there. It is short, but it starts off with a steep gradient of around 20 percent.
"The favourites will be Damiano Cunego, Davide Rebellin, Thomas Dekker and the Schleck brothers - particularly Fränk - who are all suited to the Ardennes races."
An Ardennes win is vital for Damiano Cunego
Photo ©: Roberto Bettini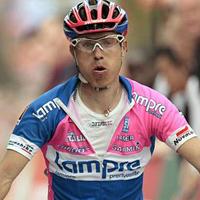 Flèche Wallonne (April 22)
Bartoli's best:: First in 1999 by 14 seconds over Maarten Den Bakker
Michele's observations: "This is the race of the Mur de Huy, it is the hardest climb I have done in the Ardennes. Normally a mountaintop arrival is hard, but that one doesn't ever finish. However, it is the most beautiful finish of the Classics.
"They will do it three times, up until the second time there are no real dangers. The true race happens after the second time and beyond. The decisive point is Côte de Ahin; it is the launch pad to make a difference.
"I think, like normal, there will be 15 riders that make it to the last kilometre. Up until the last metres anything can happen because the speed is so slow and the finish never arrives – never.
"The favourites will be Kim Kirchen, Alejandro Valverde and Cunego. Cunego has to do well in the Classics, which is where he excels as rider."
Alejandro Valverde is flying
Photo ©: Roberto Bettini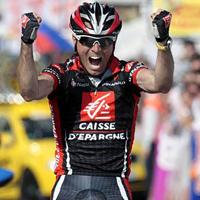 La Doyenne - Liège-Bastogne-Liège (April 26)
Bartoli's best: First in 1997 and 1998
Michele's observations: "Liège-Bastogne-Liège is a beautiful and very hard race. It is not that difficult to race, but you have to have a good team to control it up until the Côte de la Redoute.
"The years I won favourites went à bloc early on, but in the last years everyone seems to go more tranquillo and wait for Côte de Saint-Nicolas. I preferred to go all out on Redoute and to have less rivals.
"I think Liège-Bastogne-Liège, Flanders and Roubaix are the three most important races; if you win one of these you are part of cycling's story.
"I am curious to see if Lance Armstrong races; if he does Giro del Trentino it will be hard, almost impossible to race Liège the next day. Ivan Basso will do it, though; he is taking a private plane that night after Trentino.
Valverde will be the favourite again, or maybe his teammate Joaquím Rodríguez. The others are Thomas Dekker, Cunego and, if they can race, Di Luca and Rebellin. The Grand Tour men, like Nibali and Sastre, handle the long climbs well, but in the Classics you need explosiveness.
Photography
For a thumbnail gallery of these images, click here
Images by Roberto Bettini/www.bettiniphoto.net
Images by Sirotti/www.sirotti.it
Images by ISPA/www.ctm-images.com
Images by Mark Gunter/www.pbase.com/gunterphotograph
Images by Emory Ball/www.emoryball.com
Images by AFP Photo