The Bobby Julich Chronicles, December 17, 2008
Cross-training with the pro
By Bobby Julich
I hope that you have enjoyed your time off because it is time to get back to work! That was the mantra I used to tell myself at this part of the season and during my career it would usually coincide with a team training camp.
Each team's camp is different depending on the level of organisation and the team's aims for the upcoming season. I was at Motorola, Cofidis, Crédit Agricole and Telekom during my career and feel that they were all similar. There were meetings and nights at the bar bonding with teammates, but I never felt like I got anything spectacular out of them. I felt it was more of a chance for the directors to check up on us and make sure no one was too much out of shape or had been piling on the pounds. Oberall, I didn't look forward to them and couldn't wait to get them over with, but that all changed when I signed with Bjarne Riis at CSC.
Boot camp
Jullich at the 2005 'boot camp' in Denmark
Photo ©: B.S. Christiansen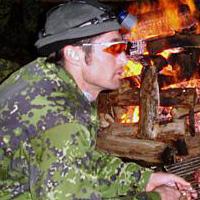 There are no words to describe the difference between the other camps that I attended and the ones that Riis and B.S. Christiansen arranged. All I can say is that they were massive! Our exploits have been well documented over the years and journalists who attended described the camps as "boot camp" or "survival camp." This is an appropriate description because of B.S. Christiansen's military background. (Read about the 2008 camp.)
People always wonder why we wore military clothing and trounced around looking and acting like soldiers. The reason for wearing the military clothes was so that we all looked alike and dealt with the elements in the same way. It wouldn't be fair if a rider who made a big salary went out and bought the most expensive gear, when a young rider or member of the staff who makes less, was forced to make do in the same conditions with less quality equipment.
The focus of the camp was to put the riders and staff under mental and physical stress in order to see how they reacted under pressure. Cycling is full of pressure and drama. A cycling team that understands how to react and who to look to for leadership during testing times will become more successful. Opinions vary on how far this should be taken and whether jumping into freezing lakes is necessary, but in nine years of doing these exercises, there have been no serious injuries. Yet!
"Even though I'm no longer a rider I must admit that I still get nervous before these camps."
- Julich speaks about CSC's 'boot camps'
I think the most unique thing about those camps was that it was not only the riders who attended. The entire staff was and still is expected to finish the exercises. It is all about teamwork. Of course, the riders have the natural talent and energy levels to finish, but they also had to think about helping the weaker members of the team who don't race bikes for a living.
Even though I'm no longer a rider I must admit that I still get nervous before these camps. So you can imagine what the women who work in the office all year must feel when they get dressed in military clothing and are issued a backpack that is double their size! When the camp is finally over you get a shower and a warm meal. You realise that although you suffered, hopefully you learnt something about yourself and the people that you will be working with. One thing is for sure, it may be only a few days long, but it is a conversation piece for the entire year.
For one reason or another, the rest of the teams I rode for never really paid attention to these details. I remember turning up all wide-eyed and bushy-tailed for the Motorola camp. I was nervous as hell about meeting the guys but when I walked in they were just sitting around, drinking beer and playing pool, and just about to head out for Mexican food. I was standing there thinking, is this what professional life is all about? The next day we were playing golf and scooting around in golf carts.
Every team is different, though. Both Crédit Agricole and Cofidis were basic when it came to training camps. The riders would simply turn up, have their kit sized up and then go home. T-Mobile was unique simply because they put on the most pimped up camps. No expense was ever spared. Riders were ordering room service the whole time and charging it to the team. You might not think that sounds too impressive but we were staying in the nicest hotels in Germany. The team laid on some fantastic hospitality for us.
Create your own off-season regime
Julich prepares in Tuscany during a 2006 training camp
Photo ©: Roberto Bettini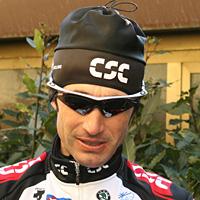 Chances are you won't attend a Riis-style boot camp over the winter, but your preparation for next year is still important for the months ahead. After a break from racing, it's important to do some cross-training before you start riding your bike again in order to build up some fitness in other areas of the body.
I think that the most important cross-training a cyclist can do is weight training in the gym. Of course, don't try to compete with the biggest guy in the joint, but a programme that is curtailed especially for cyclists will help. The focus of this training should be to target the upper body and core areas. Lower body exercises are also important, but those are ones where cyclists are naturally stronger. There is a very wide range of exercises one can do, but the focus is on endurance strength conditioning and not max strength.
Running is by far the easiest cross-training exercise for cyclists because it is simple and endurance based, but tennis, inline skating, hiking, mountain biking, cycle-cross, swimming, cross-country skiing, downhill skiing and rowing are all fantastic sports to have fun with in the winter time. I only did a few sports, but some of my teammates used to really vary things.
Of course you can ride your road bike during this period of cross-training to fill in some hours, but even as a pro it would make up no more than 50% of my total training hours for the week. It is easy to fall back into training on the road too early and being out-lifted by a woman in the gym is not good for the ego.
After the break and a few weeks of cross-training, it's time to get back on the road. I used to do long, slow miles as a way of building up my endurance. But I believe that mixing in some intensity during the off-season, especially focusing on your weaker areas, can be a big benefit. I think that it is a good idea to ride with others or even big groups. It is a great opportunity to meet new people and stoke the competitive fire again. Wherever I was based, be it in the US or in France, I used to always enjoy riding with others. Even though I've stopped racing I'll still be riding my bike. If you see me out, don't forget to say hi.
See you next month,
Bobby
Bobby J
See also: The business of cycling
Bobby Julich: Nostalgic Julich hangs up wheels
Photography
For a thumbnail gallery of these images, click here
Images by B.S. Christiansen/www.bschristiansen.dk
Images by Roberto Bettini/www.bettiniphoto.net