The Bobby Julich Chronicles, November 19, 2008
The business of cycling
By Bobby Julich
Bobby Julich
Photo ©: AFP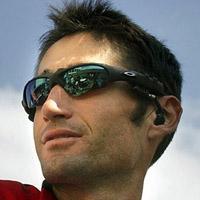 Greetings from the other side of the barriers! Writing about cycling instead of racing myself is a new position for me and I would like to get a few things out in the open before I start this first column for Cyclingnews. First of all, I am a recently retired cyclist and not a journalist. My goal is to give readers and fans insight into the world of cycling from a rider's perspective.
We all know what problems face the world of cycling at the moment, but this is a beautiful sport and one that I will love forever. I will try to be as informative as possible and plan on writing about what really goes on inside the heads of the riders that we all have the pleasure of watching. I hope that you enjoy these columns.
Show me the money
For my first writing venture, I wanted to let you in on how contracts work within the professional circuit, especially for the new pro's. Trust me, contracts can be a real minefield at time. Needing a contract for the next year is a big motivator towards the end of the season. It is a great time to get results because they are fresh in the mind of the directors and team bosses.
Of course as the season winds down, spots on teams are being filled up and budgets get smaller every day. This is a business, and the stress that comes with looking for a new team is not easy for any rider. My decision to move from Cofidis to Crédit Agricole was an easier move than most because the language and culture was the same, but the move from Crédit Agricole to Telekom was a totally different situation. They were totally different teams with different ways of doing things and that took some time to get used to after five years on French teams.
But as I said, cycling is a business. We love to ride and race our bikes, but at the end of the day it is a job just like any other and we have to support our families. When young riders are just starting out they may elect to go to any team that offers them a contract. The money is not a priority. Instead, it's all about signing on the dotted line, hitting the big time and being able to call yourself a pro.
"I must say that a few times, I would get all kitted up and ready to go, but when it came time to head out, I closed the garage and went back inside the house."
- Julich admits that getting started after a break wasn't always easy..
Riders start out at a minimum "neo-pro" salary (€24,000) and sign a two-year contract. It goes without saying that this is a risk for both parties, because professional cycling is tough and there are no guarantees that they will progress. For example neo-pros have previously been on amateur teams, and in that world there is less stress and pressure. Now they are getting a pay check, and the added length of races, organization, pressure, attention, and stress have all been taken up a notch. Of course there are big, young talents that can demand more than the minimum UCI salary, but they are a rare exception.
Once riders finish their two-year neo-pro contract, they are more aware of how things work and can test the "free agent" market. If they haven't shown progress, they may elect to stay on the team that they started with by negotiating a salary not much higher than their current contract, but for those who have produced results or are unhappy with the team, it is time to make some big decisions.
Rest and relaxation
Some riders can't wait for a break
Photo ©: Roberto Bettini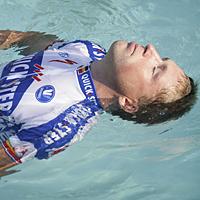 For seasoned pros, this time of year is all about getting some well-deserved rest and relaxation. Often I see guys hopping on planes the day after their last race and heading to some exotic destination. Beaches and warm weather are big attractions for many. I think that a big reason for choosing those good weather locations is to attempt to rid ourselves of the "biker tan" that we are cursed with during the season.
I have heard of riders going on safari in Africa or hiking in Nepal, but after a long season based in Europe, I always wanted to get back to the USA. The only problem that I encountered was that when it was time for me to return home, the summer was over, the leaves were changing and the weather wasn't what I dreamed it would be. I was always jealous of the riders from "down under" who went home just in time for their summer season. It must be nice to go back "home" and have the weather that the rest of us have to go on vacation to find!
I am often asked about how much time I take off the bike after the season. Well things are different now that I am retired, but when I was a rider I had a philosophy that I would like to share with you. I felt that two weeks off all structured activity was a must. I wouldn't even unpack my bike, but would leave it in the garage next to the car.
In those two weeks, I wouldn't even think about physical activity outside of playing with the kids and on the golf course. After those two weeks an internal sensor started to tell me that it was at least time to start doing something. I enjoy many sports and activities so that was never a hard decision, but deciding when to get back on the bike was always different. I left the bike bag by the car for a reason. Of course, I would see my bike every day as I shuffled by it to get into the car, so it was a subliminal message not to forget about it.
When I felt the need to unpack it, that was the first signal that it was time to at least start thinking about getting back into training, but rarely did I get on it right away. Now, it is out of the bike bag, cleaned, the wheels pumped up, and just staring at me, ready to go when I feel it is time. When I was finally able to get dressed, fill up my bottles, strap on my shoes without any second thoughts, that meant it was ready for the next season to begin.
I must say that a few times, I would get all kitted up and ready to go, but when it came time to head out, I closed the garage and went back inside the house. That meant that I wasn't ready and my body was telling me something. Soon after, however, I was able to go through the whole routine and before I knew it, I was a few miles away from home before I realized I was back on my bike. That was when I knew that it was time to get serious again. Over my career, this whole process took between two and four weeks. Every rider has a system and this was mine, but my advice is to listen to your body
Thanks for reading and please join me next month for my feelings about cross training, winter riding, and goal/program planning for the next season.
Bobby J
See also Bobby Julich: Nostalgic Julich hangs up wheels