An interview with Bobby Julich, November 8, 2008
Nostalgic Julich hangs up wheels
Bobby Julich
Photo ©: AFP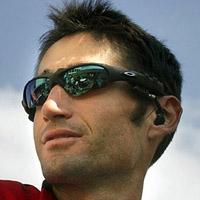 One of America's most accomplished professional racers, Bobby Julich will step off the bike at the end of the 2008 season. In a career that spanned fifteen years, he became the second American to stand on the podium at the Tour de France and the first US rider to take the overall victory at Paris-Nice. Bobby talked to Cyclingnews' Bruce Hildenbrand about his life as a pro and what he expects to be doing afterward.
Bobby Julich first turned pro in 1992 for the US-based Spago team, but after sixteen years of ups and downs as a professional he announced his retirement at the end of this season. At 36, it's not just age which led to his decision to call it quits, but his desire to fulfil his obligations to his family as well.
Julich explained that his life became more complicated following the birth of his second child in 2006. "Things weren't quite the same after that. We never really got into a rhythm and I found myself having to leave later for training or cut training shorter just to help with kid duties. Obviously that didn't jibe too well."
After two highly successful seasons in 2004 and 2005, he knew from his stored SRM data what kind of numbers he had to hit to repeat those performances, and found making those marks increasingly difficult. "I just mentally and sometimes physically wasn't able to do it, just because of the stress of trying to be a good father, I guess."
Besides the familial pressures, things weren't gelling on the bike either. "I just wasn't enjoying the competition as much as I had in the past. I definitely enjoyed being on the road with my teammates and really good friends and doing well, but when it really came to crunch time, when it was really time to put it in a big gear and suffer, I was thinking of other things to do like I can just shift down here and go into the second group and we will probably catch the first group anyway. That had never entered into my psyche before so I realised that something was going on," the Colorado native added.
"I definitely enjoyed being on the road with my teammates ... but when it was really time to put it in a big gear and suffer, I was thinking of other things to do."
- Julich explains how his motivation slipped in recent years.
Julich lost more motivation when he couldn't do certain races. "Of course, not being selected for the Tour de France the last two years or the Olympics this year, it just makes me kind of look at it and say 'you know what, I've had a good run.'"
Julich will turn 37 this November and is just happy to still be healthy. "I have no pins or breaks in my collarbones. You just see these crashes and when you have two kids at home and you are based in a foreign country you realise that you wouldn't be much help to them if you are injured. It is funny how those things start to factor into your psyche while you are riding."
Best memories
Julich shadows Marco Pantani in the 1998 Tour
Photo ©: AFP

"It seems like a lifetime ago, but of course 1998 Tour de France," Julich began to list off which memories will stay with him from his racing career. "I realize that the result there will always have an asterisk by it because of the whole Festina thing. But, the way I felt at that race was phenomenal. I started off with fourth in the prologue which was a big surprise. I was second overall for a week in a half or two weeks. And then with everything that was going on I was able to keep my focus and wind up getting on the podium in Paris which was, at that time, very important. Now, it seems like every American has a chance to get on the podium. Back then it was a little different."
Aside from his third place in the Tour, Julich has fond memories of the 2005 season, which was really like a dream for him. "Every time I stepped on the bike I was in the mix. I am not saying that I was winning all the time, although I did win some good races that year. But from the beginning almost to the last race of the year, every time I got on the bike I felt good. I was aggressive."
It was not only being a leader on the bike that got Julich going in 2005. "I was able to lead my team in the bus as well as on the road. That was great. And doing it with my best friends Jens [Voigt] and Frankie and Andy [Schleck] and Fabian [Cancellara] just made it that much more enjoyable."
If Julich had to pick one special day that year, it would be winning Paris-Nice. "That whole last stage when we were under constant attack by [Alejandro] Valverde going up the Col d'Eze the last time. I had my best friend and wing man, Jens Voigt, on the front pulling for me. Coming across the line in my adopted hometown of Nice, France, in the yellow jersey; being the first American to win Paris-Nice; being the first person to lead the Pro Tour. That was a pretty special day," Julich said.
Good years and bad years
The 1998 Tour was overshadowed by police raids
Photo ©: AFP

After his 1998 Tour podium finish, Julich raced for Crédit Agricole and Team Telekom with only lukewarm results. "I was pretty miserable on Crédit Agricole and Telekom. I think the big thing that I was on a foreign team not speaking my native language and it was very difficult to communicate."
In 2004, he landed at Team CSC, accepting a bargain basement offer, but team's director Bjarne Riis turned his career around. "At the first team meeting, Bjarne instantly made me feel like a rider again ... a guy he wanted to have around leading his troops into battle. He gave me my voice back. He listened to me. And our personalities worked well together."
Julich's curiosity got sparked by Riis, who was a maverick, an individualist and who was looking at fine details. And Julich started to have success again. "When I started riding and started racing and was at the front again then it was just a snowball effect. Every conversation that we had; every training camp that we did; every time he analysed my training and gave me ideas, it gave me motivation to make him proud."
After many year of fending for himself, Julich finally had someone again who believed in him. But it was more than just the relationship between Julich and Riis that made the difference. "He put together some great teammates who turned into lifelong friends. When you are going into a race and you are there with people you know inside and out it makes a big difference. A lot of people used to laugh at us for doing those survival camps."
Julich bundles up in a cold 1998 Paris-Nice
Photo ©: AFP

In the training camps, the riders learned to rely on each other. Everyone was put under pressure, with lack of sleep, lack of food, lack of water. People got cranky and really revealed their true personalities. Julich understood how others would react in stressful race situations. "You know exactly who you can count on to lead the team. You know who is going to fold a bit and needs to be led. That really, really made a big difference," continued the father of two.
But things don't last forever and after two fantastic years with Riis, things in the team changed. "Riis really spent a lot of time with me and Jens [Voigt]. But in 2006 our relationship changed a little bit because he put so much of his efforts behind working with Ivan [Basso] and trying to win the Tour. I felt a little strange. I didn't really send him my training much anymore."
Julich still has fond memories of the years when Riis was a father figure to him and gave Julich his confidence and career back. "That's his gift that he can see rider's potential even if they are not showing it at that moment."
The lack of a coach
Julich found it increasingly hard to say good-bye to the family
Photo ©: AFP

After 17 years in the saddle as a pro, who had the biggest influence on Julich's career? "I really wish I could give someone credit for that. My dad was a big influence getting me started. Chris Carmichael, before Lance came into the picture, was a very special coach to me."
But before Julich met Riis, Kim Anderson and Alain Gallopin, he was lacking a person to turn to and someone to make the hard decisions. Julich was on his own. "A lot of it was trial and error. To look back and see that I had a career as long as I did without anybody really helping me like that says a lot, but at the same time maybe it is the reason why I had such an up-and-down career."
Not having a coach is one of Bobby's biggest regrets. Max Testa was his trainer during the 1998 Tour de France. "But the next year he was employed by Mapei. It came down to his directeur sportif, Patrick Lefevere, not wanting Max to continue coaching me because I was basically the competition. I was 27 at the time. I had just gotten third in the Tour de France. I thought I had everything figured out."
Julich dropped the contact to Testa and now feels that was a big mistake. "He is a fantastic coach. He is a fantastic trainer. He is a fantastic person. It would have been nice to continue that relationship that I had with him at the beginning because he was much of the reason why all of us were able to develop into the riders that we are today," commented Julich.
After making bike riding his top priority for 25 of the 37 years he has been on this planet, Julich would like to take a year or two off. "It would be great to just play golf and relax and spend time with my kids. Simplify my lifestyle a bit because over the years I have acquired a lot of material possessions that were a necessity at the time for comfort."
Julich knows one thing, he has no interest in becoming a directeur sportif. "I am not into driving long distances or driving under stress." He does want to stay in the sport of cycling, however, and is open to work together with younger riders. "I know how much of a positive influence the few older guys who helped me out when I was younger had on my career, on my confidence, on my character." Julich added.
Bobby Julich is now looking forward to another career in cycling, working with young riders
Photo ©: AFP

To that end Bobby recently announced that he will be staying on with Team Saxo Bank, taking on a managing role in technical development where rider testing and time trial coaching will be his primary focus.
Julich's tenure as a professional has certainly had its ups and downs. He felt weird looking back. "Going through boxes of stuff up in the attic I realised that wow, I have been around a long time. I pulled out the trading cards we get every year and I have a stack of them all the way back to Chevrolet-LA Sheriffs." He also has cards from all the other teams he was a member of – Motorola, Cofidis, Crédit Agricole, Telekom, CSC. Julich thought of all he had been through, yet he feels like "a complete and total fan of the sport."
Julich mused that maybe he should be above that or not wanting to read something he was actively part of. "I find so much of our sport so interesting even though I have done it for most of my life and that's why I know that somewhere down the road I will be associated with cycling and it will always be my number one passion. I hope to have as successful if not more successful life after cycling then I had when I was on the bicycle."
Photography
For a thumbnail gallery of these images, click here
Images by AFP Photo