News feature, November 26, 2007
Slipstream team camp interview: Julian Dean & Timmy Duggan
Timmy Duggan is the longest serving member of Slipstream.
Photo ©: Slipstream Sports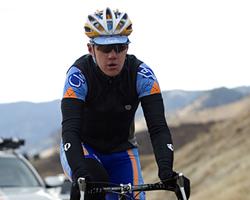 The 2008 Slipstream-Chipotle team will be unlike any previous year's team in that half of the riders are new, coming from the elite ranks of the European peloton. The other half is made up from a different kind of veteran - ones that have been with the outfit from its U23 developmental ranks. Cyclingnews' Mark Zalewski sat down with one from each background, as well as roommates for the week, during the team's first camp in Boulder, Colorado.
If one were to identify a priority mission for the Slipstream team launch camp in Boulder, it would be team unity. With half the roster replaced with what could easily be described as 'ringers,' the possibility of animosity and division setting in before one pedal crank was turned was a dangerous threat to the team. It is certainly not because any one rider was hoping this would happen, but simple human nature and heaps of academic research into organizational behavior spell it out.
Because of this reality, Jonathan Vaughters and his crack staff set out to create an atmosphere to quash any notion of a divided team. One way of doing this was pairing a veteran Slipstream rider with a veteran Euro rider - and like the Odd Couple, hilarity often ensued. But something else also occurred, the start of core relationships that would go a long way to making the team one whole unit.
I spoke with two roommates, Julian Dean and Timmy Duggan about their reactions to the camp a few days in and what they hope the upcoming season has in store.
Julian Dean comes to Slipstream from Crédit Agricole, one of the long-running, successful teams of Roger Legeay - and a program that runs in a complete opposite tone to Slipstream. "A team like Crédit Agricole, with Roger Legeay who has been directing a team for like 20 years, and he has a very exact, sterile formula that works well," said Dean. "The team runs well, and it's all business. But this is certainly a different method from that."
New team-mate David Millar recognized the effect this new tone was having on Dean, saying the camp was the rare moment he actually saw the Kiwi crack a smile. Upon hearing this Dean smiled again and laughed, before pointing out another key difference of this team compared to others. "I think the primary reason is because we are in an environment where we are speaking our mother tongue. You can't express yourself as quickly or as well in another language as you can in your native one."
"From aerodynamics to weight training to every guy having a power meter... and then even understanding how to use it!"
- Dean is impressed by how well the team is structred
"For that reason we are having a lot of laughs... and some beers!" Dean continued. "The time of year is good too, November. The next time we get together we will be more serious. But we are creating some stories now that will carry us when it is pissing down rain in Belgium."
The beers are very much lubricating the introductions during the camp, and it is no surprise that the Aussie and Kiwi contingents leading the way in this department. "All those guys from down under are giving us a lesson in drinking for sure!" said Boulder native Duggan.
Duggan is one of the best examples of a veteran Slipstream racer - having been with the team from the beginning, as well as serving as a Boulder tour guide for the team. "The overwhelming thing we have going - over half the team is new - but over the last four days we have all become great friends," Duggan explained. "The vibe is the same it has been [in previous years.] The new guys are mixing in with the original ones really well."
While the issue of team bonding was at the forefront for riders like Duggan from the first announcements of new riders for the 2008 team, the riders also had faith in their director to not leave them behind. "It was definitely a concern," said Duggan. "But I knew most of them before and I thought JV had picked guys that would mix well. It's a point that he drives home a lot - you aren't on this team just because you ride fast or have such-and-such win - you also have to have a certain personality and a hard-wire in your brain that mixes well with the goals."
This focus on rider personalities almost as much as rider talent is a significant difference in running a nearly ProTour level team. But that is just one of many differences, according to Dean.
"The wealth of knowledge that is available to us," is another key for Dean. "From aerodynamics to weight training to every guy having a power meter... and then even understanding how to use it!"
Julian Dean ponders
Photo ©: Slipstream Sports

"What I have often felt like as a professional is it is just up to you," said Dean. "At the end of the day if you are not performing we can just take someone else. There are no, 'Maybe you are doing this wrong and you should do this or this to improve.' But on this team they are helping us improve and solving any problems you have. That is certainly something you don't get on other teams or is only reserved for the top guys."
Like other riders on the team, the Tour de France is a clear top goal of the team -- not only gaining an invite but also coming away with results. "For us to win a stage at the Tour de France, and ideally to hold the jersey," said Dean. "I think the team is going to go well. For me personally, I'd like to be the one to win a stage at the Tour! But if I can't do it, anyone else on my team!"
While Duggan will remain in Boulder to train until the next team camp, Dean is off to his homeland of New Zealand to defend his national championship. And like his new team-mate Magnus Bäckstedt, working the argyle into the national strip will be a challange, though one he would be happy to undertake.
"After this I am returning to New Zealand for the nationals to try to keep the jersey. I'm not sure how it will mix in with the argyle, but we'll talk about that after I win it! I actually love the argyle, it's just very Jonathan Vaughters to me."
Photography
For a thumbnail gallery of these images, click here
Images by Slipstream Sports