An interview with Magnus Backstedt, November 22, 2007
Magnus Backstedt prepares for Slipstream season
Big Magnus Backstedt is one of the veteran guns directeur sportif Jonathan Vaughters hired to bring his Slipstream-Chipotle team to the next level in 2008. Cyclingnews' Mark Zalewski sat down with the Swedish champion during the team's first camp in Boulder, Colorado.
Would you mess with this guy in a sprint?
Photo ©: Mark Zalewski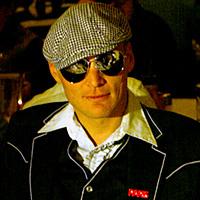 The 2004 Paris-Roubaix champion, Magnus Backstedt, was all smiles last week at the Slipstream team launch in Boulder. A laughing and joking Backstedt might seem to be incongruent to his riding style and big stature, but it perfectly illustrated the mood surrounding the team building experience.
The 32 year-old echoed what his new team-mates were saying all week about the camp: "This is extremely well organized, beyond anything we have encountered before," he said. "It took me a few days to get over the jet lag, but it has been great to catch up with the old guys and meet the new ones. They are just a great bunch of guys!"
Magnus Backstedt
Backstedt relaxes
Photo ©: Slipstream Sports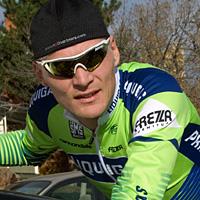 Born: January 1, 1975
Nationality: Swedish
Residence: South Wales, Great Britain
Professional since:1996
Major results
1998 Tour de France Stage 19
2002 Swedish Road Champion
2003 Swedish Time Trial Champion
2003 Giro d'Italia - Intergiro Competition
2004 Paris-Roubaix
2007 Swedish Road Champion
Teams
1996–1997 Collstrop-Palmans
1998–2001 Crιdit Agricole
2002–2003 Team Fakta
2004 Alessio-Bianchi
2005–2007 Liquigas
2008 Slipstream-Chipotle

As one of the veteran riders on the team, and the likely leader in any of the Spring Classics, Backstedt knows that he has a responsibility to be a teacher. As well, even though the team has technically been around for years, this incarnation is virtually a new team in the European peloton – something that brings a new set of challenges.
"When you come with a new and smaller team you have to prove yourself, especially in the sprints," said Backstedt who will be the team's choice for fast finishes. "It is a little bit harder to do in the first races. When the others know that you have some horsepower behind you then it's easier to get in line – they make room for you. Whereas when you come in with a smaller team, you have to make the room yourself, and it gets a little hairier."
Of course, my response to this was likely yours too. "Right Magnus, I doubt someone your size has trouble 'making room.'"
"No, even for me! Until they see what we can do, because when you are out there riding you just see the kit and not who it is. I think we have enough horsepower behind our lead-out train to eliminate getting into any stressful situations this year."
Another factor relating to this idea of proving oneself is the team's performance in the first races of the season, a burden that will be placed on the shoulders of Backstedt and the other veterans when looking at their scheduled races. "I plan to do Qatar to start off and then come over here [USA - ed.] for a week of camp before Tour of California. Then the pre-Classics like Paris-Nice. The Classics are still my number one goal of the season. That is what I live for."
When asked how this need for early season success might affect his personal goals, such as Paris-Roubaix, Backstedt said he will be prepared. "As long as I know exactly what I am doing, in terms of racing and training, I can always adjust for the plusses and minuses that come with the schedule. If we do a few less cobbles in the semi-classics, I'll stick a cobble camp in there and go for a few days smashing over the stones."
The Kit
Magnus Backstedt chats
Photo ©: Mark Zalewski

A new team means a new bike, and for someone the size of Backstedt, who races in the harshest, most demanding races, switching bikes can be a touchy issue. Thankfully for Backstedt, the team renewed its deal with Felt bicycles, and it seems that he has Jim Felt high up on his speed-dial list.
"I've had a Felt over in Europe for a while and riding on it is beautiful," said Backstedt. "It is super light – it is actually lighter than my bike from last year! But it's just the standard version of the frame, so it is a little flexible. Jim Felt it bringing out the sprint version of the F-1 this week, so I'll get a go with it and try different things. Then in mid-December we'll sit down and discuss it. But I am already sending him an e-mail twice a week about how I feel on the bike and how it is behaving so that he can start planning ahead and resolve the issues for me."
"[Jim Felt] is a super guy and absolutely loves doing that sort of stuff. Ultimately the more we work together the better bikes he'll be able to build and the better bike I'll have. It's a mutual benefit situation."
The other issue of changing teams means changing uniforms – and on Slipstream that is a little more of a paradigm shift than with other teams since the advent of Vaughters' now infamous argyle. "I'm cool wearing it," Backstedt assured me. "The first part of the season I am going to be in my Swedish national champion jersey... hopefully for the whole season too, but since it is basically the Swedish flag, I'm not very happy about going in and ruining the integrity of it. So I've asked them to make the shorts as argyle as possible with the blue and yellow, to make up for it."
Seeing improvements
"There is no pressure on anyone to do anything so we can just go out, relax and enjoy riding our bikes fast."
- Backstedt Slipstream's approach.
Backstedt keeps it honest
Photo ©: Slipstream Sports

Entering his twelfth year as a professional, Backstedt has seen just about everything in cycling – from the good to the bad. As bad as things might currently seem for the sport he remains optimistic, in part because of his new team situation.
"I'm hoping that things can improve," he said regarding the continued drug scandals in the sport. "At some point we must hit rock bottom, and I'm hoping we already have and are starting to go the right way now. Each year it seems more and more is being done with anti-doping, and with our program here it will show everyone this is what we do, this is how we race and what we are all about. We need to look into the future and develop a new cycling where the chance of someone even thinking of using an illegal substance isn't even there. I think a lot of it is up to the older guys on the teams to help prevent the younger guys from being tempted."
This idea of creating an atmosphere where drugs are not even an option is what Backstedt and his fellow veterans are doing on Slipstream. "There is no pressure on anyone to do anything so we can just go out, relax and enjoy riding our bikes fast. If we win, great. If not, we'll go home and train more. I think that is a very nice environment to be in – it's simple, and life is just easier. You know you can continue racing without having things come out the back door."
This idea in mind, I asked Backstedt what he would use to measure success for both himself and his team this season. Without flinching he responded, "Standing on top of the podium at Paris-Roubaix and winning a stage of the Tour de France – if I can do that then I've had a good year. A good success for the team would be getting to the Tour de France. That would be a milestone of the whole season. Apart from just winning races as often as we can and keeping the faith that we've got [from this week.]."
Photography
For a thumbnail gallery of these images, click here
Images by Mark Zalewski/Cyclingnews.com
Images by Slipstream Sports