An interview with David Millar, November 15, 2007
David Millar interview: New team, new attitude
David Millar has a unique role in the new incarnation of the Slipstream Sports cycling team, that of rider and co-owner. When director Jonathan Vaughters announced that Millar was signing with the team, many did not realize that his role would be multi-faceted. Cyclingnews' Mark Zalewski sat down with the British champion during the team's first camp in Boulder, Colorado
Slipstreaming in the wind tunnel
Jim Felt works with Millar
Photo ©: Mark Zalewski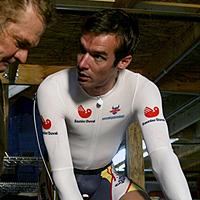 Besides the valuable team building that is going on during the Slipstream training camp, many of the riders will make a trip one hour north of Boulder to Fort Collins, to Colorado Premier Training to spend time in the low-speed wind tunnel, which has only been converted for cycling testing for a few months. David Millar and Dave Zabriskie were the first two to go on Monday.
Steve Owens of Colorado Premier Training said that the wind tunnel in Fort Collins is one of the biggest, with 180 feet of distance on each side recirculating the air. The wind tunnel has been in operation for around five years, but has been used primarily in architectural studies, such as detecting wind flow around new buildings – with municipalities as one of the most frequent clients.
The Felt time trial bike.
Photo ©: Mark Zalewski

The speed at which these studies are run, between 0-60 mph is perfect for cycling testing, with the 30 mph test speed right in the middle of the tunnel's capabilities. This results in a far more accurate control setting compared to other wind tunnels.
The testing began with each rider riding his previous time trial bike in front of a 3D capturing system by Retul to create a baseline model. Then each rode the Felt TT bike for the same reason.
Dave Zabriskie assumes the position!
Photo ©: Mark Zalewski

Finally each rider took turns in the wind tunnel on the bikes, pedaling for a few seconds to get into their position and then holding still to get an accurate measure of how much resistance is encountered.
The beauty of doing this testing so early, even before the 2008 products are delivered, is that it will give suppliers like Jim Felt much more realistic time to make adjustments before the real training camp in January. According to team director Jonathan Vaughters, in previous years, going to the wind tunnel in January meant that only slight alterations could be made, which made the expense of wind tunnel testing rather worthless.


This week was the first global meeting of the new incarnation of the Slipstream team – a combined logistics orientation, media launch and casual training camp all rolled into one. One of the opportunities of the camp was to spend time in the low-speed wind tunnel in Fort Collins, which is where I was able to speak with Millar during the ample amounts of down time between runs.
Being part of the Slipstream team, Millar is looking at cycling in a whole new way. As a rider, he is technically taking a step down from the ProTour level. As a new co-owner, he has a new sense of responsibility beyond just being a team captain on the road. All of this is influencing his outlook for the 2008 season, starting at the launch this week in Boulder.
"Part of the reason for coming in as a part owner ... is because I have such a passion for the sport – more than just as a cyclist"
-David Millar about his decision to invest in the Slipstream organisation
"This year has been a start-up year for us, if you like," said Millar. "So there has been a lot more off the bike stuff for me. Part of the reason for coming in as a part owner with JV [Vaughters] and Doug [Ellis], all the way back in March, is because I have such a passion for the sport – more than just as a cyclist. I know there is going to be more expected of me but that is some of the reason behind becoming part owner."
The time and effort leading up to the Boulder meeting has been a lot of work, but all signs are indicating that the work has paid off. "Now the hardest part is really behind us, of having to be a start-up. Beth [Seliga] and the other behind-the-scenes staff have set-up this team in such a great way... I've never, ever seen it so organized before. It is just phenomenal! Everything down to the little things like every rider receiving a Blackberry with all of the vital numbers transferred across and the schedules for the whole week down to the hour already loaded on there."
But Millar said it is more than just an attention to detail – it is a whole new paradigm for running a team. "It's great to have this level of structure and organization of schedule, but what the means is that all that is left up to us the riders is to follow it without having to worry about anything. That is really rare; cyclists are generally treated as incompetent school boys! People don't think we can be responsible for ourselves and it all becomes very elementary-like. And then that often ends up making it seem okay to not be responsible for ourselves."
"This is one example of us trying to do things slightly different. JV wants us to learn responsibility for each other and hope that transfers across to the racing and gets the most out of us."
No B team here
Dave Zabriskie gets ready
Photo ©: Mark Zalewski

With the way the team has changed – from a developmental pro continental team with occasional racing in Europe in 2007 to a squad loaded with hired strongmen and sights on the Tour in 2008 – the possibility is there for a division within the team, between the old and new, to form. One of the main goals of the Boulder camp is to prevent a rift, to form strong bonds and make it clear that there is one team – even though riders are at different points in their professional progressions.
"All the guys who have remained on the team from the previous incarnation, for starters they have justified that they are good enough," said Millar. "The teams that came before had progressed up and up really well but just reached a plateau last year. These young guys that have stayed on – guys like Danny Pate, Lucas Euser, Friedman, Cozza – they have gotten to a level now where they need to be riding with older, stronger and more experienced guys to bring up their racing more. All of the guys that have come on – from me, to Christian, to Dave – are fully aware that we have a responsibility to bring these younger guys along."
Millar said that just a couple of days into the camp, and a few pints of beer down the hatch, the bonding has taken off. "The group is really forming already, whereas there was some fear that divisions would be created straight away. I think we've already seen in just the last week that that is not going to happen. That was one of the main goals of this event, to form affinities and to show the guys already on the team that we aren't coming in to take it over and weed them out. Far from it, in a lot of ways we are here for them and to build all of this towards being a great team."
"But at the same time, these guys are going to be parts of the game in winning big races. We veterans have a responsibility to be good to them and they have a responsibility to be good to us, in that regard. It really is a two-way street."
The whole camp is centred around a theme of 'how-to' for the less-experienced racers. The times in between team building and training are filled with seminars on how to live overseas, paying tax in a foreign country and more racing-specific information such as physiology. "From tax advice to just how to live in Girona – where to eat... and where not to eat!" said Millar. "It covers all of the bases and not assuming anything."
New for the old dogs too
Wind tunnel testing = lots of down time.
Photo ©: Mark Zalewski

While the veteran riders likely do not to need advice on how to pay their taxes, there are other intangible aspects of this team that are new concepts, and the reaction is already a positive one.
"Seeing Julian Dean here, it's like he is a different man!" Millar laughed. "I've never seen him so... happy! He is loving life. He's talking now, which he never used to. But it goes for all of us. All of us guys who have come to this team, we've learned that there is so much more to it – we aren't a hired gun mercenary for a team or us using this as just simply a racing vehicle, which is what a ProTour team is only to a lot of guys, a way to get in the races."
"Guys used to come to training camp at the beginning of the year and then only see each other for a week at a time during races. With us, when you come on board, you know you are going to be part of a team. We are going to be together, staying in touch the whole year. And the team itself is very involved in the process – from getting to the races, the training, the equipment – we are taking responsibility for everything which most teams don't, except maybe for a few select riders."
Hurdles ahead
While there are many positive aspects that come with this new team, Millar admits there are going to be some definite hurdles that will need to be overcome in order to call the season a success – and that all begins with the early season races such as the Tour of Qatar and Tour of California.
"The biggest hurdles have to be just cementing our reputation in Europe, the biggest one for us is gaining respect from within the peloton. Obviously at the moment we are coming in as a totally new team, there are no precedents of what we can do together. The first two or three months are going to be centrally important for us, not only because that is when we can earn an ASO invite to the Tour, which is very important, but we've also got to find our style of racing. I'd like to think it is going to be aggressive, taking the bull by the horns and be a little more fun."
Still, the focus for the team is not win-at-all-costs. "That is it though, we want to win respect but also have fun – we want you to know Slipstream is at an event because we are just ripping it to pieces and having fun doing it."
With the team needing a strong early season campaign to silence any doubters, gain street credibility within the peloton and trying to impress the ASO enough to be in the running for a Tour wild card invite, Millar's approach to the season will be quite different than in previous years.
"The start of the year for me was usually grab a result early and then sit back and wait it out and be good for the Tour. This year I've got to come out firing on all guns in February, March and April. So I am actually in a pretty good condition for this time of year because of that. I am going to be racing Qatar and I will be leading the team there, and that is the first ASO race. Then California is going to be big for us, so I hope to be going well there. I think I have a shot at a good place on GC and we will have Dave Zabriskie there as well. He has just as much chance at winning it overall. Then Paris-Nice and in an ideal world I'd like to see Dave up there on GC after California because that is better for me."
"First impressions are always important, and races like those are going to be the rubric for us, so we need to come in and make an impact. If we are just coming in and chipping away, getting fleeting results and looking pathetic then that will go against everything we say."
Photography
For a thumbnail gallery of these images, click here
Images by Mark Zalewski/Cyclingnews.com
Read Millar's other interviews here and here.