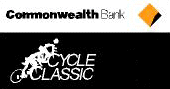 Stage 14, Canberra Circuit Race, 100 km
Saturday, November 11, 2000, 12:00 - 14:40
---
Main Page
Results
Previous stage
Stage map
Dawson dazzles as lead changes
By Jeff Jones

Brent Dawson
Photo: © Tom Balks
22 year old Brent Dawson won today's stage 14 of the Commonwealth Bank Cycle Classic, a 102 kilometre circuit race in Canberra. The race was dominated by an eight rider breakaway that established itself very early. Second placed Julian Winn missed it, as did race leader Grzegorz Wajs. However, Wajs' teammate Dariusz Wojciechowski made the cut and took over the overall lead, with Aussie Scott Suckling (Glen Parker-Fondriest) moving into second.
The race was animated by an early attack from Graeme Brown and Dariusz Wojciechowski, who attacked on the very first lap to establish a 20 second lead. With Wojciechowski so close behind Julian Winn on the classification, it was up to the Dupont team to chase, and they did for about three laps before self destructing. Winn was forced to watch Wajs, and Illingworth was left on his own to try and close the gap, with the rest of the peloton not in a great hurry.
On the fifth lap, a group of five bridged up to the leaders: Brown's NSWIS teammate Ben Brooks, Cameron Jennings (Peugeot), Ben Day and Thomas Buchacek (Bates Bikes) and Brent Dawson (QANTAS). The seven made the 20 second gap into a minute, and things were looking bad for Julian Winn, with Wojciechowski comfortably in the yellow jersey position.

Scott Suckling
Photo: © Tom Balks
The situation remained the same until lap 15, when Scott Suckling (Glen Parker-Fondriest and 4th on GC) amazingly crossed the one minute gap on his own, with a Pole, Dariusz Skoczylas on his wheel. That effectively sealed the race for Winn as the gap grew out to nearly three minutes. Buchacek was dropped after his bidon cage broke and there were eight riders in the lead. On the final lap, Wajs even attacked to take 15 more seconds out of the hapless Winn, who had no-one left to chase down breaks.
Up front, Graeme Brown was still hanging in there, and arguably had the best chance for the win, although Dawson had impressed in last night's criterium. However, the early attack and the sharp climbs had taken the edge off him as the leaders started their final sprint for the line. Dawson had his measure all the way, as Brown switched from the right hand side to the left to try and gain an advantage. All this did was lead to a relegation to seventh place after he was found by the commissaires to have "deviated from his line".
This, combined with an extra $100 fine for pulling the jersey of a rider (Cameron Jennings) on the 19th lap, made a potential glory day into an utter disaster. Brown had words with the Chief commissaire, Mike Victor and his team manager Gary Sutton, after which a furious Sutton said "If that's your attitude, you're out of the race!"

The meeting...
Photo: © Tom Balks
Later, after a meeting between Sutton and Brown, he was asked whether he was still in the race. "If I want to be yeah." Do you want to be? "Yeah I do actually."
The stage belonged to Brent Dawson, who rode superbly despite being in some distress after yesterday morning's stage. It is well known that Dawson and Brown do not get along, despite being on the Olympic training squad together this year (Brown was selected, Dawson wasn't).
"I'm relieved more than anything. I just ran out of legs near the end and had to look after myself. I felt good the whole day. I knew the course would suit me."
The Poles and Suckling did a lot of work for their GC places. "It played into my hands because I didn't have to do too much work out there. I just had to get over the hill on each lap and recover. It's the kind of circuit where you can get away and stay away. It's like Centennial Park."
The final 200 metres have already been mentioned, but "I was going straight past him so it doesn't matter. I'm pretty happy about it," said Dawson after he chalked one up on his rival.
"The Poles rode really well but the ride of the day was Scott Suckling who came across while the other Pole got a free ride."
Scott Suckling certainly rode well - good enough to put him into second overall on GC with two stages left. The 22 year old did it with only two teammates left in the race: Eddie Hollands and Hilton McMurdo. However, they were completely committed and Suckling knew he could count on them.
When he was bridging the gap, he had Skoczylas on his wheel and the Pole would not of course do a turn. "He was giving me the shits but in a sense it made me ride a bit stronger because I could see him grimacing a bit so I knew he wasn't too comfy. By the same token I could see myself gaining every kilometre...I was hoping to draw the others out, put the poms under a bit of pressure because they were losing a lot of their team."
After he made it across, he kept going to try and cement his second place overall. "I'm not the best climber in the race and I was hurting a bit on the uphill section but on the downhill section I couldn't push a big enough gear - I felt really, really strong," he said.
Now at a minute and a half behind Wojciechowski, he has an academic chance of winning the race. On his time trial skills: "I've done about 20 kilometres in time trials in the last four years, and they've all been on the track, so it's going to be interesting," he said. "It's been all new to me this year as I come from a track background. I've done about three days racing since April, but a lot of k's."
Tomorrow is the final day of the Classic with a 13 kilometre time trial and a 36 kilometre criterium. It will probably not decide the overall given today's time gaps. Wojciechowski should take the win, with Suckling second and Wajs third, as Wajs in particular is an excellent time trialist. The criterium should see the Poles control the race, allowing breaks to go that are no threat to the overall.
Results
1 Brent Dawson (Aus) Qantas-One World                 2.27.53 (40.57 km/h)
2 Dariusz Wojciechowski (Pol) Mroz
3 Dariusz Skoczylas (Pol) Mroz
4 Cameron Jennings (Aus) Peugeot
5 Ben Day (Aus) Bates Bikes
6 Ben Brooks (Aus) NSWIS
7 Graeme Brown (Aus) NSWIS
8 Scott Suckling (Aus) Glen Parker Cycles-Fondriest      0.04
9 Giles Baudet (Aus) Team Caravello                      2.39
10 Grzegorz Wajs (Pol) Mroz                              
11 Dennis Mungoven (Aus) Casino Canberra                 2.52
12 Russel Van Hout (Aus) Bates Bikes
13 Hilton McMurdo (Aus) Glen Parker Cycles-Fondriest
14 Julian Winn (GBr) Dupont
15 Peter Milostic (Aus) NSW Sport & Rec
16 Cameron Hughes (Aus) Peugeot
17 Glen Chadwick (Aus) Peugeot
18 Timo Scholz (Ger) Bosch
19 Phil Thuaux (Aus) NSW Sport & Rec
20 Edmund Hollands (Aus) Glen Parker Cycles-Fondriest
21 Baden Burke (Aus) Peugeot
22 Adam Cox (Aus) Bates Bikes
23 Stephan Gottschling (Ger) Bosch
24 Chris White (Aus) Team Caravello
25 Pawel Niedzwiecki (Pol) Mroz
26 Steve Williams (Aus) Team Caravello
27 Andrew Payne (Aus) Team Caravello
28 Bart Duraj (Aus) Mroz
29 Scott Bradburn (Aus) NSW Sport & Rec
30 Dan Smith (GBr) Qantas-One World
31 Heiko Szonn (Ger) Qantas-One World
32 Tino Haakman (Ned) Websdale
33 Dirk Schumann (Ger) Bosch                             2.53
34 Tomas Buchacek (Cze) Bates Bikes                      3.22
35 Yento Barker (GBr) Dupont                             3.58
36 Jono Davis (Aus) NSW Sport & Rec                      4.03
37 Bjorn Hoeben (Ned) Websdale                           4.16
38 Anthony Malarczyk (GBr) Dupont
39 Alan Sieper (Aus) Casino Canberra                     8.08
40 Danny Clark (Aus) Qantas-One World
41 Jans Koerts (Ned) Websdale                            8.21
42 Mark Renshaw (Aus) Team Caravello
43 Darren Rolfe (Aus) NSWIS
44 Michael Tolhurst (Aus) Casino Canberra
45 Matt Illingworth (GBr) Dupont                         9.28
46 Huw Pritchard (GBr) Dupont
47 Ashley Hutchinson (Aus) NSWIS                        10.49
48 Henk Vaassen (Aus) NSW Sport & Rec
49 Brent Millar (Aus) Casino Canberra                   11.25

Points:

1 Brent Dawson (Aus) Qantas-One World                       5 pts
2 Dariusz Wojciechowski (Pol) Mroz                          3
3 Dariusz Skoczylas (Pol) Mroz                              2
4 Cameron Jennings (Aus) Peugeot                            1

General classification after stage 14:

1 Dariusz Wojciechowski (Pol) Mroz                   21.46.51
2 Scott Suckling (Aus) Glen Parker Cycles-Fondriest      1.32
3 Grzegorz Wajs (Pol) Mroz                               2.49
4 Julian Winn (GBr) Dupont                               3.04
5 Peter Milostic (Aus) NSW Sport & Rec                   4.18
6 Glen Chadwick (Aus) Peugeot                            4.51
7 Pawel Niedzwiecki (Pol) Mroz                           8.19
8 Phil Thuaux (Aus) NSW Sport & Rec                      9.02
9 Cameron Jennings (Aus) Peugeot                         9.24
10 Giles Baudet (Aus) Team Caravello                    14.46
11 Dan Smith (GBr) Qantas-One World                     14.55
12 Ben Brooks (Aus) NSWIS                               15.56
13 Scott Bradburn (Aus) NSW Sport & Rec                 18.41
14 Chris White (Aus) Team Caravello                     19.25
15 Hilton McMurdo (Aus) Glen Parker Cycles-Fondriest    19.40
16 Brent Dawson (Aus) Qantas-One World                  19.42
17 Heiko Szonn (Ger) Qantas-One World                   22.20
18 Steve Williams (Aus) Team Caravello                  22.32
19 Tino Haakman (Ned) Websdale                          25.21
20 Bart Duraj (Aus) Mroz                                25.53
21 Adam Cox (Aus) Bates Bikes                           27.38
22 Stephan Gottschling (Ger) Bosch                      28.46
23 Andrew Payne (Aus) Team Caravello                    30.22
24 Yento Barker (GBr) Dupont                            32.28
25 Darren Rolfe (Aus) NSWIS                             33.07
26 Anthony Malarczyk (GBr) Dupont                       33.50
27 Bjorn Hoeben (Ned) Websdale                          34.38
28 Jans Koerts (Ned) Websdale                           35.39
29 Cameron Hughes (Aus) Peugeot                         42.17
30 Russel Van Hout (Aus) Bates Bikes                    42.18
31 Timo Scholz (Ger) Bosch                              42.42
32 Tomas Buchacek (Cze) Bates Bikes                     44.33
33 Dennis Mungoven (Aus) Casino Canberra                44.42
34 Edmund Hollands (Aus) Glen Parker Cycles-Fondriest   44.47
35 Henk Vaassen (Aus) NSW Sport & Rec                   47.01
36 Danny Clark (Aus) Qantas-One World                   49.11
37 Jono Davis (Aus) NSW Sport & Rec                     50.08
38 Baden Burke (Aus) Peugeot                            50.45
39 Ben Day (Aus) Bates Bikes                            52.01
40 Brent Millar (Aus) Casino Canberra                   52.03
41 Dariusz Skoczylas (Pol) Mroz                         52.40
42 Matt Illingworth (GBr) Dupont                        53.19
43 Alan Sieper (Aus) Casino Canberra                    56.30
44 Graeme Brown (Aus) NSWIS                             57.39
45 Dirk Schumann (Ger) Bosch                          1.01.52
46 Huw Pritchard (GBr) Dupont                         1.03.28
47 Mark Renshaw (Aus) Team Caravello                  1.05.18
48 Ashley Hutchinson (Aus) NSWIS                      1.05.26
49 Michael Tolhurst (Aus) Casino Canberra             1.06.47

Giant Sprint King:

1 Jans Koerts (Ned) Websdale                            16 pts
2 Dirk Schumann (Ger) BOSCH                             15
3 Graeme Brown (Aus) NSW Institute of Sport             13
4 Grzegorz Wajs (Pol) Mroz                              10
5 Ashley Hutchinson (Aus) NSW Institute of Sport        10
6 Hilton McMurdo (Aus) Glen Parker Cycles-Fondries       9
7 Ben Brooks (Aus) NSW Institute of Sport                8
8 Brent Dawson (Aus) QANTAS-One World                    8
9 Dariusz Wojciechowski (Pol) Mroz                       8
10 Dariusz Skoczylas (Pol) Mroz                          7
11 Pawel Niedzwiecki (Pol) Mroz                          6
12 Matt Illingworth (GBr) DuPont                         6
13 Bjorn Hoeben (Ned) Websdale                           6
14 Glen Chadwick (Aus) Peugeot                           6
15 Huw Pritchard (GBr) DuPont                            5
16 Julian Winn (GBr) DuPont                              4
17 Dan Smith (GBr) QANTAS-One World                      4
18 Steve Williams (Aus) Caravello                        3
19 Peter Milostic (Aus) NSW Sport & Recreation           2
20 Yento Barker (GBr) DuPont                             2
21 Edmund Hollands (Aus) Glen Parker Cycles-Fondri       2
22 Cameron Hughes (Aus) Peugeot                          2
23 Henk Vaassen (Aus) NSW Sport & Recreation             1
24 Phil Thuaux (Aus) NSW Sport & Recreation              1
25 Scott Suckling (Aus) Glen Parker Cycles-Fondrie       1
26 Cameron Jennings (Aus) Peugeot                        1
27 Ben Day (Aus) Bates Bikes                             1

Coca Cola King of the Mountains:

1 Julian Winn (GBr) DuPont                              28 pts
2 Dariusz Wojciechowski (Pol) Mroz                      16
3 Grzegorz Wajs (Pol) Mroz                              14
4 Glen Chadwick (Aus) Peugeot                           12
5 Ben Brooks (Aus) NSW Institute of Sport               10
6 Peter Milostic (Aus) NSW Sport & Recreation            8
7 Scott Suckling (Aus) Glen Parker Cycles-Fondriest      7
8 Heiko Szonn (Ger) QANTAS-One World                     6
9 Bjorn Hoeben (Ned) Websdale                            2
10 Dan Smith (GBr) QANTAS-One World                      2

Back Home