US Cyclo-cross Championships - CN
Kansas City, Missouri, USA, December 11-14, 2008
Main Page Results Overall standings Live report Previous Race Next Race
Race 5 - December 12: Junior Men 17-18
McDonald wins junior title
By Laura Weislo in Kansas City, Missouri
Men 17-18 podium
Photo ©: Mitch Clinton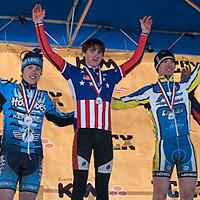 Zach McDonald (Classic Cycles) seized the stars and stripes jersey from last year's champion Luke Keough (CL Noonan/Coast to Coast/KAM) in the junior men's 17-18 national championship race on Friday afternoon in Kansas City. McDonald and Keough rose above one of the strongest junior fields in US history to turn the title bout into a two-rider race.
Early in the opening lap Keough took the lead and turned up the heat - only McDonald was able to respond. As the pair rode away from the rest of the field, these equally matched talents - Keough with the superior speed, McDonald with the best technical skills - put on a brilliant display of tactical nous.
The duel came down to the final lap when Keough slipped out in one of the many greasy U-turns and opened the door for McDonald to attack. "Both of us were just waiting for the other one to make a mistake, and unfortunately, it was him - it could have easily turned out the other way," said McDonald.
Keough, who took fifth in the Pijnacker World Cup in November and tenth at last year's World Championships is considered to be a major contender for the rainbow jersey this year, and McDonald was excited to show that he also possesses world class talent. However, he wasn't quite ready to declare himself as a contender for that crown. "We don't know until race day, there are no guarantees - we'll see what happens in January."
McDonald, who also races downhill mountain bikes, loved the greasy condition of the Tiffany Springs Park circuit. "The course was awesome. There were no real fast parts, so I was happy about that - it catered to my skills pretty well. I was really enjoying the downhill because it was really slippery and there was no traction - it was just two-wheel drifting around the corners - it was a lot of fun!"
The two riders were so equal in physical ability that each one was hoping and waiting for the other to make an error. "One of the times in the pit I lost a little bit of time because I ended up tripping over Luke's bike. He came around me [and dropped the dirty bike - ed] - so I lost a little time there. Other than that we were pretty equal on the climb. I was just trying not to make mistakes and it worked out in the end."
Zach McDonald (Classic Cycles)
Photo ©: Mitch Clinton
The winning moment came mid-way through the final lap, and McDonald did not hesitate to grab the opportunity. "I didn't choose to attack, Luke ended up slipping out. I don't think he went down, but he had to get off and so I attacked there. That put him under a lot of pressure, and I think it caused him to get a little nervous and he got caught up in the tape after that."
Donning his first stars and stripes jersey was "awesome", and a goal he had been aiming for all season. Although it's his last year in the junior category, McDonald will get his stars and stripes skinsuit made up even if there aren't any more races left in the USA. "We're going to have a skinsuit made up for a local race in Belgium in January. I won't have it for the first time I go over [in December], but the second time I'll be able to wear it."
Keough has had the honor of taking that special jersey to all of the races this year, which included a European campaign with stops in Tabor and Pijnacker for the World Cup rounds. Even after the tightly fought battle and disappointment of missing out on a second title, Keough expressed his respect for McDonald's feat. "He's a good rider to have it [the championship] - he's really good in the mud, so this was his kind of course."
Throughout the race, Keough had been biding his time hoping for McDonald to make a mistake or to simply bring it down to a sprint. "I knew if I stayed with him coming onto the road I'd have him in the sprint no problem, but I made a mistake right before the pit and that did it.
"I went down more than twice - only a few people saw it. I just kept getting messed up in those turns! You know how it builds up; every time you crash you just get more frustrated. I felt really good on the climbs, but kept making mistakes going into it - crashing and having to close big gaps. I was feeling great physically, but technically I just wasn't on it."
Keough was philosophical about the defeat, and said he wasn't under too much stress to defend his title. "The pressure was off - I got fifth at a world cup in Europe so my spot was selected for worlds. I'm not too bummed - I have my spot for Europe."
How it unfolded
Luke Keough (Coast to Coast)
Photo ©: Mitch Clinton

The sun was shining for the start of the junior men's 17-18 championship, but a steady rain/snow mixture overnight helped to ensure that riders would spend the race accumulating great quantities of mud on their bikes and bodies. The long paved starting chute made the beginning a drag race, with Rad Racing's Ian Terry taking the hole shot into the grass ahead of defending champion Luke Keough and his brother Jess.
Keough worked his way to the front in the second turn, but behind him a slip of the wheel from Hot Tubes' Nathan Brown caused a traffic jam that held up some of the major contenders. Zach McDonald quickly made his way around the scree and onto the wheel of Keough, and the pair began to distance themselves from the rest of the field.
The two riders made no bones about the strong rivalry they have on the bike; Keough would try to elbow his way to the front while McDonald fought to maintain the lead position. "The first lap was a little interesting - Luke established early that he was going to race to race, and definitely get rough - there was a little bit of elbowing going on throughout the race," McDonald said, having taken a less aggressive tactic at the start of the lap. "I had no interest in the hole shot, but Luke jumped on that bandwagon."
"I wanted to get the race started and make the selection," Keough explained, admitting that he hadn't been afraid to throw an elbow here and there. "I was a little aggressive at first. I didn't want him [McDonald] forcing me to make mistakes, so I was just riding my own race - if he was in my way I had to take my own lines - so that's how it ended up."
Once the gap to the rest of the field was well established, the race became a test of wills - a game of waiting for one rider to make a critical error. "Since I couldn't drop him straight away, I just decided to wait for him to make a mistake but it never came," said Keough.
Gavin Mannion (Hot Tubes)
Photo ©: Mitch Clinton

While the leaders kept each other in check, the drama for the final podium spots was unfolding behind. Hot Tubes' Gavin Mannion suffered a bit of bad luck after being close to making the selection on the first lap. The Massachusetts native was within closing distance until an unusual mechanical problem struck.
"I actually broke the buckle on my shoe in the first lap," Mannion revealed. "That was slowing me down a little bit on the running sections - my shoe almost came off."
Hoping to make up time, he skipped the pit at the end of the lap, but found that the grass and mud clogged up the gears. A spill on the second lap dropped him back into fifth position behind Cody Kaiser (California Giant Berry) and Chris Wallace (KCCX/Verge). By the second to last lap, he had passed and dropped those two, and came within 15 seconds of the leaders, who had decided to play a some 'cat and mouse' games.
"I got into a rhythm with a couple laps to go and felt pretty good from there. With two laps to go, I just felt like I could apply the power - it just clicked and I felt good." Ultimately, however, the leaders picked up the pace and Mannion was not able to make up any ground and took third. "It would have been nice to win, but I did the best I could - I'm satisfied."
Cody Kaiser (Cal Giant)
Photo ©: Mitch Clinton

The battle for fourth place came down to the local favourite, Wallace, against the tall California native, Kaiser. "Gavin, Chris and I were going back and forth, and with two laps to go I saw Chris bobble and then attacked," Kaiser explained. "I didn't look back, I just tried to catch Gavin and didn't slow down."
The 16-year-old overcame a fourth row start to make his surprise appearance on the podium - his second best performance of the season. "Luckily I had a good first two corners and got into the top ten and started picking guys off from there." He was able to take advantage of the bobble by Brown to get through traffic to the front. "After that I was sitting in the top five - I got lucky!"
Other notable performances came from Manny Gougen (MRC) who had a strong opening lap and rode as high as fourth before finishing just off the podium, Eric Emsky (Rad Racing) and Andrew Barker (Clif Bar), who was in the main chasing group for the first three laps before fading to 13th.
Photography
For a thumbnail gallery of these images, click here
Images by Mitch Clinton/www.clintonphoto.com
Images by Dave McElwaine/www.trailwatch.net
Results

Junior men 17-18

1 Zach McDonald (Classic Cycles)                         44.30
2 Luke Keough (CLNoonan/KAM/Coast to Coast )              0.16
3 Gavin Mannion (Hot Tubes Development Team)              0.47
4 Cody Kaiser (California Giant Berry Farms)              0.59
5 Chris Wallace (KCCX/ Verge)                             1.21
6 Manny Goguen (MRC)                                      1.57
7 Eric Emsky (Rad Racing NW / Hagens Berman)              2.04
8 Benny Swedberg (Rad Racing/Hagens Berman LLC)           2.52
9 Cody Cox (CLIF BAR Development )                            
10 Morgan Ryan (Team C.I.C.L.E)                           3.31
11 Joseph Dombrowski (Haymarket Bicycles p/b Functio)     3.43
12 Ian Terry (Rad Racing/Hagens Berman)                   3.55
13 Andrew Barker (CLIF BAR Development )                  4.16
14 Jesse Keough (CLNoonan/KAM/Coast to Coast )            4.52
15 Gabe Watson-Norris (RadRacing NW/Hagans Berman LLC)    5.35
16 Skyler Trujillo (Black Sheep)                          6.31
17 Jack Hinkens (FCCC)                                        
18 Tanner Cottle (Porcupine / Specialized Racing)         7.58
19 Nathan Brown (Hot Tubes Junior Developement)           8.00
20 Alex Edwards (Mesa Cycles Racing Team)                 8.07
21 Collin Huston (Cl Noonan/Coast to Coast/KAM)           8.47
22 Kosta Psaltis (RadRacing NW/Hagans Berman LLC)        10.32
23 Jacob Arnold (Cycling Spoken Here)                    11.02
24 John Shipman (Renaissance cycling)                    11.33

Behind one lap

25 David Block (Ridley Factory Team)                          
26 Andrew Templeton (KHSnm.com)                               
27 Daniel Williams (Bike surgeon)                             
28 Matt Pence (Mesa Cycles Racing Team)                       
29 Brandon Feehery (South Chicago Wheelmen)                   
30 Cole Cutright (Oh Boy Oberto/Redline)                      
DNS Tony Wieczorek (Mesa Cycles Racing Team)                  
DNS Ryan Miller (Fred Meyer/Lakeside)                         
DNS Jordan Quinlan (Nob Hill Velo)                            
DNS Danny Hiller (CLIF BAR Development )                      
DNS Dan Birman (Beaverton Bicycle Club)                       
DNS Alex Battles-Wood (Team Power Train)                      
DNS Joshua Wade (Matrix/RBM)                                  
DNS Sam Mcelmeel (Mercy-Specailized)                          
DNS Thomson Remo (Baraboo Sharks)                             
DNS Daniel Gerow                                              
DNS Rafael Kronenberg (Cannondale Midwest)                    
DNF Michael James (Baraboo Sharks)                            
DNF Justin Evans (C4: Cross Creek Cycling Club)               
DNF Baird Sills (Clemmons Bicycle Racing)                     
DNF Adrian Balsara (Tyson Racing)