US Cyclo-cross Championships - CN
Kansas City, Missouri, USA, December 11-14, 2008
Main Page Results Overall standings Live report Previous Race Next Race
Stage 10 - December 13: Men 30-34, 35-39, 40-44, 50-54
Jacques-Maynes repeats
By Laura Weislo in Kansas City, Missouri
Andy Jacques-Maynes (Specialized / Cal Giant) wins the race
Photo ©: Mitch Clinton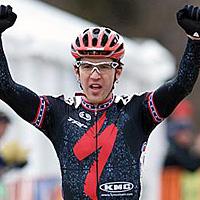 Defending champion Andy Jacques-Maynes had no trouble keeping the stars and stripes jersey in the men's 30-34 cyclo-cross championship. The Specialized/KMC rider blasted off the front row to take the hole shot and then quickly opened up a gap through the series of tight turns early in the first lap.
While he had a large lead over Ali Goulet (Ridley) and Weston Schempf (C3-Sollay), in cyclo-cross no win is secure until the rider goes across the line. Had lady luck not smiled on Jacques-Maynes, things might have turned out different. "I had a little bit of good luck right at the end of the race - I broke a spoke right next to the pit. If it had happened just a few seconds later I would have had to finish the race on a broken bike," Jacques-Maynes explained.
The course, which had been slick and muddy during the previous two days, had hardened up and become quite fast for the Saturday events, something Jacques-Maynes enjoyed. "I rode it yesterday and it was almost unrideable, and now it's almost paved. It's perfect traction, really tacky - almost heroic traction and you can do whatever you want."
Behind Goulet and Schempf, Sam Kreig and Justin Robinson rounded out the men's 30-34 podium.
The later races played out in a similar fashion. Brandon Dwight defended his title in the 35-39 category with a commanding lead over Matt Krauss (RGM Watches/Richard Sachs) and Eric Sheagley (Veloce/Felt). A new face donned the stars and stripes in the 40-44 age group: Roger Aspholm (Westwood Velo) took the sprint victory ahead of Richard Feldman (Durance Cycleworks). Michael Wissink (Specialized), Jonny Bold (Corner Cycle and Richard McClung (Hagens-Berman LLP Cycling) competed the podium.
Cross country legend Ned Overend took home his second consecutive title in the 50-54's with Henry Kramer (CalGiant Strawberry/Specialize), Mark Kutney (Van Dessel Factory Team) and Wayne Simon (Verdigris Cycling) duking it out for the podium. Bobby Langin (Platinum Performance) outsprinted Randy Shields (Carolina Masters) to nab the final podium spot.
Photography
For a thumbnail gallery of these images, click here
Images by Dave McElwaine/www.trailwatch.net
Images by Mitch Clinton/www.clintonphoto.com
Results
Men 30-34

1 Andy Jacques-Maynes (Specialized/KMC pb Cal Giant)           41.58
2 Ali Goulet (Ridley Factory Team)                              0.40
3 Weston Schempf (C3-Sollay.com)                                    
4 Sam Krieg (kriegcycling /Sienna/ICE)                          1.34
5 Justin Robinson (California Giant Berry Farms/Specialized)    2.17
6 Nathaniel Ward (BikeReg.com / Joe's Garage)                       
7 Nathan Rice (Michelob Ultra-Big Shark)                            
8 Gary Douville (Platinum Racing Team)                          3.53
9 Adam Mills (HRRC/ Trek Stores)                                4.02
10 Grant Berry (Rocky Mtn Chocolate Factory)                    4.07
11 Mathew Ankney (Mercy Cycling)                                4.33
12 Ryan Barthel (Rocky Mtn Chocolate Factory)                   4.43
13 Eric Rasmussen (Porcupine/Specialized)                       4.49
14 Joshua Johnson (Big Shark Racing)                            5.05
15 Andrew Crooks (NYC Velo)                                     5.20
16 Jeremy Gardner (Spokepost)                                   5.32
17 Jay Strothman                                                5.57
18 Aaron Elwell                                                     
19 Jake Helmbrecht (Grumpy's/LGR)                                   
20 Sean Walker (Bikes to You)                                   6.22
21 Ron Bridal (Dogfish Racing)                                  6.28
22 Frederick Bottger (Vitamix/Sixtufit)                         6.35
23 Darian Founds (unattached)                                   7.00
24 Matt Tillinghast (Midwest Cycling Community)                 7.08
25 Michael Hemme (Killjoy)                                      7.29
26 Jason Knight (University of Kansas)                          7.36
27 Joshua Roeser (Flat City Cycling Club Inc.)                      
28 Kent Throlson (Loon State Cyclists)                              
29 David Labarr (Kona FSA)                                      8.03
30 Matthew Edmonds (Bicycles of Tulsa)                          8.27
31 Matt LaBerta (Dogfish)                                       -1 lap    
32 Adam Clark (ChicagoCuttinCrew)                                   
33 David Sheek (OutsideAllDay.com)                                  
34 Matt Gumm (All9Yards.com)                                        
35 Chris Behrmann (Sledgehammer Charlie's Racing)                   
36 Joseph Hu (SKC Racing)                                           
37 Keith Reynolds (NEBC/Cycle Loft/Devonshire Den)              -2 laps     
38 Matthew Hennessy (Team BBC)                                      
39 Kyle Smith (Ridley Factory Team)                                 
40 Ryan Bosio (Memphis Velo / Smith & Nephew)                       
41 Patrick Angell (SKC Racing)                                      
42 Kyle Williams (University of Iowa)                               
43 Chris Johns (Rad Racing / Hagens Berman)                         
44 Ryan Lindsay (zephyr wheel sports)                               
45 Nathaniel Swanberg (Crossniacs)                              -3 laps    
46 Robert Schultz (SKC)                                             
47 Matthew Reynolds (the bicycle store)                             
48 Josh Jewell (CRRC)                                               
49 Todd Crooks (Unattached)                                         
50 Scott Hammack (Acqua Al 2/SDBC)                                  
51 Keith Snoop (HBA Racing)                                         
52 David Neis (Bike Surgeon)                                        
53 Tyler Schumacher (KCOI/Boulevard)                                
54 Adam Jones (Georgia Cross - Cannondale)                          
55 Justin Howe (NEBC)                                               
DNS  Zachary Daab (Hup United)                                      
DNS  James Blake (Team Kaos/Nebraska Medical Center)                
DNS  Peter Ozolins (Thompkins Courtland Community)                  
DNS  Brian Eppen (Mercy-Specialized)                                
DNS  Russell Griffin (Marx and Bensdorf Cycling Team)               
DNS  Kelly Irwin (Lincoln Industries/Highgear)                      
DNS  Mike Sharkey (Ridley)                                          
DNS  Ryan Galdes (boulder cyclesport)                               
DNS  James Schneider (Sonic Cyclocross/Jittery Joes)                
DNS  Jarret Kinder                                                  
DNS  Roberto BARRIOS (Mack)                                         
DNS  Chris Sallen (Hup United)                                      
DNS  Joel Budacki                                                   
DNS  Michael Seek (Tri-Cities Road Club)                            
DNS  Damien Fraser (Mafia Racing)                                   
DNS  Raymond Hall (Trek/VW Regional Team)                           
DNS  Kervin Quinones                                                
DNS  Jeremy Nagoshiner (Gran Fondo-Bianchi)                         
DNS  Jay Kocks (Mafia Racing)                                       
DNS  Michael Kennedy (Barbasol)                                     
DNS  Robert Kelly (NCVC/Inova Health Systems)                       
DNS  Matthew Even (Hub Racing)                                      
DNS  Daniel Miller (Bigshark Racing)                                
DNF  Jason Lowetz (Team Bearclaw)                                   
DNF  Ross Cerniglia (My Wife Inc.)                                  
DNF  Oscar Jimenez (NEBC/Cycleloft/DevonshireDental)                
DNF  Alec Riendeau (Big Ring Cycles)                                
DNF  Paul Hernandez (Bicycle John's Serious Cycling)                
DNF  Damian Schmitt (sunnyside sports)                              
DNF  Daniel Fuhrmann (ROUTE 66 CHODE SQUAD)                         
DNF  Jesse Bell (Sisu Cycles)                                       
DNF  Michael Benedek  
 
Men 35-39
 
1 Brandon Dwight (Boulder Cycle Sport)                    42.53
2 Matt Kraus (RGM WATCHES - RICHARD SACHS -)               0.57
3 Eric Sheagley (Veloce/Felt)                              1.21
4 Kevin Hulick (Gentle Lovers)                             2.24
5 John Bailey (Bailey Bikes)                               2.38
6 Curtis Boivin (Refunds Now)                              2.47
7 Mark McCormack (Team FUJI/Clif Bar)                      3.03
8 Kristopher Auer (C3-Sollay.Com)                              
9 John Behrens (Bailey Bikes)                                  
10 Ryan O'Connor (Legal Sea Foods - Metlife - un)          3.14
11 Scott Mclaughlin (SRAM)                                     
12 Mark Wisner (Boulder Cycle Sport)                       3.27
13 Aaron Bouplon (Rocky Mounts / Izze)                     3.40
14 Dave Weaver (Alan N. America Cyclocross Tea)            3.49
15 Gary Yates (Naples Cyclery)                             3.57
16 William Gault (KCCX/Verge)                                  
17 Bill Stolte (HRRC/Trek/Shimano)                         4.10
18 Ernest Marenchin (ASYLUM CYCLES)                        4.20
19 Shadd Smith (TREK KC)                                   4.27
20 Andrew Gorski (Speedgoat/SPK/Salsa)                     4.38
21 Scott Frederick (Aflac/Headway/Spin Cycle)                  
22 Mario Martinez (Nob Hill Velo)                          4.57
23 Ward Baker (RockyMounts/Izze racing)                    5.02
24 Craig Virr (Team SIX)                                       
25 Ned Dowling (BioWheels/Deltec)                              
26 Jerry Long (HTFU/GT Bicycles)                           5.31
27 Paul Bonds (OKC Velo Club)                              5.44
28 Craig Faulkner (Crossniacs)                             5.58
29 Andy Messer (DRT Racing)                                    
30 Michael Gaherty (SKC Racing)                            6.09
31 Brian Staby (Team Norcal Bike Sport)                    6.18
32 KC Mccuiston (New Belgium Brewing)                          
33 Matt Jordan (HRS/Rock Lobster)                              
34 Brant Hornberger (BikeReg.com)                          6.29
35 Matthew Baugher (Epic Cycling Team)                     6.36
36 Kyle Bush (SlimenundGrossen)                            6.42
37 Damon Pettinger (Hagens Berman LLP Cycling Team)            
38 Matias Mendigochea (Kahala-La Grange)                   7.03
39 Chris Samuel (Pro Pedals)                               7.12
40 Jon Freckleton (Aspire Performance)                     7.21
41 Dan Farrell (Blue Sky Velo)                             7.25
42 Scott Dunsmuir (Slimenundgrossen)                           
43 Keller Gregory (Boulder Cycle Sport)                    7.35
44 Ryan Myers (NA)                                             
45 Sean Yeager (Altius Cycling Team)                           
46 Lew Perna (Schwab/Torelli)                              7.51
47 Steven Bullerman (Bike Tech Racing Club)                    
48 Daniel Studley (Spokane Rocket Velo)                    8.09
49 Jeffrey Campbell (ICON ONE RACING/JOE'S PRO BIKE)       8.22
50 Tyler Henson (localcycling.com)                             
51 Dennis Koscielski (Dogfish Racing Team)                     
52 James Heuck (Red Rocks Velo)                                
53 Tige Lamb (Cow Town Cycling)                            8.40
54 Shey Lindner (Sobe/Cannondale/Conte's)                  9.45
 
One lap behind
55 Vincent Davis (Vincent Davis)                               
56 Josh Taylor (360 Racing)                                    
57 Judd Milne (Squadra Coppi/IM Saab)                          
58 Carl Ring (NewHampshire Cycling Club/ Tea)                  
59 Jeff Yielding (Dog Fish Racing)                             
60 Scott Brooks (NEBC)                                         
61 Chad Berg (Redline Bicycles)                                
62 Steven Robinson (All9Yards.com Cycling team)                
 
Two laps behind
63 Louis Dewild (Rasmussen Death Squad 5000)                   
64 Chris Ragusa (CCB/Volkswagen)                               
65 Matthew Opperman (Pro Peloton Racing)                       
66 Rider Unknown                                               
67 Peter Thompson (Flying Rhinos Cycling Club)                 
68 Heenan Mike (My Wife Inc.)                                  
69 Jerry Chabot (refunds now)                                  
70 Wesley Smith (GBL-GBD)                                      
71 Leonard Lawrence (Successfulliving.com)                     
72 Wade Loberger (Wheel and Sprocket)                          
73 David Keesler                                               
74 Matt Gilhousen (Freestate Racing)                           
75 Ted Moore (360 racing)                                      
76 Charles Erndl (Riptide Cycling/Brielle cycler)              
77 Matthew Marchal (Altius Cycling Team)                       
78 Todd Pilger (NM Team Cross)                                 
79 Michael Dicenso (NRC/Pedalmasher)                           
80 Andy Reichert (Birchwood Bike Team)                         
81 Kent Smith (Big Shark)                                      
82 Richard Hu (SKC Racing)                                     
83 Brian Mitchell (Priority Health Elite-Ann Arbo)             
84 Paul Thoresen (Ridley Factory Team)                         
85 Jeffrey Bishop (Renaissance Cycling)                        
 
Three laps behind
86 Jim Coggins (Bicycle Shack)                                 
DNS Jeff Bannink (HUP United)                                  
DNS Kris Thompson (Mix1~Concept 3D)                            
DNS John-Christian Flack (The Valley Athletic Club)            
DNS Chad Rivetti (Team Bearclaw)                               
DNS Shawn Meinke (Fond du Lac Cyclery)                         
DNS Brad Morgan (GAS/Intrinsik Architecture)                   
DNS Chrsitopher Pietrzak (Porcupine Specialized)               
DNS Glen Light (MOOTS)                                         
DNS Louis Kuhn (Pony Shop)                                     
DNS Conal Groom (NA)                                           
DNS Calvin Hill (Solo)                                         
DNS Geoff Mcfetridge (NA)                                      
DNS Nick Hanni (Scott/ Ritchey/ Sram)                          
DNS Jesse Mayberry (Scott/Ritchey)                             
DNS Rob Kendall (Barbasol)                                     
DNS Chris Woody (NA)                                           
DNS Scott Shulda (Trekbicycleofkc/localcycling.c)              
DNS Daniel Jarman (Trekbicycleofkc/localcycling.c)             
DNS Jay Thomas (HRRC/TREK STORES)                              
DNS Chris Duroy (Cycle-Smart, Inc.)                            
DNS Joshua Frank (Peachtree Bikes)                             
DNS Mark Murawski (TOC/Gateway Cycling Club)                   
DNS Nat Ross (Subaru-Gary Fisher)                              
DNS Chad Christian                                             
DNS Kevin Westberry (Roaring Mouse Cycles)                     
DNS Steve Reaney (California Giant Berry Farms/S)              
DNS Jeff Courter (GS CIAO - Al's Barber Shop)                  
DNS Brian Hludzinski (University of Colorado-Boulder)          
DNS Kurt Perham (Cycle-Smart/BCS)                              
DNS Jon-Paul Shores (Glory Racing)                             
DNS Brad Loetel (Cucina Fresca)                                
DNS Eben Weiss (GS Gotham/Toga)                                
DNS Don Galligher (Hayes/Sunringle)                            
DNS Olivier Vrambout (the bikery shop)                         
DNS Keith Mcmahon (VanWagner/Yojimbo's Garage)                 
DNS Joel Hammontree (360 Racing)                               
DNS Jason Giakowski (360 Racing)                               
DNS Tony Stanislav (360 Racing)                                
DNS Michael Duarte (Rocky Mountain Spine & Sport)              
DNS Patrick Harkins (nashvillecyclist.com p/b bike)            
DNS Guy Alvarez (Birchwood)                                    
DNS Thomas Lebosquet (IF/FT p/b Lionette's)                    
DNS Elvis Falbo (Beverly Bike/VeePak)                          
DNS Darryn Biggerstaff (NA)                                    
DNS Geoff Perrill (Iowa City Cycling Clud)                     
DNS Jordi Cortes (team clif bar)                               
DNF Jamie Kilcoyne (Chipotle-Titus Mountain Bike T)            
DNF Craig Harding (NA)                                         
DNF Brian Dougherty (Verdigris Cycling)                        
DNF Travis Lukens (Dale's Pale Ale/Spot Brand)                 
DNF Jack Rich (NA)                                             
DNF Peter Anderson (GS Circo Azzurro)                          
DNF Jonathan Greene (Colavita FL)                              
DNF Blaine Haskell (Green Mountain Sports)                     
DNF Robert Raucci (NA)                                         
DNF Greg Aronson (DICE)                                        
DNF Ben Upchurch (Accelerade Cycling Team)                     
DNF Bradley Bergman (NA)                                       
DNF Michael Weiss (Big Shark Racing)                           
DNF Sam Lueck (NA)                                             
DNF Justin Bowes (SKC Racing)                                  
DNF Dave Drumm (Webcor Builders)                               
 
Men 40-44
 
1 Roger Aspholm (Westwood velo)                           44.06
2 Richard Feldman (Durance Cycleworks - Lehman Br)             
3 Michael Wissink (Specialized)                            0.29
4 Jonny Bold (CORNER CYCLE)                                1.03
5 Richard Mcclung (Hagens-Berman LLP Cycling)              1.11
6 Jeff Prenzlow (Team Coastal Cycling)                         
7 Todd Hoefer (Cal Giant/Specialized)                      1.26
8 Doug Reid (Veloce Velo.Com)                              2.04
9 Gerald Pflug (Speedgoat/SPK/Salsa)                       2.09
10 Jeff Weinert (Giant)                                    2.17
11 Andy Applegate (Kobold Watches / Cannondale)            2.32
12 Robert Foshag (Saturn Of Toledo)                            
13 Matthew Hill (NA)                                       2.44
14 Greg Ferguson (Penn State Hershey Cancer Inst./GPOA)    2.58
15 Tim Butler (River City Bicycles)                        3.19
16 Jon Cariveau (MOOTS)                                    3.24
17 Jon Gallagher (Cole Sport)                              3.34
18 Michael Mcshane (Calistoga Racing Team)                     
19 Gannon Myall (Cal Giant/Specialized)                        
20 Jeff Wardell (Excel Sports/Xybix Sys.)                      
21 Darron Cheek (copper mtnhigh country racing)                
22 Art O'connor (MonaVie/Cannondale)                       4.14
23 Brian Conant (Pony Shop)                                    
24 Mark Studnicki (localcycling.com)                       4.30
25 Jeff Winkler (KCCX/Verge)                                   
26 Morgan Webb (Barbisol)                                      
27 Doug Karet (NA)                                         5.16
28 Tim Boundy (verdigris cycling)                          5.26
29 Jared Roy (Crossniacs)                                      
30 Patrick Morrissey (NM Team Cross)                           
31 John Ericsson (Brazen Dropouts)                         5.37
32 Stephenson Harold (HSDC)                                5.46
33 Tim Kelley (Fitzgeralds Bicycles)                           
34 Bryan Harwood (NA)                                          
35 Blaine Heppner (Bike Clicks/Team Louisville)                
36 Jared Shuttleworth (Red Rocks Velo)                     6.02
37 Tim Faia (Independent Fabrication)                          
38 John Struchynski (Great Plains Cycling Club)                
39 David Kerr (Nob Hill Velo)                              6.27
40 Timothy Hopkin (North Carolina Cyclocross)                  
41 Michael Robson (MIchael Robson)                         6.57
42 David Batchelder (KCOI/Boulevard)                           
43 Phillips Michael (Birchwood/Gis)                        7.14
44 Paul Roltgen (Brazen Dropouts)                              
45 Robert Kuhn (HUP United)                                    
46 Michael Scholtz (NCCX)                                  7.42
47 Robert Sonora (DWC)                                         
48 David Hejduk (Team X Cycling)                               
49 Erik Zimmer (Maciel Velo - Z Mobile)                        
50 Bruce Grell (DICE)                                          
51 Scott Fliegelman (FastForward Sports)                   8.21
52 Bill Teasdale (Blue Sky Velo)                               
53 Bob Prieto (Blue Sky Velo)                                  
54 Robert Kramer (Ridley Factory Team)                     8.47
55 Lawrence Smith (Slimen und Grossen)                     8.57
56 Barry Wahner (DrWahner.com)                                 
57 Carl Schipfmann (KCOI/Boulevard)                        9.04
 
One lap behind
58 Greg Gorrell (Feedback Sports)                              
59 Vince Johnson (NA)                                          
60 Dave Hagen (Fort Lewis College)                             
61 Jimbo Smart (Atomic Race Team)                              
62 Brandon Jenks                                               
63 Brian Moran (Louisville Cyclery Velo Club)                  
64 Tim Simanski (Roaring Mouse Cycles)                         
65 Chris Shotwell (NA)                                         
66 Todd Mckean (Trek China Racing)                             
67 Wade Hess (Cape Atlantic Racing/Team Beacon)                
68 Doug Hudson (Feedback Sports)                               
69 Scott Mares (SIBEX)                                         
70 David Bell (NA)                                             
71 Rick Laliberte (Great Plains Cycling)                       
72 Jeff Hane (Roaring Mouse)                                   
 
Two laps behind
73 David Burns (mountain pedaler/squirt lube)                  
74 Craig Sparks (NA)                                           
75 Travis Oliger (NA)                                          
76 Brent Hankins (SKC)                                         
77 Paul Schoening (Ridley Factory Team)                        
78 Schmidt Craig (LINCOLN INDUSTRIES/HIGHGEAR)                 
79 David Romisch (GP Velotek)                                  
80 Capstick Steven (Blue Sky Velo)                             
81 Kent Baker (Bicycle Shack)                                  
83 Chris Locke (Cow Town Cycling)                              
84 Milnick Brian (green mountain sports velo)                  
85 Jay Downs (WVU Healthcare)                                  
 
Three laps behind
86 Joseph Houston (BRBC)                                       
87 Kevin Anderberg (MOB Cyclery/RMCEF)                         
88 Ronnie Bratcher (Aarons/L5Flyers)                           
89 Isaac Rodriguez (Blue Competition Cycles)                   
90 Eric Struckhoff (Free State Racing)                         
91 James Cullen (Loon State Cyclists)                          
92 Darren Sherkat (Team MACK Racing)                           
93 Rider Unknown                                               
94 Rider Unknown                                               
95 Paul Weiss (Portland Velo Club)                             
DNS Dirk Manley (Cycling-Training.com/ARPT)                    
DNS Marc Gwadz (DC MTB/ City Bikes)                            
DNS Adam Austin (Team MBS)                                     
DNS Daniel Quirk (Veloce/Felt)                                 
DNS Mark Legg-Compton (Spike Shooter)                          
DNS Kevin Wilkins (Monkey Wrench Cycles)                       
DNS Brian Maslack (Spike Shooter)                              
DNS Horacio Gutierrez (BLUE SKY VELO)                          
DNS Chris Tirone (ridley)                                      
DNS Brendon Jenks (360 Racing)                                 
DNS Peter Vollers (Start House / Vollers Law Racing Team)      
DNS Don Cameron (specialized)                                  
DNS Matthew Scott (ico)                                        
DNS Mark Schoonbeck (KCOI Boulevard)                           
DNS Paul Jensen (All9Yards.com)                                
DNS Gregory Casals (Marx & Bensdorf Cycling Team)              
DNS Gaige Sippy (Durango Wheel Club)                           
DNS Robert Quinlan (Nob Hill Velo)                             
DNS Paul Debartolo (GS Gotham/TOGA)                            
DNS Timothy Ellis (Recycled Cycles)                            
DNS Mark Robson (Nerac Cycling)                                
DNS Marty Netzel (Specialized)                                 
DNS Charles Parmain (Bicycles of Tulsa)                        
DNS Ken Woodrow (Squadra Coppi/IM Saab)                        
DNS Michael Palitto (Team X Cycling)                           
DNS Steve Ouzounian (Big Swinging Cycles)                      
DNS David White (KCOI/Boulevard)                               
DNS Jeff Van Mulligen (Team Coastal Cycling)                   
DNF Will Black (NA)                                            
DNF Troy Kimball (Westwood Velo)                               
DNF Kelly Cline (Wissahickon)                                  
DNF Todd Davis (KCOI Boulevard)                                
DNF Wittmer Sean (bicycle centres/collison 1)                  
DNF Mike Hogan (Chipotle - Titus)                              
DNF Tracy Campbell (Cape Atlantic Racing/Team Beacon)          
DNF Doug Graver (Ragnarok Racing)                              
DNF Trey Harrison (River City Racing Club)                     
DNF Eric Pacheco (GP Velotek)                                  
DNF St Stechschulte (REel Bikes)                               
DNF James Klages (Big Shark Racing)                            
DNF John Jones (Ozark Cycling Club)                            
DNF Gregory Booth (GP VeloTek)                                 
DNF Dyer Sonni (Studio7-Cyclocross)                            
DNF Jeffrey Appeltans (Primus Mootry)                          
DNF Mark Badger (Brazen Dropouts)                              
DNF Matt Eastlack (Localcycling.com)                           
DNF Mark Olson (XXX-Athletico)                                 
DNF William Mcdade (xxx racing/ Athletico)                     
 
Men 50-54
 
1 Edmund Overend (Unattached)                             46.01
2 Henry Kramer (CalGiant Strawberry/Specialize)            0.37
3 Mark Kutney (Van Dessel Factory Team)                    1.17
4 Wayne Simon (Verdigris Cycling)                          1.40
5 Bobby Langin Sr (Platinum Performance)                   1.50
6 Randy Shields (Carolina Masters)                             
7 Bob Downs (PlanetBike)                                   2.15
8 Randall Root (Evolution Cycling)                         2.20
9 Norm Kreiss (Cal Giant Strawberry/ Speciali)                 
10 Karl Kiester                                            3.26
11 David Belknap (Bicycle Link/MBRC)                       3.46
12 Dag Selander (Ridley Factory Team)                      3.54
13 Kris Tilford (Wheatland Cycling Team)                   3.55
14 Jeffrey Craft (Lake Effect Cycling Team)                4.09
15 Mark Mcgeen (Team MACK Reaing)                          4.18
16 Mark Wolowiec (Flying Rhino Cycling Club)               4.19
17 Bruce Tanner (OKC Velo)                                 4.29
18 John Bliss (Rocky Mounts - Izze Racing)                     
19 Brook Watts (Cody Racing)                               4.40
20 Russell Thorstrom (ICO)                                 4.44
21 Randy Iddings (Redline)                                 5.23
22 Jon Dellios (nobhill velo)                              5.34
23 Shawn Downing (King Pawn/CW)                            5.42
24 Timothy Groesbeck (CCB/Volkswagen)                      5.57
25 Robert Pugh (Sledgehammer Charlies)                     6.01
26 Alan Braff (nonstop ciclismo)                           6.16
27 Tim Shea (BOB/Shift-Stonyfield Farm-Ariz)               6.34
28 Rudy Sroka (Lake Effect Cycling Team)                   6.43
29 Curt Shelman (Wheel Cycling)                            6.56
30 William Stevens (Gear Works/Spin Arts Cycling T)        7.01
31 Kevin Callahan (Bicycle Link/MBRC)                      7.30
32 Matt Baroli (Team Giant)                                7.55
33 William Kuster (Loon State Cyclists)                    8.11
34 Pete Watson (Team E Mortgage Strategy)                  8.33
 
One lap behind
35 John Grenier (BOB/Stony Field Farms)                        
36 Erik Salander (Peninsula Velo/Kondra Systems)               
37 Steve Lamont (DCCX)                                         
38 Andrew Ammon (CAROLINA MASTERS)                             
39 Tom Bowmaster (Liberty Cycle)                               
40 Thomas Prehn (Rocky Mounts)                                 
41 Phillip Curran (DICE)                                       
42 Gary Calton (gp velotek)                                    
43 Paul Fancher (Localcycling.com)                             
44 Richard Toler (Team Kreitler Rollers)                       
45 Timothy Bergman (Localcycling.com)                          
46 Larry Grossman (SQUIRT Lube)                                
47 Jay Mongillo (CCC/Keltic Construction/Zanes)                
 
Two laps behind
48 Chris Clausen (Big Shark Racing)                            
49 Oliver Bond (Violet Crown Sports Assoc)                     
50 Marty Soetaert (Marty Soetaert)                             
51 John Reimbold (Bike Surgeon)                                
52 Randall Silva (NOB HILL VELO)                               
53 James Thiele (Unattached)                                   
54 David Conrad (Free State Racing)                            
55 Mark Thomas                                                 
56 Doug Hamilton (BioWheels Racing/Reese-Campbel)              
57 Dale Sargent (Ozark Clcying Club)                           
58 Kevin Ryan (Acme Racing)                                    
DNS Jim Gentes (Family Cycling Center)                         
DNS Dirk Cowley (FFKR/SBO p/b Tour of Utah)                    
DNS Bruce Bell (GMBC/Catamount)                                
DNS David Leedberg (GearWorks / SpinArts)                      
DNS John Thompson (unattached)                                 
DNS Rick Squires (rocky mounts/izze)                           
DNS Mark Abele (Rivendell)                                     
DNS Colin Kernan (Missing Link Bicycle Club)                   
DNS David Holmer (NMBRA)                                       
DNS Jeff Cordisco (C3-Sollay.com)                              
DNS Douglas Squires (Rocky Mounts)                             
DNS Smith George (Webcor/Alto Velo)                            
DNS Charles Morris (Celo Pacific)                              
DNS Mike Stabler (GTC)                                         
DNS Glenn Stephens (Potomac Velo Club)                         
DNS Mitch White (ICE/Rocky Mountain Surgery Cen)               
DNS Dan Ramsey (7 Hills/Mercy Healthplex)                      
DNF Michael Keough (Corner Cycle Cycling Club)                 
DNF Tim Mcallister (Ghisallo)                                  
DNF Bob Walker (Bountiful Mazda)                               
DNF Raymond Fortner (myvelocoach.com)                          
DNF Doug Owen (Hammer Nutrition)                               
DNF Todd Trembley (NA)                                         
DNF Murray Wilmerding (Acid Zapper)                            
DNF David Griesse (Accelerade Cycling Team)                    
DNF Dan Griesse (Accelerade Cycling Team)