Tech Feature: Bikes of the 2007 'Cross World's, February 2, 2007
As well as some top racing - featuring drama that the phrase "thrills and spills" could have been coined for - there was also some top kit on display. Cyclingnews' UK Editor Ben Atkins put on his boots and went for a wade through the Flanders mud to see what off-road exotica could be found.
Sven Nys' Colnago C50 Cross
Sven Nys' race bike
Photo ©: Ben Atkins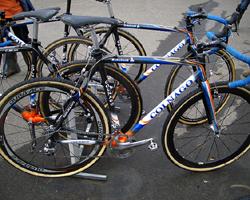 My great detective skills (featuring Cyclingnews team issue Deerstalker and Pipe) led me to the gated driveway of a house to find the favourite for the day, several hundred metres from the rest of the pit area - and number one cyclo cross racer in the world by miles - Sven Nys. Taking advantage of the firm and dry surface underfoot were his four Rabobank liveried Colnago C50 Cross bikes, neatly corralled, polished up and ready to race.
The C50 Cross frame (Nys' teammate Richard Groenendaal's bike was featured in last year's Pro Bike section) is similar to its road going cousin but uses round tubes in the main triangle rather than the usual four-lobed "Master" shaped tubes of many other Colnagos. Like Colnago's Star fork, Nys' fork is 100% carbon fiber but obviously has a great deal more clearance built in than the road frames, and of course features mountings for cantilever brakes.
Despite being the world's number one (and in emphatically dominant fashion at that), Nys doesn't appear to have any primadonna style demands for non-standard equipment. His bike is equipped with a complete Shimano Dura-Ace groupset - including the deep section carbon wheels. In addition, although Nys' Spooky carbon brake calipers are rather trick looking (and complement the carbon frame and wheels nicely), they are still off-the-shelf items that are available to any consumer. These now seem to be a pretty standard piece of Rabobank kit, as I also saw these on the bikes of Dutch favourite Groenendaal.
Like most other riders at this year's World Championships, Nys was using Dugast 32c tubulars - running pretty soft. Unlike virtually all the others though, Nys had elected to start the race on Dugast's significantly knobbier Flying Rhino tread in order - according to a mechanic - to be able to maintain souplesse on the muddier parts of the course.
Ryan Trebon's Kona Major Jake
Ryan Trebon's Kona Jake the Snake spare bike
Photo ©: Ben Atkins

Standing out (literally!) in the middle of the United States pit area were the Kona Jake the Snakes belonging to US Champion Ryan Trebon. At 1.96m (6'5") Trebon is easily among the tallest racers on the circuit (perhaps the tallest) and as a result, his bikes are among the largest as well.
Trebon's Major Jake frame is made from TIG-welded Easton Ultralite Race aluminium tubing, and is nearly identical to Barry Wicks' bike as featured in last year's Pro Bike section.
Despite the large frame - highlighted by the very long head tube - Trebon still needs an incredibly long FSA seatpost to get his position just right. Most of Trebon's groupset is standard Shimano Dura-Ace - the most notable exception being the FSA chainrings (46/38 for this course).
Like many riders, Trebonn was using full carbon deep section rims because of their stiffness and light weight - like the other Kona riders, these are Easton Tempest II Carbons, shod with 32mm Dugast tubulars. As with the majority of racers he selected Dugast's shallower tread with speed in mind in anticipation of the course being only modestly slippery.
Team Fidea's Ridley X-night
Wellens is a pretty big guy
Photo ©: Ben Atkins

Dominating the Belgian team were riders who - in their day job - usually wear the colours of Fidea (in fact, there were four of them to Rabobank's two, plus one from Palmans-Collstrop and one SunWeb-Projob rider) so consequently there were a lot of blue and white Ridley X-nights about.
In contrast to most other team, each of the Belgian riders had an entire camper to himself, as well as his own team of mechanics. Bart Wellens, Klaas Vantornout and reigning champion Erwin Vervecken had theirs arranged together, leaving a huge space in the middle in which their mechanics could work. Kevin Pauwels, for some reason, was parked quite far away from his teammates - perhaps he arrived a bit late!
The X-night frame is very similar in appearance to Ridley's flagship Noah road frame - as ridden by the Predictor-Lotto team, apart from the lack of integrated seatpost, of course... The T7000 Carbon frame uses a triangular-shaped tube and top tube, the latter of which has a nice flat underside, which is undoubtedly handy when having to shoulder your bike!
Like Nys, the Fidea boys seem perfectly content to stick with a standard Shimano Dura-Ace group paired with some rather nice looking deep section carbon wheels, handlebars, and stems from Ridley's 4ZA house brand. Kevin Pauwels' bikes also featured 4ZA brake levers on the top of his bars.
Each of Bart Wellens' three frames had some Japanese characters on the head tube below the Ridley badge. One of his mechanics explained to me - using a internationally recognised brand of sign language - that these mean that Bart is big, strong and powerful - or something like that...
Wilant Van Gils' Van Tuyl VT 390 TICa
Wilant Van Gils' Van Tuyl bike
Photo ©: Ben Atkins

Apart from being a rather attractive titanium and carbon frame in ZZPR.nl colours, Wilant Van Gils' weapon of choice, the Van Tuyl VT 390 TICa, is most notable for one distinguishing characteristic. Like a couple of other members of the Dutch team, Van Gils uses Rotor's new ágilis cranks which also include its elliptical Q-Ring chainrings.
Non-round rings have recently been making a comeback into various areas of the sport and it now seems that the perceived advantages they offer have found favour with some 'cross riders, most notably under Van Gils' Dutch teammate Marianne Vos.
John Gadret's B'Twin Cyclo-X
John Gadret's B'Twins
Photo ©: Ben Atkins

Despite showing his road-going class in last year's Giro d'Italia, John Gadret remains first and foremost a 'cross rider (although I can see this changing if he performs as well again in road races this year...) and his kit reflects that.
The standard version of the B'Twin 'cross bike comes with cromoly forks, but Gadret uses some really wacky looking carbon ones that almost seem to sweep back underneath the down tube.
Like Kevin Pauwels - and surprisingly few others - Gadret likes his brakes and so endeavours to stay near them as much as possible. To this end he has installed a pair of levers on the tops of the bars, although somewhat strangely, he's only done this on one of his bikes.
Miscellaneous bling from the 'Cross World's pits
Some sexy FSA cranks
Photo ©: Ben Atkins

Throughout the team pit area of the 'Cross World's this year, there was real evidence of the great divide between the haves and have-nots of this branch of the sport; that is to say, between the Belgian stars and everyone else! However, no matter how the rider arrived at the race, either in their own camper, the team camper or in a car with their bikes on the roof, everywhere there was some beautiful kit on display. If there had been a concours d'elegance as part of the weekend's events, the competition would have been even stiffer than in the racing.
Photography
For a thumbnail gallery of these images, click here
Images by Ben Atkins/Cyclingnews.com