Recently on Cyclingnews.com
2003 Cyclo-cross World Championships - CM
St. Wendel, Germany, January 29-30, 2005
Home Results Previous Race Next Race
January 29 - U23 Men: 50 Minutes
Zdenek Stybar: One great solo to the finish
By Hedwig Kröner in St. Wendel
Czech Zdenek Stybar
Photo ©: AFP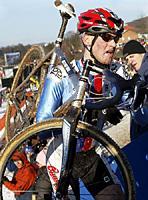 Czech Zdenek Stybar broke away from the leading group with three laps to go and soloed his way to a World Championship title. Behind him, his teammate Radomir Simunek secured the silver medal in front of Swiss Simon Zahner.
How it unfolded
Belgian Kevin Pauwels started in the St. Wendel stadium to defend his U23 World Champion title, and once the starting signal was given, he followed Czech Martin Bina with Frenchman Steve Chainel leading. After 500 metres, a crash made the back of the peloton lose some time but nobody was hurt. Simon Zahner from Switzerland was in front too, and the first to complete one lap after 6:30, at about 27 km/h. A group of six formed, including Czech rider Radomir Simunek, Zdenek Stybar and Italian Steve Stampedri. Chainel nearly crashed on a corner, but could just hold on and continued immediately. The group numbered ten at the end of lap two, with a significant lead of ten seconds to the next group, led by three Dutchmen: Lars Boom had a flat tyre during the first lap, fell back and his teammates were desperately trying to take him back to the front.
As Chainel was doing all the leading in front, nine riders followed his trail: Belgians Kevin Pauwels, Niels Albert and Tom Van den Bosch, Czech riders Radomir Simunek and Zdenek Stybar, Italian Derik Zampedri, Swiss riders Lukas Flückinger and Simon Zahner and German Thorsten Struch with five laps to go. Behind, Ismael Esteban Aguando from Spain crashed and lost a lot of time carrying his bike to the mechanical depot.
Simon Zahner (Swi)
Photo ©: AFP

The Czech teammates shared the work in the front group, and it paid off: with an over 20 seconds lead, it seemed that victory would be achieved by one of the ten, and the group itself started to tear apart. That's when Zdenek Stybar made his decisive attack and broke away in front, with his fellow countryman Simunek and Swiss Zahner painfully getting dropped. As Stybar entered the stadium, with three laps to go, he already had an eleven seconds lead.
At the back, various riders crashed or slipped on the icy trail, but nobbody was seriously hurt. In one great solo ride to the finish, Stybar further extended his lead to 17 seconds, passing the last riders of the peloton on the circuit. Although Swiss Flückinger joined the chasers then anounting to three (Simunek, Zahner, Flückinger), Stybar's lead continued to grow to 20 seconds, one lap to go. Meanwhile, Radomir Simunek broke away from the two Swiss riders, Flückinger and Zahner, who were joined by Belgian Niels Albert in their efforts to come back. In vain, as it turned out, because the two Czech crossmen were unbeatable today, Stybar crossing the line after 50:12, his teammate Simunek also raising his arms in victory soon after. Swiss Simon Zahner placed third.
Stybar, who lives close to the German border in the Czech Republic, was a very happy man. "My chance of winning was good today, as I felt very strong," he said at the press conference. "But I wasn't sure of my victory until the finish line, as the course was frozen and very slippery."
Photography
For a thumbnail gallery of these images, click here
Images by AFP Photo
Images by Andreas Ganz
Results

1 Zdenek Stybar (Czech Republic)                   50.12
2 Radomir Simunek Jr. (Czech Republic)              0.21
3 Simon Zahner (Switzerland)                        0.25
4 Lukas Flückiger (Switzerland)                     0.28
5 Niels Albert (Belgium)                            0.35
6 Kevin Pauwels (Belgium)                           0.59
7 Derik Zampedri (Italy)                            1.26
8 Steve Chainel (France)                            1.27
9 Lars Boom (Netherlands)                           1.28
10 Krzysztof Kuzniak (Poland)
11 Thorsten Struch (Germany)                        1.59
12 Jempy Drucker (Luxembourg)                       2.01
13 Tom Van Den Bosch (Belgium)                      2.16
14 Julien Belgy (France)                            2.20
15 Rob Peeters (Belgium)                            2.24
16 Flavio Alex Longhi (Italy)                       2.28
17 Luca Damiani (Italy)                             2.29
18 Jeremy Powers (USA)                              2.31
19 Paul Voss (Germany)                              2.33
20 Eddy Van Ijzendoorn (Netherlands)                2.34
21 Frantisek Kloucek (Czech Republic)               2.35
22 Pirmin Lang (Switzerland)                        2.39
23 Geert Wellens (Belgium)                          2.45
24 Bart Dirkx (Netherlands)                         2.48
25 Thijs Van Amerongen (Netherlands)
26 Simon Richardson (Great Britain)
27 Mariusz Gil (Poland)                             3.28
28 Jochen Uhrig (Germany)                           3.39
29 Karl Schoknecht (Germany)                        3.43
30 Yves Corminboeuf (Switzerland)                   3.51
31 Romain Villa (France)                            4.25
32 Jesse Anthony (USA)                              4.38
33 Troy Wells (USA)                                 5.02
34 Anthony Colas (France)                           5.07
35 Martin Bina (Czech Republic)                     5.19
36 Marco Aurelio Fontana (Italy)                    6.16
37 Asier Corchero Moriano (Spain)
38 Laurent Didier (Luxembourg)                      6.21
39 Finn Heitmann (Germany)                          6.24
40 Jan Soetens (Belgium)                            6.26
41 Rafael Visinelli (Italy)                         6.43
42 Michal Werstak (Poland)                          6.55
43 Nestor Rodriguez Santaclara (Spain)            2 laps
44 Martin Hämmerle (Austria)
45 John Hanson (USA)
46 Kohei Yamamoto (Japan)                         4 laps
47 Alex Izquierdo Acon (Spain)
48 Anton Kaniuk (Ukraine)
49 Ismael Esteban Aguando (Spain)
50 Abel Muchenje (Zimbabwe)
51 Tshabalaia Nqobizithe (Zimbabwe)
52 Brighton Kasecha (Zimbabwe)
53 Gorden Martin (Zimbabwe)
DNF Jackson Vijarona (Zimbabwe)
DNF Matthew White (USA)
DNF Sebastian Langeveld (Netherlands)