2005 Cyclo-cross World Championships - CM
St. Wendel, Germany, January 29-30, 2005
Home Results Previous Race Next Race
January 30 - Elite/Junior Women: 40 Minutes
Kupfernagel outstanding in Franco-German battle
By Hedwig Kröner in St. Wendel
A very happy Hanka Kupfernagel (Germany)
Photo ©: AFP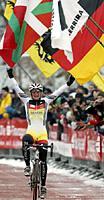 German and European champion Hanka Kupfernagel was the fastest cross woman on earth today as she raced towards her third World champion title on her own. Behind, her teammate Sabine Spitz was victorious over the French riders Maryline Salvetat and Laurence Leboucher and won the second medal for Germany. In a huge effort, Dutch Mirjam Melchers managed to outsprint the French at the finish to place third.
At the press conference, the new World champion explained the secret of her success. "This morning, I felt positive about the race and I was very relaxed. This was good, as the last weeks had been a little stressful because of all the media coverage. So Mike [Kluge, her trainer and new partner – ed.] told me to relax, and I followed his advice."
Asked what this medal meant to her, she replied, "It's the most important one. In front of my home crowd, it was an awesome experience. And my mother came to watch me today, even though she has been very ill, so this motivated me even more."
How it unfolded
Hanka Kupfernagel (Germany)
Photo ©: AFP

Just as it began snowing lightly on the St. Wendel cross compound, the women's race started. German Sabine Spitz immediately took the lead, closely followed by Hanka Kupfernagel, as well as the two Dutch riders Daphny Van den Brand and Mirjam Melchers. Kupfernagel took over the lead, and was the first to cross the line for the second lap.
Behind, the French World champion Laurence Leboucher and her teammate Maryline Salvetat worked together to close in on the Germans, and both Dutchwomen had problems in keeping up with Kupfernagel's pace. Laurence Leboucher made it to the wheel of Kupfernagel, and the pair started what was to develop into a Franco-German battle, with Spitz, Melchers and Salvetat chasing them. The second lap was completed in 14:04, four laps to go.
Melchers then missed a step at an obstacle, but could continue the race with her teammate Van den Brand arriving just in time for the two following the leaders in fifth and sixth position. Kupfernagel paced ahead, with Leboucher right behind her, Spitz and Salvetat not far away. But Leboucher was struggling to keep up with the German, and had to let go, joining her teammate and Spitz, only 7 seconds behind. By that time, the two Dutch women had been dropped.
The women's podium
Photo ©: AFP

Kupfernagel extended her lead to 12 seconds with three laps remaining, with Salvetat leading the French chase duo, and Spitz trying to follow their pace. Behind, Belgian Veerle Ingels tripped over an obstacle, crashing head first on the ground. With one and a half laps to go, Leboucher made the move on her own and tried to catch up with the German, more than 25 seconds behind. Spitz and Salvetat came back to her, followed by Melchers (35") and Van den Brand (1'15").
The last two laps, Kupfernagel's victory was clear: with a 30 seconds lead, only a bad crash could have prevented her from becoming the next World champion. Her teammate Sabine Spitz had dropped the French, who could not keep up and were joined again by Melchers. Kufernagel then changed her bike 300 m before the finish line, crossing it after 41:42 arms raised but crying in emotion. Behind her, Spitz was jubilating too for their double win in their home country.
Photography
For a thumbnail gallery of these images, click here
Images by AFP Photo
Images by Birke Ulrich/www.alakarte.de
Results

1 Hanka Kupfernagel (Germany)               41.42
2 Sabine Spitz (Germany)                     0.28
3 Mirjam Melchers (Netherlands)              0.32
4 Laurence Leboucher (France)
5 Maryline Salvetat (France)
6 Daphny Van Den Brand (Netherlands)         2.02
7 Ann Knapp (USA)                            2.16
8 Anja Nobus (Belgium)                       2.24
9 Marianne Vos (Netherlands)                 2.25
10 Nadia Triquet (France)                    2.47
11 Birgit Hollmann (Germany)                 3.06
12 Wendy Simms (Canada)
13 Hilde Quintens (Belgium)
14 Claudia Marsilio (Italy)                  3.55
14 Paola Bortolin (Italy)                    4.10
16 Victoria Wilkinson (Great Britain)        4.11
17 Arenda Grimberg (Netherlands)             4.23
18 Louise Robinson (Great Britain)
19 Sarah Kerlin (USA)                        4.33
20 Nicole Kampeter (Germany)                 4.37
21 Alexandra Bähler (Switzerland)            4.38
22 Rosa Maria Bravo Soba (Spain)             4.41
23 Helen Wyman (Great Britain)               5.00
24 Josie Beggs (USA)                         5.01
25 Rhonda Mazza (USA)                        5.23
26 Barbara Howe (USA)                        5.43
27 Susanne Juranek (Germany)                 5.44
28 Veerle Ingels (Belgium)                   6.03
29 Loes Sels (Belgium)                       6.05
30 Corine Dorland (Netherlands)              6.25
31 Katerina Bohata (Czech Republic)          6.28
32 Monica Brunati (Italy)                    6.47
33 Barbora Bohata (Czech Republic)           7.11
34 Aline Parsy (France)                      8.41
35 Gabriella Day (Great Britain)            1 lap
36 Milena Cavani (Italy)
37 Samantha Nicholson (Canada)
38 Tara Ross (Canada)
39 Catrine Josefsson (Sweden)              2 laps
40 Svitlana Tovstohan (Ukr)
41 Ikumi Tajika (Japan)