Recently on Cyclingnews.com
2005 Cyclo-cross World Championships - CM
St. Wendel, Germany, January 29-30, 2005
January 29 - Junior Men: 40 Minutes
Malacarne sprints to World's victory
By Hedwig Kröner in St.Wendel
David Malarcarne (Italy)
Photo ©: AFP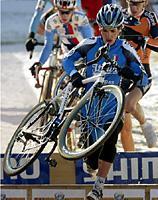 After an impressive six-lap power demonstration, Davide Malacarne from Italy was well ahead of his two main rivals in the sprint finish of the junior men's race. Julien Tamararcaz from Switzerland placed second just a wheel in front of German Christoph Pfingsten.
How it unfolded
The Juniors started the first of four Cyclo-cross World Championships in 2005, at temperatures below zero degrees centigrade in the blistering cold. The sun was out, and overnight the remaining mud paths had frozen over to a solid dirt and snow track.
German Champ Christoph Pfingsten started out strong and set the pace for the first kilometre, then Italian Champion Davide Malacarne took over. A group of seven left the peloton behind soon afterwards, with Malacarne sprinting to the end of lap one as if it was the finish line. The Junior's first lap time was 6:29, so five laps were announced to go to make up the approximative racing time of 40 minutes. Malacarne was joined in his efforts by French Lejeune and Dutch Ricardo Van de Velde, with Pfingsten, Czech Lucas Kloucek and Belgian Pieter Vanspeybrouck following close behind. The tempo was high, and Swiss Romain Beney as well as British Mark Thwaites slid on a corner to crash on the rugged, icy ground, but nobody was hurt.
The lead group
Photo ©: Andreas Ganz

As Malacarne was relentlessly leading the front group including Van de Velde, Pfingsten and Lejeune, Vanspeybrouck had a technical problem and Van de Velde crashed lightly, but lost time. The three remaining leaders, Malacarne, Lejeune and Pfingsten didn't agree on the leadwork, the Italian repeatedly asking the others to help as he had been in front all the time. The leaders slowing down because of their dispute, Swiss Julien Tamararcaz and Van de Velde caught up with them and the five riders continued on together, with Malacarne in first position as usual. At the end of lap three, the Italian attacked, looking very strong, and Czech Lukas Kloucek struggled trying to chase the leaders about ten seconds ahead of him. In front, the other riders finally cooperated, and Van de Velde crossed the finish line first for the last lap.
With the circuit still partly covered with ice, the riders were cautious not to crash, but still racing with full speed. Malacarne, Pfingsten and Tamararcaz gained a few seconds on the others, and even though the German lost a little time in a corner, the three made it to the finish together. Malacarne, who had been in front during the whole race, started the sprint early and was well ahead of Tamararcaz and Pfingsten when he crossed the line after 38:47, celebrating with his World Champion title on top of his National's victory. The Swiss rider finished second, the German third.
Photography
For a thumbnail gallery of these images, click here
Images by AFP Photo
Images by Andreas Ganz
Results

1 Davide Malacarne (Italy)                    38.52
2 Julien Taramarcaz (Switzerland)
3 Christoph Pfingsten (Germany)
4 Romain Lejeune (France)                      0.10
5 Ricardo Van Der Velde (Netherlands)          0.14
6 Lukas Kloucek (Czech Republic)               0.42
7 Ondrej Bambula (Czech Republic)              0.49
8 Yannick Martinez (France)
9 Robert Gavenda (Slovakia)                    0.50
10 Guillaume Perrot (France)                   0.51
11 Martin Nemecek (Czech Republic)             0.52
12 Ondrej Zelinka (Czech Republic)             1.14
13 Philipp Walsleben (Germany)                 1.30
14 Stijn Joseph (Belgium)                      1.36
15 Jan Arnouts (Belgium)                       1.44
16 Patrick Nuber (Germany)                     1.52
17 David Menger (Czech Republic)
18 Sascha Weber (Germany)                      1.53
19 Pieter Vanspeybrouck (Belgium)              2.01
20 Marcin Sobiepanek (Poland)                  2.08
21 Omar Sottocornola (Italy)                   2.13
22 Cristian Cominelli (Italy)                  2.21
23 Davy De Scheemaeker (Belgium)               2.31
24 Kim Michely (Luxembourg)                    2.48
25 Yu Takenouchi (Japan)                       2.54
26 Matthias Flückiger (Switzerland)            3.08
27 David Claerebout (Luxembourg)               3.11
28 Dawid Romanowski (Poland)                   3.18
29 Alex Atkins (Great Britain)                 3.22
30 Tom Last (Great Britain)
31 Tomasz Domagala (Poland)                    3.26
32 Julien Berard (France)
33 Romain Beney (Switzerland)                  3.43
34 Mauro Gonzalez Furlan (Spain)               3.45
35 Gorka Izaguirre Insausti (Spain)
36 Dusan Janduch (Slovakia)                    3.48
37 Amadeusz Rudziñski (Poland)                 3.50
38 Pascal Meyer (Switzerland)
39 Natanael Rother (Switzerland)               3.51
40 Tom Meeusen (Belgium)
41 Rik Van Ijzendoorn (Netherlands)            3.53
42 Geoffrey Lorrain (France)                   4.05
43 Victor Rodriguez Vazquez (Spain)            4.19
44 Loris Bompieri (Italy)                      4.34
45 Robert Bachraty (Slovakia)                  4.35
46 Mark Thwaites (Great Britain)               4.46
47 Patrick Vliegen (Netherlands)               4.54
48 Lucian Logigan (Roumania)                   4.57
49 Charles Marzot (USA)                        4.58
50 Sascha Wagner (Germany)                     5.14
51 Sylwester Janizewski (Poland)               5.16
52 David Schloesser (Luxembourg)               2.24
53 Marius Petrache (Poland)                    5.25
54 Savié Van Horik (Netherlands)               5.41
55 Joel Dion-Poitras (Canada)                  5.57
56 Adam Mcgrath (USA)
57 Bjorn Selander (USA)                        7.10
58 Mitchell Peterson (USA)                     7.27
59 Roman Skochko (Ukraine)                    1 lap
60 Ander Gomez Elorriaga (Spain)
61 Erlantz Uriarte Okamika (Spain)
62 Braden Kappius (USA)
DNF Boy Van Poppel (Netherlands)
DNF Paul Cox (Great Britain)
DNF Simone Pavan (Italy)