Cyclo-cross news & racing roundup for October 8
Edited by Les Clarke and Laura Weislo
Welcome to our regular roundup of what's happening in cyclo-cross. Feel free to send feedback, news and releases to mtb@cyclingnews.com.
Management defends Nys
Belgian Sven Nys (Landbouwkrediet-Tönissteiner)
Photo ©: AFP

Sven Nys' management has hit back at reports that the Belgian star's starting fees are pushing other riders out of the picture for race organisers. "We deplore reports in the press in recent days about the starting fees, which come under a contractual arrangement between athlete and organiser with a confidentiality clause," said Lotte Vanreusel, athlete representative for Golazo Sports.
"We'd like to repeat the essence of the case (following a short press release on September 19, which over the past days different observers have all too often lost sight of). Sven Nys has ridden in less races this season. Immediately after the Olympic Games, Sven and his coach Paul Van Den Bosch discussed [his schedule] and established a rough calendar.
"Those other races must fit in that calendar in the first place," continued Vanreusel. "Then we apply the principle of supply and demand: Sven rides less, he is often less visible, but he can give his all in the races in which he starts. It is for the organiser to determine whether he is prepared to meet the asking price."
Nys' coach, Paul Van Den Bosch explained that, "Sven has been busy with the Olympic Games and some intensive months [of preparation] leading up to it. We have 'pruned' Sven's program. He rode less than a dozen races last winter. Moreover, after the cross season there was a new mountain bike spring and summer for him to compete in."
Vanreusel concluded by saying that, "We hope that we have provided sufficient clarity but also hope that everyone can now concentrate on cyclocross itself; that the legs will speak and the general public can warm to many a spectacle."
A conversation with Ryan Trebon
Another North American 'cross season is off and running, and already the big names are notching wins. One of them, former US champion Ryan Trebon, started off his season with back-to-back second places on the first major weekend before getting his first win by repeating at Cross Vegas. He spoke with Cyclingnews' North American Editor Mark Zalewski about how his pre-season went and what he hopes to achieve this year.
Ryan Trebon spent the fall in the stars and stripes
Photo ©: Laura Weislo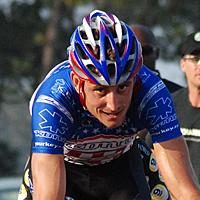 Kona's Ryan Trebon is back and ready for another season of 'cross – but not quite the same season as before. The former US champion has his eyes set again on the national championship, especially after crashing out of the race last year – but he said he is much more focused on mounting a serious European campaign this year, specifically targeting tough races in Belgium. As a result, he views his North American schedule more as fine tuning and a prelude... though of course he still wants to win the two major series here.
"I obviously want to win the NACT and USGP series, and nationals," he said matter-of-factly. "But that is my beginning of the season goal. I am not so focused on being super-fast early on. I've definitely done a lot of training and I'm not coming in slow, but more I want to do really well in Europe this year."
North American cyclo-crossers have it somewhat different than their Euro-based counterparts, especially as the sport picks up more and more momentum each year. As a result of the increase in popularity they effectively have to serve two masters by racing a full North American season before heading over to Europe to compete on the remaining world cup circuit, followed by the world championships.
While the two calendars overlap, having North American sponsors, such as Kona for Trebon, means doing well on the home front is still very important. That makes for a very long season, going full-gas is lieu of tapering to prepare for Europe and worlds.
"It is hard to keep perspective when you are in the beginning of the year," he said about looking ahead. "But I feel it is possible to podium on a big, A-level race over [in Europe.] Not some race in Spain or Luxembourg, but I want to do the big races - it's what I am looking forward to."
"That is what I want to do later, but I also think it is important to do well here and get points. It is a lot of exposure for Kona, FSA and all my other sponsors. But it is hard to take the long-term view of things sometimes. We are racing hard here, but I am still doing a ton of training mid-week."
Read the rest of the feature here.
No injury concerns for Albert
After a nasty crash in the GP Neerpelt late last month, Niels Albert has bounced back to take the win in Sunday's GP AVB Zonhoven. Jumping away from the field from the start, the 22-year-old Belgian held a 30 second advantage over Klaas Vantornout, who performed well on the day to fight off a chase from the Fidea duo of Zdenek Stybar and Bart Wellens and secure second place.
"After my fall in Neerpelt, I stayed off the bike for three days," Albert told Sporza after the race. "Then I trained hard despite the wind and rain, but I didn't know where I stood. I attacked from the start, and when I had a 30-second advantage, I limited myself to holding it. I wasn't here to win with a three minute advantage."
Anthony re-signs with Jamis
Jamis announced today the re-signing of seven-time national champion Jesse Anthony for the 2008 Cyclo-Cross season. Anthony had a great season in 2007, winning the overall title at the Verge New England Championship Cyclo-Cross series and finishing top 10 in the USGP series, USA Cycling Cyclo-Cross National Calendar Standings and the seventh American in the UCI points standings last year.
Coming off an Achilles heel injury early in the 2008 season and then a broken wrist in late July, Jesse's sure to be fresh for his upcoming debut at the Erdinger Gran Prix of Gloucester on October 11th and 12th. He'll then be attending all the USGP events and the new North American Trophy Points Championship (NATC) remaining races.
USGP announces junior race series
Organisers of the US Gran Prix of Cyclocross presented by Crankbrothers, (USGP) have announced the establishment of the CyclocrossWorld / USGP Junior Race Series.
As part of this series, the USGP can also announce that The Mercer Cup presented by Knapp's Cyclery and The Portland Cup presented by Stanley have been named the official U23 and Junior Worlds qualifying races and are the only UCI-sanctioned junior races on the American cyclo-cross calendar.
Series event director, Joan Hanscom said, "The history of the USGP has been all about the development of the sport of cyclocross in the US and about providing the best head to head competition for US athletes - especially for those who aspire to race successfully in Europe. With the additional support being offered by Stu Thorne and CyclocrossWorld.com this year we've been able to put together three solid race weekends at which the top Junior athletes will compete in Juniors only fields in front of enthusiastic crowds and gain valuable race experience."
When speaking about the selection of USGP race weekends, USA Cycling's cyclo-cross director, Marc Gullickson said, "The four selection races will be used to pick the best riders (using their best three out of four results) on the two weekends, and to do this we attempted to use the most appropriate and well-run events that fit into a very specific criteria. Both these race weekends will run two UCI junior races as the selection events so the 17-18 juniors will be the only riders on the course for their events and will receive appropriate UCI prize payouts."
Hanscom continued, "We've shown our commitment to the development of junior riders through ongoing programs such as the Clif Bar Kids' clinics and last season's sponsorship of an additional junior rider for the worlds team. Running dedicated UCI junior fields seemed like the next step in our natural progression and we are really pleased to provide a quality competitive environment for these young athletes to compete against each other."
Recent UCI Cyclo-cross results:
Oct 4 Cyclo-cross International Podbrezova, Podbrezova (Svk) C2
Oct 4 Radquer Wädenswil, Wädenswil (Swi) C2
Oct 5 Badiquer Schmerikon, Schmerikon (Swi) C1
Oct 5 GP AVB - Zonhoven, Zonhoven (Bel) C2
Oct 5 National Trophy Round 2, Bicton Arena, Exeter (GBr) C2
Oct 5 Cross im Park, Berlin (Ger) C2

Upcoming UCI races:

Oct 10 - 12 The Cyclo-Stampede, Burlington, Kentucky (USA) C2
Oct 11 Grand Prix de la région wallonne, Dottignies (Bel) C2
Oct 11 TOI TOI CUP, Louny (Cze) C2
Oct 11 N. American Trophy #3, Gran Prix of Gloucester, Gloucester, MA (USA) C2
Oct 11 Java Johnny's Cross, Middletown, Ohio (USA) C2
Oct 12 Bio Wheels / United Dairy Farmers UCI Harbin Park, Cincinnati, Ohio (USA) C1
Oct 12 Superprestige Ruddervoorde, Ruddervoorde (Bel) C1
Oct 12 N. American Trophy #4, Gran Prix of Gloucester 2, Gloucester, MA (USA) C2
Oct 12 Jim Horner Cyclocross Grand Prix, Edmonton, Alberta (Can) C2
Oct 12 Challenge de la France Cycliste 1, Montrevel (Fra) C2
Oct 12 TOI TOI CUP, Ceska Lipa (Cze) C2
(All rights reserved/Copyright Future Publishing (Overseas) Limited 2007)