Cyclo-cross feature, October 8, 2008
A conversation with Ryan Trebon
Another North American 'cross season is off and running, and already the big names are notching wins. One of them, former US champion Ryan Trebon, started off his season with back-to-back second places on the first major weekend before getting his first win by repeating at Cross Vegas. He spoke with Cyclingnews' North American Editor Mark Zalewski about how his pre-season went and what he hopes to achieve this year.
Ryan Trebon spent the fall in the stars and stripes
Photo ©: Laura Weislo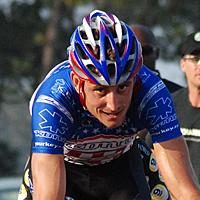 Kona's Ryan Trebon is back and ready for another season of 'cross – but not quite the same season as before. The former US champion has his eyes set again on the national championship, especially after crashing out of the race last year – but he said he is much more focused on mounting a serious European campaign this year, specifically targeting tough races in Belgium. As a result, he views his North American schedule more as fine tuning and a prelude... though of course he still wants to win the two major series here.
"I obviously want to win the NACT and USGP series, and nationals," he said matter-of-factly. "But that is my beginning of the season goal. I am not so focused on being super-fast early on. I've definitely done a lot of training and I'm not coming in slow, but more I want to do really well in Europe this year."
North American cyclo-crossers have it somewhat different than their Euro-based counterparts, especially as the sport picks up more and more momentum each year. As a result of the increase in popularity they effectively have to serve two masters by racing a full North American season before heading over to Europe to compete on the remaining world cup circuit, followed by the world championships.
While the two calendars overlap, having North American sponsors, such as Kona for Trebon, means doing well on the home front is still very important. That makes for a very long season, going full-gas is lieu of tapering to prepare for Europe and worlds.
"It is hard to keep perspective when you are in the beginning of the year," he said about looking ahead. "But I feel it is possible to podium on a big, A-level race over [in Europe.] Not some race in Spain or Luxembourg, but I want to do the big races - it's what I am looking forward to."
"That is what I want to do later, but I also think it is important to do well here and get points. It is a lot of exposure for Kona, FSA and all my other sponsors. But it is hard to take the long-term view of things sometimes. We are racing hard here, but I am still doing a ton of training mid-week."
"One year we get three silvers at the world championships and we get &!@# for support from the federation besides what we pay for ourselves!"
- Ryan Trebon is unhappy with the lack of support from USA Cycling.
One can tell Trebon has been thinking about Europe more with how specific his goals are.
"There are a couple of races that I like to do well in, because I feel they suit me really well. Hofstade is a race that I like because it is a really tough course. But I heard they are having trouble with the course this year, so they might be moving it. The world championships are in Hoogerheide, and I got tenth there in the world cup two years ago. It's a good circuit for me and if I could finish tenth or higher at worlds, that would be a nice result."
Of course a major target on his list comes before heading off to Europe – the US champion's jersey. Trebon won the title in 2006, but had a disappointing crash in the 2007 race, ending his chances to repeat. It is pretty easy to see he is still a bit salty from that, and will be using it for motivation this year.
"I really want to win nationals again this year. Last year pretty much sucked! It is nice to be national champion and it has a lot of prestige, so it is important.
Off-season focus
Ryan Trebon is hoping a more relaxed off-season
Photo ©: Mark Zalewski

A significant indicator that Trebon is taking this 'cross season more serious is how he prepared for it. In the past he did a lot more racing on the road and mountain bike, even racing a rather full schedule on a pro road team. This year he only did two road stage races with the Ride Clean team, and sprinkled in some mountain bike racing in between – but all with an eye on 'cross.
"I did a couple of road races this year – I did Mt. Hood and started Tour of Utah but got sick. I did more mountain bike races and had a really good June and July. I won some NORBAs and some other big races in Colorado, then was second at nationals. I took a break after that and have just been training for 'cross."
Trebon hopes this strategy will make him better able to handle the above mentioned lengthy 'cross season, compared to many of the other top North Americans – such as current US champion Tim Johnson, Jeremy Powers, Todd Wells – all of whom race full schedules on the road or mountain bike circuits.
"I am fresh but not super fast – but also not over-exerted either," he said. "I've had a mellow year. For me I've done a lot less racing than guys like Tim and Jeremy, and a lot less traveling than guys like Todd. When they are starting to wear out in a month or so and I feel that everything will snowball with my fitness and I will keep getting faster. At least that is the plan!"
However, putting his mellow off-season up against guys coming off of a week-long major stage race with a ProTour team means that the speed is not quite there yet – and Trebon will have to be patient. Such was the case in the first big weekend of 'cross in the Seattle area, where Trebon finished second twice to each of those riders, Powers and Johnson.
"It was the first racing of the year and it wasn't that bad," he said. "I didn't feel as good as I thought as I was going to feel."
But slow and steady always wins the race, at least that is how the saying goes. And the third main race of the season, the following week at Cross Vegas, gave Trebon his first win – a repeat of last year as well.
"That was by far the funnest [sic] race we did last year," he said. For me winning it [in 2007] was nice, because I got out-sprinted by [Christian] Heule a couple days before. But it was constant attacking and it was hard! The grass never packed in and you had to pedal hard the whole time, which made it fun being that tactical."
"It's also great to win in front of the sponsors – the owner of Kona was there and the other sponsors too."
Looking for respect, support
The muddy StarCrossed season opener
Photo ©: Mark Zalewski

Though the popularity of cyclo-cross is growing in the US, Trebon said the level of support from USA Cycling does not come close to matching. As a prime example, he points out the fact that the governing body does not offer any financial support for riders to attend the world championships, despite being one of the best performing disciplines for the Americans in recent years.
"Qualifying for worlds isn't hard – for me, Tim, Barry and Jeremy, we are already qualified if we want to go. But it is just expensive! USA Cycling wants to charge us a lot to go. There is no funding from USA Cycling for the cyclo-cross program at all. They spend a lot of money on track and road and get some results. But one year we get three silvers at the world championships and we get &!@# for support from the federation besides what we pay for ourselves!"
"Kona and the others are good with support. But going to worlds is like $3,000 for a week - that's what the federation charges us. It's too much!"
"I think that is wrong. How many people come out and do a 'cross race during the winter versus how many people race on the track for a full year? There is something wrong with that."
Trebon said one reason for the lack of support is that cyclo-cross is not an Olympic discipline, such as road, track and now BMX – and that the current leadership has its focus locked on that relationship, with no change in sight. "Not unless there is new leadership there," he said. "They'll keep spending the money because the Olympics are so important, with the funding they get from the USOC."
Does Trebon think 'cross will ever go Olympic? Hardly. "It doesn't fit, 'cross is not always on snow. The Olympics are not the end-all be-all of the sport. Especially for cycling. Just because people want gold medals..."
The near future
Trebon's long stride is an advantage
Photo ©: Mark Zalewski

Trebon is once again paired up with Kona and teammate Barry Wicks against the dynamic duo of Tim Johnson and Jeremy Powers, which makes having a teammate even more important. "This is our fifth year racing together so we are pretty comfortable. Kona has stepped up with support a lot more, at the upcoming races. It not only makes life easier for us but it shows they are investing in our racing - not just sending us out here on bikes."
As for his competition, the usual suspects are whom Trebon is keeping his eye on as he attempts to win either or both of the North American series. "I didn't think Jeremy and Tim would be riding this fast so soon," he said after the first three races "And another guy is Todd Wells. [Jonathan] Page is also back."
Trebon will be back at it later this month at the USGP begins with the Derby City Cup in Louisville, followed the next weekend by the Boulder Cup, part of the NACT series.
Photography
For a thumbnail gallery of these images, click here
Images by Mark Zalewski/Cyclingnews.com
Images by Laura Weislo/Cyclingnews.com