Cyclo-cross news & racing roundup, December 11, 2008
Edited by Laura Weislo
Welcome to our regular roundup of what's happening in cyclo-cross. Feel free to send feedback, news and releases to mtb@cyclingnews.com.
Balmy weather on tap for nats?
By Laura Weislo
Tim Johnson with an exuberant salute in 2007
Photo ©: Mitch Clinton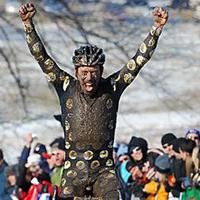 Racers praying for wet, muddy and technically challenging conditions at the USA Cycling Cyclo-cross National Championships in Kansas City, Missouri might be disappointed this year. With relatively warm temperatures and no major precipitation in the forecast, the course may end up being harder and faster than last year.
"We had a little bit of ice and snow that have made the course a bit wet," said organiser Bill Marshall on Wednesday, "but by Sunday it could be 60 degrees [F], and all the racing leading up to then should actually dry the course out." However, the first two days of racing should provide plenty of opportunity for getting dirty as the accumulated snow melts.
But this is the midwestern US, an area well known for its unpredictable conditions and the forecast changed overnight to colder temperatures and a possibility of sleet or snow. Still, warm overnight temperatures could dry the course out.
For Sunday's elite men's race, a hard, fast course could play into the hands of the Cannondale-Cyclocrossworld duo of reigning champion Tim Johnson and Jeremy Powers, who neutralized 2007 champion Ryan Trebon in similar conditions at the USGP Portland Cup last Saturday.
After taking home the USGP series title last Sunday, Johnson said defending his US championship title is going to be difficult. "I have to try and have the race of the season there and see if I can defend my title. It's gonna be brutal. Ryan had a great race and he showed he's on form, he showed he can ride in the mud, he showed he can fly - he's one of the best riders in the world, and so is Todd [Wells]. So when Jonathan [Page] comes over, Jeremy and I are going to have a big fight on our hands."
Compton looks to tie record
Katie Compton (Spike) wins
Photo ©: Cyclingnews.com

Katie Compton has been the name in women's cyclo-cross in the US for the past four years, and will be looking to tie Alison Dunlap's record of five national titles in a row this year. She'll be going up against Luna's Georgia Gould, the NRC series leader, Rachel Lloyd (California Giant Berry) who took third overall in the USGP series, and the newest name in US 'cross - Laura Van Gilder.
Compton is undoubtedly a rider who has shown that she is one of the best in the world, having won three career UCI World Cup races and taken silver at last year's World Championships. But she's also shown vulnerability, falling victim to a mysterious ailment which causes her legs to cramp up unexpectedly. Compton told Cyclingnews that she hopes the problem is solved.
"I'm feeling good. I'm really looking forward to racing and getting excited for the weekend," she said. "I'm looking forward to a tough race against Georgia. It's always fun racing against her and she always makes me work that much harder and I love that. After last weekend, it looks like Rachel Lloyd is riding really well and Sue Butler as well. I think it will be an exciting race for the women, too. I'm sure I'm not the only one wishing for cold and mud."
'09 US championship back to Portland?
The organisers of the US Gran Prix of Cyclo-cross Portland Cup hinted last weekend that next year could see the return of the US Cyclo-cross championships to Oregon. Portland Cup organiser Brad Ross announced that the move "to our state" was not yet confirmed, but that it appeared to be a strong possibility.
According to Cyclo-cross Magazine, the bid from Oregon comes from the town of Bend, about three hours southeast of Portland. Another bid has been submitted from eastern Washington, giving the Pacific Northwest a strong chance of hosting the national championships next year.
Nys grabs fourth Basque World Cup victory
By Brecht Decaluwé
Sven Nys (Landbouwkrediet - Tonissteiner) wins
Photo ©: Roberto Bettini

Sven Nys of Team Landbouwkrediet-Tönissteiner won the World Cup's fifth round in Igorre, Spain. The Belgian Champion and Klaas Vantornout accelerated away halfway into the race from a group of four riders that included Erwin Vervecken and Thijs Al. The duo was evenly matched in the mud, but a crash from Vantornout in the penultimate lap resulted in a definitive gap and a fourth victory in Igorre for Nys.
The Belgians dominated the Spanish World Cup event by placing five riders in the top-five. Further back, the crowd that had showed up in reasonable numbers spotted Constantino Zaballa as the first local rider in twelfth position. Zaballa finished just ahead of American Jonathan Page (Planet Bike) who racked up his best World Cup result of the season before heading back to the USA for its national championships.
Czech Champion Stybar didn't do a great job in defending his second place in the World Cup classification by finishing sixth in Igorre. He now drops back to third place behind Nys and Bart Wellens. It is the second World Cup victory of the season for Nys.
Continue to the full report, results and photos.
Nash doubles up in Portland
Katerina Nash takes the win
Photo ©: Mitch Clinton

The final races of the US Gran Prix of Cyclo-cross took place in Portland, Oregon last weekend, with the Pacific Northwest first offering unusual sunshine on Saturday before yielding to its normal soggy conditions on Sunday. Luna's Katerina Nash showed she can excel in any conditions by taking back to back wins and securing the overall USGP series title.
Nash's teammate Georgia Gould took second both days and tied Nash on points for the series but was awarded second place on finishing places. "When you look at the points we're pretty much tied, so I think we both won today," said Nash at the post-race press conference, eliciting 'awwws' from the assembled crowd.
In the men's races, Tim Johnson took an unexpected victory on Saturday after being laid up with an injured knee for two weeks. Johnson and his Cannondale/Cyclocrossworld.com teammate Jeremy Powers tag-teamed Kona's Ryan Trebon, but it was only a late-race error which saw Trebon stumble that opened the door for Johnson's win.
"It's definitely something I didn't expect," Johnson said of his victory. "When I crashed in New Jersey, I was able to get back up and win that race but I couldn't even start the next day. Then I had ten days off the bike and I was worried that that was going to be the end of my season. I just tried to take care of it and do a couple days of training. So it's a huge surprise to even be in the top three, let alone to win here."
The next day saw the skies open up and turn the course into a morass of soupy muck. Trebon was able to solo away from GT's Todd Wells and Johnson to take the win. The result moved him up into second behind Johnson for the series title, while Wells secured third place overall.
See Cyclingnews' full coverage of the USGP Portland Cup from Saturday and Sunday.
Johnson's story is a wrap
By Kirsten Robbins
Tim Johnson (Cannondale / Cyclocrossworld)
Photo ©: Mitch Clinton

Defending US national champion Tim Johnson is the subject of a new cyclo-cross documentary called "The 9 Ball Diaries". The DVD went on sale in November through the DH Productions website and at Johnson's title sponsor website Cyclocrossworld.com, and sold out within days of its release.
The film documents the struggles and triumphs of Johnson's 2007 season, beginning last September in CrossVegas and concluding at the world championships in Treviso, Italy in January, 2008. In the midst of filming, Johnson won the US cyclo-cross championship in Kansas City.
"The story of Tim's season was amazing. Of course it had an awesome ending, but how he got there was not easy, he had ups and downs and some drama that made it even more rewarding. That is what most people don't get a chance to see," said Don Hampton, owner of DH Productions and a four-time Emmy award winning sports documentary producer.
"The goal was to capture how cool cyclo-cross really is - it is pure bike handling at it's best," Hampton continued. "From the storytelling side of it, I wanted to present the sport of American 'cross in the best way possible but to do it with a narrow focus. Through the eyes of one of the sport's best athletes. It would of been way easier to do shotgun style coverage and shoot all of the events and just present the surface level stories, but I wanted to go deeper than that and make it a bit more compelling to the viewer."
The idea for the project was formed from a collaboration of Johnson's sponsors. Scott Struve, head of global marketing for Cannondale and Stu Thorne, owner of Cyclocrossworld.com along with Leer. With the help of Hampton and the DH Productions crew, the idea of documenting one man's journey through a season of North American cyclo-cross became a reality. "Don Hampton was looking forward to doing something creative with cyclo-cross" Johnson said.
"He's been involved in a lot of different types of broadcasting and he wanted to put something out there that was a little different. With cyclo-cross, in the States, we don't have the television presence so fans want to watch cross any way they can, whether it's an internet feed or a DVD."
The documentary not only follows his exceptional racing, but also highlights aspects of Johnson's personal life, support crew, teammates and friendships. The story line involves many of the main contenders in the sport including the many battles against rival Kona rider, Ryan Trebon. According to Johnson and the DH production crew, it was a dream finish to the movie with a win at the US national championships in 2007.
"I saw a lot of the cuts and edits but not the full DVD because I find it a little difficult to listen to my own voice," said Johnson. "I've had a lot of people come up to me with the video in hand asking me to sign it. It's sick, in the greatest and best possible way. I can't tell you what it means to have something like that, to have fans of something that I do. It's such a cool and special feeling to know people follow what we do."
Johnson noted the need for more heroes in the sport of cyclo-cross, much like in skate boarding and BMX. Creating a DVD is one way for up and comers to become more exposed to the Belgian-based sport. "I had all kinds of stickers, posters and VHS videos to watch and all kinds of different ways to keep into the sports that I loved when I was young," Johnson said. "I had a kid come up to me on Friday in Portland with a copy of the new DVD and he was so pumped to have it. He wanted me to sign it and that's the coolest thing. Our sport has great dynamics where people can actually watch the elites and the same races they raced in the morning before."
The movie trailer can be viewed on the Cannondale web site here.
Also see Cyclingnews' interview with Tim Johnson.
Vantornout extends with Sunweb
Klaas Vantornout (Sunweb)
Photo ©: Cyclingnews

Klaas Vantornout, the winner of the Superprestige race in Gieten, extended his current contract with Sunweb - ProJob team for two seasons, until December 31, 2011. The Belgian came to the team from the Fidea squad last season, and has quickly risen to through the ranks. He is not fourth in the UCI standings behind Sven Nys, Bart Wellens and Niels Albert.
Vantornout and Sven Vanthourenhout will continue to lead the professional squad and provide examples for the many talented young riders who make up the team.
"I fit in well with the Sunweb-ProJob team, and the team is satisfied with my results. Jurgen and I came to a new agreement in no time. I have now secured three years in a well-structured team. Things couldn't be better. We're going to have some great years together," said Vantornout.
Vantornout has been suffering from a knee injury which he incurred in Pijnacker, but said that inflammation of a ligament which showed up during the race has now been diagnosed as small tears which may have been from an earlier injury.
"In training I always ride with pain, but in the races themselves, I have no problem," Vantornout said. "The pain threshold is much higher then." He will wait until the end of the season to pursue a long-term solution for the problem.
Van Compernolle earns pro contract
Kenneth Van Compernolle (Sunweb)
Photo ©: Niels De Wit

Under-23 stand-out Kenneth Van Compernolle signed a two-year contract with the Sunweb-ProJob team beginning January 1, 2009. The Belgian will continue to race as an espoir, according to team manager Jurgen Mettepenningen.
For Van Compernolle it is a dream come true. "Of course anyone who begins racing hopes to be awarded a professional contract. A few months back I had never dared to hope. But with my excellent performances lately everything is happening much faster than expected. It is a good sign of appreciation by the team . This year I will stick with my planned programme. Next year I will try for the espoirs classification and will occasionally take on a 'cross with the professionals."
Van Compernolle was third at the under-23 European Championships and won the espoirs races in Niel, Koksijde and Gieten. When his professional status begins on January 1 he will no longer be able to compete in B-category 'cross events, and must race the at the professional level in the Belgian road championships. In all cyclo-cross events, the World Championships, World Cup and Belgian championships, he can continue to race at the espoir level.
Major US 'cross series to add events?
The organisers of the North American Cyclocross Trophy announced last week that the series would continue for its second year with an eye at adding events.This year, the series consisted of eight races, two in Washington, the Gran Prix of Gloucester in Massachusetts, the Boulder Cup in Colorado and the Whitmore's Cross Cup in New York.
The parallel series, the US Gran Prix of Cyclo-cross is also looking to expand in 2009, series director Joan Hanscom announced in Portland on Sunday.
The dual announcements beg the question, can the US 'cross scene support competing series? Currently there are 39 UCI ranked cyclo-cross races in the USA, with two C1 races just across the border in Ontario. Of those, 16 were part of the two series this year. Of the remaining events, only CrossVegas, Granogue, Wissahickon and Ohio's BioWheels 'cross have earned the C1 ranking but are not a part of any series.
German 'cross champion Urban retiring
German cyclo-cross champion Malte Urban will ride his last race on New Year's Eve, before putting an end to his 'cross career. Urban, who turns 34 on Sunday, said that he may race a few more times on the road as an amateur, but added, "it is definitely over for me as a pro."
Urban rode for Team Coast (later Team Bianchi) from 2000 to 2005 and participated in the Giro d'Italia in 2002. He won the sprinter's jersey in the Volta a Catalunya in 2001 and the mountains jersey at the 2003 Bayern Rundfahrt.
He was German 'cross champion in 2000, 2001, 2004 and 2008. "I won't defend this title," he told the Vlothoer Anzeiger. The race in Eickum, Germany, on New Years is his last 'cross race. "It it good that I can say myself when it is over."
Urban will then take up a job with the bicycle firm Focus.
US series champions decided
With the US National Championships getting underway this week, most of the major 'cross series in the country have named their champions. The US Gran Prix of Cyclo-cross came to a close in Portland, Oregon, with defending US champion Tim Johnson coming from behind to take the overall win ahead of Ryan Trebon and Todd Wells. Luna's Katerina Nash surged ahead of her teammate Georgia Gould with back to back wins to take the series title, with Rachel Lloyd coming in third.
The USA Cycling National Racing Calendar, the accumulated results of all UCI races in the USA, wrapped up with the final events in Portland and Rhode Island this weekend.
After 39 races, Kona's Trebon emerged victorious over Jeremy Powers (Cannondale/Cyclocrossworld.com) with Johnson in third. Wells and Jamey Driscoll rounded out the top five.
On the women's side, Gould took the NRC ahead of Laura Van Gilder (C3-Sollay) with Natasha Elliott, Maureen Bruno-Roy and Rachel Lloyd behind.
Driscoll and Van Gilder took the final contests in the New England Championship Cyclo-cross Series (NECCS) in Rhode Island, but the women's overall title went to Rebecca Wellons (Ridley). Driscoll won the men's category handily.
Junior leader Luke Keough (CLNoonan) made an unexpected appearance this weekend and continued his dominance over the U19 junior field with two wins and taking the overall series. His brother Nick Keough won the U23 title with two top-five finishes in the elite races this weekend.
Recent Cyclo-cross results
Upcoming UCI races
December 11 - 14: USA Cycling Cyclo-cross National Championships, Kansas City (USA) CN
December 13: GP Rouwmoer, Essen (Bel) C2 ME
December 13: TOI TOI CUP, Plzen (Cze) C2 ME
December 14: GP Città San Martino, Verbania (Ita) C1 ME/MU/MJ/WE
December 14: Vlaamse Druivenveldrit, Overijse (Bel) C1 ME
December 14: XIII Ciclo Cross Ciutat de Valencia, Valencia (Spa) C2 ME/MU
December 14: National Trophy Round 5, Whitwell, Rutland (GBr) C2 ME
December 14: Challenge de la France Cycliste 3, Quelneuc (Fra) C2 ME/MU/WE
(All rights reserved/Copyright Future Publishing (Overseas) Limited 2008)