Cyclo-Cross World Cup #5 - CDM
Igorre, Spain, December 7, 2008
Main Page Results Overall standings Previous Race
Nys grabs fourth Basque World Cup victory
By Brecht Decaluwé
Sven Nys (Landbouwkrediet - Tonissteiner) wins
Photo ©: Roberto Bettini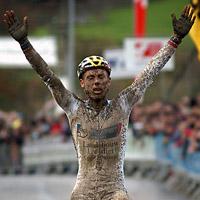 Sven Nys of Team Landbouwkrediet-Tönissteiner won the World Cup's fifth round in Igorre, Spain. The Belgian Champion and Klaas Vantornout accelerated away halfway into the race from a group of four riders that included Erwin Vervecken and Thijs Al. The duo was evenly matched in the mud, but a crash from Vantornout in the penultimate lap resulted in a definitive gap and a fourth victory in Igorre for Nys.
The Belgians dominated the Spanish World Cup event by placing five riders in the top-five. Further back, the crowd that had showed up in reasonable numbers spotted Constantino Zaballa as the first local rider in twelfth position. Zaballa finished just ahead of American Jonathan Page (Planet Bike) who racked up his best World Cup result of the season before heading back to the USA for its national championships.
Czech Champion Stybar didn't do a great job in defending his second place in the World Cup classification by finishing sixth in Igorre. He now drops back to third place behind Nys and Bart Wellens. It is the second World Cup victory of the season for Nys.
Just like other years, Nys has been combining a relatively easy part of the season with a two-week training trip on Mallorca, Spain. Despite those training efforts that were focused on speed rather than power Nys explained that he felt like riding the perfect cyclo-cross race in Igorre."Before the race I was mainly focused on doing a good job in the World Cup classification but it turned out that I had recovered that well from my training efforts that I could win here," Nys said to Sporza.
The Belgian champion led the race from the second lap and set a pace that was simply too fast for his rivals. "Actually, I didn't need any acceleration today, although I had one ready for the last lap to get rid of Vantornout. In the end I didn't need it, he started to make mistakes as I put him under pressure," Nys explained. Thanks to his victory Nys now comfortably leads the World Cup classification with a huge gap over Bart Wellens.
How it unfolded
Runner-up Vantornout had a great start in the Basque country, Spain and showed great skills while powering through the Spanish mud, putting everybody under pressure. During the second lap Nys took over the lead while Vantornout had to gasp for breath. Eventually a group of four leaders was formed featuring Nys, Vantornout, Vervecken and fast starter Thijs Al.
Vantornout lost contact with the lead group when he entered the pit and couldn't find a fresh bike. "I was extremely strong on this tough course but due to a mistake in the pit I was forced to wait for my new bike for 10 seconds," Vantornout said to Sporza. "No offense to the pit crew since it is extremely hectic out there."
As a result of the pit mishap Nys ended up leading the race on his own. Vervecken and Al couldn't close the gap and eventually it was Vantornout who came back and bridged up to Nys by himself. Nys allowed Vantornout to sit on his wheel until the penultimate lap in which Vantornout suddenly slipped and crashed in the mud, a deciding moment of the race. Vantornout was disappointed that he missed out on winning his career's first World Cup.
"It took a lot of effort to come back on Nys after that pit incident but two laps before the end I crashed and then it was over," Vantornout said. "I lost the good rhythm and if Nys gets 100 meters he's gone. Sometimes I'm a bit unlucky in the World Cup but this second place does please me a lot. Week after week I'm showing that my place is among the best cyclo-cross riders."
Third placed Erwin Vervecken was keen on coming back to the two leaders in the ultimate laps but in the end the gap on Nys and Vantornout proved to be too big for the experienced Belgian. "This course didn't suit me completely and thus I'm very satisfied with my third place. During the last lap I punctured while Wellens was coming back; this is a good result," Vervecken said.
The UCI's World Cup now heads to Nommay, France where Sven Nys will defend his comfortable lead over Bart Wellens and Zdenek Stybar.
Photography
For a thumbnail gallery of these images, click here
Images by Roberto Bettini/www.bettiniphoto.net
Results

1 Sven Nys (Bel) Landbouwkrediet - Tonissteiner                   1.06.36
2 Klaas Vantornout (Bel) Sunweb Pro Job                              0.16
3 Erwin Vervecken (Bel) Fidea Cycling Team                           0.27
4 Bart Wellens (Bel) Fidea Cycling Team                              0.36
5 Kevin Pauwels (Bel) Fidea Cycling Team                             1.10
6 Zdenek Stybar (Cze) Fidea Cycling Team                             1.37
7 Thijs Al (Ned) AA Drink - BeOne                                    1.39
8 Francis Mourey (Fra) Française Des Jeux                            2.12
9 Gerben De Knegt (Ned) Rabobank                                     2.21
10 Sven Vanthourenhout (Bel) Sunweb Pro Job                          2.54
11 Radomir Simunek (Cze) Palmans Cras                                3.20
12 Constantino Zaballa Gutierrez (Spa) La-Mss                        3.27
13 Jonathan Page (USA) Planet Bike                                   3.37
14 Petr Dlask (Cze) Fidea Cycling Team                               3.50
15 Bart Aernouts (Bel) Rabobank                                      3.55
16 Nicolas Bazin (Fra) Differdange Apiflo Vacances                   4.03
17 Martin Bína (Cze) Cyklo Team Budvar Tábor                         4.22
18 Steve Chainel (Fra) Auber 93                                      5.06
19 Richard Groenendaal (Ned) AA Drink - Be One                       5.33
20 Martin Zlámalík (Cze) Prodoli Racing Team                         5.40
21 Rob Peeters (Bel) Landbouwkrediet - Tonissteiner                  5.49
22 Julien Belgy (Fra) Bouygues Telecom                               5.54
23 Christian Heule (Swi) Rendementhypo Cycling Team                  6.05
24 Milan Barenyi (Svk) CK ŽP Šport As                                6.11
25 Wilant van Gils (Ned) Pro Cycling Team ZZPR.nl-Destil-Merida      6.31
26 Isaac Suarez Fernandez (Spa)                                      6.43
27 Jonathan Lopez (Fra)                                              7.01
28 Patrick Van Leeuwen (Ned)                                         7.35
 
One lap behind
29 Javier Ruiz De Larrinaga Ibanez (Spa)                   
30 Mariusz Gil (Pol)                                       
 
Two laps behind
31 Oscar Vazquez Crespo (Spa)                              
32 Vladimir Kyzivat (Cze)                                  
 
Three laps behind
33 Roy Van Heeswijk (Ned)                                  
34 Martin Haring (Svk)                                     
35 Jose Antonio Diez Arriola (Spa)                         
36 Robert Glajza (Svk)                                     
 
Four laps behind
37 David Juarez Alday (Spa)                                
DNF Egoitz Murgoitio Rekalde (Spa)                         
DNF Kamil Ausbuher (Cze)                                   
DNF Unai Yus Kerejeta (Spa)                                
DNF Arnaud Labbe (Fra) Bouygues Telecom                    
DNF Jozef Palcak (Svk)                                        


World Cup standings after five rounds
 
1 Sven Nys (Bel) Landbouwkrediet-Tönissteiner                      355 pts
2 Bart Wellens (Bel) Fidea Cycling Team                            279
3 Zdenek Stybar (Cze) Fidea Cycling Team                           273
4 Kevin Pauwels (Bel) Fidea Cycling Team                           273
5 Klaas Vantornout (Bel) Sunweb Projob Cycling Team                243
6 Niels Albert (Bel) Palmans - Cras                                220
7 Radomír Šimunek (Cze) Palmans - Cras                             218
8 Erwin Vervecken (Bel) Fidea Cycling Team                         212
9 Bart Aernouts (Bel) Rabobank                                     207
10 Thijs Al (Ned) AA Drink - BeOne                                 205
11 Gerben de Knegt (Ned) Rabobank                                  197
12 Martin Bína (Cze) Cyklo Team Budvar Tábor                       191
13 Richard Groenendaal (Ned) AA Drink - Be One                     179
14 Francis Mourey (Fra) Française Des Jeux                         178
15 Sven Vanthourenhout (Bel) Sunweb Projob Cycling Team            174
16 Lars Boom (Ned) Rabobank                                        166
17 Christian Heule (Swi) Rendementhypo Cycling Team                164
18 Petr Dlask (Cze) Fidea Cycling Team                             157
19 Rob Peeters (Bel) Landbouwkrediet - Tönissteiner                151
20 Wilant van Gils (Ned) Pro Cycling Team ZZPR.nl-Destil-Merida    142
21 Nicolas Bazin (Fra) Differdange Apiflo Vacances                 132
22 Martin Zlámalík (Cze) Prodoli Racing Team                       127
23 Simon Zahner (Swi) Bürgis Cycling Team                          108
24 Mariusz Gil (Pol)                                               103
25 Eddy van IJzendoorn (Ned) AA Drink - BeOne                       98
26 Kamil Ausbuher (Cze) Exe Jeans                                   94
27 Marco Bianco (Ita) L´Arcobaleno Carraro Team                     86
28 Jonathan Page (USA) Planet Bike                                  82
29 Jonathan Lopez (Fra) V.C.La Pomme Marseille                      81
30 Enrico Franzoi (Ita) Liquigas                                    79
31 Johannes Sickmueller (Ger)                                       73
32 Vladimír Kyzivát (Cze) Johnson Controls AŠ MB                    73
33 Dieter Vanthourenhout (Bel) Palmans - Cras                       71
34 Jaroslav Kulhavý (Cze) Michelin - Specialized MTB Team           70
35 Fabio Ursi (Ita) Centro Sportivo Esercito                        67
36 Thijs Van Amerongen (Ned) Van Vliet EBH Elshof                   65
37 Milan Barenyi (Svk) CK ŽP Šport As                               64
38 Vaclav Metlicka (Svk) Team Kral R.C. Pfeil Hof E.V               61
39 Constantino Zaballa Gutierrez (Spa) Povoa Cycling Club           60
40 Patrick Van Leeuwen (Ned) Het Snelle Wiel                        60
41 Roy Van Heeswijk (Ned)                                           59
42 Steve Chainel (Fra) Auber 93                                     57
43 Marco Aurelio Fontana (Ita) Selle Italia Guerciotti Elite        55
44 Marcel Wildhaber (Swi) Tower Sports - VC Eschenbach              53
45 Joachim Parbo (Den) CCV Cyclo Cross Team                         42
46 Rafael Visinelli (Ita) Gruppo Sportivo Forestale                 39
47 Pirmin Lang (Swi) Delta Elite Team                               36
48 Gusty Bausch (Lux) VC Diekirch                                   36
49 Oscar Vazquez Crespo (Spa) Aquagest Club Ciclista                35
50 Robert Glajza (Svk) CK ŽP Šport A.S. Podbrezová                  35
51 Philipp Walsleben (Ger) Palmans - Cras                           32
52 Ian Field (GBr) Hargroves Cycles                                 32
53 David Kášek (Cze) Cyklo Team Budvar Tábor                        31
54 Julien Belgy (Fra) Bouygues Télécom                              29
55 Geoffrey Clochez (Fra) Bleus de France                           28
56 Paul Voss (Ger) Team 3C-Gruppe                                   27
57 Isaac Suarez Fernandez (Spa)                                     25
58 Aurelien Duval (Fra) Française Des Jeux                          25
59 Martin Haring (Svk) Ck Žp Šport Podbrezová                       25
60 René Birkenfeld (Ger) Stevens Racing Team                        25
61 David Derepas (Fra) Groupe Gobert.Com.Ct                         23
62 Javier Ruiz De Larrinaga Ibanez                                  21
63 Jempy Drucker (Lux) Fidea Cycling Team                           20
64 Magnus Darvell (Swe) Rietumu Bank-Riga                           18
65 José Antonio Díez Arriola (Spa) Construcciones Navajeda          16
66 Alessandro Gambino (Ita) Gruppo Sportivo Esercito                16
67 LukᚠKloucek (Cze) Sunweb Projob Cycling Team                   15
68 David Juarez Alday (Spa) Ibaigane Opel                           14
69 Florian Le Corre (Fra) Super Sport 35 ACNC                       13
70 Andre Sutton (Can) Hardcore Cycling Club                         13
71 Jody Crawforth (GBr) Arctic Premier                              10
72 Peter Presslauer (Aut) Volksbank - Corratec                      10
73 Gerald Hauer (Aut)                                                6
74 Adam Myerson (USA) Time Pro Cycling                               5
75 Thomas Puhmer (Aut) Team Sport Nora                               3
76 Stefano Boggia (Ita) GS Daccordi                                  2
77 Julien Laidoun (Fra) SCO Dijon                                    1