Cyclo-cross news & racing roundup for December 19
Edited by Laura Weislo and Paul Verkuylen
Welcome to our regular roundup of what's happening in cyclo-cross. Feel free to send feedback, news and releases to mtb@cyclingnews.com.
Snow and cold turn US nationals treacherous
By Mark Zalewski, North American Editor in Kansas City, Kansas
Johnson back on top at 'cross nats
Tim Johnson (Leer /Cannondale /Cyclocrossworld.com) takes his second USA title after seven years
Photo ©: Dave McElwaine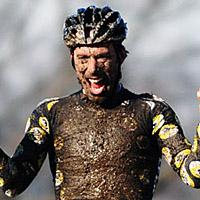 After days of cold, snow and more cold, the sun shone down on the elite 'cross categories, softening the course enough and bringing out the mud to make it an official 'cross championship. After the first lap sorted the contenders from the pretenders, it was three that eventually made the final selection – Jonathan Page (Sunweb-ProJob) held a small lead for much of the race over Todd Wells (GT Bicycles) and Tim Johnson (Cannondale/Leer/Cyclocrossworld).
After Wells was slowed by some slip-ups, it was mano-a-mano between Page and Johnson. In the final two laps the two battled hard, trading the lead until Page crashed following Johnson in a turn. This gave the Massachusetts native just enough of a gap to hold off last year's world silver medalist for his second national title.
"With two to go I attacked Jonathan through the start/finish," said Johnson. "When I attacked him I just wanted a little bit of a gap so I could have my shot at the best lines. If you ride behind somebody it is just too sketchy, and I think that is why Jonathan went under the tape. I was leading through that section and you have no idea where you are going to end up with the ruts. I just heard that he went down, but he eventually caught me. If I were him I would have tried to pass, because you just can't trust riding behind someone [in these conditions]."
While the conditions did improve compared to earlier races, the difference between winning and losing was measured more in the ability to avoid crashing. "The way this course was there was just one top speed, and if you could surf that speed without going down, that was a good lap," said Johnson. "I don't think that last lap was anywhere near flawless, but if you can stay upright and not get into trouble, that was considered flawless."
Johnson summed up the conditions this way: "You risked crashing in any one of the 30 corners all over the course!"
"I just rode my own race, starting strong and If people caught me that was fine," said a clearly disappointed Page. "[Johnson] attacked up top and then I just stayed steady to not make a mistake and bring him back. Unfortunately I crashed and dropped my chain, but fortunately I was near the pit... but still... it was just one little thing and he got a bit of a gap – I was closing and closing but just ran out of laps, and he just kept enough in his tank."
See the full results, report and photos from the men's race here.
Compton's US 'cross dynasty continues
Katie Compton (Spike Shooter) wins here fourth title in a row.
Photo ©: Dave McElwaine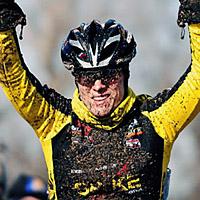 Katie Compton (Spike Shooter), the current world number two in women's cyclo-cross, showed why she deserves that ranking during the US nationals Sunday. She blasted away from the rest of the women's field, beating all but one by more than a minute to take her fourth consecutive title. Her victory was made even more impressive considering the parcours was quite treacherous after a week of foul weather that bombarded the area, and merely staying upright was, at times, as much luck as it was skill.
"I tried to be towards the front when we hit the snow, and then try to ride a smooth race," said Compton. "I tried to not follow anyone into the ruts because it's easy to get caught behind a crash. I didn't have a good start because I couldn't get my foot into my pedal. But I didn't want to lead on the start anyway because it was uphill and I wanted to go hard on the course."
Compton then went to work, setting a regular tempo that was just head and shoulders above the rest. Before the race, everyone was looking at Georgia Gould (Luna Women's Mtb Team) as the only likely challenger to Compton's crown – but Compton knew the conditions favoured another, Rachel Lloyd (Proman/Paradigm), who excels in technical conditions and used those skills to take second ahead of Gould.
See the full results, report and photos from the women's race here.
Selander wins when it counts
Bjorn Selander (Ridley)
Photo ©: Jon Devich

Bjorn Selander (Ridley Factory Team) and Jamey Driscoll (FiordiFrutta) have been battling in the espoir ranks all season, with Driscoll coming out on top - and it was those two that made the race for the men's U23 championship. Selander jumped to an early lead and held it for much of the race while Driscoll marked him close behind, taking over the lead late in the race. But Selander regained his focus and caught back on the final lap, resulting in a two-up sprint on the uphill home stretch, with Selander having just enough more in the tank to take the title.
"I had a slow start to the season because I had a long road season, so I came to the 'cross season slower than some of these guys," said Selander. "But it worked out in the end because my only goal was to win nationals!"
Mentally banking your entire season on one race can result in a let down, but also can give that extra boost in the critical moments of a race - which it did for Selander. "The middle of the race I don't know what happened to me, but I was taking really bad lines," he said. "I fell a couple of times and then I crashed on the stairs. I hit my nose on my frame and thought I broke it! But I thought whatever, it's cold!
That is when the race turned, and Driscoll made his move, passing Selander with less than two laps to go.
"Then Jamey caught up to me... I got it in my head that he's off and that was it. I panicked a little when he caught me and that caused me to slip. But then I thought, 'No, this is the national championships!' I got my composure back and I was in the zone. I just kept going."
See the full results, report and photos from the U23 men's race here.
Dombroski Defends U23 Title
By Wendy Booher and Sean Weide
Amy Dombroski (Velo Bella - Kona)
Photo ©: Mitch Clinton

Amid furiously ringing bells and rabid cheers, Amy Dombroski (Velo Bella-Kona) of Boulder, Colorado became the first to test the course and she found it just fine for defending her Under 23 women's title. "Last year we didn't have conditions like this," Dombroski said. "I guess the hardest part was warming up on the course and being like, 'Oh my gosh, I actually have to ride this and race this?!' So I think the thing that was harder about this year was the pre-race preparation."
Dombroski took the hole shot and rode away from the field, leaving Kate Scheider (Fts-North Atlantic Velo) and Kacey Manderfield (Verducci-Breakaway) to duke it out for second place. Scheider led the first lap until Manderfield passed her at the top of the second set of stairs at the far end of the course. Dombroski rode easily to victory, one minute and 13 seconds ahead of Manderfield.
See the full results, report and photos from the U23 women's race here.
For the rest of the race results and photos, click here.
Vantornout reaps career-best win
By Brecht Decaluwé
Belgian Klaas Vantornout (Fidea Cycling Team)
Photo ©: Erik Van Breugel

Belgian Klaas Vantornout abandoned yesterday's race in Essen but he bounced back to beat the big guns in the mother of all cyclo-cross races, the 'grape'-cross in Overijse. The 25 year-old Fidea rider may not have been the strongest rider, but he surely rode the smartest race of all. Together with team-mate Bart Wellens, the Fidea team out-played the opposition and took the top two steps on the podium.
UCI-leader Sven Nys didn't have a good day and when the victory was out of sight the Belgian dropped back and focused on staying healthy on the hard, slippery course – understandably since this race is not part of any series, and Nys' lead in the UCI-rankings is relatively secure.
Nys' mere presence in the race thwarted his rival Bart Wellens' hopes for the victory, as Wellens waited for the decisive move from Nys which never came, and then could only focus on the second place.
The competition for second place surprisingly came from a non-Belgian, and even more surprising was that it was an Under-23 rider, German Philip Walsleben (Heinz von Heiden). Clearly having the best race of his season, Walsleben took third place in Overijse ahead of Belgians Kevin Pauwels (Fidea) and Bart Aernouts (Rabobank).
For Vantornout, who is ranked third in the UCI standings, the day provided the most prestigious victory of his budding career. The Fidea rider threw his fist in the air with joy as he crossed the line 40 seconds ahead of Wellens. "For sure it's the biggest win in my career since I haven't won a big race just yet," Vantornout laughed. "This race is a classic and when Wellens left a gap I didn't hesitate a moment, and attacked. This was team work!"
See the full results, report and photos here.
Nys plays with his competition in Essen
Sven Nys (Rabobank) tops the day
Photo ©: AFP

Sven Nys won the fourth round of the Gazet van Antwerpen trophy held in Essen over the weekend in dramatic style which emphasised his class when it comes to 'cross. The win was his 26th in the series and 14th of the season.
Vervecken showed early in the race that he is once again regaining the kind of form that has won him three world titles as he blasted away from the start to take the early lead. But by the end of the first lap the World champion was relegated to chasing as Nys hit the gas pedal chasing the points on offer at the end of the second lap.
Weather conditions and tyre choice played a major factor in the race as the frozen ground made the conditions tough going. Nys who opted for tyres with bigger tread seemed to have no problems with the conditions and easily rode away from the competition. After passing the finish line on the second lap taking the three points on offer in the process, Nys sat up and let his chasers, Zdenek Stybar (Fidea), Richard Groenendaal (AA Drink) and Klaas Vantornout (Fidea) latch back onto his wheel. A little later in the lap, Wellens had also joined the front of the race.
Nys, however, was merely playing with his rivals. After another attack later in the race, only Stybar was able to stay with the Belgian, but one acceleration was all he needed to get rid of the Czech. Nys soloed to the win as team-mate Lars Boom out sprinted Stybar for the second step on the podium.
See the full results, report and photos here.
Fidea, Wellens continue through 2011
The Fidea Insurance company has extended its sponsorship of the cyclo-cross team of Hans van Kasteren through the end of the 2001 season, the team announced Tuesday. All of the team's racers, including Bart Wellens also received extensions for three years, except Klaas Vantornout, who will move to the Sunweb-Projob team at the end of the season. World Champion Erwin Vervecken extended his contract through January, 2009.
Fidea first began sponsoring the team in 2004, hoping to build its brand recognition
Sunweb fires Vannoppen
Sunweb-Projob Team manager Jurgen Mettepenningen dismissed rider Tom Vannoppen after Vannoppen failed to attend a scheduled training ride in Kluisbergen on Wednesday. Vannoppen was already on thin ice with the team after failing to perform in races. Mettepenningen had already indicated that Vannoppen's elite contract, which ends December 31, would not be extended, but suggested he might be able to continue with the team as an 'elite without contract' rider.
"I certainly have a lot of respect for Vannoppen as a friend," Mettepenningen said, however, the missed training session was the last straw. "A dismissal was the only option." Vannoppen has been asked to return his camper and other equipment.
Pohl wins in Overijse despite crashing
By Susan Westemeyer
20 year-old Steffi Pohl (Team Getränke Hoffman) took the biggest victory of her career to date when she won the mother of all cyclo-cross races in Overijse, Belgium on Sunday. The young German talent outsprinted her Dutch counterpart Saskia Elemans (WV de Meteoor) to win after a tough battle in the testing conditions. Pohl crashed hard during the race while leading on her own, the fall left her bruised and battered but was not enough to stop her from claiming victory.
"It was a pretty hard race," Pohl said. "The ground was frozen hard. I got in to the lead early and built up a lot of space between me and the followers. Then I crashed hard, unfortunately, and hurt my arm, and the others caught up with me. I pulled all my strength together and was able to get away with Elemans. Then I was able to take the sprint."
Belgian, Sanne Cant (ASD Selle Italia Guerciotti), did enough to secure the third step on the podium as she crossed the line six seconds clear of Helen Wyman (Great Britain) while Daphny van den Brand (ZZPR.nl) finishing a further 17 seconds back in fifth.
Torsten Wittig, sports director of Team Getränke Hoffman was pleased with his young charges win. "She was fantastic. Winning this classic shows not only her best form but also Steffi's super self-confidence," he said.
Upcoming UCI Cyclo-cross races
December 21: Scheldecross, Antwerpen Linkeroever (Bel) C2
December 22: Int. Cyclo-cross Huijbergen, Huijbergen (Ned) C1
December 22: National Cyclo-cross Cup, Podborany (Cze) C2
December 23: Cyclo-cross de Nommay, Nommay (Fra) C2
December 23: GP Montferland, Zeddam (Ned) C1
December 23: Internationales Radquer Meilen, Meilen (Swi) C2
December 26: Coupe du Monde UCI / UCI World Cup, Hofstade (Bel) CDM
December 26: G.P. Geba Sarl, Differdange (Lux) C2
December 26: Int. Radquer Dagmersellen, Dagmersellen (Swi) C2
December 27: Sylvester Cyclo-cross, Torhout (Bel) C2
December 28: Azencross / Cross des as, Loenhout / Wuustwezel (Bel) C1
December 29: Noordzeecross, Middelkerke (Bel) C2
December 30: Badiquer Schmerikon, Schmerikon (Swi) C1
December 30: Superprestige, Diegem (Bel) C1
(All rights reserved/Copyright Future Publishing (Overseas) Limited 2007)