Cyclo-cross news & racing round-up for December 1
Edited by Laura Weislo
Welcome to our regular roundup of what's happening in cyclo-cross. Feel free to send feedback, news and releases to mtb@cyclingnews.com.
Nys doubles up
By Brecht Decaluwé
'Cannibal' grabs fourth win in World Cup
Photo ©: Luc Claessen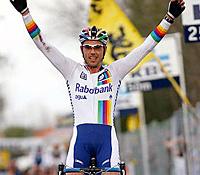 Sven Nys scored back-to-back victories over the weekend, sweeping the World Cup in Koksijde, Belgium on Saturday and the Superprestige Series race in Gieten, the Netherlands on Sunday.

The World Cup win was Nys' fourth of the season and solidifies his lead in the World Cup overall competition. Although he fell behind the leaders in the early going, Nys, nicknamed the 'Cannibal' for his voracious appetite for success against all other men, was able to storm through the field and power off the front to win by almost one minute. Fellow Belgian Bart Wellens (Fidea Cycling Team) finished second, outstprinting Sven Vanthourenhout (Rabobank).

In the Koksijde world cup, there were minor early attacks from Bart Wellens (Fidea) and Gerben De Knegt (Rabobank), but when UCI classification leader Sven Nys (Rabobank) steamed through the field, nobody had an answer. "It's never easy to win a race like this. I made a mistake right after the start on the stairs which resulted in being locked up in the bunch; I waited patiently and moved up when possible," Nys said. "It's a comfortable situation for me as I didn't need to win today," added the Belgian, who already won three World Cup races this season (Aigle, Kalmthout and Pijnacker). Today's winner explained that he was mentally fresh after spending some days in Mallorca together with teammate Sven Vanthourenhout. "I really needed a break like that and on Monday we're heading for Spain again," Nys smiled.

Bart Wellens won the prestigious battle for second place. "Without doubt the best rider has won again," Wellens said, "to my opinion the real battle is going on behind Nys." The flamboyant Belgian tried something during the first laps but when Nys accelerated he couldn't respond. "I immediately felt that Nys' speed was too high for me. From that moment on I even needed to pursue on the group with [Gerben] De Knegt," Wellens said.

Despite those tough moments, Wellens managed a good second place, which might have been unexpected looking at his race. Sven Vanthourenhout (Rabobank) finished on a World Cup podium for the first time this season, making it an all-Belgian top three in Koksijde. "I was lacking some confidence as I was afraid to blow up my engine. That's why I was riding defensively, I want to apologize for that towards my colleagues. If this wouldn't have been a world cup event I would've worked much more. Finishing on or off the podium makes a difference of a 1000 Euros, so I guess it isn't strange that I started counting," Vanthourenhout said.

Sven Nys scored back-to-back victories.
Photo ©: Bert Geerts

Nys continued his string of victories in the Superprestige Series with a convincing win in Gieten on Sunday afternoon. The only two riders who threatened the Belgian superstar were teammate Gerben De Knegt and the up-and-coming Klaas Vantornout (Fidea).
Nys enjoyed a good start (in contrast to the Koksijde World Cup where Nys stumbled at the start), and his early pressure left Bart Wellens (Fidea) chasing to get back to Nys, De Knegt and Vantornout.
Two laps from the finish, Nys launched his ultimate acceleration in a sand pit and rode untroubled towards victory. "On this course it was much harder to ride away from the opposition," Nys said. "Until halfway through the race I was only busy with defending my good position in the Superprestige Series, I would've been happy with a top three spot. When I noticed the others had a hard time dealing with my tempo I started thinking about the victory," Nys explained.
Klaas Vantornout enjoyed a great weekend finishing sixth in Koksijde and third today. Hans Van Kasteren, team manager of the Fidea team will be happy that he has another big gun in his ranks. "Yesterday I dug deep to become sixth, today I was surprised to see I was even stronger. So I learned something at the age of 24, that I don't need more than a day to recover," Vantornout said. "When Nys accelerated I didn't want to blow up my legs, a few moments later I noticed that De Knegt couldn't follow either so Nys was really going fast."
See full report, results and photos for Koksijde and Gieten.
Bessette and Johnson on top again
Johnson wins
Photo ©: Paul Weiss

While the sunny skies and high temperatures made it feel more like early-season, Saturday's Gear Works Bay State cyclo-cross, round 5 of the 2006 Verge New England Championship Cyclo-Cross Series, packed all the punch of a classic East Coast 'cross throwdown. cyclo-cross's first couple, Lyne Bessette (cyclo-crossworld.com) and Tim Johnson (Cannondale-cyclo-crossworld.com), won the Elite Women's and Men's races, though under very different circumstances.
The flowing Chocksett School course offered few technical challenges, instead rewarding flat out strength and speed. Those requirements fit perfectly into Bessette's skill set and the Canadian champion dashed off the front of a flummoxed Elite Women's field on the first lap, never looking back. With Verge NECCS jersey holder Mackenzie Dickey (Verge Sports) suffering through a sub-par outing, local favorites Rebecca Wellons (GearWorks-SpinArts) and Mo Bruno Roy (Independent Fabrication-Wheelworks) took up the ultimately fruitless pursuit of Bessette. With Bessette comfortably ahead, Wellons took second and Bruno Roy third.
"It's important for me to win the New England Series this year," said Lyne after her third NECCS win in as many starts this year. "I got the USGP jersey, and that was great, but for me this is my local series. I opted out of the final two New England races last year so I could race in Europe and that cost me the overall. I don't want to miss out again."
Lyne will finish her 2006 'cross campaign December 9-10 in Rhode Island with the final two races of the Verge New England Championship cyclo-cross Series where she will be joined by teammate Ben Jacques-Maynes in his preparation for U.S. Nationals.
As for Bessette's husband, Johnson won from a powerful trio with fellow New Englanders Mark McCormack (Clif Bar) and Jeremy Powers (Jelly Belly) on a spectacular last-lap attack. Having spent nearly an hour figuring just the right spot for a definitive acceleration, Johnson put full effort through a small set of chicanes and opened the race winning margin. Powers, who had been the most aggressive of the leading three, found his legs not up to the task when Johnson went and McCormack too had no answer for the defending Verge NECCS champ's move. McCormack out-kicked Powers for second.
See the full report, result and photos here.
National champion dominates
By Kei Tsuji
Keiichi Tsujiura (Bridgestone-Anchor)
Photo ©: Hideaki Takagi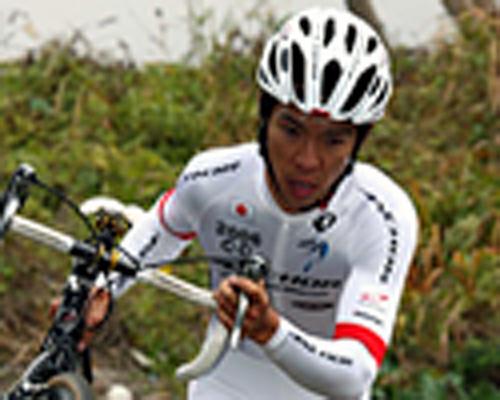 The second race of the Kansai-cyclo, one of the Japan's cyclo series, was held in Yasugawa, near Lake Biwa. This race was the only chance to get UCI points for domestic cyclo-cross riders, and also very important for the national team selection for the worlds in Belgium. The course is largely flat as the Yasu river runs along it, and there are some sections covered with sand.
Under the dull sky, 41 top-class Japanese riders lined up for the race, including the national champion Keiichi Tsujiura, and podium-goer Masanori Kosaka. In addition, attention was focused on well-experienced rider, Masahiko Mifune, who announced his intention to retire at the end of this season. Banners displaying Mifune's name were visible all round the course.
From the beginning, the race was fully controlled by Tsujiura who wore the Japanese shining white champion jersey. After the first lap, a group of five riders, Tsujiura, Kosaka, Maruyama, Takenouchi and Mifune, formed together and no other riders could join it.
Gradually Tsujiura paced up and the others couldn't hold on to him. Only Kosaka could keep up with the fierce pace, but finally the power of the champion overwhelmed him. Tsujiura finished first and gained 30 UCI points. Though he was not in good condition, he succeeded to uphold the dignity of a champion.
See the full results and photos here.
A new 'cross team for Belgium
By Brecht Decaluwé
Jurgen Mettepenningen
Photo ©: Luc Claessen

From January 1, 2007 the dominance of Fidea and Rabobank in cyclo-cross might be over. A new Belgian team, the Sunweb-Projob team, was presented on Monday by team manager Jurgen Mettepenningen. Sunweb is a travel agency while Projob is a seller of sector-specific working clothes.
The two biggest names on the team's roster, Sven Vanthourenhout and Jan Verstraeten weren't presented on the podium, Mettepenningen explained this wouldn't have been appropriate towards the sponsors of their respective current teams, Rabobank and SD Worx. "We will receive enough media attention after the New Year," Mettepenningen said. He expressed his desire to compete with Rabobank and Fidea at the highest level in cyclo-cross, with the Belgian championship in Hamme being the first big appointment for the team.
Full roster
Sven Vanthourenhout (Rabobank)
Jan Verstraeten (SD Worx)
Tom Vannoppen (Palmans-Colstrop)
David Willemsens
Steven Decaluwé
Jehudi Schoonacker
Maxim Debusschere
Kenneth Van Compernolle
Jan Van Dael
Kenny Geluykens
Mario De Clercq (coach)
Hans De Clercq (coach)
Jurgen Mettepenningen (manager)

Global cyclo-cross round-up
Upcoming UCI Cyclo-cross races
December 2 - 3: Japan National Championships, Tomakomai (Jpn) CN
December 3: Capital Cross Classic, Reston, Virginia (USA) C2
December 3: UCI World Cup, Igorre (Spa) CDM
December 3: Grand Prix Julien Cajot, Leudelange (Lux) C2
December 3: KLM Marketing Solutions, Kansas City, MO (USA) C2
Verge MAC finishes up in DC
In a fitting conclusion to the season, the Verge MAC powered by Hammer Nutrition travels to the Washington DC area for the Capital Cross Classic presented by The Bike Lane this Sunday, December 3. The Verge MAC barrels into its final UCI-C2 showdown with familiar faces poised to seize control once again, newcomers ready to wrest leadership from the old guard, and someone from Massachusetts willing to jump into the fray and throw a monkey wrench into the whole process.

In the elite men's division, two-time defending champion Ryan Leech (Meredith Group/GPOA/Cannondale) trails Weston Schempf (FORT Factory Team) by a scant 49 points after seven races. The two traded wins at the last series weekend in New Hope. Schempf, on the other hand, needs only a second place finish on Sunday to clinch the championship. One unexpected entrant is Colavita Olive Oil/Sutter Home Wine road standout Tyler Wren, who will be making his first Verge MAC start.

On the Women's side, 2003 and 2004 Verge MAC Champion Betsy Shogren (FORT Factory Team) has roared past her rivals by scoring two consecutive wins in the mud baths of the Guys Racing/Colonial Subaru VW cyclo-cross and Evo-Cross races in New Hope. The fast course in DC, however, would seem to favor Shogren's closest rival and the revelation of the season - Dee Dee Winfield (Velo Bella/Kona). However, Shogren's points lead is such that Winfield cannot win the championship herself simply by winning the race - she will need help in the form of other racers finishing in front of Shogren. One racer that Winfield could be counting on is Massachusetts native and occasional Verge MAC interloper Maureen "Mo" Bruno-Roy (Independent Fabrications/Wheelworks). Counting on Bruno-Roy could be a double-edged sword for Winfield, however, as Bruno-Roy was a US National Team member in January and has a Verge MAC victory of her own this year at the HPCX event in New Jersey. A Bruno-Roy victory all but assures Shogren her third championship in four years.

Nashville series finale set
The 2006 Nashville Cyclo-Cross Series will wrap up in Madison at Cedar Hill Park on December 9. The series beneficiary is House of Mercy, Inc., a house for homeless moms and their kids to live together during recovery. Race day will feature several races for riders of all categories.Awards will be provided to the top three athletes in each category, and all racers 12-and-under will receive a small prize. The series winners will be announced following the races, and winners will be awarded cash and prizes. For more information, and a schedule of races, visit www.nashvillecyclo-crossseries.com.
Chicago 'cross cup winds up
On Sunday, December 3; the fourth and final race of the Chicago cyclo-cross Cup racing series will double as the Illinois State cyclo-cross Championship. The race will be held on the grounds of Montrose Park in the city of Chicago. The course makes use of the many natural and manmade areas of the park, and riders can expect a well rounded circuit using elements of pavement, gravel track, grass and sandy areas with both off camber and running sections mixed into each lap.
As witnessed last year, the weather can change a course overnight and one never knows what to expect on race day. In 2005, riders rose to a cold and a snow covered race course. Race flyers and information for the 2006 Chicago cyclo-cross Cup can be found at http://www.chicrosscup.com/
Michigan 'cross heads for a 'showdown in Motown'
With a cast of teams and characters that sounds like it's straight out of the 1970's cult film classic, "The Warriors", the best of the Michigan cyclo-cross scene are set to do battle at the 2006 Kinetic Systems-Michigan cyclo-cross Championships on Sunday, December 3 in Waterford, MI.
Representing the west side of the state will be the 'Black Guard' of the Founders Brewing Team. They'll be butting heads with the dominant 'blue wave' Cane Creek team. Could Mike Wissink of the Specialized 'Red Brigade' spoil the party? Don't count out the 'Orange Crush' from Sunrise Sports or the wildcard 'Flying Rhino' Tim Saari, each of whom are poised to grab the win should any of the top riders falter.
Despite a weather forecast calling for temperatures around 30F and a possibility of snow, the racing will be hot, and so will the food. Immediately follow the Elite Men's race there will be a post-race party with hot soup and chili provided to all racers. Additionally, there will be a drawing for $850 in gift certificates for Cannondale merchandise as well as a set of Sportcrafters rollers.
Racing begins with the C-categories at 10:00am at the Waterford Hills Sports Car Track in suburban Metro Detroit. For complete information visit www.tailwind.net.
(All rights reserved/Copyright Knapp Communications Pty Limited 2005)