Cyclo-Cross World Cup #2 - CDM
Kalmthout, Belgium, October 22, 2006
Tactical Nys grabs thirtieth world cup victory
By Brecht Decaluwé
Mourey slaughtered in last lap
The podium
Photo ©: AFP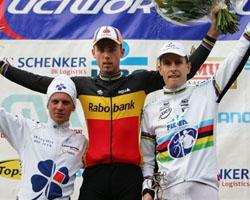 The reign of Sven Nys (Rabobank) in cyclo-cross continues with a solid win in Kalmthout, Belgium. The UCI-leader - who also won the first world cup race in Aigle - got away from a large lead group with Francis Mourey (fdjeux.com) and Zdenek Mlynar (AC Sparta Praha) in the closing laps of the second UCI world Cup for 2006. Mlynar was subsequently set aside after a crash and Mourey couldn't keep up in a devastating last lap by Nys.
"This is a hard race to win," Nys said after the finish. "To have a partner in crime comes in very handy over here. I encouraged Mourey to work along with me." Was Nys never afraid that he could've been beaten by Mourey? "We were pretty equal during the race but my technique allowed me to win here," he said.
The win proves that Nys' form is as good as it was last year when he won most of the world cup races. "I don't want to speculate on a possible maximum amount of wins. There's always the possibility of illness and crashes," the Belgian held away the pressure.
Behind Nys, Mourey grabbed a well-deserved second place. The French rider is more known for his road performances: he won the second stage in the Route du Sud in 2004, he also participated in the Tour de France 2005. Mourey is getting better and better in cyclo-cross: "Sven Nys has been the reference in cyclo-cross for many years now," Mourey said. "That's why I focused my race on him. The leading group was way too big and that's why I accelerated. Sven Nys did the same and we got away together with Mlynar. Nys was much stronger than me in that last lap."
"This morning I already knew that I could battle for victory today," Mourey said about leading the race with nys. "While the race evolved it was even more clear that is was possible. Finishing second on Belgian ground isn't too bad I guess."
World champion Erwin Vervecken finished third: "I think the best riders were in front," he said. "During two laps, I tried to come back but they gained five seconds on me! That's when I decided to go for place three. Happily for me, that turned out fine."
The unfortunate performance of the day was put in by Bart Wellens (Fidea). After a good start he subsided to a 18th place.
How it unfolded
Francis Mourey
Photo ©: AFP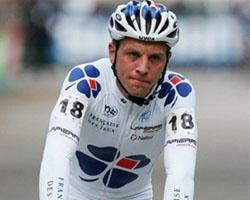 Kamil Ausbuher (Budweiser-Budvar) had a great start and raced into the field as first rider. Wellens- who had some bad starts in earlier races - took over with a crazy attack during the first lap. Franci Mourey (fdjeux.com) attacked and Sven Nys followed together with his team mate Gerben De Knegt (Rabobank). During this lap there was a nasty crash from Belgian Jan Soetens (Jartazi) and the Spanish champion David Seco Amundrain (Spiuk). Both riders were brought to the hospital.
The pack came back together in the third lap with Mourey leading. Enrico Franzoi (Lampre) was unfortunate as he had to abandon the race; the Italian champion suffered a mechanical probelm - his gearing system broke his wheel.
When Sven Nys accelerated, only Mlynar and Mourey could follow. The remains of a bunch - led by Heule (Stevens Racing Team) - had to allow a gap of 13 seconds. The three leaders maintained their lead while Vervecken (Fidea) tried to bring the bunch back to the leaders. With five laps to go, Nys accelerated again and only the Mourey could follow. Mlynar had to abandon the race while having an eye on the podium. The Czech probably tried too hard to come back on Nys while entering a corner a little too abrupt; his tyre went off.
Nys and Mourey worked together pretty well and their lead increased up to 40" with only three laps to go. The pursuit was no longer on as it was clear that the bunch was only fighting for place three. World champion Vervecken was leading a group of twenty riders, which is very unusual for cyclo cross.
Lot's of suspense was expected in the last lap as nothing was decided for victory and third place. Nys entered the forest with a devastating acceleration. Francis Mourey immediately had to allow a big gap of 5". The lead only increased and Nys cruised solo to the finish line for his thirtieth victory in a world cup race. Mourey finished second at 12". Vervecken won the sprint for third place at 1'01" just before Sven Vanthourenhout, Ausbuher and the rest of the bunch.
Photography
For a thumbnail gallery of these images, click here
Images by AFP
Francis Mourey (Française Des Jeux) gave Nys a run for his money but couldn't hold the former world champ's wheel in the last lap
Images by Luc Claessen/www.ctm-images.com
Results
1 Sven Nijs (Bel) Rabobank                         1.03.25
2 Francis Mourey (Fra) Française Des Jeux             0.16
3 Erwin Vervecken (Bel) Fidea Cycling Team            1.01
4 Sven Vanthourenhout (Bel) Rabobank
5 Kamil Ausbuher (Cze)
6 Gerben De Knegt (Ned) Rabobank
7 Steve Chainel (Fra)
8 Klaas Vantornout (Bel) Fidea Cycling Team
9 Christian Heule (Swi) Stevens Racing Team
10 Kevin Pauwels (Bel) Fidea Cycling Team
11 Richard Groenendaal (Ned) Rabobank
12 Bart Aernouts (Bel) Rabobank
13 Simon Zahner (Swi)
14 John Gadret (Fra) Ag2R Prevoyance                  1.10
15 Marco Bianco (Ita)
16 Tim Van Nuffel (Bel) Stevens Racing Team           1.15
17 Marco Aurelio Fontana (Ita)                        1.20
18 Bart Wellens (Bel) Fidea Cycling Team              1.28
19 Petr Dlask (Cze) Fidea Cycling Team                1.36
20 Thijs Al (Ned) Bejan-Rings                         1.54
21 Radomir (Jr) Simunek (Cze) Palmans Collstrop       2.02
22 Davy Commeyne (Bel) Palmans Collstrop
23 Malte Urban (Ger) Heinz Von Heiden Team Hannover
24 Jan Chrobak (Cze)                                  2.21
25 Maarten Nijland (Ned) Procomm-Van Hemert           2.30
26 Milan Barenyi (Svk)
27 Arnaud Labbe (Fra) Bouygues Telecom                2.35
28 Gils Wilant Van (Ned)                              2.41
29 Thorsten Struch (Ger)
30 Nicolas Bazin (Fra)
31 Ronald Mutsaars (Ned)                              2.55
32 Isaac Suarez Fernandez (Spa)                       3.00
33 Marek Cichosz (Pol)
34 Robert Glajza (Svk)                                3.36
35 Vaclav Jezek (Cze)                                 3.50
36 Den Bergh Camiel Van (Ned) Stevens Racing Team     3.55
37 Vaclaf Metlicka (Svk)                              4.15
38 Peter Presslauer (Aut) Stevens Racing Team
39 Maros Kovac (Svk) Dukla Trencin                    4.36
40 David Derepas (Fra) Jartazi-7Mobile                4.51
41 Joachim Parbo (Den)                                4.59
42 Jean-Baptiste Beraud (Fra)                         5.16
43 Alessandro Fontana (Ita)                           5.30
44 David (Gbr) Collins (GBr)                          5.36
45 Bart Dirkx (Ned)                                   5.43
46 Stuart Bowers (GBr)                                6.14
47 Mariusz Gil (Pol)
 
One lap behind
48 Stefano Boggia (Ita) Ceramica Flaminia
49 Ian Wilkinson (GBr)
50 Lukasz Mudyn (Pol)
DNF Zdenek Mlynar (Cze) Ac Sparta Praha
DNF Ondrej Lukes (Cze)
DNF Enrico Franzoi (Ita) Lampre-Fondital
DNF Florian Vogel (Swi)
DNF Michael Mueller (Swi)
DNF Apaolaza Zugaitz Ayuso (Spa)
DNF Jorge Iruretagonea (Spa)
DNF David Seco Amundarain (Spa)
DNF Jan Soetens (Bel) Jartazi-7Mobile

World Cup standings after round 1
1 Sven Nijs (Bel)                 760 pts
2 Erwin Vervecken (Bel)           565
3 Francis Mourey (Fra)            444
4 Sven Vanthourenhout (Bel)       427
5 Bart Wellens (Bel)              421
6 Gerben De Knegt (Ned)           407
7 Christian Heule (Swi)           370
8 Kamil Ausbuher (Cze)            337
9 Zdenek Mlynar (Cze)             290
10 Ryan Trebon (USA)              290
11 Timothy Johnson (USA)          285
12 Richard Groenendaal (Ned)      276
13 Klaas Vantornout (Bel)         238
14 Zdenek Stybar (Cze)            232
15 Steve Chainel (Fra)            222
16 Bart Aernouts (Bel)            202
17 Enrico Franzoi (Ita)           182
18 Kevin Pauwels (Bel)            180
19 Tim Van Nuffel (Bel)           180
20 Niels Albert (Bel)             173
21 Radomir Simunek (Jr) (Cze)     164
22 Marco Bianco (Ita)             152
23 Mark McCormack (USA)           148
24 Simon Zahner (Swi)             146
25 Petr Dlask (Cze)               134
26 Barry Wicks (USA)              131
27 Jussi Veikkanen (Fin)          120
28 Milan Barenyi (Svk)            117
29 John Gadret (Fra)              115
30 Maarten Nijland (Ned)          108
31 Thijs Al (Ned)                 107
32 Malte Urban (Ger)              107
33 Jan Chrobak (Cze)              100
34 Jeremy Powers (USA)             96
35 Marco Aurelio Fontana (Ita)     89
36 Davy Commeyne (Bel)             83
37 Ben Jacques-Maynes (USA)        78
38 Ondrej Lukes (Cze)              77
39 Florian Vogel (Swi)             72
40 Robert Glajza (Svk)             71
41 Matthew White (USA)             71
42 Isaac Suarez Fernandez (Spa)    70
43 Mathieu Toulouse (Can)          70
44 Jonathan Baker (USA)            70
45 Wilant Van Gils (Ned)           63
46 Maros Kovac (Svk)               63
47 Vaclav Jezek (Cze)              62
48 Eddy Van Ijzendoorn (Ned)       60
49 Jesse Anthony (USA)             59
50 Todd Wells (USA)                58