Superprestige #4 - Gieten - C1
Gieten, Netherlands, November 26, 2005
2005 Results Results Superprestige standings Past winners
Nys gives a performance in Gieten
Sven Nys continues string of victories in Superprestige Series
By Brecht Decaluwé
Sven Nys scored back-to-back victories this weekend.
Photo ©: Bert Geerts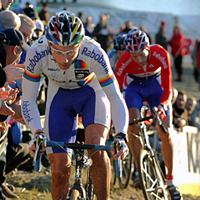 Nys continued his string of victories in the Superprestige Series with a convincing win in Gieten on Sunday afternoon. The only two riders who threatened the Belgian superstar were teammate Gerben De Knegt and the up-and-coming Klaas Vantornout (Fidea).
The race started with a minute of silence in memory of Isaac Galvez, who died Sunday morning after a crash in the Gent 6-day competition. Nys (Rabobank) - the UCI-leader in cyclo-cross - expressed his condolences when asked about what happened with Isaac Galvez. "This is sad for cycling but it's especially a drama for his family and everybody around him."
Once the racing began, Nys enjoyed a good start (in contrast to yesterday's Koksijde World Cup where Nys stumbled at the start). Nys early pressure left Bart Wellens (Fidea) chasing to get back to Nys, De Knegt and Vantornout.
Two laps from the finish, Nys launched his ultimate acceleration in a sand pit and rode untroubled towards victory. "On this course it was much harder to ride away from the opposition," Nys said. "Until halfway the race I was only busy with defending my good position in the Superprestige Series, I would've been happy with a top three spot. When I noticed the others had a hard time dealing with my tempo I started thinking about the victory," Nys explains.
Klaas Vantornout enjoyed a great weekend finishing sixth in Koksijde and third today. Hans Van Kasteren, team manager of the Fidea team will be happy that he has another big gun in his ranks. "Yesterday I dug deep to become sixth, today I was surprised to see I was even stronger. So I learned something on the age of 24, that I don't need more than a day to recover," Vantornout said. "When Nys accelerated I didn't want to blow up my legs, a few moments later I noticed that De Knegt couldn't follow either so Nys was really going fast," Vantornout said."
Photography
For a thumbnail gallery of these images, click here
Images by DCP/Bert Geerts
Results
Men
 
1 Sven Nys (Bel) Rabobank
2 Gerben De Knegt (Ned) Rabobank                        0.15
3 Klaas Vantornout (Bel) Fidea Cycling Team             0.35
4 Bart Wellens (Bel) Fidea Cycling Team                 1.15
5 Sven Vanthourenhout (Bel) Rabobank                    1.45
6 Radomir Simunek (Cze) Palmans Collstrop
7 Kamil Ausbuher (Cze) Style & Concept
8 Kevin Pauwels (Bel) Fidea Cycling Team
9 Thijs Al (Ned) Bejan-Rings
10 Christian Heule (Swi) Stevens Racing Team
11 Maarten Nijland (Ned) Procomm-Van Hemert
12 Jan Soetens (Bel) Jartazi-7Mobile
13 Marco Bianco (Ita) L'Arcobaleno Carraro Team
14 Tim Van Nuffel (Bel) Stevens Racing Team
15 Arne Daelmans (Bel) Palmans Collstrop
16 Marek Cichosz (Pol) Entente Cycliste Raismes
17 Ronald Mutsaars (Ned) ZZPR.nl
18 Jan Verstraeten (Bel) Fidea Cycling Team
19 Maxime Lefebvre (Fra) Josan Team
20 Joachim Parbo (Den) Cycling Aarhus
21 Peter Van Santvliet (Bel) Fidea Cycling Team
22 Tom De Kort (Bel)
23 Rick Evers (Ned) Bejan-Rings Pro Cycling Team
24 Harm Bronkhorst (Ned) HSK Trias Den Haag
25 Dariusz Gil (Pol) KS Scout
26 Mariusz Gil (Pol) LKS Pom Strzelce
27 Micha De Vries (Ned)
28 Frank Van Grootel (Ned) RTC Buitenlust Helmond
29 Matthijs Wagenaar (Ned)
 
Women
 
1 Marianne Vos (Ned)
2 Reza Ravenstein (Ned)
3 Susanne Juranek (Ger)
4 Arenda Grimberg (Ned)
5 Linda Van Rijen (Ned)
6 Nicol Kampeter (Ger)
7 Sanne Cant (Bel)
8 Loes Gunnewijk (Ned)
9 Britt Jochems (Ned)
10 Katrien Pauwels (Bel)
11 Christine Vardaros (USA)
12 Sanne Van Paasen (Ned)
13 Susy Godart (Lux)
14 Mika Ogishima (Jpn)
15 Linda Ter Beek (Ned)
16 Imke Hartogs (Ned)
17 Esther Kortekaas (Ned)
18 Ulrike Lichtenstein (Ger)
19 Monique Van De Ree (Ned)
20 Danielle Meijering (Ned)
 
U23
 
1 Niels Albert (Bel)
2 Zdenek Stybar (Cze)
3 Jean-Pierre Drucker (Lux)
4 Boy Van Poppel (Ned)
5 Thijs Van Amerongen (Ned)
6 Eddy Van Yzendoorn (Ned)
7 Tom Van Den Bosch (Bel)
8 Rob Peeters (Bel)
9 Kenneth Van Compernolle (Bel)
10 Maxim Debusschere (Bel)
11 Wim Leemans (Bel)
12 Ricardo Van Der Velde (Ned)
13 Sylvester Janiszewski (Pol)
14 Mitchell Huenders (Ned)
15 Ivar Hartogs (Ned)
16 Kevin Cant (Bel)
17 Rik Van Yzendoorn (Ned)
18 Lukas Keller (Ger)
19 Johim Ariesen (Ned)
20 Bart Senders (Ned)
21 Marcin Sobiepanek (Pol)
22 Patrick Van Leeuwen (Ned)
23 Koen Van Grootel (Ned)
24 Rik Adriaans (Ned)
25 Jerry Kallenfels (Ned)
26 Edwin Arts (Ned)
27 Remco Te Brake (Ned)
28 Jorn Van Veen (Ned)
29 Jeroen Dekkers (Ned)
30 David Romanowski (Pol)
31 Christopher Janssens (Ned)
32 Luuk Van Vliet (Ned)
33 Umberto Atzori (Ned)
34 Adam Bycka (Pol)
35 Joost Springintveld (Ned)
36 Glen Clermonts (Ned)
37 Martijn Keizer (Ned)
38 Paul Timmer (Ned)
39 Richard Doggen (Ned)
 
Beginners
 
1 Tiimen Eising (Ned)
2 Sean De Bie (Bel)
3 Michiel Van Der Heijden (Ned)
4 Milan Van Den Ende (Ned)
5 Daan Meijers (Ned)
6 Bas Krauwel (Ned)
7 Elmar Reinders (Ned)
8 Wouter Haan (Ned)
9 Emiel Dolfsma (Ned)
10 Lars Van Der Haar (Ned)
11 Jelle Lugten (Ned)
12 Gert-Jan Bosman (Ned)
13 Renzo Van Ree (Ned)
14 Mike Teunissen (Ned)
15 Dennis Stultiens (Ned)
16 Brian Brusselman (Ned)
17 Kay Welten (Ned)
18 Jens Adams (Bel)
19 Erwin Broers (Ned)
20 Robin Wennekes (Ned)
 
Juniors
 
1 Vincent Baestaens (Bel)
2 Ramon Sinkeldam (Ned)
3 Joeri Adams (Bel)
4 Ramon Kondia (Pol)
5 Geert Van Der Horst (Ned)
6 Twan Van Den Brand (Ned)
7 Ole Quast (Ger)
8 Kristof Cop (Bel)
9 Jasper Ockeloen (Ned)
10 Dimitri Stevens (Bel)
11 Jordy Beuker (Ned)
12 Julian Van Dijk (Ned)
13 Yannick Wydooghe (Bel)
14 Marcel Meisen (Ger)
15 Jordi Van Erp (Ned)
16 Stefan Limburg (Ned)
17 Kevin Smit (Ned)
18 Bas Stamsnijder (Ned)
19 Bart Barkhuis (Ned)
20 Dave De Best (Ned)
 


 
Superprestige elite standings after 5 races
 
1 Sven Nys (Bel) Rabobank

Past winners
2005 Sven Nys (Bel) Rabobank
2004 Sven Nys (Bel) Rabobank
2003 Bart Wellens (Bel) Spaar Select
2002 Bart Wellens (Bel) Spaar Select
2001 Sven Nijs (Bel) Rabobank
2000 Peter Van Santvliet (Bel) Spaar Select
1999 Richard Groenendaal (Ned) Rabobank
 
Past winners by Mario Stiehl, www.world-of-cycling.com