Cyclocross news & racing round-up for December 12, 2005
Edited by Steve Medcroft & Jeff Jones
Welcome to our regular round-up of what's happening in cyclocross. Feel free to send feedback, news and gossip to mtb@cyclingnews.com
World Cup #6: Wellens wins as Nys' runs out of luck
Bart Wellens (Fidea)
Photo ©: Roberto Bettini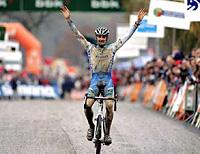 A shocking day for Sven Nys (Rabobank) and a good day for Bart Wellens (Fidea) has netted the latter his first World Cup victory this year in Igorre, Spain. Wellens claimed a huge win over Petr Dlask (Czech Republic) and Enrico Franzoi (Lampre - Caffita), with the gap to second place nearly a minute. Nys, a victim of various mechanical disasters, could only finish 8th at 1'54.
"This makes me very happy," said Wellens on Sporza. "Together with Sven Nys, I tried to make the race. The last lap would then decide who was the strongest. But when I saw that there were a lot of riders with problems with their derailleurs, I started running. I'm strong there.
"Hopefully I can keep it going next week in Hofstade. I would love to win a jersey, but I also know how difficult that will be."
Nys had his five race winning streak broken by the mud in Igorre. "It had to happen once, but I had a lot of bad luck," he said. "It all happened suddenly. My derailleur went into my back wheel twice, and I punctured. Bart Wellens was good, but without a mechanical I didn't have to be afraid of him. I knew where I could beat him, I was waiting for my chance."
Click here for the full results, report and photos
Wells brothers and Compton take home top U.S. titles
Todd Wells
Photo ©: Marek Lazarski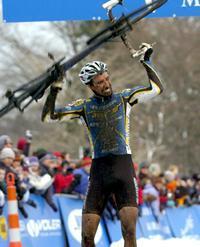 The major U.S. titles (elite men and women, U23 men) were claimed by the Wells brothers, Todd and Troy, and Katie Compton as the national cyclo-cross championships finished in Providence, R.I. on Sunday.
It was the second national elite men's title for 29 year-old Todd Wells (GT-Hyundai/Durango, Colo.), who won in 2001. Todd beat Ryan Trebon (Kona-Les Gets/Corvallis, Ore.) and three-time defending champion Jonathan Page (Liberty Mutual/Northfield, N.H.). Earlier on Saturday, 21 year-old Troy Wells (TIAA-CREF/Durango, Colo.) narrowly edged six-time national champion Jesse Anthony (Clif Bar/Beverly, Mass.) in the U23 race.
On Sunday, Katie Compton (Redline/Colorado Springs, Colo.) successfully defended her elite women's national title from a year ago with a win ahead of Ann Knapp (Kona/Des Moines, Wash.) and Saturday's women's 30-34 master winner Maureen Bruno Roy (Independent Fabrications/Arlington, Mass.). In 2004, Compton surprised many by winning the elite women's crown in Portland, Ore. This time a marked woman, she earned another stars and stripes jersey at the expense of a solid field of 62 riders.
Winners round up
Day 1
Men 35-39: Shannon Skerritt (Vanilla Bicycles/Portland, Ore.)
Men 40-44: Dale Knapp (Kona/Des Moines, Iowa)
Men 45-49: Steve Tilford (Verge/Shimano/Topeka, Kan.)
Women 40-44: Audrey Huffman (Mad River Riders/Waitsfield, Vt.)
Women 45-49: Patti Kaufmann (Team Wisconsin/Milwaukee, Wis.)
Women 50-54: Tove Shere (Team Ochsner/Sante Fe, N.M.)
Women 55-59: Betty Jordan (Velo Bella/Walnut Creek, Calif.)

Day 2
Elite Men: Todd Wells
U23 Men: Troy Wells
U23 Women: Clara Beard
Junior Men 17-18: Daniel Summerhill
Junior Women 17-18: Arielle Filiberti
Collegiate Men: Brent Bookwalter
Collegiate Women: Melodie Metzger
Junior Men 10-12: Logan Owen
Junior Men 13-14: Benny Swedberg
Junior Men 15-16: Alex Coelho
Junior Women 10-12: Elizabeth White
Junior Women 13-14: Kaitlin Antonneau
Junior Women 15-16: Samantha Schneider
Master Women 30-34: Maureen Bruno Roy
Master Men 30-34: Justin Robinson

Day 3
Elite Women - Katie Compton (Redline/Colorado Springs, Colo.)
Men 50-54 - Paul Curley (Gearworks/Taunton, Pa.)
Men 55-59 - Dan Norton (Redline/Norton, Wash.)
Men 60+ - John Elgart (Webcor/Sacramento, Calif.)
B Women - Rhonda Morin (Portland Velo/Canaan, Maine)
Under 35 B - Men Brad Cole (Team X/Overland Park, Kan.)
35 + B - Men Keith Gauvin (Benidorm/Unionville, Conn.)
Pro/Elite Liberty Cup - Todd Wells (GT Hyundai/Durango, Colo.)
For full coverage and hundreds of mud and snow encrusted pics, please see our U.S. national's results section and photo gallery.
Crank Brothers U.S. Gran Prix announces 2006 schedule
"Coming off a highly successful second edition of the Crank Brothers U.S. Gran Prix of Cyclocross, we are pleased to announce an exciting schedule for 2006," said Paul Salvucci, U.S. Gran Prix Director of Operations. "The combination of continued growth in the sport, highly motivated promoters, fantastic venues, and supportive sponsors will all blend to help bring the U.S. Gran Prix of Cyclocross to a higher level."
The 2006 U.S. Gran prix will open on the legendary fields of Stage Fort Park in Gloucester, Mass. October 7-8. A true New England cyclocross classic, the Gloucester weekend guarantees great courses and predictably unpredictable weather, all in one of the country's true hot bed's of 'cross.
"We're excited to once again host two stops of the U.S. Gran Prix Series," said Paul Boudreau, promoter of the Gloucester races. "Being a part of the series for the past two seasons has helped the Gloucester cross events meet and exceed its goals of bringing world-class racing to New England.
The Series will continue November 4-5 in the thin air of Boulder, Colo., the first time the U.S. Gran Prix has stopped off in the Rocky Mountains. Renowned for producing some of the best road and mountain bike racers in the country, Boulder has also maintained a hard-core 'cross scene for as long as 'cross has been raced in North America.
"We are very proud and excited to work with the premiere cyclocross series in North America," said Chris Grealish, promoter of the Boulder races. "As one of the founding promoters of the original national cyclocross series, we are already working full time to ensure that our venues and athlete amenities set a new standard for big time cross racing in the USA. There has been an outpouring of support and offers of assistance from the city of Boulder parks and recreation department and Boulder convention and visitors department of the chamber of commerce, as well as many local racing clubs. Our team, Denver Boulder Couriers Cycling Club, has personally witnessed eight world cyclo0cross championships in Europe and looks forward to sharing some of the course layouts that have produced incredibly exciting events."
The series will conclude in the Pacific Northwest, November 18-19 with two new race venues, Lacey, Wash. and Portland, Ore. The Washington race will be organized by RAD Racing's Jim Brown, who has run the past two U.S. Gran Prix stops in Tacoma. As well, Portland will be put together by Brad Ross, the man responsible for the 2004 U.S. National Championships and the Stumptown Classic U.S. Gran Prix races.
"Portland loves being part of the Crank Brothers U.S. Gran Prix of Cyclocross," said Ross, promoter of the Portland race. "This has become a hotbed for the sport and now many of the top pros including Ryan Trebon, Barry Wicks, Adam Craig, and Rhonda Mazza live here. For the past two years we've been the kick off event of the U.S. Gran Prix and we are thrilled to have the opportunity to be the season finale now. In addition to great racing, we are pretty proud of our ability to throw a party and we promise to put on an awards ceremony that won't soon be forgotten."
"As the discipline of cyclo-cross continues to thrive in the United States, the U.S. Gran Prix of Cyclocross continues to provide a stage on which the best American riders can perform and raises the level of competition domestically," said Justin Rogers, USA Cycling's National Events Director. "A dedicated elite-level series also puts our riders on pace to eventually become a force globally."
The Crank Brothers U.S. Gran Prix of Cyclocross Series schedule for 2006:
October 7-8 Grand Prix of Gloucester, Gloucester, Massachusetts
November 4-5 Boulder, Colorado
November 18 Lacey, Washington
November 19 Portland, Oregon
Dopers Suck Coffee helps send U.S. Juniors to 'Cross World's
For the second consecutive year, Dopers Suck and Jittery Joe's Coffee have joined forces to help send U.S. junior racers to the Cyclocross World Championships in Zeddam, The Netherlands. All proceeds from Dopers Suck Special Blend coffee will help offset World Championships travel expenses for these young up and coming superstars as they head to Europe for the January 28, 2006 race. Dopers Suck Special Blend coffee is created exclusively by Jittery Joe's is available ground or whole bean.
Jittery Joe's Coffee is based in Athens, Georgia and has roasted over five million pounds of beans in the last 14 years, 25 pounds at a time. They support cycling through grassroots junior sponsorship, event support, and sponsorship of the Jittery Joe's-Zero Gravity Professional Cycling Team. For more info visit: store.jitteryjoes.com and www.doperssuck.com.
Johnson and Bruno-Roy wrap up NECCS
Six incredible courses took New England's cyclo-cross scene from the sodden fields of Maine to the snow-blown beaches of Rhode Island. And in the closest points race in its history, Tim Johnson (Cyclocrossworld.com-Louis Garneau) edged Mark McCormack (Team Clif Bar) for the Elite Men's overall points title in the 2005 Verge New England Championship Cyclo-Cross Series, presented by Cycle-Smart. Johnson brought a perilous 10-point lead into the last weekend of racing in Rhode Island and emerged with the same margin after the sixth and final race, the Caster's Grand Prix in Warwick. Cementing his reputation as a New England 'cross prodigy, Johnson ended McCormack's two-year Verge NECCS reign despite the four-time defending champion winning the Warwick race in a thrilling sprint finish.
With her back against the wall, Maureen Bruno Roy (Independent Fabrication) saved her best for last, winning the Warwick race and the overall Verge NECCS title in the process. Bruno Roy overtook absent series leader Lyne Bessette (Cyclocrossworld.com-Louis Garneau) on the final day, but a finish outside the top three would have denied Bruno Roy the overall. A picture of consistency, Bruno Roy podiumed at five of the six Verge NECCS races, finishing second to Bessette on three occasions. Despite missing the final two races of the series due to a European race trip, Bessette still finished second overall.
Final Overall Series Standings
Elite Men
1. Tim Johnson (Cyclocrossworld.com-Louis Garneau), 310
2. Mark McCormack (Team Clif Bar), 300
3. Jesse Anthony (Team Clif Bar), 184
4. Todd Wells (GT-Hyundai), 160
5. Matt White (FiordiFrutta), 146
6. Michael Cody (FiordiFrutta), 138
7. Erik Tonkin (Kona), 136
8. Tristan Schouten (Trek-VW), 126
9. Greg Reain (Stevens), 108
10. Matt Kraus (Alan Factory), 99
Elite Women
1. Maureen Bruno Roy (Independent Fabrication), 227
2. Lyne Bessette (Cyclocrossworld.com-Louis Garneau), 200
3. Mackenzie Dickey (Bicycle Alley), 168
4. Amy Wallace (Verizon Wireless-Wheelworks), 137
5. Rebecca Wellons (Gearworks-SpinArts), 92
6. Tara Ross (Victory Brewing), 85
7. Pauline Frascone (Independent Fabrication), 81
8. Rhonda Mazza (Team S&M-Vanilla), 80
9. Marianne Stover (Independent Fabrication), 62
10. Anna Milkowski (Gearworks-SpinArts), 61
River City Bicycles Cross Crusade wrap up
The 2005 River City Bicycles Cross Crusade wrapped up on Saturday, December 3, with a big awards party at the Kinesis factory in Northeast Portland. With an average of 595 competitors in each of the six races held this winter, the RCBCC easily topped last year's numbers. The main event, the Cannondale Stumptown Cyclocross Classic at Alpenrose, drew 760 racers, making it the biggest cyclocross race ever held on U.S. soil.
"The numbers speak for themselves," said Race Director Brad Ross, who, along with a group of dedicated organizers, has promoted the series for a decade. "Interest in the sport of cyclocross and the Crusade continues to grow. We've worked hard to make cyclocross fun and accessible to all participants, not just elite riders. And our formula obviously works. Oregon has the most vibrant cyclocross scene in the county."
The awards party was a boisterous brouhaha, with music, video race highlights, recognition of class winners (and of blatant cheaters and sandbaggers), free merchandise, free adult beverages, valuable door prizes, and the occasional flying piece of luncheon meat. In short, the party embodied the character and vitality that is the Cross Crusade.
Despite the Cross Crusade's egalitarian approach, serious racing did take place. Thus, the top finishers in all 15 classes were recognized at the awards party. Class winners were: Category A Men, Kevin Hulick; Category B Men, Steven Hunter; Category C Men, Eric Heinrich; Beginner Men, Mathew Fox; Single Speed, Matthew Slaven; Junior Men, Jacob Rathe; Masters 35+ Category A, John Bravard; Masters 35+ Category B, Michael Romasco; Masters 35+ Category C, Aaron Leritz; Masters 50+, David Zimbleman; Category A Women, Wendy Williams; Category B Women, Jade Wilcoxson; Beginner Women, Jennifer Erxleben; Masters Women 35+, Karen Goritski; and Junior Women, Rachelle Hobson.
Next year's River City Bicycles Cross Crusade promises more of the same, Ross said. Again, the series will feature six races, plus the finale of the Crank Brothers U.S. Grand Prix of Cyclocross, which will be a stand-alone event at the end of the season. The Cross Crusade will also host the USGP awards party following that race.
More information: www.crosscrusade.com
Global 'cross racing round-up
Previous News Next News
(All rights reserved/Copyright Knapp Communications Pty Limited 2005)