Kansai Cyclocross Series #3 - NE
Miami Beach, Lake Biwa, Japan, December 4, 2005
Roadie does it through the lake
Eventual winner Masahiko Mifune
Photo ©: Keiko Kajihara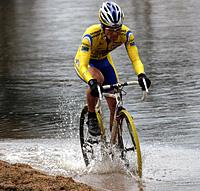 Japan's Kansai Series visited Lake Biwa, Japan's largest lake, at the mysteriously named 'Miami Beach Park'. However, the conditions were a far cry from Florida, as near-freezing temperatures and drizzling rain declared the beginning of winter for the Kansai region.
A new course on the Kansai circuit, the Miami Beach layout had two long sections on the beach, forcing most riders off their bikes. Those who could ride made valuable time on their competitors, and this turned out to be the key of the race.
In the first beach section, with the group mostly together, the riders started running with their bikes, only to witness multiple series champion and former Belgium-based pro Masahiko Mifune zip down to the waterline, riding in the lake and cruising ahead of the pack. He would end up finishing 3'40 up on the next best racer, and the race was on for second.
Mountain Bike pro Shiraishi adopted Mifune's tactic of riding in the lake and slowly crept away to hold onto second place, building a slow lead over the chase group each lap.
The battle of the day was the fight for 3-7, with all four places only separated by 19 seconds at the end. Broadmark rider David Alvarez and IF rider Daisuke Yano slipped away and looked like a good bet for a 3-4 sprint. However, two Shimano-sponsored riders, Irie and Abe, were slowly able to reel them in and then put some distance on the beach sections. At the line, Irie squeaked in ahead of Abe, and Alvarez won the dash for 5th ahead of Nippo road pro Okazaki and Yano.
Next week the Kansai Series welcomes the Japan national championships to Sakai city (home of Shimano), in Osaka prefecture.
Photography
For a thumbnail gallery of these images, click here
Images by Keiko Kajihara
Images by Mari Yano
Results

Elite Men

1 Masahiko Mifune (Jpn) Subaru-Miyata Racing
2 Shingo Shiraishi (Jpn) Shimano Drinking
3 Katsunori Irie (Jpn) Shimano Drinking
4 Yoshiyuki Abe (Jpn) Shimano Memorycorp
5 David Alvarez (USA) Broadmark
6 Kazuya Okazaki (Jpn) Nippo Hodo
7 Daisuke Yano (Jpn) Independent Fabrications
8 Akira Ishii (Jpn) Ritsumeikan University
9 Shinji Kubo (Jpn) Foobar Network
10 Akio Soga (Jpn) Goodwell Sportslife