Cyclo-Cross World Cup #6 - CDM
Koksijde, Belgium, November 25, 2006
Nys strongest in the sand
'Cannibal' grabs fourth win in World Cup
By Brecht Decaluwé
'Cannibal' grabs fourth win in World Cup
Photo ©: Luc Claessen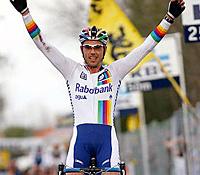 Still no winter in Belgium creating a muddy course on the sandy sub soils near the air force base in Koksijde. Many dark clouds but no rain didn't keep away the spectators, around 12,000 (including 3000 VIP arrangements) were spotted near the Belgian coast. World champion Erwin Vervecken - specialist in the sand - called off his participation in this World Cup event due to illness.
Until half way the race it was unclear who would be king of the sand. There were minor attacks from Bart Wellens (Fidea) and Gerben De Knegt (Rabobank), but when UCI classification leader Sven Nys (Rabobank) steamed through the field, nobody had an answer. "It's never easy to win a race like this. I made a mistake right after the start on the stairs which resulted in being locked up in the bunch; I waited patiently and moved up when possible," Nys said. "It's a comfortable situation for me as I didn't need to win today," added the Belgian, who already won three World Cup races this season (Aigle, Kalmthout and Pijnacker). Today's winner explained that he was mentally fresh after spending some days in Mallorca together with team mate Sven Vanthourenhout. "I really needed a break like that and on Monday we're heading for Spain again," Nys smiled.
Bart Wellens won the prestigious battle for second place. "Without doubt the best rider has won again," Wellens said, "to my opinion the real battle is going on behind Nys." The flamboyant Belgian tried something during the first laps but when Nys accelerated he didn't have an answer. "I immediately felt that Nys' speed was too high for me. From that moment on I even needed to pursue on the group with [Gerben] De Knegt," Wellens said. Despite those tough moments, Wellens managed a good second place, which might have been unexpected looking at his race. Sven Vanthourenhout (Rabobank) finished on a World Cup podium for the first time this season, making it an all-Belgian top three in Koksijde. "I was lacking some confidence as I was afraid to blow up my engine. That's why I was riding defensively, I want to apologize for that towards my colleagues. If this wouldn't have been a world cup event I would've worked much more. Finishing on or off the podium makes a difference of a 1000 Euros, so I guess it isn't strange that I started counting," Vanthourenhout said.
Gerben De Knegt was very disappointed as he lost the sprint for second place resulting in a fourth place. Another disappointed man was John Gadret (AG2R): the French champion was angry at the Belgians. "I was leading the group [that battled for second place] in the penultimate lap. Against four Belgians there wasn't much I could do," Gadret said. Apparently the French felt that the Belgians were supporting each other. "Especially Klaas Vantornout (Fidea) was clearly doing everything he could to annoy me."
Ryan Trebon (AEG Toshiba)
Photo ©: Brecht Decaluwé

Ryan Trebon (AEG Toshiba), the rider who won almost everything over the pond this season, was also competing in Koksijde. Last year the American finished ninth, taking into account that the race wasn't a World Cup event back then. "My legs weren't feeling that great because of the travelling I did but bad luck was just all around today," Trebon said. He explained that he frontally crashed a spectator twice during the race. "I was riding together very well with Radomir Simunek Jr (Palmans) when I crashed off my bike landing on my tyre," said Trebon, who will compete in Milano on December 8. Most of the other riders will head for the Netherlands (Gieten) tomorrow with the Superprestige race in Gieten at stake.
How it unfolded
Kamil Ausbuher (Style & Concept) once again managed the first shot before Radomir Simunek Jr and Christian Heule (Stevens Racing Team). During the first lap a group of twenty riders was formed with Simunek leading the way. Sven Nys enjoyed another bad start and was riding outside the top ten.
Wellens in the crowd
Photo ©: Luc Claessen

Bart Wellens opened up the debates as he accelerated in the second lap; he was followed by his team mate Klaas Vantornout and also by Sven Vanthourenhout. Nine seconds later Dutch champion Gerben De Knegt was riding together with U23 rider Zdenek Stybar (Fidea). Behind those two there was a group with Gadret, Simunek, Nys, Richard Groenendaal (Rabobank) and Bart Aernouts (Rabobank). Nys recovered from his bad start and tried to bridge the gap with his team mate De Knegt; Ryan Trebon was riding in 25th position together with David Willemsens (Vos Sportief).
In front, everything got back together creating a leading group of five: Wellens, Vantornout, Stybar, De Knegt and Vanthourenhout. Behind them Nys worked hard to close the gap, together with Groenendaal, Gadret and Simunek.
Halfway through the race Nys managed to make contact with the leading group while Stybar got dropped out of it. The front group wasn't any longer in control of Fidea, as Rabobank took over the command. Dutch champion De Knegt set a high pace which made it hard for pursuers like John Gadret, Stybar and the surprisingly strong Thijs Al (Bejan-Rings) to come back. While Groenendaal surprisingly lost contact with the top ten, Ryan Trebon was moving up to 21th position.
Gerben de Knecht
Photo ©: Luc Claessen

In the beginning of the second half of the race, Sven Nys accelerated in the sand strokes, and it was immediately clear that it would be hard to keep the Belgian champion away from the victory. Nys created a gap of 12" on De Knegt, Gadret, Vanthourenhout, Vantornout and Wellens. Richard Groenendaal kept losing ground as Trebon already passed the experienced Dutch rider.
With three laps to go, the pursuit on Nys in the group of five was led by John Gadret, with De Knegt trying to help the French when he could. Nys continued to extend his lead and comfortably rode to victory. Gerben De Knegt started the sprint for second place early on, with Sven Vanthourenhout in his wheel. Surprisingly it was Wellens who managed to sprint past Rabobank riders. Vanthourenhout sprinted past De Knegt making it an all Belgian podium once again; John Gadret completed the top five.
Photography
For a thumbnail gallery of these images, click here
Images by Brecht Decaluwé / Cyclingnews.com
Images by Luc Claessen/http://www.ctm-images.com/
Results
Elite Men

1 Sven Nys (Bel) Rabobank Continental Team
2 Bart Wellens (Bel) Fidea Cycling Team                           0.54
3 Sven Vanthourenhout (Bel) Rabobank Continental Team             0.55
4 Gerben De Knegt Ned Rabobank Continental Team
5 John Gadret (Fra) AG2R Prevoyance                               1.07
6 Klaas Vantornout (Bel) Fidea Cycling Team                       1.16
7 Thijs Al (Ned) Bejan-Rings                                      1.29
8 Bart Aernouts (Bel) Rabobank Continental Team                   1.40
9 Kevin Pauwels (Bel) Fidea Cycling Team                          1.43
10 Christian Heule (Swi) Stevens Racing Team
11 David Willemsens (Bel) Vos Sportief                            1.49
12 Van Nuffel Tim (Bel) Stevens Racing Team                       1.59
13 Maarten Nijland (Ned) Procomm - Van Hemert                     2.05
14 Peter Dlask (Cze) Fidea Cycling Team                           2.10
15 Kamil Ausbuher (Cze) Style & Concept                           2.20
16 Marco Bianco (Ita)                                             2.28
17 Radomir Jr Simunek (Cze) Palmans - Collstrop                   3.30
18 Richard Groenendaal (Ned) Rabobank Continental Team            3.40
19 Davy Commeyne (Bel) Palmans - Collstrop                        4.10
20 Milan Barenyi (Svk)                                            4.18
21 Marco Aurelio Fontana (Ita)                                    4.26
22 Alexander Moos (Swi) Phonak Hearing Systems                    4.30
23 Lukes Kloucek (Cze) Budweiser - Budvar                         4.45
24 Ondrej Bambula (Cze) Budweiser - Budvar                        4.58
25 Ryan Trebon (USA) AEG Toshiba - Jetnetwork Pro Cycling Team    5.10
26 Marek Cichosz (Pol)                                            5.15
27 Simon Zahner (Swi) Bürgis Cycling Team                         5.29
28 Ronald Mutsaars (Ned) ZZPR.nl                                  5.40
29 Gusty Bausch (Lux)                                             6.00
30 Mariusz Gil (Pol)                                              6.25
31 Joachim Parbo (Den)                                            6.26
32 Rafael Visinelli (Ita)                                         7.20
 
One lap behind
33 Jan Ramsauer (Swi)
34 René Birkenfeld (Ger)
35 Dariusz Gil (Pol)
36 Robert Gavenda (Svk)
37 Robert Glajza (Svk)
38 Philip Dixon (Aut)
 
Two laps behind
39 Peter Presslauer (Aut) Stevens Racing Team
 
Three laps behind
40 Benjamin Hill (Ger)
41 Lukasz Mudyn (Pol)
42 Daniel Hufnagel (Aut)