Cyclo-cross news & racing round-up for November 23
Edited by Steve Medcroft
Welcome to our regular roundup of what's happening in cyclocross Feel free to send feedback, news and releases to mtb@cyclingnews.com.
Growing USA 'cross scene; Tim Johnson interview
Tim Johnson is one of the serious players in the cyclocross world, often seen passionately enjoying the winter on his 'cross bike after a season of road racing. The American is always at the business end of the races, making him the perfect rider to talk to about the growing 'cross scene in the United States. Cyclingnews' Gregor Brown spoke with Tim Johnson (Cannondale/cyclocrossworld.com) as he was in the Northwest preparing for his final two USGP races:
Johnson makes it look easy
Photo ©: FJ Hughes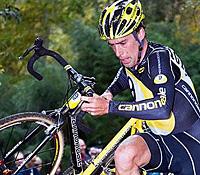 Beginning cyclocross at an early age, Tim Johnson finished the 1999 U23 world championships third behind Belgians Bart Wellens and Tom Vannoppen, going on to recorded numerous successes in the USA. He kicked off 2006 with an explosion, winning in Vermont, Southampton and Downeast, before Ryan Trebon (Kona) took control of the USA 'cross scene.
"Since then it has been the reign of Ryan," said the 29 year-old in a half-joking manner. "He has had really good luck and good form, wining every race he entered until this last week when he had a mechanical and got fourth [in Boulder Cup, November 5]. It was a big opportunity for us to attack; too bad for Todd Wells and I, Wicks bridged up and got us both.
"Right now I am committed to the last two days of the USGP, in Tacoma and Portland. [In Portland, Johnson went on to win the epic finale - ed.] From there we will go to New England, preparing for nationals. Last year it was such a huge event for everyone, with over a 1,000 racers. The blizzard made it so spectacular but I think that this year will once again show how big cyclocross has become in the USA. We should see a massive turnout in Providence [Rhode Island]."
Johnson is referring to the growth of the cyclocross scene in the USA. The professional races have much greater depth than a few years back, and the amateur levels are growing in large numbers. At all the races Johnson attends, he is met with a roar from fans surrounding the typically-short 'cross circuits.
Read the entire Tim Johnson interview here.
Trebon and Bessette close up the USGP
Lyne Bessette (cyclocrossworld.com)
Photo ©: Mitch Clinton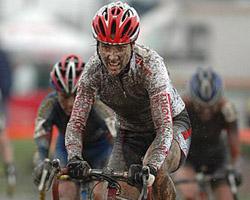 The USGP series came to a close last weekend after muddy events in Lakewood, Washington and Portland, Oregon, and Lyne Bessette and Ryan Trebon secured the series titles for 2006.
In the final event, the Scion Stumptown Cup in Portland, Trebon finished fifth on the day but mathematically had the series championship locked up before turning a wheel. Bessette held a slight advantage over Georgia Gould (Luna) prior to the start but wrapped up the series by finishing one place ahead Gould in second to successfully defend her USGP title.
In the men's race, Barry Wicks (Kona) led the first lap and jumped out to an early lead before a series of mechanicals took him out of contention. Ahead for most of the race were Trebon and Tim Johnson (Cannondale/Cyclocrossworld.com). At the race's halfway mark Jeremy Powers (Jelly Belly) was able to catch them and the three rode together. After getting ahead of both Trebon and Powers, Johnson, who excels in the mud, stayed away and won by a significant margin.
The women's race saw six riders away for about half of the race: Bessette, Katie Compton (Spike), Katerina Nash (Luna), Wendy Simms (Kona), Georgia Gould (Luna) and Melissa Thomas (Maxxis). Bessette, who entered the day with a small lead in the overall standings, began to pull away leaving a second group of Nash, Simms and Gould. Nash eventually pulled away from this group and caught Bessette on the last lap. With a third of a lap to go, Bessette was trying to ride on the edge of the mud and hooked her bars on the tape. This slight delay gave Nash enough of a gap to hold off Bessette and win the race. Bessette finished second, Gould third, Simms fourth and Compton, who was not her usual dominate self today, finished fifth. The second placing means Bessette, the current Canadian National Champion, successfully defended USGP title.
Read the entire USGP #6, Stumptown Cup race report here.
Nys three for three in the Superprestige series
By Brecht Decaluwé
Sven Nys was unstoppable again
Photo ©: AFP

To celebrate the twenty-fifth anniversary of the Superprestige series there were double points at stake on the extremely heavy course of Gavere, near Ghent. Sven Nys (Rabobank) pointed out that he didn't appreciate this system as bad luck could ruin a good ranking in the series but it ended up alright for the UCI-leader as he battled himself to victory. "Last week was much more comfortable, but maybe that was because the courses were much heavier this weekend," Nys said. "On the climbs I felt that I had some energy left while following Erwin Vervecken (Fidea), that's why I decided to attack there. Still I was unsure about the win until the finish line came in sight," the 30 year-old Belgian was apparently thinking about his bad luck last week in Niel.
Second to Nys at the end, Erwin Vervecken pulled off one of his strongest performances this season enjoying the many running sections on the muddy course. "It seems that I didn't give in on my running capabilities this year, I felt really well today. Sometimes Nys lost some metres on me but I don't know why that was, that's why I maintained a tight pace," Vervecken said. "When Nys attacked my legs felt sore and I couldn't do anything more than defending my second place," the world champion said.
Read the entire Superprestige Series #3 race report here.
Winfield and Fior de Frutta double in North Carolina
By Janet Trubey
Charlie Storm (Inland Construction)
Photo ©: Trish Albert

Day two of the North Carolina Grand Prix UCI races, held at the same venue in Hendersonville, saw a repeat performance by Diedre Winfield and team Fior de Frutta in the men's race. A new course was prepared overnight that sent racers in the opposite direction in many sections, while keeping some of the pivotal elements like the step-up run-up and the infamous 'wall.' Michael Cody, winner of day one, said the course was "fantastic with short powerful burst sections and a fun course design." With a cold front moving in the temperatures dropped from Saturday's races as the increased wind provided an extra test to the racers' power.
The men's race began with Jon Hamblin (RGM-Richard Sachs) taking the hole shot. However, Matt White (Fior de Frutta) stated that, "today I was not going to play nice" made a huge move on the 180-degree turn after 'the wall' and by the end of the prologue section of the course had already established himself as the leader. Midway through the first lap, he held a 22 second lead over an eight-man chase group. With a few from the group not content racing for second, gaps began to open up during the second trip up 'the wall.' Michael Cody (Fior de Frutta), winner of Saturday's race, was the first to break out of the group. Tristan Schouten (Trek-VW), Adam Myerson (Nerac), Charlie Storm (Inland Construction) and Hamblin followed.
Read the entire North Carolina Grand Prix #2 race report here.
Mid Atlantic Series gears up for Championship weekend
Thanksgiving weekend will see two championship races in the Mid-Atlantic region, and both are open to all comers. Saturday's Pennsylvania State Championships and Sunday's MABRA Championships take place only 45 minutes apart, making for a unique weekend double-header. The championships in all classes on both days will be determined by the best-placed rider from the specified area (Pennsylvania on Saturday; Delaware, Maryland, DC and Northern Virginia on Sunday).
The Sutliff Hummer PA State Championship Cyclocross on Saturday, November 25, will be held at the Carlisle Fairgrounds and is promoted by Yellow Breeches Racing, the same organization that promotes the hugely successful Volkswagon Iron Cross and Iron Cross Lite cyclocrosses. Riders staying overnight will also get to see the Carlisle Christmas light display at the fairgrounds. Staying overnight in Carlisle is recommended because there are no hotels in the immediate vicinity of Taneytown, the venue for the following day's MABRA Championships.
Whereas Saturday's races are state championships, the MABRA region elected to conduct a super-state championship event encompassing the entire MABRA region. Both races are sanctioned by USA Cycling. The MABRA Championships are being promoted by Tracy Lea in conjunction with Silver Cycles, Team Fuji and Sonoma Restaurant and Wine Bar. The venue will be the Taneytown Memorial Park in Taneytown (pronounced "Tawneytown") Maryland, just a few miles south of the Pennsylvania-Maryland border. These races, to be held on November 26, could have a big impact on cycling in the region, as the town's government is considering building a permanent cycle-racing facility.
Stay tune to Cyclingnews for results and race reports.
Verge NECCS heads to Massachusetts
A perfect tonic for post-turkey lethargy, the 2006 Verge New England Championship Cyclocross Series picks back up November 25 with the gut busting Gear Works Bay State Cyclocross in Sterling, Massachusetts. Run on the undulating grounds of the Chocksett School, the Bay State 'Cross will once again benefit from the course designing wizardy of Tom Stevens, who also happens to be course designer for December's National Championships in Rhode Island. Racers from last year's Bay State well remember the distinct similarities between the challenges at Sterling and Nationals (hint, hint).
Entering Sterling, round 5 of the Verge NECCS, the points chases for the overall Series championships have tightened considerably. Matt White (FiordiFrutta) will wear the Elite Men's leader's jersey, though he and Mark McCormack (Clif Bar) are tied on points after four races. Since winning the last Verge NECCS race in Northampton, White has gone on a winning tear, snagging UCI victories in New Jersey and North Carolina in the interceding weeks. But the return of top racers Tim Johnson (Cannondale-cyclocrossworld.com) and Jeremy Powers (Jelly Belly) to the Series will apply distinct pressure on White and McCormack.
On the Elite Women's side Verge NECCS leader Mackenzie Dickey (Verge) will try to keep her dream season rolling along. Having swept the Farmington/Northampton weekend, Dickey is in ideal position to defend her overall leadership through the remaining three races. However, recently crowned U.S. Gran Prix champion Lyne Besette (Cyclocrossworld.com) will re-enter the Verge NECCS chase at Sterling. With a 48-point lead over Bessette going into Sterling, Dickey will need to ride a perfect final three races in order to hold off the hard-charging Canadian Champion for the overall title.
Experienced Belgian selection for Koksijde World Cup
By Brecht Decaluwé
Belgian national coach Rudy De Bie announced the ten names for the sixth world cup event, to be held this Saturday in Koksijde.
Experienced Belgian amateur champion David Willemsens (Vos Sportief) - on Sunday winner in Leicestershire - grabbed his first selection of the season. Tim Van Nuffel (Stevens Racing Team) returned in the selection after being dropped for Pijnacker. These two riders take the places of Jan Verstraeten (SD Worx) and Erwin Vervecken (Fidea). Verstraeten is struggling to confirm his hopeful performances of October, and world champion Vervecken is ill.
The selection: Sven Nys, Sven Vanthourenhout, Bart Aernouts, Erwin Vervecken, Bart Wellens, Klaas Vantornout, Kevin Pauwels, Davy Commeyne, Tim Van Nuffel, David Willemsens, and Jan Soetens.
Stay tuned to Cyclingnews for full coverage of the Koksijde World Cup.
Vervecken out for Koksijde World Cup
By Brecht Decaluwé
The crowds in Koksijde will not spot the rainbow coloured jersey from Erwin Vervecken (Fidea). The Fidea-team website reported that the world champion is ill fevered and called off his participation in Saturday's race. The 34 year-old Belgian is known as one of the best runners of the field and would've started as a favorite on the sandy subsoil near Koksijde.
It's still unsure whether the number two in the UCI-ranking will participate on Sunday in the fourth event of the Superprestige in Gieten. Meanwhile, it is expected that Jan Soetens (Jartazi - Promo Fashion) will take over the spot from Vervecken in the Belgian selection for Koksijde.
Global cyclocross racing round-up
Vannoppen struggles with depression
By Brecht Decaluwé
Belgian Tom Vannoppen
Photo ©: Luc Claessen

Two years ago one of the hottest properties in Belgian cyclocross was Tom Vannoppen. Then he won the intermediate sprint classification of the Superprestige but this season he has suffered with lack of form that has only become worse.
Vannoppen has been reportedly admitted to a hospital to get professional psychological help; so, despite rumours to the contrary, he did not start in Saturday's GP Stad Hasselt. According to Cyclo-cross.info, team manager Jurgen Mettepenningen (Sunweb) commented, "After a turbulent night Tom has been taken into hospital with a 'major' depression. I can't say much more right now, only that it is now certain that he'll receive professional assistance.
"We're not going to give up on Tom," continued Mettepenningen, who still has faith in Vannoppen. "I just hope his fans give him some credit during the upcoming weeks; he can use that for sure."
His future coach at Sunweb, former cyclist Hans De Clercq, said that Vannoppen will be staying in hospital for at least ten days. Asked whether Vannoppen will return at the highest level again De Clercq responded, "he'll be back for sure, but not this season."
Hertford Eastern Cross League cancelled
Eastern Cross League's event on the 26th November at Hertford (England) has had to be cancelled according to British Cycling. This was to be organised by the Welwyn Wheelers. The school field at the venue is waterlogged and the landowners won't allow the event to go ahead.
(All rights reserved/Copyright Knapp Communications Pty Limited 2005)