Recently on Cyclingnews.com
Results & reports from the USA
Promoters wishing to submit results should send them to Cyclingnews
Central New York 'cross series #5 - Greene, New York, November 05, 2006
Fiordifrutta's Burns Takes Twisty 'Almost 18' Cyclocross
Pierre Roussel
Photo ©: Matt Howey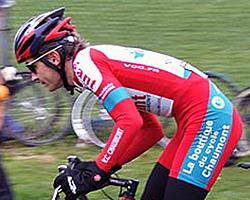 The 'endless spirals' and 'wall of death' left riders dizzy today at the Greene Elementary School in Greene, NY - a small, historic, town about 20 minutes east of Whitney Point and 40 minutes north of Binghamton. This race benefits the Greene high school senior class. A mass-start frenzy ensued at 11:00 am with all categories starting at the same time. To make it even more interesting, the open men series top-10 were called to the front of the bunch, while the open women, juniors and masters top-10 lined up behind them.

Cory Burns (Fiordifrutta), showing a glimpse of who he may be riding for during the 2007 road season, donned a red Fiordifrutta kit. The start saw a familiar face, Pierre Roussel (U of R/VC Chaumontais), charging to the front and pushing the pace immediately through the school parking lot and onto the first grass section.

In a scene reminiscent of the Wildcat 'crossing two weeks ago, a group of 4 quickly built a solid lead. The leading quartet included none other than Paul Komanecky (Preferred Care), Pierre Roussel, Matt Dickinson (Placid Planet) and eventual winner, Cory Burns. Burns took control of the race in the first few laps and started extending his lead on the twisty course.

Many found the day's run-up to be a substantial challenge, with riders complaining that the run-up was "way too long, and way to steep". That didn't seem to stop Cory Burns from extending his lead to the point where he was clearly out of firing range for the flying Frenchman, Roussel, as well as the other two pursuers, Dickinson and Komanecky. Roussel held his position at the front of the chase until the end, and while Komanecky made a late charge from fourth position, Dickinson was able to hold him off to take third.

Jeff Bergmark and Paul Komanecky
Photo ©: Matt Howey

Jeff Bergmark, ranked 6th in the Louis Garneau CNY Series going into the Greene race, found himself running half-way through lap 2. He wasn't running over barriers however, he was pushing his bike back to the finish line with a broken chain and a flat tire. Lap 2 had not been friendly to this rider from SpokePost.com, an Army Medivac Pilot in his other life, as he had flatted then broke his chain in succession. A teammate, who dropped out of the race due to illness, saw him standing in the wheel-pit area and offered up his bike to him. While this sounded like a good idea, they realized that he had the wrong type of cleats - Bergmark was using Time's and his teammate was riding SPD's. After a moment of thought, the teammate says, "What size shoe do you wear?"
Geoff's reply was, "9-and-a-half."
"Damn, these are 11's - maybe if you crank the laces and Velcro down they'll be tight enough."
So right there in the wheel pit Geoff changed into his teammates shoes (which were 2 sizes bigger than his), grabbed his teammates bike (which by the way was at least a size too big for him) and continued on in his race. All totaled, he had probably been standing there for at least 5-minutes before getting started again.
The series concludes on November 12 in Endicott, NY with the Dave Panella Memorial 'Cross.
Photography
For a thumbnail gallery of these images, click here
Images by Matt Howey
Results

1 Cory Burns (Fiordifrutta)
2 Pierre Roussel (U of R / VC Chaumontais)
3 Matt Dickinson (Placid Planet)
4 Paul Komanecky (Preferred Care)                            

Local results 2006