Introduction to Track Racing - What's a Wheelrace? - Introduction to Six Day racing - UCI codes
Results and Reports for May 11-17, 2002
United Kingdom
Promoters wishing to submit results should send them to cyclingnews
Yasumitsu-Schlapp Omnium
May 12, 2002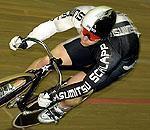 Ian George in flight
Photo: © Yasumitsu-Schlapp
After five hours of top class racing at the recent Yasumitsu-Schlapp race meeting at the Manchester Velodrome, Huw Pritchard (Angliasport RT / Condor cycles) and Ian George (Yasumitsu-Schlapp) came out with the money. Great racing, interspersed with music and a lost looking Valentino Rossi look-alike riding the derny made for a fantastic evening's entertainment.
Despite hot opposition, Huw Pritchard won the endurance omnium in the last sprint of the last points race. On his heels came James Taylor (City of Edinburgh) and Yasumitsu-Schlapp rider Joby Ingram-Dodd. The unusual race format of scratch race, devil, points, unknown and 2km dash made the racing fast and exciting, thrilling the enthusiastic crowd and pleasing the event sponsors.
The sprinters finished the evening on their knees after a series of sprints, keirins and a one kilometre dashes. Yasumitsu-Schlapp riders took first, and second overall, and first and second in the kierin.
On top of all the excitement, Joanne Wilman (Eastland's Velo) put her young name in the record books in the 200m flying Youth C (girls) and multi-champion Mathew Haynes (City Of Edinburgh) erased Bradley Wiggins' flying 500m record with a superbly executed ride against the clock.
Results
Endurance Omnium
 
1 Huw Pritchard (Angliasport RT)
2 James Taylor (City of Edinburgh)
3 Joby Ingram-Dodd (Yasumitsu-Schlapp)
 
Sprint Omnium
 
1 Ian George (Yasumitsu-Schlapp)
2 Jon Norfolk (Yasumitsu-Schlapp)
3 Marco Librizzi (City of Edinburgh)