Recently on Cyclingnews.com
Introduction to Track Racing - What's a Wheelrace? - Introduction to Six Day racing - UCI codes
Latrobe Christmas Carnival - IM
Latrobe, Australia, December 26, 2002
2001 Results Tasmanian Christmas Carnivals main page
Ladd laps it up in Latrobe
By Rod Morris in Latrobe
Jame Carney (right) winner of the Elimination and Scratch races
Photo: © Gerard Knapp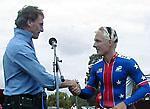 Two years ago, Bendigo's Damian Ladd didn't even own a track bike. Ladd is now the Patrick's Latrobe Wheelrace champion - after winning Australia's richest handicap track race - worth $12,000! Ladd (25) upset a quality field, which included scratchmen Jame Carney, Matthew Gilmore and Nathan Clarke, to claim Tasmanian cycling's most prestigious handicap event.
The Latrobe Boxing Day Carnival officially kick-started the Telstra Country Wide Tasmanian Christmas Carnivals Series, which continue tomorrow with the $20,000 Launceston Classic Criterium on Friday, followed by Launceston (Dec. 28), Devonport (Dec. 29-30) and Burnie (Jan. 1).
Ladd slipped under the guard of most cycling pundits, including the all-important handicapper. Riding off a liberal mark of 315 m for the 3000 m final, it was later discovered Ladd's club handicap in his hometown of Bendigo, is a much tighter 200 m. After winning the rich $8000 first prize, Ladd can expect to be riding off a much tougher mark for the remainder of the Tasmanian series.
While the backmarkers failed to bridge the gap to the "fronties" it was Ladd and his fellow front markers who made the most of every opportunity. A well oiled group of five riders used their handicaps to the best of their ability and in the final sprint to the line, Ladd held on to win from Wagga rider Brenton Crawley (375 m), who rides in the Barry O'Hagan (1960 Latrobe Wheel winner) stable and young Tasmanian up and coming star Adam Hartley (345), who won last week's Rosebery Wheel. Ladd's only other notable win was this year's Creswick Open in the Ballarat region.
Earlier in the day, Launceston veteran Laurie Venn (47) won the time-honoured A. J. Clarke and Son Handicap in a close finish from Victorian rider Clint Johnson and another Tasmanian, David Oliver. American Jame Carney won both the 8 km and 16 km A Grade Scratch races, while current World Sprint Champion Sean Eadie easily defeated current American Sprint champ, Jeff Labauve in a special match race series. Eadie was however surprised in the Keirin final, when he was beaten in a photo finish by little known Victorian Damien Keirl.
The Women's Latrobe Wheel was won by Beaconsfield's Kirby Piscioneri from Springfield's Stephanie Williams and promising Devonport junior Natasha Mapley.
Photography
Images by Gerard Knapp/Cyclingnews
Results
Patrick's Latrobe Wheelrace, $12,000
 
1 Damian Ladd (315)          3.17.11
2 Brenton Crawley (375) 
3 Adam Hartley (345)
4 Daniel Cutting (75)
 
Other finalists
 
Karl Menzies, Josh Wilson, Stephen Rossendell, 
Grant Young, Michael Ford, Gareth Atkins, 
Mark Jamieson, Stephen Pearce, Laurie Venn, 
Nathan Clarke, Todd Wilksch, Garry Polack, 
Matthew Gilmore, Jame Carney, Robert Wilson, 
Nathan Kean.
 
A. J. Clarke & Sons Handicap
 
1 Laurie Venn (170)
2 Clint Johnson (160)
3 David Oliver (160)
4 Brenton Crawley (250)
 
Other finalists
 
Jame Carney, Jeff Hopkins, Nathan Clarke, 
Robert Wilson, Mike Tillman, Joel Leonard, 
Markus Kammerman, Nic Sanderson, Brendan Geale, 
Carlo Barendilla, Matt Goss, Andrew Rix, David Klyne, 
Ryan Johnson, Michael Johnson, Adam Hartley.
 
Sid Patterson Memorial A Grade Scratch, 8000 m
 
1 Jame Carney             10.25.11 
2 Nathan Clarke
3 Jeff Hopkins
4 Matthew Gilmore
 
Bill Redpath Memorial A Grade Scratch, 16,000 m
 
1 Jame Carney             20.36.43
2 Robert Wilson
3 Matthew Gilmore
4 Stephen Rossendell
 
A Grade Elimination
 
1 Jame Carney
2 Brett Aitken
3 Robert Wilson
 
B Grade Scratch
 
1 Stephen Pearce          6.09.68
2 Neil Campbell
3 Michael Ford
4 Shane Perkins
 
C Grade Scratch
 
1 Andrew Rix              6.36.86
2 Ian Leighton
3 Clint Johnson
4 John Dam
 
D Grade Scratch
 
1 Ryan Johnson            6.29.32
2 Kharne Hammersley
3 Michael Johnson
4 Cameron Wise
 
E Grade Scratch
 
1 Damian Ladd             6.27.97
2 Jason Bellchambers
3 Brett Lehman
4 Adam Hartley
 
F Grade Scratch
 
1 Nathan Kean             6.46.01
2 Brenton Crawley
3 Fred Guilbert
4 Richard Penny
 
Women's Scratch
 
1 Kerrie Meares
2 Liz Williams
3 Belinda Goss
 
Patron's Keirin
 
1 Damien Keirl           12.60 (last 200 m)
2 Sean Eadie
3 Jeff Hopkins
 
Telstra Country Wide 200 m Sprint Series
 
1 Sean Eadie 
2 Jeff Labauve
 
RACT Women's Latrobe Wheelrace
 
1 Kirby Piscioneri (75)   2.38.48
2 Stephanie Williams (60)
3 Natasha Mapley (150)
4 Rochelle Gilmore (scr)
 
Junior 1 Scratch
 
1 Kaidan Homan            6.30.33  
2 John Rayner
3 Ty Winduss
4 Tim Walker
 
Junior 2 Scratch
 
1 Alex Holden             3.55.65 
2 Will Robinson
3 Aaron Jones
4 Sean Oliver
 
Junior 3 Scratch
 
1 Brenden Sutton          2.09.59
2 Edward Robinson
3 Matt Laskey
4 Melissa Barnes 
 
Junior 1 Wheelrace
 
1 John Rayner (40)        2.30.85
2 Tim Walker (60)
3 Adam Davis (100)
4 Kaidan Homan (100)
 
Junior 2 Wheelrace
 
1 Tom Robinson (130)      2.38.78
2 Aaron Jones (130)
3 Sean Oliver (100)
4 Will Robinson (scr)
 
Junior 3 Wheelrace
 
1 Jack Stokes (140)      12.03.94 
2 Jason Bounday (120)
3 Carissa Ling (190)
4 Jake Laskey (110)