2005 UCI Track Cycling World Championships - CM
Los Angeles, CA, USA, March 24-27, 2005
Main Page Results Previous Day Next Day
Day 2 - March 25: Men's individual pursuit; Men's keirin; Men's kilometer TT; Women's points race 25 km; Women's sprint qualifying through to 5th to 8th final
Evening session wrap
Golds to Netherlands, Italy and Germany in action-packed Friday evening session
By Eddie Monnier
Friday evening's schedule opened with the re-run of the fourth repechage heat for the keirin, with no official explanation as to what went awry in its initial running.
Teun Mulder (Netherlands)
Photo ©: Mike Gladu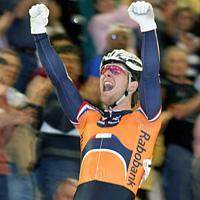 Men's keirin
Kazunari Watanabe (Japan) looked like he was in command with a lap to go but in the end it was Mickael Bourgain (France) beating Josiah Ng (Malaysia), the winner of the initial running of the heat, to advance to the second round.
Mulder (Netherlands) again showed his superior speed by taking the first heat of the second round over Forde (Barbados) and Van Eijden (Germany). And like his early win, he turned on the after burners with a lap and a half remaining.
The second heat was marred by a crash when Arnoud Tournant and Jobie Dajka collided. In a classic Aussie understatement, Jobie Dajka explained to Cyclingnews, "I just got tangled up when I was hit from behind… It gets pretty hectic out there in the last quarter of a lap." Shane Kelly (Australia), Jamie Staff (Great Britain) and Escuredo (Spain) advanced.
When asked who he thought was the man to beat in the final, Barry Forde said, "Anything can happen. All six riders are pretty good and capable of winning." Mulder shared that sentiment. "Everyone has a chance… I hope I can get a medal, maybe even the win."
Riders seemed reluctant to take motor in the final, until Kelly obliged. As in each of his prior heats, Mulder powered over the top with 1.5 laps remaining to take the world title, making good on his hope. Forde rode strongly to take second while Kelly took the bronze. Jamie Staff finished fourth.
Rene Wolff (Germany) took the 7-12 final over Ross (Great Britain)
Theo Bos (Netherlands)
Photo ©: Mike Gladu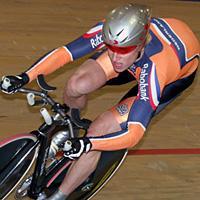 Men's kilometer
Jason Queally (Great Britain) smashed Theo Bos' track record with a 1:01.230 to move into the top spot with 12 of the 18 riders having completed their efforts. Five riders later, Queally remained atop the leader board, until Bos dug deep to recapture the track record with a 1:01.165, 0.7 better than his December World Cup winning time. Bos circled the infield as Hoy, the final rider, readied for his heat. Bos gave a pump of his fist when he realized the Brit opened with a first lap that was 0.3 slower than his own. Hoy took the bronze with a 1:02.262.
Carrara celebrates
Photo ©: Mike Gladu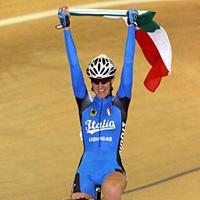 Women's points race
Only 15 racers lined up for the women's 100-lap points race. The first 20 laps of the race were clearly a sprinters' delight as the pack circled slowly at the top of the track for all but the sprint laps. The first attack came from Guerrero (Mexico) and Wong (Hong Kong) but they were quickly reeled in and the pack when back to sprinter mode.
With two-thirds of the race to go, Li Meifang (China) decided to up the pace but sat up after taking the 60-laps-to-go sprint and the whole pack followed suit. Vera Carrara (Italy) seized the opportunity and soared to a half lap lead within two laps. After the 50-lap sprint, the pack sat up and Carrara took the lap at 45 to go to add 20 to her existing 5 points and move into a 13 point over Olga Sylusareva (Russia) and Katherine Bates (Australia). Sylusareva won the 40-to-go sprint by a several bike lengths to cut the lead to 8 points. A powerful sprinter, Sylusareva narrowed the gap to Carrara to just five points with 30-laps remaining, while Bates was in third with 19 points.
It became a three horse race as Sylusareva picked up another 2 points at the 20-to-go sprint to reduce the lead to only 3 points while Bates remained in third at 20 points.
Poitras (Canada) was off the front at 15 to go. Carrera launched a strong attack with 12 laps to go to pick up three points of her own at 10 to go, with the Russian chasing hard to take third. A cagey move by the Italian, she sat up after getting her points as leaving the Canadian out front played to her advantage since she now had a four point advantage over the Russian with Bates a further three behind.
At three laps to go, the pack came back together. The Italian was on the Russian like chamois butter on a chamois, since the title was now hers to lose. That is, Slyusareva would have to win the sprint and Carrara would have to come up empty-handed on the final sprint for the Russian to take the world title. Slyusareva did her part by winning the sprint, but Carrara was right on her heels to finish second, leaving Syusareva to settle for silver, while Bates took the bronze medal.
Surrounded by a very proud Italian team, an elated Carrara told Cyclingnews through an interpreter, "My coach told me I needed only three points approaching the sprint with 10 to go. After that, I knew, I only needed to follow the Russian girl."
Robert Bartko (Germany)
Photo ©: Mike Gladu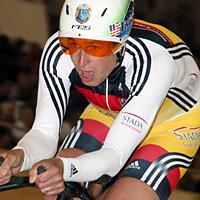 Men's individual pursuit final
Defending world champion Escobar held a half second advantage over 2000 Olympic champion Bartko at the two kilometer mark, but it was practically dead even at 3K as the German held only a 0.1 second advantage. Bartko sealed the deal with a 1:06 final kilometer to with a 4:27.732.
Levi Heimans (Netherlands) rode a conservative opening 2K against Alexander Serov (Russia) but blazed a 1:05.5 third kilometer to move into the lead for the Bronze and then never looked back.
Morning session wrap
Top seeds out in women's sprint; Bartko fastest in IP; biff and crashes in keirin heats
By Eddie Monnier
Women's sprint qualifying and 1/8 finals
Natallia Tsylinskaya (Belarus)
Photo ©: Matthew Moses

Newly crowned 500-meter world champion Natallia Tsylinskaya rocketed to a time of 11.278 in the flying 200-meter qualifiers, 0.2 seconds than her top qualifying time from the Los Angeles World Cup in December.
There were two upsets in the 1/8 sprints. Victoria Pendleton's (Great Britain) displayed an impressive burst of speed to move past Willy Kanis of the Netherlands while Anna Meares (Australia) narrowly edged out Clara Sanchez (France).
Abassova was the only favorite to prevail in the quarter finals when she beat Canadian Muenzer. Tsylinskaya was relegated for not holding her line during the last 200 meters of the race, giving the win to Kerrie Meares, while teammate Anna Meares took it to second-fastest qualifier Hijgenaar. Pendleton continued her upset streak by dispatching Guo.
In an unusual outcome, the ride off for fifth through eighth places pitted the two top seeds against each other. Tsylinskaya took the heat over Hijgenaar for fifth, with Muenzer and Guo placing seventh and eighth, respectively.
Men's individual pursuit qualifying
Robert Bartko (Germany)
Photo ©: Mitch Friedman

When asked what he thought the winning time would be, living legend and current individual pursuit world record holder (4:11.114; Manchester, 1996) Chris Boardman told Cyclingnews, "Not particularly quick. It's a little bit cool in here. You can feel a cool draft. I think we're looking about 4:20." He commented that the track is "technically quite challenging" due to its steepness, which tends to favor the sprint events but make it difficult for the endurance-timed events. Indeed, it was amazing to see World Class riders struggle to stay close to the measurement line in the turns.
Interestingly, Alexander Serov looked to be wearing a flat-black version of the "only with Lance's permission" Giro time-trial helmet. Maybe Eki called in a favor from his boss.
Marc Ryan (New Zealand) rode a 4:31.887 to post a nice four second improvement over his LA World Cup time where he finished fourth.
Olympic champion and LA World Cup winner Robert Bartko (4:28.446) opened with a 1:08 kilometer and powered to a 4:25.807 to move atop the leader board. Bartko's time survived the next two riders, so he was assured at least a chance at the bronze medal as the last heat of Volodymyr Dyudya (Ukraine) and defending world champion Sergi Escobar (Spain) took the track.
For some reason, the timing clock was turned away from Escobar as he waited in the starting gate, and he seemed to be in the dark that he was due to start. Fortunately, he rode a 4:28.858 to move into the second fastest qualifying time. Dyudya missed the medal round by just a second.
Bartko and Escobar will face off for gold while Heimans will line up opposite Serov in the ride for the bronze.
Men's keirin heats
Josiah Ng (Malaysia)
Photo ©: Mitch Friedman

The keirin, with its high speeds and aggressive fighting for positioning since only the top two riders are guaranteed to advance to the next round, is perhaps the most exciting and nerve-wracking track event to watch. The first heat showed that it can be dangerous, too, when Michael Rodriquez (Puerto Rico) crossed wheels with another rider and crashed badly. With nowhere to go, Christian Stahl (USA) t-boned the downed rider, snapping his forks badly and sending him down to the Siberian pine extremely hard. It looked as if he was out cold because he did not move for a frighteningly long time. Fortunately, he wived to the crowd several times as he was carried off on a stretcher, so hopefully his injuries are no more serious than a broken collarbone. Villenueva (Spain) took the heat in front of Jamie Staff (Great Britain) and Pavel Buren (Czech Republic).
Giddeon Massie tried to lead out the second heat but was overpowered and then boxed in. Rene Wolff (Germany) got by Ross Edgar (Great Britain) and Escuredo (Spain).
Jobie Dajka (Australia), Barry Forde (Barbados) and Ivan Vrba (Czech Republic), went 1-2-3 in the third heat.
Tuen Mulder (Netherlands) looked like he was shot out of a rocket as he went over Josiah Ng (Malaysia) with 1.5 laps remaining and opened a huge advantage over the field. Shane Kelly (Australia) took the second spot while Ng narrowly held onto third.
Only the first rider in each repechage heat advances to the second round, so it's even more pressure-filled than the first round heats. Van Eijden (Germany) grabbed the first heat over Buran (Czech Republic).
Escuredo took the second heat over Vladimir Kiriltsev (Russia).
Tournant did not take kindly to the hook Vrba threw his way as the two powered for the line in the third repechage heat. The Officials concurred with the kilometer world record holder and relegated the Czech rider, allowing Tournant to advance.
Officials will rerun the fourth keirin repechage in tonight's session as the racers were inadvertently forced to do an extra lap without the pace motor.
Photography
For a thumbnail gallery of these images, click here
Images by Matthew Moses/www.moses-images.com
Images by Mitch Friedman/www.mitchophoto.com
Images by Matthew Moses/www.moses-images.com
Images by Mike Gladu/www.velodrome.com
Images by Russ and Nancy Wright/www.abbiorca.com
Images by Mitch Friedman/www.mitchophoto.com
Images by Dana Ross/www.danarossphoto.com
Results
Women's sprint 5-8 final
 
5 Natallia Tsylinskaya (Belarus)       11.968 (60.160km/h)
6 Yvonne Hijgenaar (Netherlands)
7 Lori-Ann Muenzer (Canada)
8 Shuang Guo (China)
 
Full women's sprint results
  
Men's IP qualifying
 
1 Robert Bartko (Germany)            4.25.807 (54.174km/h)
2 Sergi Escobar Roure (Spain)        4.28.858 (53.559km/h)
3 Levi Heimans (Netherlands)         4.28.943 (53.542km/h)
4 Alexander Serov (Russia)           4.30.437 (53.247km/h)

Finals
 
Gold
 
1 Robert Bartko (Germany)            4.27.732 (53.785km/h)
2 Sergi Escobar Roure (Spain)        4.29.930 (53.347km/h)
 
Bronze
 
1 Levi Heimans (Netherlands)         4.30.707 (53.194km/h)
2 Alexander Serov (Russia)           4.33.539 (52.643km/h)
 
Full men's IP results
 
Men's kierin Final 1-6
   
1 Teun Mulder (Netherlands)
2 Barry Forde (Barbados)
3 Shane John Kelly (Australia)
4 Jamie Staff (Great Britain)
5 Jan Van Eijden (Germany)
6 José Antonio Escuredo Raimondez (Spain)
 
Full men's kierin results
 
Women's points race
 
1 Vera Carrara (Italy)               31 pts
 
One lap behind
 
2 Olga Slyusareva (Russia)           29
3 Katherine Bates (Australia)        21
4 Li Meifang (China)                 10
5 Adrie Visser (Netherlands)         10
 
Full women's points results