Recently on Cyclingnews.com
2005 UCI Track Cycling World Championships - CM
Los Angeles, CA, USA, March 24-27, 2005
Bos favourite in world's sprint events
Theo Bos
Photo ©: Mark Gunter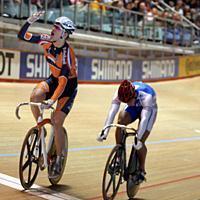 Reigning sprint world champion, Theo Bos (Netherlands), heads an all-star field of the world's fastest sprinters at the 2005 UCI Track Cycling World Championships at the ADT Event Center in Carson, California, USA. March 24-27. However, the hoped-for rematch between Bos and his 2004 world and Athens Olympic rival Ryan Bayley will not be on the program as the Olympic champion is out with an injury. Of the 32 athletes registered for the sprint event, five have medaled in previous world championship sprint competitions and three of them are former world champions.
Bos has proven his strength throughout the 2004/05 world cup season. In the two events attended by the 22-year-old he was able to win the 1km TT in Los Angeles and both the sprint and keirin in Sydney.
His toughest competition will likely come from Arnaud Tournant and Mickaël Bourgain of France and Jobie Dajka of Australia. Tournant, the 2001 world sprint champion, is always a threat with lightning fast speed and excellent bike handling skills. Bourgain, with two wins against tough opposition that included Dajka and Tournant in the world cup season, may also be prepared to take on the young sprinter. Dajka, the 2002 world keirin champion, placed second in the world championship sprint in 2002 and 2003. His recent world cup performances may represent his return to the top.
Riders not to be forgotten about include 2004 Olympic sprint bronze medalist René Wolff (Germany), 2000 world sprint champion Jan Van Eijden (Germany), Grégory Bauge (France), Chris Hoy (Great Britain), Stefan Nimke (Germany), Moscow world cup winner Sergey Ruban (Russia), Kazuya Narita (Japan), and Lukasz Kwiatkowski (Poland). Each has the ability and speed to surprise the frontrunners in the one-on-one match-ups of the sprint.
In the keirin, Jamie Staff (Great Britain) comes into the event as the reigning world champion. He is exceptionally quick having come from a BMX racing background, but in the chaotic keirin final it could be anyone's title for the taking. Other top competitors in the 2km (8-lap) event include: Shane Kelly (Australia), Dajka, Wolff, Ivan Vrba (Czech republic), Jose Escuredo (Spain), and Tournant.
Chris Hoy (Great Britain)
Photo ©: Mark Gunter

The 2004 world and Olympic 1km TT champion, Chris Hoy, appears to be in perfect form having won the event at the Manchester World Cup with a time of 1:01.671. Hoy's greatest competition is expected to come from Tournant, a four time world 1km TT champion and the current world record holder (58.875); Theo Bos, the Los Angeles world cup champion; Jason Queally (GBR), 2000 Olympic 1km TT Champion; and Nimke, the 2003 world 1km TT champion and bronze medalist at the 2004 Athens Games.
Is the team sprint, the French (Bourgain, Tournant, and Laurent Gané) proved victorious at the 2004 world championships after taking on Spain (Jose Escuredo, M. Salvador, Jose Villanueva) in the final round. With Laurent Gané not returning for the French 2005 team (Hervé Gané, Bourgain, Bauge, and François Pervis) it may open the door for the Dutch (Bos, Teun Mulder, and Tim Veldt), British (Hoy, Craig McLean, Queally, and Staff), Germans, or Spaniards to take the top podium position in the three-lap all-out sprint affair.
Endurance harder to pick
Can Team Great Britain land gold this time?
Photo ©: Mark Gunter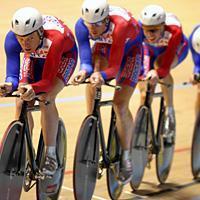 In the endurance events, the pursuit, points and scratch races, and the Madison, favourites are harder to pick, not least because some reigning world champions will not be defending their titles. New Zealand's pursuit golden girl Sarah Ulmer is still taking a post-Athens break from serious competition, leaving the field open for a rider such as Katie Mactier and Katherine Bates (Australia) or last year's world's bronze medalist Elena Tchalykh (Russia) to step up.
In the men's individual pursuit, Fabien Sanchez (France) and Levi Heimans (Netherlands) have turned in strong performances in recent World Cup rounds, but arguably the world's two best pursuit riders, the Brads Wiggins (Great Britain) and McGee (Australia) are busy with their road teams.
The timing of the world's at the beginning of the road season also deprives Australia of some key members of its 2004 World's and Olympic team pursuit squads, perhaps opening the door for another nation to claim the top podium spot in this 4000m, four-minute test of speed and precision. In Robert Hayles, Paul Manning and Christopher Newton, Britain has three of its 2004 world's runner-up squad, and will be highly motivated to dislodge their Antipodean rivals.
Greg Henderson (New Zealand)
Photo ©: Mark Gunter

New Zealand's reigning scratch race champion Greg Henderson is back to defend his rainbow jersey but will find himself facing off against all four of the riders who joined him in last year's top five: Robert Slippens (Netherlands), Walter Perez (Argentina), Yauhen Sobal (Belarus), Mark Jamieson (Australia), plus recent World Cup winners Jérôme Neuville (France) and Wim Stroetinga (Netherlands).
If past performance is a guide, then one of the more likely outcomes of these world's is that Russia's Olga Slyusareva will pick up yet another medal in the women's points race. Slyusareva has one of the most remarkable records in modern track racing: four consecutive rainbow jerseys in this event, with - just for good measure and to prove they weren't a fluke - a gold medal at the Athens Olympics last year.
See also:
Thunder from Down Under: Meares kicks off for Australia in LA; Kiwis 'fizzing' for Track World's
Home team seeks rainbow glory: Team USA contenders and chances in LA