World Track Championships - CM
Melbourne, Australia, May 26-30, 2004
Event program and results First round Finals
Women's 3000m Individual Pursuit qualifying
Ulmer takes world record - directly from the record holder
By Karen Forman
Sarah Ulmer
Photo ©: Mark Gunter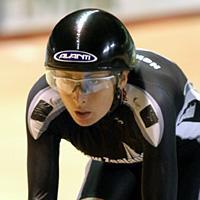 May 27, 2004: Breaking a world record can be a wonderful feeling, but actually breaking it right under the record holder's nose can really take the cake. New Zealander Sarah Ulmer not only got to experience the elation of breaking Dutch rider Leontien Zijlaard - Van Moorsel's four year old record of 3.30.816 (set in a semi-final at the 2000 Sydney Olympic Games) after the women's individual pursuit qualifying today - she also got to do it to Van Moorsel in the same race.
The race between the Kiwi - who made headlines when she came within three tenths of a second of that record two weeks ago at the Sydney Track World Cup - and the world record holder was the most exciting event on the program of the morning session, even before it began.
As Ulmer warmed up on the trainer in the New Zealand team compound for 30 minutes before her appearance, headphones piping music and cutting out extraneous sounds from the track as 19 of her peers strutted their stuff, it became obvious that she was planning to produce something special. She had told Cyclingnews a fortnight ago that while she was "stoked" with her Sydney World Cup ride, "it's not a world record". She also said that she didn't believe she had peaked too early for the Worlds and was taking it all in her stride.
She certainly did that today, appearing focussed, calm and intent on the job at hand. Van Moorsel, similarly, was focussed as she prepared in the Nederlands compound, the team medic telling Cyclingnews she was "doing good". But it was going to be Ulmer's race from the start. She led the Dutch rider the whole way, was ranked fourth by the first kilometre and second by the end of the second kilometre.
But her 1000-2000m time (1.08.599) was the fastest. With her partner, former national track rider Brendan Cameron giving her the call trackside, she knew she had broken the record as soon as she crossed the finish line - and couldn't stop smiling. She even managed to smile when she swapped track bike for trainer back in the compound and was immediately swamped by photographers and journalists.
Leontien Zijlaard - Van Moorsel
Photo ©: Mark Gunter

Obviously exhausted, with sweat streaming down her face, she answered a few questions, then pleaded, with the pleasant nature that she has become famous for: "Can I just take five minutes to warm down before answering questions?" Ulmer said, however, that she was "stoked, just stoked" at her achievement, although "I don't want to get carried away just yet."
Asked whether she planned to follow up the world record with a gold medal in Friday night's final, she said she "just want to catch my breath and warm down, first". Van Moorsel, meanwhile, who finished in fifth spot with her 3.35.347, was very accepting of losing her record. "The record was standing for four years and you have to accept that someone can break it," she said. "Sarah was in very good shape. I saw her riding in training, she was looking very good and I also saw her race in Sydney. I thought if anyone can break the record, it can be Sarah."
Australian Katie Mactier, who qualified third behind Ulmer and the reigning world champion Russian Olga Slyusareva (3.33.926) in a ride-off against French rider Juliette Vanderekerckhove (3.45.138) hinted that she had succumbed to the 'flu which has plagued the Australian team in the past two weeks, but that "only a broken leg - not a cough and a sniffle - could stop me riding".
She said she liked to think she had plenty left in the tank. "The top four girls certainly weren't a surprise, I was pretty confident they'd be the girls to watch out for. "Behind in a home crowd, there's a lot of expectation, with the feelings of that I am just relieved to get the first one out of the way and now I really kind of fee in control and confident I can perform and lift it up a step."
Katie Mactier (Australia)
Photo ©: Mark Gunter

Mactier said Ulmer was a "class act" and said she was "thrilled for her". She also said she felt she could match Ulmer's time . . . "in good time". The other top performing Aussie, Katherine Bates, who qualified seventh with 3.37.630, said she was a good five to six years younger than the other qualifiers but had high hopes and was impatient "which I think are important traits to have".
The top eight qualifiers now move through to the semi-finals to decide the ride-offs for the medals. Russian Tchalykh will meet Van Moorsel in the first heat on Friday, with Mactier and Swiss Karin Thurig riding off together followed by Bates and Slyusarev and then finally, Ulmer and Briton Emma Davies.
Photography
Images by Mark Gunter
Images by Shane Goss/www.licoricegallery.com
Results
Qualifying
 
1 Sarah Ulmer (New Zealand)                     1.13.313 (4)   2.21.912 (2)   3.30.604 (51.281km/h)
2 Olga Slyusareva (Russia)                      1.12.994 (3)   2.22.441 (3)   3.33.926 (50.484km/h)
3 Katie Mactier (Australia)                     1.10.644 (1)   2.20.777 (1)   3.34.145 (50.433km/h)
4 Elena Tchalykh (Russia)                       1.12.426 (2)   2.22.449 (4)   3.35.347 (50.151km/h)
5 Leontien Zijlaard Van Moorsel (Netherlands)   1.14.598 (7)   2.24.641 (6)   3.35.349 (50.151km/h)
6 Karin Thurig (Switzerland)                    1.14.574 (6)   2.24.863 (7)   3.36.998 (49.770km/h)
7 Katherine Bates (Australia)                   1.13.842 (5)   2.24.079 (5)   3.37.630 (49.625km/h)
8 Emma Davies (Great Britain)                   1.15.233 (9)   2.27.286 (8)   3.40.623 (48.952km/h)
9 Lada Kozlikova (Czech Republic)               1.15.760 (12)  2.28.686 (10)  3.42.498 (48.539km/h)
10 Maria Luisa Calle (Colombia)                 1.16.373 (16)  2.28.931 (11)  3.42.778 (48.478km/h)
11 Marion Clignet (France)                      1.16.027 (15)  2.28.068 (9)   3.43.809 (48.255km/h)
12 Adrie Visser (Netherlands)                   1.17.277 (18)  2.30.696 (17)  3.44.651 (48.074km/h)
13 Apollinaria Bakova (Russia)                  1.15.411 (10)  2.29.914 (15)  3.44.839 (48.034km/h)
14 Erin Mirabella (USA)                         1.16.993 (17)  2.29.147 (12)  3.45.124 (47.973km/h)
15 Juliette Vandekerckhove (France)             1.15.449 (11)  2.30.311 (16)  3.45.138 (47.970km/h)
16 Meifang Li (China)                           1.15.912 (14)  2.29.650 (14)  3.46.189 (47.747km/h)
17 Hanka Kupfernagel (Germany)                  1.15.223 (8)   2.29.346 (13)  3.46.407 (47.701km/h)
18 Tatiana Shishkova (Moldavia)                 1.15.897 (13)  2.31.939 (18)  3.51.224 (46.707km/h)
19 Sofiya Pryshchepa (Ukraine)                  1.18.395 (20)  2.35.775 (19)  3.52.551 (46.441km/h)
20 Uyun Muzizah (Indonesia)                     1.17.336 (19)  2.37.316 (20)  4.02.458 (44.543km/h)
21 Cherifa Adda (Algeria)                       1.37.768 (21)  3.15.494 (21)  4.52.102 (36.973km/h)