World Track Championships - CM
Melbourne, Australia, May 26-30, 2004
Event program and results Qualifying Finals
Women's 3000m Individual Pursuit first round
Not a sound from Ulmer camp as Sarah prepares
By Karen Forman
Sarah Ulmer (New Zealand)
Photo ©: Mark Gunter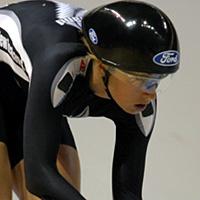 May 28, 2004: All eyes will be on New Zealand's newest world record breaker Sarah Ulmer tonight as she lines up against Australian Katie Mactier to try to add the world women's individual pursuit crown to her cache.
Ulmer sizzled her way through to the gold medal ride-off with a best of field time of 3.31.083, against Great Britain's Emma Davis (3.39.960). It wasn't quite Ulmer's world record breaking time of 3.30.604 against Dutch rider Leontien Zijlaard - Van Moorsel yesterday, but it was faster than her Sydney World Cup winning time of 3.31.157 from two weeks ago.
The lithe Kiwi left the track smiling but made a quick move straight onto the rollers, which today were placed by her minders at the rear of the New Zealand compound, well away from the prying questions of the media who yesterday besieged her for comment after her world record.
Wanting to focus on the task ahead tonight, Ulmer declined interviews, even with official live TV SBS's journalist Mike Tomalaris. Her opponent tonight - Mactier - was more talkative, even though she had told Cyclingnews yesterday that she was a bear before events because she liked to focus on the race ahead and "not talk to anybody".
Mactier rode a fine 3.32.599 against Swiss Karin Thurig (3.37.485) to earn her a berth in the gold-silver medal ride off tonight. She said she was delighted to be able to front up next to Ulmer tonight.
Katie Mactier (Australia)
Photo ©: Mark Gunter

"We work together a bit. I have known her for ages. I love her to death," she said. "We have travelled and ridden together and it's going to be great racing off her.
"I couldn't have wished for a better person to be running up against." Mactier has made no secret of the fact that she has been focussing on gold medals in the individual pursuit for some time. Even her road racing tactics earlier in the year were figured with the pursuit in mind. Mactier was often seen riding off the front, attacking, getting strong for tonight's world championship final.
Asked whether another world record would be broken tonight, Mactier said: "I don't know. I will take it as it comes."
Tchalykh will meet Russian Olga Slyusareva (who beat Australian Kate Bates with 3.35.736 in this afternoon's first round). Disappointed after failing to make the medals was former world champion Van Moorsel (whose record Ulmer broke while riding against her yesterday.)
Today she rode 3.36.308 against Russian Elena Tchalykh (3.34.117). "It didn't go according to plan, no," she said. "But I still have two months until Athens which should be enough . . . I hope."
Van Moorsel had spoken on Friday of her dream to retire on top after the Athens Olympics. Today that dreamed seemed a little fuzzy.
Photography
Images by Mark Gunter
Results
Heat 1
 
1 Elena Tchalykh (Russia)                     1.13.160 (1) 2.22.551 (1) 3.34.117 (50.439km/h)
2 Leontien Zijlaard Van Moorsel (Netherlands) 1.14.041 (2) 2.24.452 (2) 3.36.306 (49.929km/h)
 
Heat 2
 
1 Katie Mactier (Australia)                   1.10.248 (1) 2.19.757 (1) 3.32.599 (50.799km/h)
2 Karin Thurig (Switzerland)                  1.14.672 (2) 2.25.194 (2) 3.37.845 (49.576km/h)
 
Heat 3
 
1 Olga Slyusareva (Russia)                    1.12.571 (1) 2.22.679 (1) 3.35.736 (50.061km/h)
2 Katherine Bates (Australia)                 1.12.779 (2) 2.23.047 (2) 3.37.144 (49.736km/h)
 
Heat 4
 
1 Sarah Ulmer (New Zealand)                   1.13.445 (1) 2.21.966 (1) 3.31.083 (51.164km/h)
2 Emma Davies (Great Britain)                 1.15.332 (2) 2.28.177 (2)      OVR (49.099km/h)

Following the first round, Katie Mactier (Aust) and Sarah Ulmer (NZ) will ride-off for the gold and the two Russian riders, Olga Slyusareva and Elena Tchalykh, will race for the bronze.
Start list
Heat 1
 
Elena Tchalykh (Russia)
Leontien Zijlaard Van Moorsel (Netherlands)
 
Heat 2
 
Katie Mactier (Australia)
Karin Thürig (Switzerland)
 
Heat 3
 
Olga Slyusareva (Russia)
Katherine Bates (Australia)
 
Heat 4
 
Sarah Ulmer (New Zealand)
Emma Davies (Great Britain)