Introduction to Track Racing - What's a Wheelrace? - Introduction to Six Day racing
105th Austral Wheelrace - IM
Vodafone Arena, Melbourne, Australia, March 16, 2003
World's oldest wheelrace on Australia's newest track
Austral 2002
Photo: © Karen Forman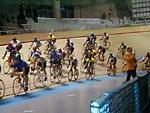 Saturday, March 15 will see the 105th running of the world renowned Austral Wheelrace. The historic event will be staged in Australia's newest indoor cycling velodrome, the Vodafone Arena. The Austral Wheelrace is widely regarded as Australia's greatest track cycling event. First staged in 1887 at the MCG, the Austral is now the oldest track cycling race in the world.
Over the years, the Austral has visited a number of venues. This event has been held at the MCG, the Exhibition Buildings, Olympic Park, North Essendon Boardtrack, Brunswick velodrome, Coburg Velodrome, Northcote Velodrome and now Vodafone Arena.
Elimination 2002
Photo: © Kathy Watt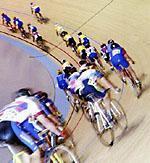 The Austral is a handicap race, where riders are handicapped according to ability over a series of heats. The finals are run over a distance of 2000m. A number of top tides will compete in the Austral, including world champions Sid Patterson, Danny Clarke, Gary Neiwand, and Stephen Pate, the only rider to have won the event four times.
This year over 200 cyclists have registered for the Austral. Along with the feature event of the night, the Wheelrace, fans can also enjoy the Victorian Keirin Championship, the Aces Scratch Race and the elimination. A lap record attempt will also be contested during the evenings racing.
The Austral Wheelrace is sponsored by Fitzroy Cycles, and tickets are available now from Ticketek (132 849 or www.ticketek.com), priced from $15. Doors open at 5.30pm, and racing starts at 7pm. For further information, contact Adam Murchie on 0412 879 871 or amurchie@cyclistsinternational.com.au or Joe Ciavola on 03 9439 7921.