World Junior Track Cycling Championships - CDM
Australia, August 21-25 2002
Event program and results Men's Scratch Women's Scratch
Men
Wim wins scratch gold
By Karen Forman in Melbourne
First for Holland
Photo: © Tom Balks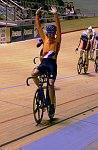 He has been champion of his country an incredible 10 times, so a junior world championship win came as little surprise to Netherlands team officials when Wim Stroetinga clinched gold in a fast and furious bunch sprint in the men's 10km scratch race in Melbourne tonight.
The hard-working 17-year-old from Oosterwolee took advantage of cover provided by Australian rider Nicholas Sanderson and New Zealander Walker Starr in the final lap to fly around the outside and score on the line.
He had exhibited impressive endurance earlier in the race, being involved in every attack and still keeping enough in store to get him across the line ahead of German Sebastian Frey and Dane Alex Rasmussen.
Sanderson led the charge to the line with two laps to go, the New Zealander on his wheel. Rasmussen came around them at the bell and Sanderson jumped onto the Dane's wheel, however the Australian appeared to tire, losing all important momentum in the final race to the line.
"I am very happy," Stroetinga said, accepting the congratulations of his team and fellow competitors.
"I thought that I could win, but I wasn't sure. Now I have the team sprint, the team pursuit and the madison - I am best in the madison - so maybe there will be two gold medals."
He arrived in Australia last Friday and says he hasn't suffered jet lag at all. However, Melbourne's cool, dry air did cause him to "lose my lungs" on Wednesday, when he suffered some minor breathing difficulties.
Tonight there were no such problems. He was, he said, feeling great.
"I like the track very much," he said. "It is a very fast track and that was a very fast race. I was riding hard and going for all the sprints."
Stroetinga started cycling nine years ago and quickly became one of the best in his country.
"I have won 10 Netherlands championships in all the age groups," he said. "But I don't know yet what I will do. I ride both on the road and the track and I like them both. This is my first world championships."
He said he would go home and "party" before deciding what to do next. Probably ride the road season. Meanwhile, he has three more events in Melbourne.
Sanderson finished fourth in the event, which was completed in a super quick time of 12.54.260.
Photos
Results - 10 km/40 laps
1 Wim Stroetinga (Netherlands)      12.54.260 (46.496 km/h)
2 Sebastian Frey (Germany)
3 Alex Rasmussen (Denmark)
4 Nicholas Sanderson (Australia)
5 Thomas White (Great Britain)
6 Tom Thiblier (France)
7 Walker Starr (New Zealand)
8 Ryan Luttrell (USA)
9 Richard Ochoa (Venezuela )
10 Gregory Devaud (Switzerland)
11 Sun Jae Jang (Korea)
12 Mitsunari Mitaki (Japan)
13 Manuel Hermann (Liechtenstein)
14 Nicky Cocquyt (Belgium)
15 Mohd Sayuti Mohd Zahit (Malaysia)
16 Iliya Krestianinov (Russia)
17 Kao-An Lee (Taiwan)
18 Maksym Polishchuk (Ukraine)

Women 7.5km scratch race - August 25, 2002
Lap board, track and bikes damaged in bell-lap pile-up
By Karen Forman in Melbourne
Riders go down
Photo: © Tom Balks

A massive crash 30 metres before the bell of tonight's women's scratch race left three riders down, a lap board almost destroyed and a French rider in hospital. However, despite the carnage littered over the track, including a snapped set of handlebars, front forks (with wheel still attached) and a saddle, there were no serious consequences and in all of the excitement, Russian rider Ekaterina Merzlikina sprinted through to win the gold medal.
Eventuating after a sprint from mid-pack to the line, it was a typical sprinter's win and Merzlikina, 17, who won pursuit silver and sprint bronze at the recent European championships in Belgium, wasn't shy about admitting to her tactics.
"I am a sprinter," she said through her country coach Victor Manakov. "A sprinter stays behind and then sprints for the last lap." Korean Eun Gu Sung was second, Australian Belinda Goss third and Japanese Tomoko Endo fourth.
First sign of action in the pack came with 16 laps to go, when German Julia Kurtze hit the lead and the Russian was on her wheel at this stage. But the pace was so slow an attack was inevitable. Netherlands rider Miranda Vierling, who won the gold medal in the women's points race last night, initiated the breakaway. She later said she had hoped to recreate last night's scenario when she had gone without being followed, to lap the field.
However, after that performance last night she was a marked rider tonight, and she didn't get away with her attack. With six laps to go Kurktze was leading by about five bike lengths, while the rest of the field stuck together behind her. Italian rider Eleonara Soldo realised the danger and worked hard with Korean Gu Sung to join her.
Host country rider Goss missed the break, but rode hard to bridge the gap with American Anna Webb. By three to go, Kurtzke had been reeled in but still led the field. With two to go, Vierling led a charge around the outside, Mexican Monica Huerta on her wheel.
Then it all happened. Chinese rider Fu Shimei clipped a wheel and came down 30 metres before the bell sounded, taking Taipai rider Mei-Yu Hsiao with her. The domino effect resulted in the French rider Emilie Jeannot crashing onto the track, sliding about 20 metres along the track and taking out a chair and the lap board.
The flying bikes, bodies and hardware sent officials and photographers - including Cyclingnews' Tom Balks - scampering out of the way. A fourth rider, Japanese Tomoko Endo, survived the crash, steering her bike in between the lap board and the fence.
However, her front axle broke and she pulled up.With the remainder of the field powering on for their final lap, medical staff rushed to attend the Chinese girl, lying on the bottom of the track, and the French girl, who was motionless under the lap board.
Medical staff applied a splint to the right leg and a neck-brace to Jeannot, who was taken to hospital sufferering serious bruising. She will undergo x-rays and scans to determine if there are more serious injuries. The other riders were able to walk from the track.
Photos
Results
1 Ekaterina Merzlikina (Russia)
2 Sung Eun Gu (Korea)
3 Belinda Goss (Australia)
4 Eleonara Soldo (Italy)
5 Monica Huerta (Mexico)
6 Anna Webb (USA)
7 Miranda Vierling (Netherlands)
8 Rosanne Chee (New Zealand)
9 Julia Kurtzke (Germany)
DNF Fu Shimei (China)
DNF Emilie Jeannot (France)
DNF Tomoko Endo (Japan)
DNF Mei-Yu Hsiao (Taiwan)

Program
DATE

EVENT

DURATION

SCHEDULE

Thursday 22 / 8

Men's Scratch 10 km

Final

20

21.50 - 22.10

Friday 23 / 8

Men's Scratch

Award Ceremony

10

19.30 - 19.40

Sunday 25 / 8

Women's Scratch 7.5 km

Final

15

15.50 - 16.05

Women's Scratch

Award Ceremony

10

17.30 - 17.40

<![if supportMisalignedColumns]>
<![endif]>