Introduction to Track Racing - What's a Wheelrace? - Introduction to Six Day racing - UCI codes
Junior World Championships - CM Jr
Cape Town, South Africa, July 12-16, 2008
Main Page Results Overall standings Previous Stage
Stage 5 - July 16: Men sprint final, men omnium, men scratch race, women Keirin
Germany's Vogel gets a hat trick
Michael Vingerling won the gold medal
Photo ©: alliancephoto.com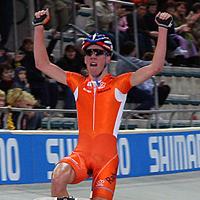 The fifth and final day of the 2008 UCI Junior World Championships at the Bellville Velodrome was a fitting climax to a series of spectacular battles between these talented cyclists. The action at the Velodrome included the ladies Keirin Final as well as the Scratch Race, Sprint and Omnium Finals for men.
The Ladies Keirin final included a number of cyclists who had already won medals at this championship making for an exciting final. The favourites were German rider, Kristina Vogel and Australia's Annette Edmondson. Vogel took her third gold in a seemingly effortless victory, Olivia Montauban from France taking the silver and Giada Balzan of Italy the bronze.
France again proved their dominance in the world of track sprinting. The first three places were a foregone conclusion with France qualifying all four of their riders for the ride off. The gold went to Quentin Lafargue, the silver to Charlie Conord and the bronze to Thierry Jollet.
The Men's Scratch Final over 10 km proved a humdinger as the riders rocketed around the track at speeds exceeding 50km an hour. The final honours and the gold medal went to Dutch favourite Michael Vingerling with Carlos Daniel Linares Zambrano from Venezuela taking the silver and Alexander Emanu Caselles from Argentina taking the bronze.
The Omnium's early rounds kicked off with Australia looking the clear favourite. South African, Clint Hendricks, was fouled early by the Argentinian and crashed heavily. The Argentinian was disqualified from the Omnium and Hendricks was able to continue after some running repairs. The gold medal for the most consistent rider went to Australia's Luke Davison, the silver to Moreno de Pauw of Belgium with Ramon Domene Reyes from Spain taking the bronze.
Photography
For a thumbnail gallery of these images, click here
Images by www.alliancephoto.com
Results
Men's sprint
 
1 Quentin Lafargue (France)                      
2 Charlie Conord (France)                        
3 Thierry Jollet (France)                        
4 Thomas Bonafos (France)                        
5 Peter Lewis (Australia)                        
6 Ben Sanders (Australia)                        
7 Marc Schroder (Germany)                        
8 Paul Fellows (Australia)                       
9 Sam Webster (New Zealand)                      
10 Sergey Litvinenko (Russia)                    
11 Tomohiro Fukaya (Japan)                       
12 Philipp Thiele (Germany)                      
13 Ethan Mitchell (New Zealand)                  
14 Kazuki Amagai (Japan)                         
15 Christian Leand Tamayo Saavedra (Colombia)    
16 Vladislav Talyshev (Russia)                   
17 Christos Ioannou (Greece)                     
18 Toyoharu Furusho (Japan)                      
19 Florian Karge (Germany)                       
20 Rafal Sarnecki (Poland)                       
 
Men's omnium
 
1 Luke Davison (Australia)                       
2 Moreno De Pauw (Belgium)                       
3 Ramon Domene Reyes (Spain)                     
4 Victor Fobert (France)                         
5 Max Stahr (Germany)                            
6 Yoeri Havik (Netherlands)                      
7 Piotr Chatlas (Poland)                         
8 Daniele Neroni (Italy)                         
9 Maksim Razumov (Russia)                        
10 Ondrej Vendolsy (Czech Republic)              
11 Jefferson Rueda Tobon (Colombia)              
12 Ryan Aitcheson (Canada)                       
13 Tatsunori Kondo (Japan)                       
14 Iggy Silva (USA)                              
15 Clint Hendricks (South Africa)                
 
Men's Scratch Race
 
1 Michael Vingerling (Netherlands)               
2 Carlos Daniel Linares Zambrano (Venezuela)     
3 Alexander Emanu Caselles (Argentina)           
4 Vitaly Barbas (Russia)                         
5 Dario Sonda (Italy)                            
6 Josef Manousek (Czech Republic)                
7 Scott Law (Australia)                          
8 Thomas Scully (New Zealand)                    
9 Grzegorz Drejgier (Poland)                     
10 Gijs Van Hoecke (Belgium)                     
11 Nikias Arndt (Germany)                        
12 Chi Ho Yuen (Hong-Kong)                       
13 Felix Alejandro Varon Castillo (Colombia)     
14 Suren Petrosyan (Armenia)                     
15 Sergi Esteve Roca (Spain)                     
16 Evan Carstens (South Africa)                  
17 Sotirios Bretas (Greece)                      
18 Gregory Hugentobler (Switzerland)             
19 Cristopher Mansilla (Chile)                   
20 Ricardo Velarde (Mexico)                      
 
Women's Keirin 
 
1 Kristina Vogel (Germany)                       
2 Olivia Montauban (France)                      
3 Giada Balzan (Italy)                           
4 Annette Edmondson (Australia)                  
5 Marines Chiquin Prada Rodriguez (Venezuela)    
6 Galina Streltsova (Russia)                     
7 Gabriela Slamova (Czech Republic)              
8 Aleksandra Drejgier (Poland)                   
9 Carolina Buenaventura (Equador)                
10 Colleen Hayduk (USA)                          
11 Laurie Berthon (France)