Introduction to Track Racing - What's a Wheelrace? - Introduction to Six Day racing - UCI codes
Junior World Championships - CM Jr
Cape Town, South Africa, July 12-16, 2008
Day 1 - July 12: Women 500m TT, men pursuit, men team sprint, women scratch race
Phinney delivers – Drama in women's scratch race
Taylor Phinney during his epic ride
Photo ©: South Africa Worlds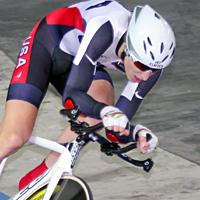 The first day of the 2008 UCI Junior World Championships at the Bellville Velodrome in Cape Town got off to an exciting start as the top juniors in the world fought for a position on the track and ultimately the podium.
449 Riders from 59 nations are competing for podium finishes and world records in the Junior Worlds. If it is indeed the incubator for future elite champions, then today's performances promise the emergence of some cycling superstars in the near future. Today was the first of five days of intensive track racing, considered the most spectacular of the disciplines for spectators.
In the Men's 3km Individual Pursuit, US rider, Taylor Phinney, hailed as the next superstar of World Cycling, didn't disappoint the crowds as he put in a historic ride. Claiming gold with a time of 3'23"759 – an outstanding performance on a track which was deemed slow because of the cold conditions – he had the crowds on their feet with his charisma and talent. Second place was taken by Rohan Dennis from Australia with a time of 3'27"422 and third place went to Jason Christie from New Zealand in 3'29"987.
Gold medallist, 18 year-old, Phinney set a new world record in the Junior Men's 3000 meter individual pursuit last month in Los Angeles at the US Olympic trials. Taylor is part of the US Olympic team going to Bejiing, where he will compete in the elite distance of 4000 meters. Until then, Capetonians have the privilege of seeing a true champion on their home ground.
Scratch race winner Megan Dunn from Australia
Photo ©: South Africa Worlds
In the Ladies' 500 TT, Kristina Vogel put in strong ride to win a gold for Germany with a time of 35"905. Victoria Baranova won a silver for Russia and Olivia Montauban bronze for France.
Drama came in the Ladies' 7.5km Scratch Race Final when eight riders failed to finish as a result of two crashes – one involving two riders, the other a massive pile-up of six riders, in the peleton. Three of the riders needed additional medical attention at a nearby hospital. Australian, Megan Dunn won the gold, Jemma Dudley from New Zealand, the silver and Colleen Hayduk from USA, the bronze.
The Men's Team Sprint was won by the French trio, in a time of 46.6sec with Australia and Poland taking the silver and bronze medals.
Tomorrrow, Sunday 13 racing starts at 15h00 with the finale, the Men's Keirin, considered one of the most exciting track events. A motorcycle paces six cyclists releasing them for a breakneck sprint for a finish.
Photography
For a thumbnail gallery of these images, click here
Images by South Africa Worlds
Results
Women 500m time trial

1 Kristina Vogel (Ger)                     0.35.905 (50.132 km/h)
2 Victoria Baranova (Rus)                  0.36.298
3 Olivia Montauban (Fra)                   0.36.446
4 Won Gyeong Kim (Kor)                     0.36.551
5 Annette Edmondson (Aus)                  0.36.760
6 Ting Ying Huang (Tpe)                    0.36.930
7 Magali Baudacci (Fra)                    0.36.979
8 Aleksandra Drejgier (Pol)                0.37.354
9 Marines Chiquin Prada Rodriguez (Ven)    0.37.911
10 Kornelia Maczka (Pol)                   0.38.143
11 Colleen Hayduk (USA)                    0.38.301
12 Erika Alanis (Mex)                      0.38.392
13 Kayono Maeda (Jpn)                      0.39.059
14 Carolina Buenaventura (Ecu)             0.39.471
15 Galina Streltsova (Rus)                 0.39.646
16 Yoshiko Kondo (Jpn)                     0.40.348
17 Talia Ayelen Aguirre (Arg)              0.40.858
18 Michelle Corbett (RSA)                  0.43.005
19 Natasha Marang (RSA)                    0.43.178

Women scratch race

1 Megan Dunn (Aus) (41.289 km/h)                                 
2 Gemma Dudley (NZl)                 
3 Colleen Hayduk (USA)               
4 Laurie-Anne Dupont Renaud (Can)    
5 Talia Ayelen Aguirre (Arg)         
6 Ana Usabiaga Balerdi (Spa)         
7 Natasha Marang (Rsa)               
8 Laurie Berthon (Fra)               
9 Gabriela Slamova (Cze)             
10 Alfiya Khabibulina (Rus)          
DNF Evelyn Arys (Bel)                
DNF Daniela Guajardo (Chi)           
DNF Giada Balzan (Ita)               
DNF Ah Reum Na (Kor)                 
DNF Sofia Arreola (Mex)              
DNF Agnieta Francke (Ned)            
DNF Aleksandra Drejgier (Pol)        
DNF Chiang Chia Wen (Tpe)            

Men Individual pursuit

Qualifying

1 Taylor Phinney (USA)                       3.20.3
2 Rohan Dennis (Aus)                         0.02.5
3 Jason Christie (NZl)                       0.06.4
4 Luke Durbridge (Aus)                       0.06.9
5 Aaron Gate (NZl)                           0.07.9
6 Albert Torres Barcelo (Esp)                0.08.1
7 Artur Ershov (Rus)                         0.08.2
8 Viktor Shmalko (Rus)                       0.09.6
9 Harry Kraft (Ger)                          0.12.0
10 Carlos Daniel Linares Zambrano (Ven)      0.12.4
11 Jakob Steigmiller (Ger)                   0.13.0
12 Ramon Domene Reyes (Esp)                  0.13.2
13 Michael Vingerling (Ned)                  0.13.4
14 Hyung Min Choe (Kor)                      0.13.8
15 Luca Pirini (Ita)                         0.14.0
16 Claudio Imhof (Sui)                       0.14.1
17 Emmanuel Keo (Fra)                        0.14.8
18 Eugenio Alafaci (Ita)                     0.16.1
19 Jeremie Souton (Fra)                      0.16.2
20 Ondrej Vendolsy (Cze)                     0.17.0
21 Ryan Aitcheson (Can)                      0.17.1
22 Barry Markus (Ned)                        0.17.4
23 Damian Drozdowski (Pol)                   0.17.6
24 Ryu Sasaki (Jpn)                          0.17.8
25 Sean Patrick Downey (Irl)                 0.18.7
26 Jeroem Lepla (Bel)                        0.19.0
27 Hugo Sebastian Salazar Castaneda (Col)    0.19.4
28 Julien Paquet (Bel)                       0.19.6
29 Eduardo Sepulveda (Arg)                   0.20.9
30 Jakub Novak (Cze)                         0.21.4
31 Cristian Andres Martinez (Arg)            0.24.0
32 Ricardo Velarde (Mex)                     0.24.8
33 Shota Takahashi (Jpn)                     0.25.5
34 King Lok Cheung (Hkg)                     0.26.5
35 Ayel Duvan Arevalo Delgadillo (Col)       0.28.0
36 Gerrit Schepers (RSA)                     0.34.7
 
Final
1 Taylor Phinney (USA)                     3.23.759 (53.004 km/h) 
2 Rohan Dennis (Aus)                       3.27.422        

Third place run
1 Jason Christie (NZl)                     3.29.987
2 Luke Durbridge (Aus)                     3.31.068

Men's team sprint

Qualifiers
 
1 France            0.46.523 (58.036 km/h)
2 Australia         0.47.089
3 Poland            0.47.756
4 New Zealand       0.47.832
5 Germany           0.48.175
6 Russia            0.48.542
7 Japan             0.48.717
8 Greece            0.48.750
9 Italy             0.48.852
10 Colombia         0.50.539
11 South Africa     0.51.404
 
Finale
 
1 France            0.46.600
2 Australia         0.47.261

Third place run

1 Poland            0.48.041
2 New Zealand       0.48.205