Introduction to Track Racing - What's a Wheelrace? - Introduction to Six Day racing - UCI codes
International Sprint Grand Prix - 3ISGP
Lehigh Valley Velodrome, Pennsylvania, USA, June 19, 2007
Sprinters storm the 'concrete crater'
By Nathan Carrick
Ben Barczewski's (T-Town Express)
Photo ©: Todd Leister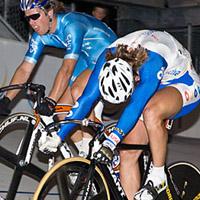 Stormy weather cut racing short at the International Sprint Grand Prix in Trexlertown, Pennsylvania, but before the rain started to fall, the stacked field put on a good show for the crowds.
Early in the day, the 200-meter time trials and the first round of sprints were run, but the time the first race of the evening session started, ominous storm clouds had begun to form on the horizon.
In the men's sprint quarterfinals, local fan-favorite Ben Barczewski (T-Town Express) won a very close, exciting race against Tim Veldt (Schijf) of the Netherlands.
"My ride with Tim was great," Barczewski said while huddling under the grandstand bleachers as a downpour soaked the Lehigh Valley. "I did everything I wanted to do. I thought I controlled the ride and pretty much had it sewn up." Barczewski will face Maximilian Levy (Brandenburg) of Germany in the semifinals after Levy overcame Adam Duvendek (Momento Cycling) of the US.
"It's going to be a tough ride," Barczewski admitted. "But I think if I ride it smart, I have a good chance." Roberto Chiappa (Grouppo Sportivo) of Italy, Friday's winner of the Red Robin Keirin Cup and this morning's fastest qualifier with a 10.540 second ride in the 200-meter time trial, also won his quarterfinal round against Yondi Schmidt (Schmidt) of the Netherlands. He faces Josiah Ng (Momentum) of Malaysia in the semifinals, which were rescheduled.
The rescheduled finals saw Barczewski go 0 for 2 in the final against Ng who picked up third place overall. In the race for first place, Chiappa took both rounds to win ahead of Germany's Max Levy.
On the women's side, American sprinter Jenny Reed (Momentum) won her quarterfinal round against the up-and-coming young talent, 18 year-old Lauren Shirock (BMW-Bianchi). Reed's qualifying 200-meter time was practically identical to Friday's Keirin Cup winner, Christin Muche (Brandenburg) of Germany. Reed rode a 11.990, while Muche was just four hundredths faster at 11.950.
Jenny Reed (Momentum) wins
Photo ©: Todd Leister

"It's going to be some good racing," Reed said about her probable match-up with Muche. "Tomorrow it's about who wants it more and also about the tactics out on the banks." Muche won her quarterfinal heat against Kacey Manderfield (Verducci/Breakaway) of the US.
When the racing resumed the following day, Muche was able to get the better of the American, and took the women's sprint final. Liz Reap-Carlson beat Anna Lang for third.
Even though a violent thunderstorm cut racing short at the Lehigh Valley Velodrome, the philosophy of the evening was evident: to catch big fish, you need the right bait. That's why the concrete crater hosted a UCI sanctioned sprint tournament on a Tuesday.
"We need to offer an incentive for international riders to come to T-town," Executive Director Erin Hartwell said as a smattering of the best track racers in the world rolled around the track casually warming up. "This is a long way to come, and they won't do it if we only offer one night of racing."
Hartwell came up with a plan to offer three nights of UCI sanctioned racing in a week, ensuring that riders who spent a bundle on airfare to get here got their money's worth when it came to racing. June 15th's Red Robin Keirin Cup, the sprint tournament and June 22nd's OAA Institute Fastest Man on Wheels are all part of the package.
Virtually the same field that raced on the normal Friday night professional schedule last week was present tonight, geared up and ready for the first ever thevelodrome.com International Sprint Grand Prix. It was to be a straightforward sprint tournament, with a second round set for Tuesday, August 14.
Photography
For a thumbnail gallery of these images, click here
Images by Todd Leister/www.leisterimages.com
Results

Women's 200 meter TT

1 Christin Muche (Ger) Brandemberg              0.11.95
2 Jenny Reed (USA) Momentum                     0.11.99
3 Anna Lang (USA) SDBC/Karl Strausse            0.12.29
4 Liz Reap Carlson (USA) T-Town Express         0.12.31
5 Cari Higgins (USA) America's Dairy Land       0.12.71
6 Lauren Shirock (USA) BMW Bianchi              0.13.15
7 Dana Feiss (USA) YMCC                         0.13.20
8 Kacey Manderfield (USA) Verducci/Breakaway    0.13.20
9 May Britt Hartwell (Nor) YMCC                 0.13.39
10 Kele Murdin (USA) Ultra Link                 0.13.49
11 Morgan Farnsworth (USA) YMCC                 0.14.38
 
Women's sprint 1/4 final

Heat 1
1 Christin Muche (Ger) Brandemberg                     
2 Kacey Manderfield (USA) Verducci/Breakaway           

Heat 2
1 Jenny Reed (USA) Momentum                            
2 Lauren Shirock (USA) BMW Bianchi                     

Heat 3
1 Anna Lang (USA) SDBC/Karl Strausse                   
2 Dana Feiss (USA) YMCC                                

Heat 4
1 Liz Reap Carlson (USA) T-Town Express                
2 Cari Higgins (USA) America's Dairy Land              
 
Women's sprint semi finals

Heat 1
1 Christin Muche (Ger) Brandemberg                     
2 Liz Reap Carlson (USA) T-Town Express                

Heat 2
1 Jenny Reed (USA) Momentum                            
2 Anna Lang (USA) SDBC/Karl Strausse                   
 
Women's sprint 5-8 final
1 Cari Higgins (USA) America's Dairy Land              
2 Dana Feiss (USA) YMCC                                
3 Kacey Manderfield (USA) Verducci/Breakaway           
4 Lauren Shirock (USA) BMW Bianchi                     
 
Wonen's sprint final

Final for 1 and 2
1 Christin Muche (Ger) Brandenburg                     
2 Jenny Reed (USA) Momentum                            

Finals for 3 and 4
1 Liz Reap Carlson (USA) T-Town Express                
2 Anna Lang (USA) SDBC/Karl Strausse                   
 
Men's 200 meter TT

1 Roberto Chiappa (Ita) Gruppo Sportivo         0.10.54
2 Maximilian Levy (Ger) Brandenburg             0.10.78
3 Leandro Bottaso (Arg) Argentina               0.10.90
4 Josiah Ng (Mas) Momentum                      0.10.91
5 Giddeon Massie (USA) T-Town Express           0.10.98
6 Tim Veldt (Ned) Schijf                        0.11.01
7 Ben Barczewski (USA) T-Town Express           0.11.06
8 Ryan Nelman (USA) T-Town Express              0.11.07
9 Adam Duvendek (USA) Momento Cycling           0.11.09
10 Kasper Jessen (Den) Oldense                  0.11.13
11 Eric Beausejour (Can) Track Team             0.11.24
12 Gary Ryan (Aus) Verducci                     0.11.26
13 Angelo Martorell (USA) SBW                   0.11.35
14 Yondi Schmidt (Ned) Schmidt                  0.11.37
15 Diego Grosso (Arg) Sprinter #3               0.11.45
16 Haseem Maclean (Tri) Trinidad                0.11.57
17 Kevin Schiller (USA) GS Adams Ave            0.11.60
18 Travis Smith (Can) Momentum Cycling          0.11.74
19 Maralet Rodriguez (PRc) GR Sport             0.11.82
20 Marc Prutton (NZl) Pegasers                  0.12.56
DNS Andrew Kuklis (USA) Gotham/Hensley                 
 
Men's Sprint 1/8 final

Heat 1
1 Roberto Chiappa (Ita) Gruppo Sportivo         0.11.61
2 Eric Beausejour (Can) Track Team                     

Heat 2
1 Maximilian Levy (Ger) Brandenburg             0.11.69
2 Yondi Schmidt (Ned) Schmidt                          

Heat 3
1 Tim Veldt (Ned) Schijf                        0.12.08
2 Leandro Bottaso (Arg) Argentina                      

Heat 4
1 Josiah Ng (Mas) Momentum                      0.11.64
2 Adam Duvendek (USA) Momento Cycling                  

Heat 5
1 Giddeon Massie (USA) T-Town Express           0.11.45
2 Ryan Nelman (USA) T-Town Express                     

Heat 6
1 Ben Barczewski (USA) T-Town Express           0.11.30
2 Angelo Martorell (USA) SBW                           
 
Men's Sprint 1/4 final

Heat 1
1 Roberto Chiappa (Ita) Gruppo Sportivo         0.11.82
2 Yondi Schmidt (Ned) Schmidt                          

Heat 2
1 Maximilian Levy (Ger) Brandenburg             0.11.28
2 Adam Duvendek (USA) Momento Cycling                  

Heat 3
1 Ben Barczewski (USA) T-Town Express           0.11.43
2 Tim Veldt (Ned) Schijf                               

Heat 4
1 Josiah Ng (Mas) Momentum                      0.11.38
2 Giddeon Massie (USA) T-Town Express                  
 
Men's sprint semi final

Heat 1
1 Roberto Chiappa (Ita) Gruppo Sportivo                
2 Josiah Ng (Mas) Momentum                             

Heat 2
1 Maximilian Levy (Ger) Brandenburg                    
2 Ben Barczewski (USA) T-Town Express                  
 
Men's Sprint 9-12 Final
1 Leandro Bottaso (Arg) Argentina                      
2 Ryan Nelman (USA) T-Town Express                     
3 Eric Beausejour (Can) Track Team                     
4 Angelo Martorell (USA) SBW                           
 
Men's Sprint 5-8 Finals
1 Adam Duvendek (USA) Momento Cycling                  
2 Yondi Schmidt (Ned) Schmidt                          
3 Giddeon Massie (USA) T-Town Express                  
4 Tim Veldt (Ned) Schijf                               
 
Men's Sprint Final

Finals for 1 and 2 Race #1
1 Roberto Chiappa (Ita)                         0.11.09
2 Maximilian Levy (Ger)                                

Finals for 1 and 2 Race #2
1 Roberto Chiappa (Ita)                         0.11.37
2 Maximilian Levy (Ger)                                

Finals for 3 and 4 Race #1
1 Josiah Ng (Mas)                               0.11.42
2 Ben Barczewski (USA)                                 

Finals for 3 and 4 Race #2
1 Josiah Ng (Mas)                               0.11.20
2 Ben Barczewski (USA)                                 
 
Junior Men 200 meter TT

1 Lanell Rockmore (USA) Young Medalists         0.11.74
2 Andrew Harris (USA) FCS Cycling Club          0.11.97
3 Daniel Sullivan (USA) Metra/Wendy's           0.12.10
4 Ted Sheperd (USA) Young Medalists             0.12.39
5 Tynan Farley (USA) Young Medalists            0.12.39
6 Taylor Kahl (USA) Libery Cycle                0.12.42
7 Chris Stern (USA) Libery Cycle                0.12.44
8 Matthew Holub (USA) Gotham Cyclists           0.12.48
9 Jeremy Shirock (USA) South Mountain           0.12.82
 
Junior Men Sprint 1/8 final

Heat 1
1 Lanell Rockmore (USA) Young Medalists                

Heat 2
1 Andrew Harris (USA) FCS Cycling Club                 

Heat 3
1 Daniel Sullivan (USA) Metra/Wendy's                  

Heat 4
1 Jeremy Shirock (USA) South Mountain           0.12.63
2 Ted Sheperd (USA) Libery Cycle                       

Heat 5
1 Tynan Farley (USA) Young Medalists            0.12.92
2 Matthew Holub (USA) Gotham Cyclists                  

Heat 6
1 Taylor Kahl (USA) Libery Cycle                0.12.41
2 Chris Stern (USA) Libery Cycle                       
 
Junior Men sprint 1/4 final

Heat 1
1 Lanell Rockmore (USA) Young Medalists                
2 Ted Sheperd (USA) Young Medalists                    

Heat 2
1 Andrew Harris (USA) FCS Cycling Club                 
2 Chris Stern (USA) Libery Cycle                       

Heat 3
1 Daniel Sullivan (USA) Metra/Wendy's                  
2 Taylor Kahl (USA) Libery Cycle                       

Heat 4
1 Jeremy Shirock (USA) South Mountain                  
2 Tynan Farley (USA) Young Medalists                   
 
Junior Men sprint semi final

Heat 1
1 Lanell Rockmore (USA) Young Medalists                
2 Jeremy Shirock (USA) South Mountain                  

Heat 2
1 Daniel Sullivan (USA) Metra/Wendy's                  
2 Andrew Harris (USA) FCS Cycling Club                 
 
Junior Men sprint 5-8 final
1 Chris Stern (USA) Libery Cycle                0.12.59
2 Tynan Farley (USA) Young Medalists                   
3 Taylor Kahl (USA) Libery Cycle                       
4 Ted Sheperd (USA) Libery Cycle                       
 
Junior Men sprint final

Final for 1 and 2 Race #1
1 Lanell Rockmore (USA) Young Medalists         0.11.98
2 Daniel Sullivan (USA) Metra/Wendy's                  

Final for 1 and 2 Race #2
1 Daniel Sullivan (USA) Metra/Wendy's           0.12.35
2 Lanell Rockmore (USA) Young Medalists                

Final for 1 and 2 Race #3
1 Lanell Rockmore (USA) Young Medalists         0.13.19
2 Daniel Sullivan (USA) Metra/Wendy's                  

Final for 3 and 4 Race #1
1 Jeremy Shirock (USA) South Mountain           0.13.35
2 Andrew Harris (USA) FCS Cycling Club                 

Final for 3 and 4 Race #2
1 Jeremy Shirock (USA) South Mountain           0.12.66
2 Andrew Harris (USA) FCS Cycling Club                 
 
Cat 1-2 Men's Elimination Race

1 Pete Dawson (Aus)                                    
2 Bobby Lea (USA) Toyota United                        
3 Gustavo Artacho (Arg) Colavita Sutter Home           
4 Lanell Rockmore (USA) Young Medalists                
5 Darren Harry (Aus)                                   
6 Kevin Schiller (USA) GS Adams Ave                    
7 Peter Fitzpatrick (Aus)                              
8 Kasper Jessen (Den) Oldense                          
9 Marc Prutton (NZl) Pegasers                          
10 Maralet Rodriguez (PRc) GR Sport                    
11 Tom Dolan (USA) CC Evesham                          
12 Phil Gaimon (USA) CRCA/Sakonnet                     
13 Yondi Schmidt (Ned) Schmidt                         
14 Eric Beausejour (Can) Track Team                    
15 Rich Orner (USA) Independence                       
16 Rodney Santiago (PRc) CCG                           
17 Paul Pearson (USA) Bucks County Racing              
DNS Giddeon Massie (USA) T-Town Express                
DNS Haseem Maclean (Tri) Trinidad                      
DNS Sergio Guatto (Arg)                                
DNS Leandro Bottaso (Arg) Argentina                    
DNS Diego Grosso (Arg) Sprinter #3                     
DNS Angelo Martorell (USA) SBW                         
DNS Andrew Kuklis (USA) Gotham/Hensley                 
DNS Bruce Donaghy (USA) Morgan Stanley Cycli           
DNS Chris Ruhl (USA) Team Alliance                     
DNS Taylor Kahl (USA) Liberty Cycle                    
DNS Ted Sheperd (USA) Young Medalist                   
DNS Jeremy Shirock (USA) South Mountain                
DNS Andrew Harris (USA) FCS Cycling Club               
DNS Chris Stern (USA) Liberty Cycle                    
DNS Alejandro Borrajo (Arg) Rite Aid                   
DNS Matt Diefenback (USA) Tri-State Velo               
 
Cat 1-2 Men's Five Mile Final

1 Tim Veldt (Ned) Schijf                               
2 Leandro Bottaso (Arg) Argentina                      
3 Peter Fitzpatrick (Aus)                              
4 Yondi Schmidt (Ned) Schmidt                          
5 Bobby Lea (USA) Toyota United                        
6 Gustavo Artacho (Arg) Colavita Sutter Home           
7 Diego Grosso (Arg) Sprinter #3                       
8 Kevin Schiller (USA) GS Adams Ave                    
9 Marc Prutton (NZl) Pegasers                          
10 Bruce Donaghy (USA) Morgan Stanley Cycli            
11 Pete Dawson (Aus)                                   
12 Alejandro Borrajo (Arg) Rite Aid                    
DNF Paul Pearson (USA) Bucks County Racing             
DNF Haseem Maclean (Tri) Trinidad                      
DNF Kasper Jessen (Den) Oldense                        
DNF Rodney Santiago (PRc) CCG                          
DNF Maralet Rodriguez (PRc) GR Sport                   
DNF Rich Orner (USA) Independence                      
DNF Darren Harry (Aus)                                 
DNF Matt Diefenback (USA) Tri-State Velo