Introduction to Track Racing - What's a Wheelrace? - Introduction to Six Day racing - UCI codes
International Women's Challenge - IM
Pennsylvania, USA, July 20, 2007
Martin discovers true calling at women's challenge
By Nathan Carrick
Rebecca Larson (Aaronís/LS Flyers) celebrates
Photo ©: Todd Leister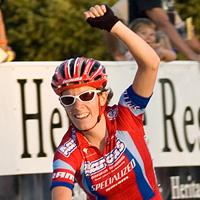 Often the journey to find yourself is a long and weird one. Mindi Martin came all the way from Oklahoma, via St. Louis, to race at T-Town and even though she's been here since mid-June, Friday night's International Women's Challenge seemed like a culmination in her search.
She placed top three in four of the five women's events on Friday, grabbing wins in the 10 lap momentum race and her 1 kilometre scratch race heat. "I came out there to figure out what I was," Martin (Plane Team Revolution) said after the final race of the night. She paused, then added: "I'm training to be a sprinter. That's what I've settled on." Despite being sick for a few weeks after arriving and coming from a background completely devoid of track racing, Martin has come into her own this season.
Plus she picked a good night to show it. A light breeze ticked the international flags above the rider bridge and the air was crisp and fast. After two kilometre heats for the men, the women's racing started in earnest.
It began with the cash-heavy 10 lap Momentum race, which rewarded the winner of every lap with greater and greater primes as the race went on. This meant attack after attack flew off the front, practically none with any hope of lasting. Surges by Ashley Kimmet (Miya Shoji) and Rebecca Larson (Aaron's/LS Flyers) in the final laps left them unable to respond when the bell rang for one to go and Martin pulled off the front. She won by about 20 bike lengths going away.
A perfect evening.
Photo ©: Todd Leister
In the women's one mile record attempt, the story was quite different. Although the pace was fast from the start and three riders split off the front, it came down to a bunch sprint. The previous record of 2.01.36, set by New Zealand's Fiona Ramage in 2000 came tumbling down, however, when Larson beat it by a solid six seconds. The new record: 1:55.39.
"I didn't even really know if the girls were going to go for it," Larson said. "I thought the Verducci [Breakaway] team might because they have three girls here, but after the first lap I realised they were going for it. I just held on and told myself to be patient, be patient. I felt a little stale from the first race, so I was like, ugh, I don't know.
"It was stacked four wide when we started sprinting in turns one and two," she continued. "I could see the scoreboard going into turn three and saw twelve seconds. There wasn't anybody near me and I thought, oh man, I think I got it."
Next for the women was the one kilometre scratch race final. Theresa Cliff-Ryan (Verducci Breakaway) powered her way to the front to barely beat Liz Reap (T-Town Express), a pure sprinter.
Team Fuji experimented on some moves
Photo ©: Zui Hanafusa

The final event of the evening was the women's 10 kilometre International Women's Challenge Final. Loaded with primes and holding the feature spot of the night, there was a lot of pressure on the tired women's field. Describing a sentiment shared by most of the riders since the brisk schedule left little time between races, Kimmet remarked just before taking the line: "I feel like crap. Some nights are good, and tonight just isn't my night". An ironic statement, since she actually won the race.
The first 20 laps were peppered with attacks from the field, some serious, others only out to get some prime money. But with 10 to go, Martin and Jess Mclean (Verducci Breakaway) gained half a lap advantage on the field. The two worked well together until, with five to go, Kimmet bridged up. With her added impetus, the three were able to lap the field as it got the bell for one to go. In the final dash for the line, Kimmet outsprinted the lapped field to take the win.
"I still feel like crap," Kimmet said afterward. "It was a longer race, so there were more tactics to it than just, let's go fast on the last lap. I kind of just wanted to be patient. If anyone got more than a half lap up, then I might have been concerned." As for her competition, Kimmet said of Martin: "She's quick. She's going really strong right now."
Although Friday was the Women's International Challenge, there was plenty of exciting men's racing to go around, too. In the two kilometre scratch race, Kiwi Nathan Seddone (New Zealand), who surprised T-Town last week with his powerful sprinting, went one-two with his teammate Simon VanVelthooven. Another sprinter from down under, Pete Fitzpatrick of Australia rounded out the top three.
Hall of famer and US cycling legend Jack Simes III
Photo ©: Todd Leister

Fitzpatrick came back with a vengeance to win the next race, the men's super sprint. Ridden like an elimination race until only 12 racers are left, the survivors then battle it out in a one-mile dash to the line. Fitzpatrick was too strong for the riders who made it through the elimination and he rode off with the win.
In the five-mile dash for cash, Jason Snow (Cycle Science) came away with a convincing win against a very large, fast and determined men's field. Fitzpatrick triumphed again in final men's race of the evening, the 10 lap cash momentum race. In a close sprint to the line, he edged out Snow and Alejandro Acton (Colavita Sutter Home) by less than a bike length.
"I feel a lot better now that I'm in the money," Fitzpatrick said. "It was good to get over the Argentineans again. They've had the wood on me the past couple of weeks, so the form's starting to come good toward the end of the season."
Photography
For a thumbnail gallery of these images, click here
Images by Todd Leister/www.leisterimages.com
Images by Zui Hanafusa/www.keirin.us
Results
Menís 2km Scratch Heats
 
Heat 1
1 Dave Wiswell (USA) Nerac Pro                   
2 Jackie Simes (USA) PA Lightning                
3 Guido Palma (Arg) Rite Aid                     
4 Nathan Seddone (NZl) New Zealand               
5 Haseem Maclean (Tri) Trinidad                  
6 Chris Ruhl (USA) Team Alliance                 
7 Ray Ignosh (USA) Gotham Cyclists               
8 Taylor Brown (USA) PA Lightning                
 
Heat 2
1 Simon VanVelthooven (NZl) New Zealand          
2 Keith Thorarinson (Can) Independent            
3 Peter Fitzpatrick (Aus)                        
4 Jason Snow (USA) Cycle Science                 
5 Andy Kulkis (USA) Gotham/Hensley               
6 Jonathan Rawlins (Tri) Trinidad/Tobago         
7 Michael Chauner (USA) PA Lightning             
8 Eps Harris (USA) Compliance Depot              
 
Womenís 10 Lap Cash Momentum
 
1 Mindi Martin (USA) Plane Team Revolution       
2 Theresa Cliff-Ryan (USA) Verducci Breakaway    
3 Ashley Kimmet (USA) Miya Shoji                 
4 Rebecca Larson (USA) Aaronís/LS Flyers         
5 Colleen Guilick (USA) Fuji Salamander          
6 Joanna Wiersma (Can) Team R.A.C.E.             
7 Dana Feiss (USA) Young Medalists               
8 Juliet Earle (NZl) Papanui Cycling             
9 Jocelyn Rastrick (NZl) Papanui Cycling         
10 Julia Bradley (Can) Team R.A.C.E.             
 
Menís 2km Scratch Final
 
1 Nathan Seddone (NZl) New Zealand               
2 Simon VanVelthooven (NZl) New Zealand          
3 Peter Fitzpatrick (Aus)                        
4 Guido Palma (Arg) Rite Aid                     
5 Jackie Simes (USA) PA Lightning                
6 Jonathan Rawlins (Tri) Trinidad/Tobago         
7 Taylor Brown (USA) PA Lightning                
8 Jason Snow (USA) Cycle Science                 
9 Haseem Maclean (Tri) Trinidad                  
10 Keith Thorarinson (Can) Independent           
11 Eps Harris (USA) Compliance Depot             
12 Dave Wiswell (USA) Nerac Pro                  
13 Chris Ruhl (USA) Team Alliance                
14 Bruce Donaghy (USA) Morgan Stanley            
15 Andy Kulkis (USA) Gotham/Hensley              
16 Mike Beers (USA) Rite Aid                     
 
Womenís 1 Mile Record Attempt
 
1 Rebecca Larson (USA) Aaronís/LS Flyers         
2 Ashley Kimmet (USA) Miya Shoji                 
3 Mindi Martin (USA) Plane Team Revolution       
4 Liz Reap (USA) T-Town Express                  
5 Veronica Martinez (Arg) JVR Sports             
6 Juliet Earle (NZl) Papanui Cycling             
7 Julia Bradley (Can) Team R.A.C.E.              
8 Theresa Cliff-Ryan (USA) Verducci Breakaway    
9 Dana Feiss (USA) Young Medalist                
10 Joanna Wiersma (Can) Team R.A.C.E.            
11 Elspeth Huyett (USA) Young Medalists          
12 Colleen Guilick (USA) Fuji Salamander         
 
Menís Super Sprint
 
1 Peter Fitzpatrick (Aus)                        
2 Alejandro Acton (Arg) Colavita Sutter Homes    
3 Gustavo Artacho (Arg) Colavita Sutter Homes    
4 Dave Wiswell (USA) Nerac Pro                   
5 Chris Ruhl (USA) Team Alliance                 
6 Mike Beers (USA) Rite Aid                      
7 Barry Miller (USA) Mike Frayssesport.com       
8 Michael Chauner (USA) PA Lightning             
9 Brent Moorehouse (USA)                         
10 Jackie Simes (USA) PA Lightning               
11 Andy Kulkis (USA) Gotham/Hensley              
12 Taylor Brown (USA) PA Lightning               
13 Nicholas Reinert (USA) Salamander             
14 Guido Palma (Arg) Rite Aid                    
15 David Sheetz (USA) Lehigh Wheelman            
16 Simon VanVelthooven (NZl) New Zealand         
17 Rodney Santiago Puerto Rico CCG               
18 Tucker Brown (USA) PA Lightning               
19 Daniel Larson (USA) Cycle Science             
 
Womenís 1km Scratch Heats
 
Heat1
1 Liz Reap (USA) T-Town Express                  
2 Kacy Manderfield (USA)                         
3 Veronica Martinez (Arg) JVR Sports             
4 Dana Feiss (USA) Young Medalists               
5 Cindy Lakatosh (USA) Tri State Velo            
6 Juliet Earle (NZl) Papanui Cycling             
7 Alane Bullweg (USA) Cycle Science              
8 Joanna Wiersma (Can) Team R.A.C.E.             
 
Heat 2
 
1 Mindi Martin (USA) Plane Team Revolution       
2 Jocelyn Rastrick (NZl) Papanui Cycling         
3 Theresa Cliff-Ryan (USA) Verducci Breakaway    
4 Rebecca Larson (USA) Aaronís/LS Flyers         
5 Jess Mclean (Aus) Verducci Breakway            
6 Julia Bradley (Can) Team R.A.C.E.              
7 Colleen Guilick (USA) Fuji Salamander          
8 Juliet Earle (NZl) Papanui Cycling             
 
Menís 5 Mile Dash for Cash
 
1 Jason Snow (USA) Cycle Science                 
2 Gustavo Artacho (Arg) Colavita Sutter Homes    
3 Alejandro Acton (Arg) Colavita Sutter Homes    
4 Nicholas Reinert (USA) Salamander              
5 Dave Wiswell (USA) Nerac Pro                   
6 Paul Pearson (USA) Bucks County Racing         
7 Tucker Brown (USA) PA Lightning                
8 Jonathan Rawlins (Tri) Trinidad/Tobago         
9 Simon VanVelthooven (NZl) New Zealand          
10 Bruce Donaghy (USA) Morgan Stanley            
11 Taylor Brown (USA) PA Lightning               
12 Brent Moorehouse (USA)                        
13 Michael Chauner (USA) PA Lightning            
14 Philip Cable (USA) Upstate Velo               
15 Nathan Seddone (NZl) New Zealand              
16 David Sheetz (USA) Lehigh Wheelmen            
17 Richard Miller (USA) Breakaway Racing         
18 Andy Kulkis (USA) Gotham/Hensley              
19 Peter Fitzpatrick (Aus)                       
20 Chris Ruhl (USA) Team Alliance                
21 Jackie Simes (USA) PA Lightning               
22 Ray Ignosh (USA) Gotham/Hensley               
23 Rodney Santiago Puerto Rico CCG               
24 Guido Palma (Arg) Rite Aid                    
 
Womenís 1km Scratch Final
 
1 Theresa Cliff-Ryan (USA) Verducci Breakaway    
2 Liz Reap (USA) T-Town Express                  
3 Kacey Manderfield (USA) Verducci Breakaway     
4 Cindy Lakatosh (USA) T ri State Velo           
5 Mindi Martin (USA) Plane Team Revolution       
6 Veronica Martinez (Arg) JVR Sport              
7 Rebecca Larson (USA) Aaronís/LS Flyers         
8 Dana Feiss (USA) Young Medalists               
9 Juliet Earle (NZl) Papanui Cycling             
10 Julie Bradley (Can) Team R.A.C.E.             
11 Jess Mclean (Aus) Verducci Breakaway          
12 Jocelyn Rastrick (NZl) Papanui Cycling        
 
Menís 10 Lap Cash Momentum
 
1 Peter Fitzpatrick (Aus)                        
2 Jason Snow (USA) Cycle Science                 
3 Alejandro Acton (Arg) Colavita Sutter Homes    
4 Simon VanVelthooven (NZl) New Zealand          
5 Barry Miller (USA) Mike Frayssesport.com       
6 Paul Pearson (USA) Bucks County Racing         
7 Bruce Donaghy (USA) Morgan Stanley             
8 Brent Moorehouse (USA)                         
9 Nathan Seddone (NZl) New Zealand               
10 Jackie Simes (USA) PA Lightning               
11 Nicholas Reinert (USA) Salamander             
12 Richard Miller (USA) Breakaway Cycling        
13 Haseem Maclean (Tri) Trinidad                 
14 David Sheetz (USA) Lehigh Wheelmen            
15 Jonathan Lewis (NZl) New Zealand              
16 Jonathan Rawlins (Tri) Trinidad/Tobago        
17 Dave Wiswell (USA) Nerac Pro                  
 
10km International Womenís Challenge Final
 
1 Ashley Kimmet (USA) Miya Shoji                 
2 Mindi Martin (USA) Plane Team Revolution       
3 Jess Mclean (Aus) Verducci Breakaway           
4 Theresa Cliff-Ryan (USA) Verducci Breakaway    
5 Veronica Martinez (Arg) JVR Sport              
6 Alane Bullweg (USA) Cycle Science              
7 Rebecca Larson (USA) Aaronís/LS Sport          
8 Kacey Manderfield (USA) Verducci Breakaway