Introduction to Track Racing - What's a Wheelrace? - Introduction to Six Day racing - UCI codes
109th Austral Wheelrace - IM
Melbourne, Australia, February 24, 2007
Canberra Raider dominates Australia's oldest track race
By Mal Sawford
Joel Stewart
Photo ©: Gary Newvine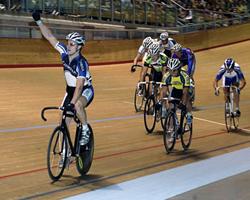 Canberra's Joel Stewart, riding from a relatively generous mark of 110 metres, took out the prestigious Austral Wheel Race in a race which saw back markers Todd Wilksch (20 metres) and Daniel Thorsen (40 metres) never really in contention.
Stewart, 25, is the elder brother of former junior world champion Kial, and has been a regular visitor to Victorian track carnivals over the past four years, including a third place finish at the Austral behind Ben Kersten in 2005. "He's my little brother, but he's twice the size of me," Stewart said of his training partner. "It's good to get one over him. His world title was a long time ago and he's probably forgotten about it! It's a phenomenal race to come down to and have a crack at. I was able to come away with the win and I'm just stoked."
Stewart was a comfortable winner of his heat, and in the final made his way through heavy traffic to take the lead from Clint McDonell (Carnegie Caulfield, 170 metres) with less than 200 metres to race and going away to win by three lengths. Following McDonell home in third place was Bendigo's Tim Hucker (130 metres).
Sentimental favourite and sole scratch man Shane Kelly failed to qualify for the final after a long chase to reach the leaders in his heat, and Jobie Dajka was another of the back markers unable to reel in well organized middle markers in the heats.
How it unfolded
Stewart was the back marker in the second heat, after the opening eight lap heat had been taken by Stuart Vaughan (Hawthorn, 170 metres) with a strong front running effort over the final two laps. Although starting 135 metres behind outmarker Shane Lowe (Bendigo), Stewart combined well with another of the strong Bendigo contingent, Ashley Harding (125 metres) to reach the leaders with four laps remaining, before the pair accelerated off the front of the bunch to take the top two places ahead of a late surge by McDonell.
Tim Bennett
Photo ©: Gary Newvine

Heat 3 looked like going to Jamie Goddard (Blackburn 130 metres), who shot away with two laps remaining, but Bendigo's Tim Bennett (155 metres) timed his effort a little better and led a group of three past a tiring Goddard in the back straight. Andrew Curtain tried a similar tactic in heat 4 off 155 metres, and although overhauled by Ryan Pontelandolfo (Bendigo, 175 metres), the Carnegie rider fought on to finish second ahead of club mate Peter Walker (190 metres) in the fastest heat of the night.
Geelong's James Langedyk closed a fifteen metre gap at the start of the his heat, and rode strongly to reach the main bunch, but couldn't respond when the fresher out markers jumped in the final lap, with club mate Steven Young taking the win from 190 metres.
The penultimate heat finally saw success for the back markers, with Daniel Thorsen (Drapac-Porsche Cycling) doing a power of work to reel in the outmarkers. He took a well deserved win, with Todd Wilksch following him home after an arm chair ride. Dajka contested the same heat, but fell off Thorsen's pace early and didn't complete the distance.
Backmarkers chase
Photo ©: Gary Newvine

The final heat went to Japanese rider Ken Ichiyama (75 metres) who hit out two laps from home. Scratch man Shane Kelly and fellow back markers Steven Rossendell (20 metres) and Glenn O'Shea (35 metres) faced a long chase and had just made contact with the bunch, but had nothing left when Ichiyama accelerated away.
The final had to be re-started after Laurie Noonan punctured moments before the start. Once underway, back marker Wilksch faced a tough chase when the much lighter Thorsen exploded off the line to reach Ichiyama quickly, but even when the trio finally got together, they were unable to reach the main bunch. Stewart was the defacto back marker, and had an easy ride in the opening laps with the first sixteen riders quickly bunching up.
"At two and a half to go" Stewart said, "they were bunched and about six wide, and I didn't know how I was going to get through. I was just lucky I had a bit of an outside run and was able to get around and made it through to the front. I just had to go for it down the back straight, and I started getting goose bumps coming into the straight when I realized this was going to be it!"
To the victor
Photo ©: Gary Newvine

Stewart admitted he had been a little surprised to retain his starting mark after recent successes. "I had good results in Tassie at the Christmas Carnivals, and they had me for the '2K' wheel races back off 80 metres, but obviously they hadn't heard about it here so I was still on my 110 from last year. No doubt I'll get pulled a little after this though!"
Second placed finisher Clint McDonell was equally thrilled with his performance. "I only started doing track so I could do better at the famous Glenvale Crits, that's the truth. I'm clearly a better trackie than a roadie though so it's good. It's very special, I'm thrilled - can hardly contain my excitement." McDonell admitted he had briefly though he might go one better. "With a lap to go, I had plenty of speed up and was coming over the guy who was in front, and I though I might have been a sniff, but then Joel came around the outside and I didn't have the pace to stay with him. I was beaten by a better rider, so I'm happy with that."
Another relative new-comer to the boards, Hucker summed up his third place as "not too bad. I probably don't have the track legs to win one of these races, but I'm sort of happy enough to get a result. I rode a lot better position, and a bit smarter than I usually do. I've only been doing it for about a year, so I'm just getting the knack for it."
Other races
Shane Kelly advances
Photo ©: Gary Newvine

While the elusive Austral continues to elude him, Shane Kelly was the star of the sprint events. Kelly has stepped down from the national team and is focusing on domestic races this season, and was pleased with his night's efforts after taking commanding wins in the sprint derby and keirin.
"I've always said handicaps aren't my thing. The sprints are much more to my liking, short and fast! I just want to enjoy my racing and get fit again. I only started racing again in January, and I've raced pretty much every week since. I've got Leongatha next weekend, and I'm hoping to go well in Bendigo after that, it's great there and there's always a big crowd."
In both races, the main focus of his competitors seemed to be a battle for Kelly's wheel; with the 'victor' virtually guaranteed second place. World masters sprint champion Darren King was the only rider able to stay with Kelly in the Keirin final which required a re-start after Wilsch was ruled to have improved his position on the blue band in the opening laps, leading to Wilksch's disqualification.
Todd Wilksch and Jobie Dajka
Photo ©: Gary Newvine

Dajka missed out on the keirin final despite looking home and hosed in his heat, before celebrating prematurely and seeing Jamie Crass and 2006 Austral winner Dean Taylor flash past. "I looked behind with about 50 metres to go and though I was alright," a relaxed Dajka said later "but the slack came on the chain, and I put my hands in the air and it was all over. It was just a bit of entertainment, and everyone laughed, that's what it's all about. I'm just happy it shows I've still got some good gas in the tank - give me a couple of months and I'll be right in the mix again."
Dajka is currently living in Melbourne and training under the direction of John Beasley. "I'll train and race locally until John gets back [Beasley is currently working in Malaysia as head coach of the Malaysian track team]. I'm working really hard in the gym, training with power lifters. Those guys are some big units! Then the plan is to go to Germany and train with Hubner and Fiedler. They've always said they'd be more than happy to look after me."
Tess Downing wins
Photo ©: Gary Newvine

Todd Wilksch made up for any disappointment after his Keirin DQ with an emphatic win in the Lance De Luca Memorial Scratch race, a race he was particularly keen to win given his strong ties to the De Luca family. Kazuya Nagae had threatened to deny the locals with a strong attack with ten laps remaining, before coming back to the field. Glenn O'Shea led the final charge, but Wilksch was too strong, with second place going to under 10 star Pete Johnstone who had caught 'the Bus' and belied his youth and lack of body weight to hold Wilksch's wheel in the hectic dash to the line.
In women's racing, Tess Downing (Drapac-Porsche) hit out a lap and a half from home and opened a ten metre lead, but had to fight off a strong challenge from Jessica Berry to win the scratch race, with Esther Pugh-Uren third.
Malaysian rider Uracca Leow took the six lap handicap riding from 85 metres, after back markers Downing (Scratch) and Berry (20 metres) found it difficult to pass the eventual winner and both had their momentum checked. Nicole Holt (Carnegie Caulfield, 80 metres) followed Leow home in second place, while a patient Monique Hanley (Blackburn, 35 metres) took third with a late surge when a gap finally opened at the bottom of the track.
Photography
For a thumbnail gallery of these images, click here
Images by Gary Newvine
Images by CJ Farquharson/WomensCycling.net
Results
E Grade Scratch Race

1 David Moreland (Bendigo)
2 Michael Benham (Carnegie Caulfield)
3 John Salter (Shepparton)

D Grade Motor Paces Scratch race

1 Oliver Phillips (Brunswick)
2 Steven Young (Geelong)
3 Toby Glennon (Northcote)

Invitation Sprint Derby

Heat 1

1 Jobie Dajka (South Australia)                  12.031
2 Todd Wilksch (Horsham)
3 Glenn O'Shea (Bendigo)

Heat 2

1 Shane Kelly (Ararat)                           11.376
2 Daniel Thorsen (Shepparton)
3 Ken Ichiyama (Japan)

C Grade Scratch Race

1 Tim Bennett (Bendigo)
2 Jamie Goddard (Blackburn)
3 John Forrets (ACT)

B Grade Motor Paced Scratch Race

1 Darren King (Carnegie Caulfield)
2 Joshua Gundry (Bendigo)
3 Ben Sanders (Carnegie Caulfield)

Aces Elimination

1 Trevor Griffiths (Wangaratta)
2 Hamish Taylor (Northcote)
3 Peter Johnstone (Chelsea & Peninsula)

Invitation Sprint Derby

Final

1 Shane Kelly (Ararat)                           11.283
2 Todd Wilksch (Horsham)
3 Jobie Dajka (South Australia)

Men Under 17 Scratch Race

1 Tim Gooley (Shepparton)
2 Luke Ockerby (Tasmania)
3 Joshua Tepper (Bendigo)

Women's Scratch Race

1 Tess Downing (Carnegie Caulfield)
2 Jessica Berry (Bendigo)
3 Esther Pugh-Uren (Bendigo)

The 109th Austral Wheel Race

Heat 1

1 Stuart Vaughan (Hawthorn) (170)                2.08.093
2 Michael Benham (Carnegie Caulfield) (215)
3 John Forrest (ACT) (145)

Heat 2

1 Joel Stewart (ACT) (110)                       2.09.482
2 Ashley Harding (Bendigo) (125)
3 Clint McDonell (Carnegie Caulfield) (170)

Heat 3

1 Tim Bennett (Bendigo) (155)                    2.12.326
2 Dean Stewart (Northcote) (150)
3 David Mann (Albury-Wodonga) (175)

Heat 4

1 Ryan Pontelandolfo (Bendigo) (175)             2.05.171
2 Andrew Curtain (Carnegie Caulfield) (155)
3 Peter Walker (Carnegie Caulfield) (190)

Heat 5

1 Steven Young (Geelong) (190)                   2.07.312
2 Laurie Noonan (Brunswick) (160)
3 Trevor Griffiths (Wangaratta) (85)

Heat 6

1 Daniel Thorsen (Shepparton) (40)               2.11.071
2 Todd Wilksch (Horsham) (20)
3 Tim Hucker (Bendigo) (130)

Heat 7

1 Ken Ichiyama (Japan) (75)                      2.11.433
2 Michael Downing (Carnegie Caulfield) (130)
3 Dean Taylor (Ballarat-Sebastapol) (85)

Men Under 17 Motor Paced Scratch Race

1 Tim Gooley (Shepparton)
2 Stuart Smith (Leongatha)
3 Tim Hickey (Camperdown)

The 109th Austral Wheel Race

Final

1 Joel Stewart (ACT) (110)                       2.04.168
2 Clint McDonell (Carnegie Caulfield) (170)
3 Tim Hucker (Bendigo) (130)
4 Michael Downing (Carnegie Caulfield) (130)

Women's handicap

1 Uracca Leow (Malaysia) (85)                    1.49.484
2 Nicole Holt (Carnegie Caulfield) (80)
3 Monique Hanley (Blackburn) (35)

B Grade Elimination

1 Tim Hucker (Bendigo)
2 Ben Sanders (Carnegie Caulfield)
3 Joshua Gundry (Bendigo)

Aces Keirin

Heat 1

1 Todd Wilksch (Horsham)                         11.712
2 Darren King (Carnegie Caulfield)
3 Brendan Schultz (Hamilton)

Heat 2

1 Jamie Crass (Bendigo)                          11.747
2 Dean Taylor (Ballarat-Sebastapol)
3 Jobie Dajka (South Australia)

Heat 3

1 Shane Kelly (Ararat)                           11.452
2 Adrian Hanson (Coburg)
3 Gary Mueller (Brunswick)

C Grade Elimnation

1 Dean Stewart (Northcote)
2 Rohan McCaig (Bendigo)
3 Steve Martin (Blackburn)

Aces Keirin

Final

1 Shane Kelly (Ararat)                           10.903
2 Darren King (Carnegie Caulfield)
3 Dean Taylor (Ballarat-Sebastapol)

D Grade Elimination

1 Peter Walker (Carnegie Caulfield)
2 Steven Young (Geelong)
3 Ben Knight (Bendigo)

Lance De Luca Memorial Aces Scratch Race

1 Todd Wilksch (Horsham)
2 Peter Johnstone (Chelsea & Peninsula)
3 Glenn O'Shea (Bendigo)
4 Gary Mueller (Brunswick)