Introduction to Track Racing - What's a Wheelrace? - Introduction to Six Day racing - UCI codes
US National Track Championships - CN
Frisco Superdome, TX September 7-11, 2004
Main Page Results Previous Day Next Day
Day 3 - September 9: Women 500m TT, Men Points Race
Conzelman doubles, Carney take gold and Blatchford qualifies fastest
By USA Cycling
Jame Carney focuses
Photo ©: Mike Gladu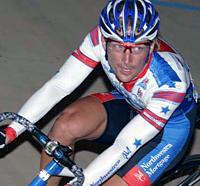 The USCF Elite Track Nationals continued last night with the men's 200m time trial, the women's 500m time trial, and the points race. Michael Blatchford (Colorado Springs, Colo.), Becky Conzelman (Allentown, Pa.), and James Carney (Durango, Colo.) became the newest national champions.
18-year-old U.S. Olympic Training Center resident athlete Michael Blatchford (Colorado Springs, Colo.) posted a 10.719 in the 200m time trial last night to qualify with the fastest time for the men's sprint. 2004 Olympians Giddeon Massie (Lansdale, Pa.) and Christian Stahl (Bethany, Conn.) placed second and third respectively with a 11.019 and a 11.076.
Becky Conzelman continued her winning ways last night, adding another national championship title to her collection. After winning gold in the women's sprint on Wednesday, the Pennsylvania native raced the 500m in 36.272 to best silver medalist Annette Hanson (Kirkland, Wash.) and bronze medalist Miranda Moon (Beaverton, Ore.).
Jame Carney bested 2004 Olympian Colby Pearce in the points race to take the win with 111 points. Pearce was second with 99, while 2003 National points race Champion Jonas Carney took the third spot on the podium.
Photography
Images by Mike Gladu/www.velodrome.com
Day 3 - Thursday, September 9: Morning Session
Men Sprint Qualification
Men Sprint Round 1
Men Sprint Repechage
Men Points Race Qualification
Men Sprint 1/8 Finals
Men Sprint Repechage
Day 3 - Thursday, September 9: Evening Session
Men Sprint 1/4 Final Ride #1
Women 500m TT Final
Men Sprint 1/4 Final Ride #2
Awards
Men Sprint 9th-12th Final
Men Sprint 1/4 Final Ride #3
Men Points Race Final
Awards
Results
Men's points race

1 James Carney                                     111 pts
2 Colby Pearce                                      99 pts
3 Jonas Carney                                      63 pts
4 Kenneth Williams                                  53 pts
5 Robert Lea                                        47 pts
6 Douglas Beck                                      44 pts
7 Michael Friedman                                  43 pts
8 Erik Saunders                                     43 pts
9 Joshua Kerkhof                                    32 pts
10 Guillaume Nelessen                               30 pts
11 Charles Huff                                     29 pts
12 David McCook                                     25 pts
13 David Wenger                                     22 pts
14 David Bailey                                     20 pts
15 R Curtis Gunn                                     3 pts
16 Kevin Suhr                                        1 pts
17 Marcus Black                                      0 pts
18 Steen Rose                                        0 pts
19 Mat Stephens                                   (18 pts)
20 Ryan Luttrell                                 (-20 pts)
21 Walker Starr                                  (-20 pts)
22 William Longstreth                                  DNF
22 Daniel Holloway                                     DNF
22 Dominic VanNielen                                   DNF

Women's 500m

1 Rebecca Conzelman (Frisco Cycling Club)               36.272
2 Annette Hanson (Team Rubicon/United)                   38.18
3 Miranda Moon (Team Rubicon/United)                    38.415
4 Kelly Benjamin (ABD Cycling Team)                     38.759
5 Martha Dunne (Jelly Belly)                            38.851
6 Suzanne Goodwin (Frisco Cycling Club)                 39.026
7 Christi Chenowth (Hard Time)                          39.201
8 Jamie Pettinato (Radical Media - CRCA)                39.856
9 Tela Crane (Rad Racing NW)                            40.105
10 Ann Marie Love (Frisco Cycling Club)                 42.944

Men's Sprint qualifications

1 Michael Blatchford (Veloworx Racing)                  10.719
2 Giddeon Massie (Cody Racing)                          11.019
3 Christian Stahl (Cody Racing)                         11.076
4 Robert LINDSTROM (Saturn)                             11.164
5 Mark Garrett (Veloworx Racing)                        11.215
6 Ryan Nelman (Cody Racing)                             11.304
7 Andrew Lakatosh (Tri-State Velo)                      11.347
8 Kevin Belz (GS Tenzing)                               11.371
9 Aaron Kacala (Cody Racing)                            11.389
10 Timo Budarz (Bike Wave)                              11.483
11 Christopher Henderson (Taylor Made)                  11.557
12 Adam Smith (Guinness)                                11.608
13 Nicholas (Nick) Chenowth (Hard Time)                 11.957
14 Joel Kelly (Duke Realty)                             12.084
15 Brent Stein (ESW)                                    12.161
16 Jason Romain (People's Burn Founda)                  12.195
17 Stephen Stewart (Frisco Cycling Club)                12.959